Looking to up your game on the secondhand style scene? Or maybe you're just dabbling in it and trying to figure out if it's right for you. Check out this complete guide to secondhand shopping from someone who has shopped almost exclusively secondhand for my family and myself for several years. It's really not as intimidating as it might seem. Let's dive in!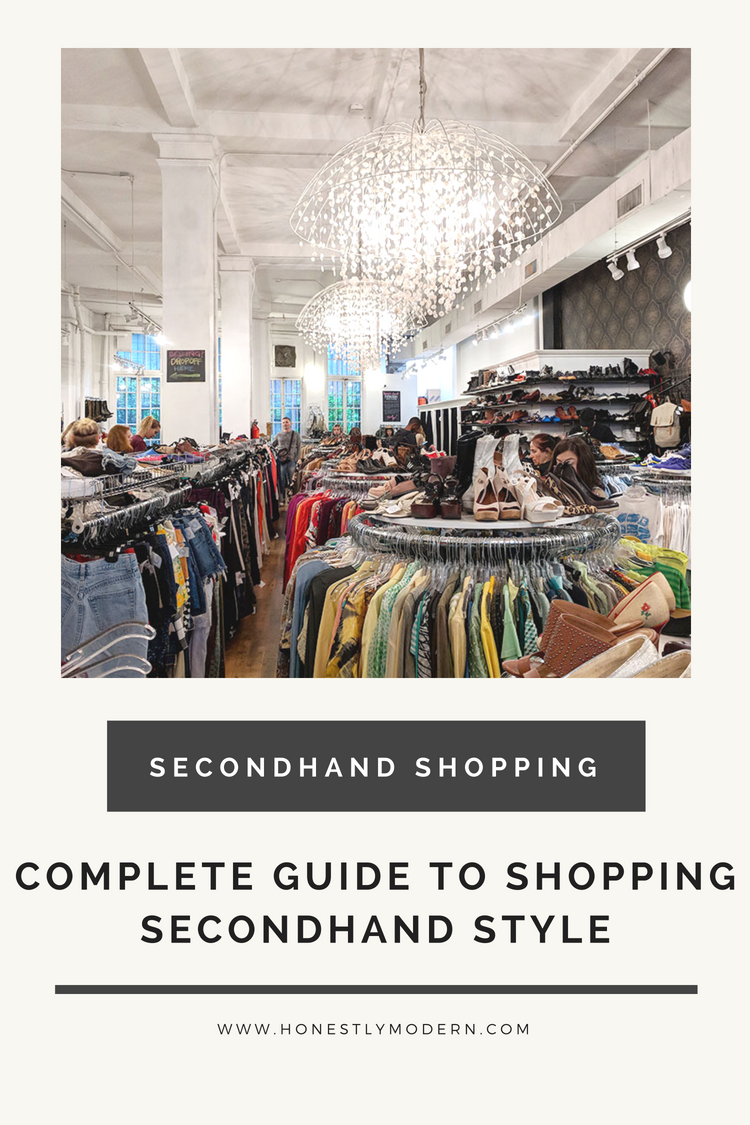 Why Buy Secondhand Clothes?
To save money. To be "green" and respect the environment. The find vintage and unique pieces. To experience the thrill of the hunt. The list goes on. Reasons people love to shop at secondhand stores span a vast spectrum of motivation. If you are a secondhand shopping beginner or have been intrigued but are unsure where to start on your secondhand style journey, or even if you love thrifting and are always looking for new ideas to hone your skills, you're in the right spot!
As I've developed an understanding of second shopping over the last several years, I've know it's a pretty disjointed market and one that can be hard to navigate. Consequently, I've compiled some great resources for starting your expedition through thrifted racks and consignment shelves.
Thrift vs. Consignment vs. Resale
Let's start by discussing the difference between thrift stores, consignment and resale options. The different options can provide significantly different shopping experiences and product discovery.
Generally, thrift stores tend to be a bit less expensive and offer items spanning a wider range of quality. Additionally, they often benefit a charitable organization (though not necessarily).
Consignment and resale shops, on the other hand, typically offer more curated collections and limit the amount of lower quality items they offer. As a result, shoppers generally see higher prices and a focus on higher quality brands and pieces.
Resale and consignment shops are similar with respect to the buying process and having more expensive and curated collections than thrift stores. Both offer secondhand goods for sale, but the difference relates to the method of payout for the seller. A resale shop typically pays the seller (i.e. original owner) for the items upfront and, consequently, bares the risk of sale themselves. A consignment shop, however, stocks their shelves with goods still effectively owned by the seller. The seller receives a portion of the sale price as compensation only when the product is sold. Thus, if the product doesn't sell, the original owner never gets paid. While not a rule, generally the more expensive an item is, the more likely it is to be sold on consignment instead of through resale.
Further, thrift stores typically receive their product via donation while consignment and resale shops offer a portion of the sale proceeds back to the original owner. Thus, those with higher quality (and especially designer brand) goods ready to "recycle" are more inclined to take them to consignment shops to receive some financial return on their discarded goods.
Both can yield great finds; it all depends on the target of your search. If you're looking to score an amazing deal on a popular everyday brand like JCrew, Banana Republic or Ann Taylor, thrift shops should satiate that desire. If instead you're looking to make a serious investment in a new pair of high end designer shoes or an expensive handbag, a consignment shop might just be your designer brand jam. Resale shops will likely offer a hybrid of items and brands.
Click through for more detailed information!
Secondhand Style Shopping Guide
Tips for Successful Thrifting
Finding Time to Shop Thrift Stores
Note to Readers: I spent significant time researching and compiling this information throughout the guide. If you think your readers would love this summary, I'd love for you to link back to this page. Be sure to let me know on Instagram that you linked back so I can share with my readers your content and perspective as another great source for secondhand style advice!
Questions?
The best place to reach me is: [email protected]