10 Types of Secondhand Stores and Why We Love Them
Ready to shop secondhand but not sure where to find all things you need? You can buy almost anything secondhand. Check out these ten types of secondhand outlets to find a few that suit you and your needs.
This is part of our How To Master Secondhand Shopping Resource Guide.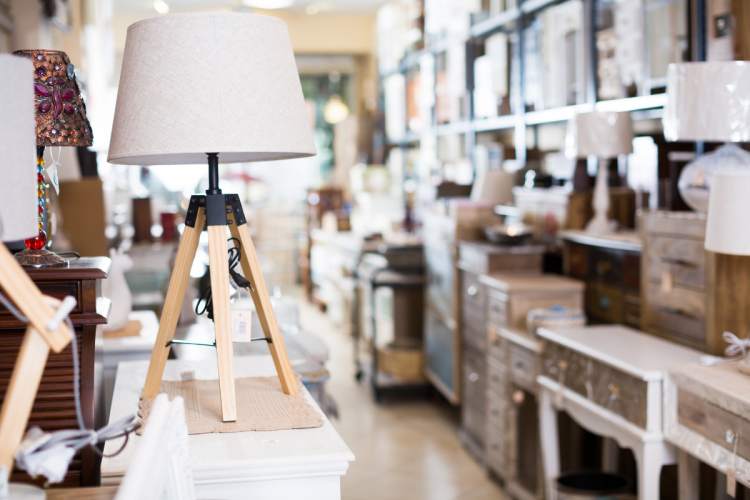 Shopping secondhand is one of the best things we can do for the environment. Deciding to shop secondhand more is a great start, but knowing where to shop secondhand can feel like a whole separate struggle. That's where we come in.
We've rounded up ten types of secondhand stores to check out the next time you're looking for secondhand goods. We've included a variety of shops that sell at a range of price points. Some shops live online while others are in-person options. At these shops, you can find everything from clothes and furniture to gifts, garden supplies, and more.
For each type of secondhand store, we've also included a bit more about what it offers, why we love it, and where you can find these secondhand shopping options in your life.
Thrift Stores
What are thrift stores?
Thrift stores are typically brick-and-mortar shops that sell donated secondhand goods to fundraise for specific charities. These shops are also referred to as op-shops in Australia and charity shops in the United Kingdom.
Why we love thrift stores.
If you have a thrift store nearby and have some extra time to browse around, nothing beats the thrill of bypassing random junk to find that perfect gem in the thrift shop. You never know what you will find (especially if you frequently drop-in) as most thrift stores have a variety of clothing, household items, appliances, and furniture. Thrift stores are entertaining to browse through especially if you are shopping for a more flexible list of items or have the time to pop back in frequently for those super-specific items on your list.
Examples of thrift stores
Locally owned thrift shops (our favorite), Assistance League (non-profit), Goodwill (non-profit), Salvation Army (non-profit), Savers (for-profit)
Consignment & Buy-Sell-Trade Shops
What are consignment and buy-sell-trade shops?
Consignment and buy-sell-trade shops typically have more curated secondhand collections than other secondhand shops. They sell used items on behalf of their clients, paying the client a percentage of the item either upfront or upon sale of the item. These shops tend to focus on a particular category of secondhand goods, such as a clothing consignment shop, a furniture consignment shop, or an appliance consignment shop.
Why we love consignment and buy-sell-trade shops.
Consignment shops are usually far more curated than your average thrift store. They require less "digging" as staff selects items based on seasons or trends and typically inspects items for signs of wear and to ensure working condition.
These types of shops are great if you are new to secondhand or if you tend to get overwhelmed by the vast randomness of the thrift store. In addition, if you are looking for something specific, be it a stove range, prom dress, or sofa, these stores typically offer multiple choices of the sought-after item.
Examples of consignment and buy-sell-trade shops.
Online consignment shops such as Everything But The House, ThredUp, The RealReal, or brick & mortar consignment shops such as Crossroads, Buffalo Exchange, Kid2Kid, OnceUponABaby, Plato's Closet, HalfPrice Books, local used appliance or furniture stores
Local Online Garage Sales or Classifieds
What are local online garage sales and classifieds?
Local online garage sales and online classifieds are e-commerce apps through which you can shop local secondhand goods to pick up in person (many also offer shipping options for smaller items).
Why we love local online garage sales or classifieds.
When I was growing up, I used to love flipping through the garage sale classifieds in the newspaper with my mom and perusing what our neighbors had for sale that weekend. These online options offer the same types of items through an upgraded platform with pictures and filters.
You can scroll through at all hours of the day and night. (I have made quite a few weird purchases in the early morning hours nursing a baby that I had to pick up in the light of day!).
Most of these platforms are currently free to use. We love that these apps have an alert feature so we can plug in our secondhand wish list and get notified when people post our saved items for sale.
Examples of local online garage sales and classifieds.
Facebook Marketplace, Craigslist, OfferUp
Garage Sales and Estate Sales
What are garage sales and estate sales?
Garage sales are secondhand sales held at a private residence where a resident sells their unwanted items.
Estate sales are similar to garage sales but typically occur at the death of the resident or for a reason where an entire residence (or estate) needs to be cleared out. Estate sales sometimes have more items of value, antiques, etc., but often, the term is used interchangeably with 'garage sale' for marketing and formality purposes.
Why we love garage sales and estate sales.
If you ask me, driving by to peep at garage sales is one of the best ways to spend a weekend morning. Maybe I love them because I grew up going garage saleing with my mom or maybe I'm just nosy and love to see other people's junk on display.
Garage sales are the best places to find great deals, especially if you're not scared to negotiate a bit. Estate sales are especially fun and unique, and you'll never know what you find. You might catch yourself leaving with fancy, fine jewelry and a practical stash of half-used saran wrap all at once.
How to find garage sales and estate sales.
Drive around and look for signs or collections of items laid out in front yards or driveways to find these sales. You can also find listings online. In recent years, many websites have popped up where people can post their garage and estate sales in advance. Check out sites like Garage Sale Finder or Estatesales.net.
Buy Nothing Groups
What are Buy Nothing Groups?
Buy Nothing groups are hyper-localized neighborhood sharing groups where neighbors give and receive gifts, skills, and services for free. There are over 1.5 million participants in more than 30 different countries. The groups are currently hosted on Facebook but will be moving to a different app shortly.
Why we love Buy Nothing groups.
Buy Nothing groups are a great way to ask for what you need to own or borrow secondhand and to share from your own abundance to meet your neighbors' secondhand needs as well. We love that they not only divert so much waste but also build community and connection amongst neighbors.
How to find Buy Nothing groups.
You can find your local Buy Nothing group on their site on their Buy Nothing – Find A Group page or sign up to be an admin on the site if you don't already see one in your area.
Library and Little Free Library
What are libraries and Little Free Libraries?
Most of us know our traditional libraries – brick-and-mortar buildings with books, audiobooks, CDs, movies, and sometimes even tools and toys. Public libraries are funded by public tax dollars and typically require residency in the library's county to participate in rentals. Little Free Libraries are tiny neighborhood libraries, hosted by individuals or organizations, where anyone can give and take books. They have started popping up all around the world!
Why we love libraries and Little Free Libraries.
The public library gives you access to so many diverse books and it's absolutely free! We love checking out books for our family and keeping our bookshelves engaging for both parents and kids in our house. We also love that the library books offer free access to e-books and audiobooks. The Little Free Libraries in our neighborhood have a similar appeal, we love checking out new books on our neighborhood walks and sharing our own books with our neighbors.
How to find the libraries and Little Free Libraries.
To find your local library in the United States, visit the United States government's Libraries page. Outside of the United States, check out your local government pages or simply search online for 'library near me' to see what comes up.
Visit the Little Free Library site to find a Little Free Library near you or to create and register your own. If you haven't used Little Free Libraries before, you might be surprised how many there are once you start to look for and notice them.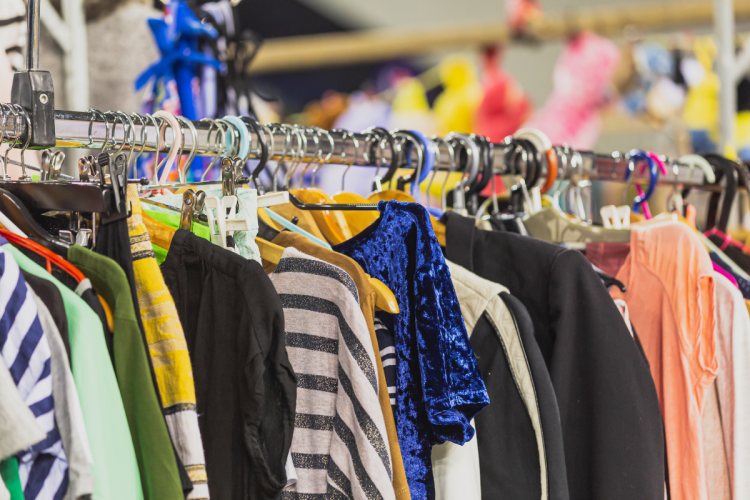 Swaps
What are swaps?
Swaps are social events where guests bring their unwanted things and exchange them with one another. Typically swaps have a theme such as a clothing swap, toy swap, book swap, or plant swap. The options are endless depending on the types of things you, your friends, and those in your community want to exchange.
Why we love swaps.
Swaps are a fun way to bring people together and to introduce friends to sharing economies and the world of secondhand.
How to find swaps.
Host one yourself! Stay tuned for more on hosting a swap coming soon to the blog!
Your Parents' & Grandparent's Basements
All jokes aside, borrowing items from friends and family (including your parents and grandparents) is one of the best places to source what you need secondhand.
Why we love to check out our parents' and grandparents' basements.
Asking friends and family for what you need and offering your things as well is a great way to reduce waste and get others interested in consuming less too. This can also be fun and nostalgic if you have older relatives who share items from decades past.
At our house, we have a permanent box in the hall closet of items to return to my mom each time we see her because we use this secondhand borrowing method so much.
How to get started sharing with friends and family.
Start by offering to share your own items with friends when it makes sense. If you know someone's having a party, offer up your drink dispenser even if they haven't asked. Have an extra tennis racket and a nephew that's trying out some new sports? Ask if you can pass it on!
The more you initiate sharing goods amongst your circle, the more it will become a habit for the people around you to ask and offer before buying new. Over time, they'll likely come to appreciate sharing their things with you too.
Online Resale Apps
What are online resale apps?
Online resale apps are social e-commerce platforms where you can buy used goods directly from others' closets. As of now, they're primarily focused on clothing and accessories.
Why we love online resale apps.
Buying directly from the owner gives room for offers and bundles of like goods. I will often find a family that has a similar style to mine or lots of items in the size I need and get multiple items at a discount by shopping their closet.
These apps also have great search tools and filters for finding specific items and brands. On occasion, I have used these apps to get exact duplicates of items already in my closet.
Examples of online resale apps.
Poshmark, Depop, Mercari, Kidizen
Flea Markets + Swap Meets
What are flea markets and swap meets?
Flea markets and swap meets are markets where local vendors come together seasonally or on recurring days to sell a variety of secondhand and vintage goods.
Why we love flea markets and swap meets.
I hop to the flea market any chance I get whether in my own town or on vacation because it's such a fun event. Going to a flea market or a swap meet feels like a day at the museum with rows and rows of eclectic goods filled with decades of history.
Flea markets can be great spots for finding a deal, but most vendors know what they have and how much it's worth. Although it's not always the least expensive option, I love hearing the history of the items and keeping an eye out for those special once-in-a-lifetime purchases at the flea market. Vendors bring in collectibles from all over, so you have access to some of the world's most unique finds all in one spot.
Some of the best swap meets we've shopped.
Portobello Road Market (London, England), Rosebowl Flea Market (Pasadena, CA), Feira Da Ladra (Lisbon, Portugal). We typically find these by just googling "Swap Meets near me" at home or on trips.
Happy secondhand shopping!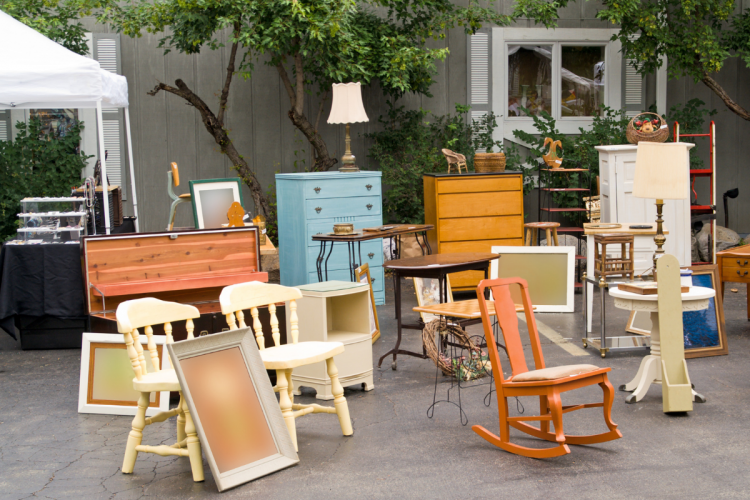 About The Author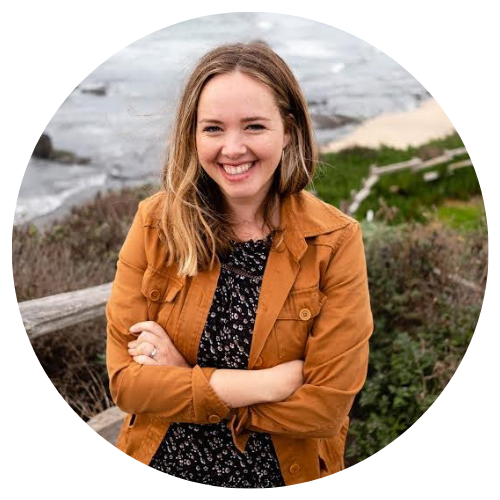 Kat Steck
Kat Steck is a mom of 2, a thrifting addict, and a self-proclaimed jar hoarder living in Los Angeles. She is passionate about helping others (especially moms) opt out of consumer culture, buy less new junk, and use what they have.
After challenging herself for ethical and environmental reasons to buy no new clothes for a year, she realized she could adopt a lifestyle of buying (almost) nothing new and wanted to encourage others to join too! She loves sharing secondhand finds, budget-friendly sustainable living tips, and simple living mom hacks on Instagram at @thejunkyardjournals.