Peace by Piece | Secondhand Sweater, Leggings and White Tennis Shoes
Welcome to my Peace by Piece series where I use individual outfits to break down the good, the bad and the ugly of fashion's impact on the environment and our communities.
Fashion is one of the most significant contributors to environmental destruction and carries the weight of labor inequities around the globe. It's also a really important part of our everyday lives. Not only is it a great form of expression, but we also need to get dressed every darn day.
Fashion matters. Fashion has power. Let's use fashion to do good for our planet and our people.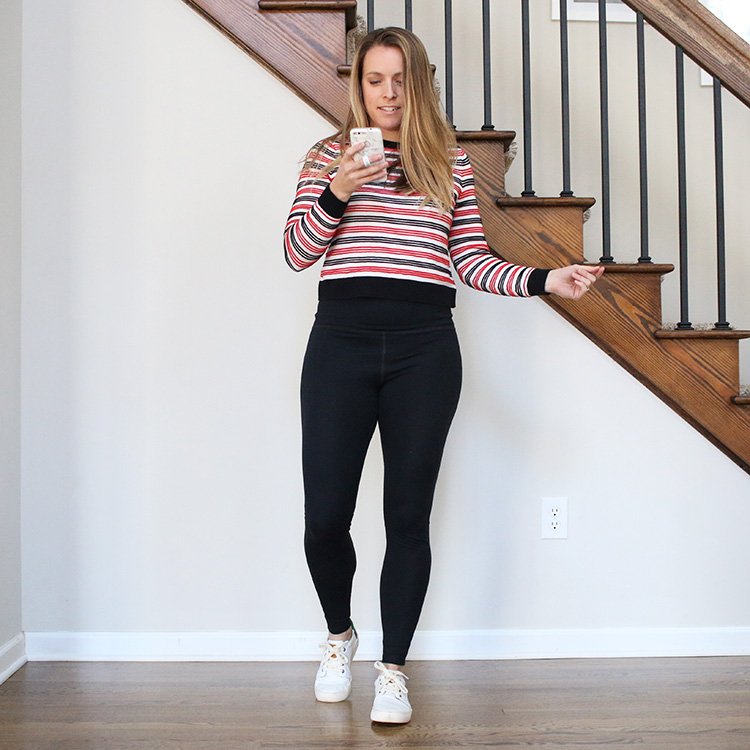 I'm not much of a fashion-forward expert. I wear leggings… a lot. I repeat outfits on the regular. Getting dressed is not a big thing for me, and I am never ahead of trends (except for this one time).
That being said, I'm pretty particular about where I buy my clothes and how they end up in my closet. Most of my wardrobe is secondhand. I mix in a few sustainable fashion investment pieces, like these bad boys, and finish off my wardrobe with a handful of fast fashion pieces I know I will wear time and again.
Here's the story of this simple outfit, Peace by Piece.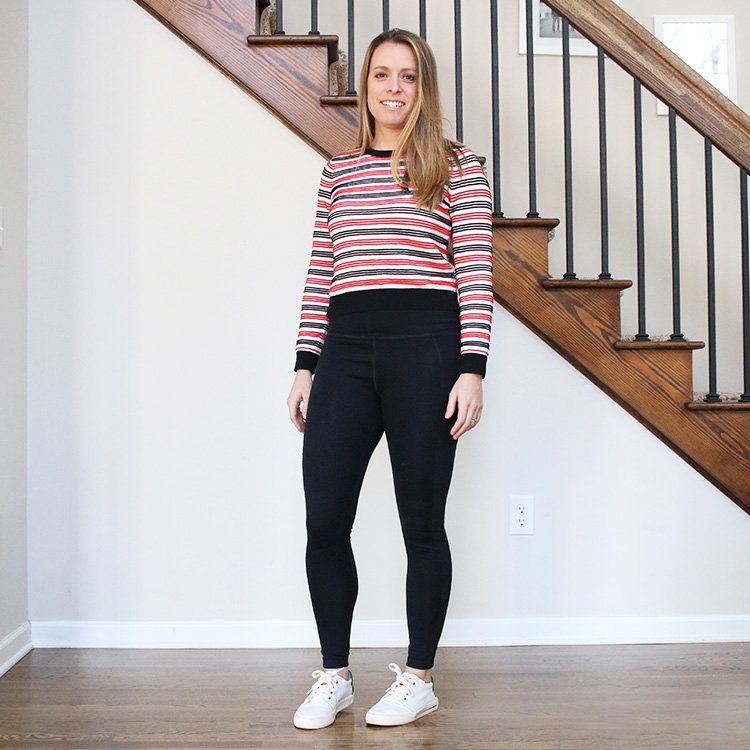 Secondhand Red, White, and Black Striped Sweater
I purchased this sweater from thredUP a couple of months ago. If you're new to thredUP, it's an online resale marketplace offering hundreds of thousands of secondhand items. thredUP strives to complete with fast fashion by providing high volumes of secondhand items that fashion-forward consumers can shop every time they want to freshen up their closets.
I almost always head to thredUP with a specific wish list. Otherwise, the shopping experience feels a bit overwhelming due to their incredibly large selection. I've shared a ton of tips on how to find great items at thredUP, how to encourage your kids to shop online resale, a list of reasons to shop online resale for your kids, and what to expect from the thredUP Rescues program.
The day I bought this particular top, I really wanted to find a handful of sweaters to give a bit more life to my work-from-home arsenal. I wanted to spice up the collection of comfy but frumpy sweatshirts that had become my go-to pieces for too long.
This red, white and black striped sweater was a great find from thredUP's Designer Section. Shopping secondhand allows consumers to purchase higher quality products that will last longer without breaking the bank. In the last 15 years or so, clothing has piled up in landfills at an exponential rate. If we purchase higher quality clothes that we can wear a few more times or an extra season or two, we can significantly reduce the waste generated by the fashion industry. Using secondhand channels to scale up the quality of our purchases and the longevity of our clothes is a great way to use the force of fashion for good.
Girlfriend Leggings
All high-performance activewear, whether new or made from recycled materials, is made of plastic. Yes… your leggings are made of oil. Girlfriend Collective makes leggings and high-performance activewear from recycled water bottles and old fishing nets.
Instead of using virgin oil and plastic to make activewear, Girlfriend Collective makes leggings, sports bras and other activewear from recycled plastic that would otherwise end up languishing in landfills and floating in oceans. The company is committed to eco-friendly production from start to finish and shares in great detail information about its manufacturing process, certifications, packaging, and more. I was really impressed by the detail of the disclosures.
Recycled or not, all of our activewear is made of plastic which means that it leaves behind a trail of microfibers or microplastics when washed. Microfibers or microplastics are tiny fibers or plastic pieces, too small to see, that pollute our water systems and eventually end up in drinking water, food, and the oceans.
Agitation in washing machines causes most of the microfiber shedding. Thus, we can reduce the impact of microplastics shedding from our clothes by handwashing them, washing them less often, keeping the clothes in a washing bag when they go through the washing machine, or adding a filter to the washing machine that collects the microfibers before they end up in wastewater.
I really love my activewear, and we don't really have any alternatives now to get the same level of performance and stretch from materials other than those derived from plastic. Not willing to give up the leggings I live in almost every day and the sports bras that protect my body during workouts, Girlfriend Collective is a great alternative that's not environmentally perfect but far better than most other options.
Patos White Tennis Shoes
I don't make a lot of impulse purchases, but I snagged these from a Kickstarter campaign a while back. Patos produces shoes in Peru through a thoughtful and deliberate process with fairly-paid artisans who earn 3-5x the Peruvian minimum wage.
On their site, you can meet some of the artisans behind the shoes, see glimpses into the factories where their shoes are made and feel good that you're investing in a high-quality pair of shoes.
When we buy from fair trade artisans, like those at Patos, we buy into a slower fashion cycle that not only values the work of those in the supply chain but also limits the churn of resources feeding into the fashion system and ultimately ending up in landfills.
Being more thoughtful about the clothes we buy can have a significant impact on our carbon footprint and the role we play in contributing to climate change. Each item won't individually change the world, but we can collectively change the conversation about fashion when we support the businesses and habits that are working to turn fast fashion on its head.
Do you have any favorite eco-friendly and sustainable fashion brands? I'd love to hear about them!