Secrets to Scoring the Best Secondhand Style from thredUP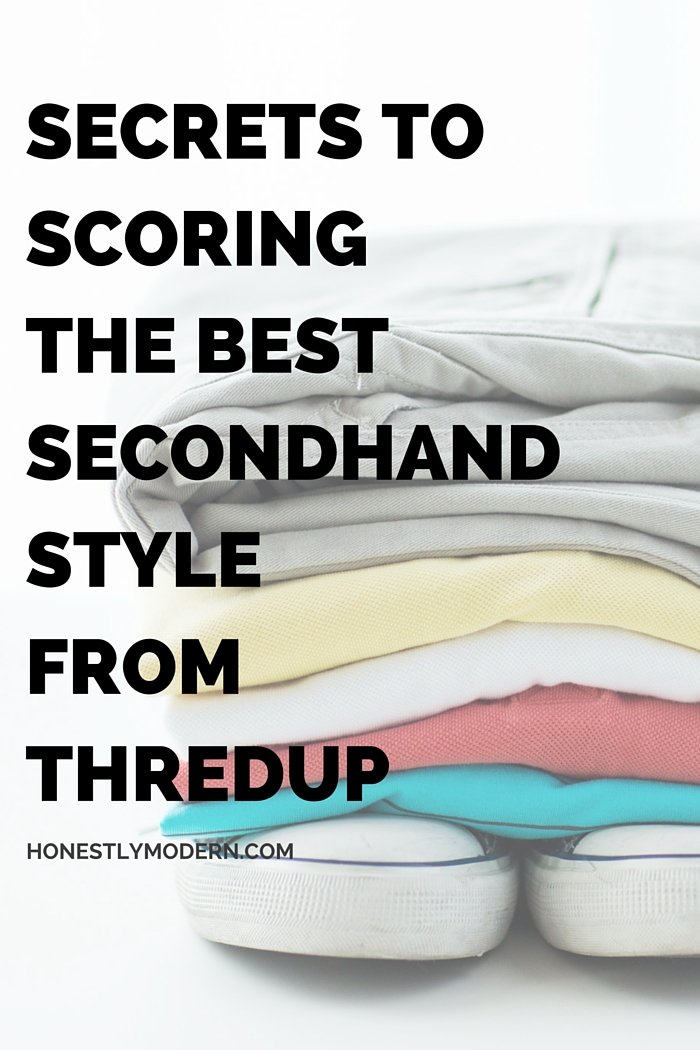 Want to know a little secret about the absolute best way for busy moms to shop? If the title of the post hasn't already clued you in to where we are heading, it's online resale, and specifically thredUP.
thredUP will rock your closet… as well as your bank account and your social conscience, if you're into that sort of thing.
Shopping online for secondhand clothes is perfect for so many people, and particularly moms. Not only do you get the general benefits of online shopping (without kids and after they're in bed or while they're at school), but it's more time-efficient, saves money, keeps garment waste out of landfills, reduces unethical production of cheap clothing already being supplied in droves, and decreases the harmful environmental impact of raw material creation that many clothes generate. In other words, it's a win-win-win-win-win-win.
Right about now some of you are convinced secondhand shopping is less stylish and too time-consuming. You don't have time to sift through piles upon piles of other people's old clothes. Moreover, it's just plain gross. But guess what? I think you're wrong (and that probably doesn't surprise you).
I challenge you to give it a online secondhand shopping a chance. I trust you'll find otherwise, especially at thredUP.
Shopping in traditional thrift or charity shops where collections are far less curated does require more patience and energy. But with thredUP, that's totally not the case. You really won't be sacrificing quality or current trends in your wardrobe. I've purchased many items from thredUP and every one of them is in great condition and perfectly stylish. Onlookers will never know it lived a previous life or that it's anything other than hot off the press.
thredUP has done the hard work, sifting through the unwanted to find the high-quality hidden gems. In exchange for all their efforts to collect, search and inspect, you will find slightly higher prices than the more traditional brick-and-mortar secondhand shops. Shopping thredUP (compared to traditional thrift shops) is like buying time and investing in peace of mind, two things that can be hard to come by, even at a price.
Avid price comparison shoppers may suggest that thredUP prices don't necessarily save much money compared to big box bargain stores, and they're correct in a sense. But they're not comparing apples to apples. For a similar price to your favorite quick fix clothing find, you can trade up to higher quality brands and accrue environmental and social benefits (those things I touched on earlier). In other words, you're getting more for your money and being a much more responsible shopper for the same dollar value.
Shopping thredUP isn't for everyone. Nothing is "for everyone" after all. But if you haven't tried it because you don't think it's your "thing," I challenge you to give it a shot. You might find that it's just what you were looking for.
Whether you're a secondhand shopping 'newbie' or you've already dipped your toes in the water a bit, I've compiled a ton of tips to help you become a thredUP pro.
Let's get started!
Make a Wishlist & Search With An Intention
The site offers tens of thousands of items, so broad browsing will likely lead to frustration. Have a wish list of a few things in particular for which you're searching and target those sections while you peruse what's available.
Use the filters ~ The site offers all sorts of filters including size, style, price, brand, color and type of item.

Use as many filters as you can

. The more specific your wish list, the more filters you can use to save time surfing through items that don't fit your tastes and needs.
Search regularly ~ Stock changes daily, if not hourly. It's not unusual to watch new items pop up while scanning a particular category (or at least it feels like that happens to me). The inventory turns quickly so coveted items sell fast and new items are added all the time.
Use the search bar ~ If you know exactly what you, start your search with a specific search term (like skinny jeans or winter coat). If you don't find what you're looking for, you can always expand using the more conventional filters. However, the fewer items you navigate through before finding your gem, the better, right?
Fill your cart and curate later ~ Finding something again after you pass it up is not particularly easy or exciting. When you see a piece you think might be a winner, add it to your cart. When you've finished collecting items, head to your cart and start the more detailed and diligent critique. Now's the time to

really challenge each piece and make sure it's perfect

(considering many of the topics below).
This was my cart the last time I shopped thredUP. With everything on one screen, I removed a few selections from this list and got only what I thought would be really useful and truly meet my needs.
Most Pieces Won't Work For You
thredUP has done a great job ensuring that only high quality pieces land in their inventory. But that doesn't necessarily mean they will be right for you. In fact, with so many styles and trends, body shapes and personal preferences, most clothing won't meet all your needs.
Be judicious ~ When you find something you like, really put it to the test. Is it perfect? If not, you're probably not going to love it. In other words, you'll hate it after you wear it just a few times. There are so many clothes in the market that we should

never settle, no matter the price

. If you don't absolutely

love

the piece, move on and let it go. Every piece you buy should fit both your body and lifestyle well, and it should be consistent with general tastes. If any of those conditions aren't met, you'll surely find something better.
Don't buy it just because it's cheap ~ Low price and discounts don't always mean great value. Would you buy it at full price? While it's wonderful to receive a discount, the discount shouldn't be the reason you purchase the item. It should be little more than an added bonus. Buying cheap items because they feel like a good deal often results in an overflowing closet full of nothing to wear. And that, effectively, is more expensive than any full price closet.
Don't forget free returns ~ Sometimes it's easier to just leave something in our closet if it's 'ok but not great.' Don't fall for that trap. Save the box in which you received the clothes. If a piece isn't love at first sight (or nearly first sight), you're best bet is probably to put the piece right back in the box and return it for store credit. You will find something better next time!
Use Brand and Measurement Information You Already Have
Start with familiar brands ~ If you're new to secondhand shopping, focus on shopping for brands you already know and love. thredUP has loads of inventory from all the big brand name stores. You likely know how certain brands fit you and what size you are in their respective lines. If you're concerned about fit when buying online, particularly resale, focus on first buying brands you know will fit because you're familiar with their sizing and cuts.
Own a sewing tape measure ~ This flexible measuring tape wraps well around all the curves and turns of your body (unlike that rigid ruler still hanging out in your junk drawer from middle school). They're very affordable and will be a great investment in the next step, knowing your measurements.
Know your measurements ~ thredUP, and most online shopping sites, offer garment measurements in the descriptions. These are tremendously helpful considering you can't try things on and web photos don't generally provide good context for fit, form, and size.
Compare posted measurements to measurements of your own clothes ~ Beyond measuring your body, measure some of your favorite clothes already hanging in your closet. If a gorgeous dress you already love is 36″ long, you'll be able to make a direct comparison about how a new dress will fit and where it will fall on your body based on the dress you already own.
For the shirt below, I knew exactly what type of top I wanted to buy. I already owned one and wanted something in a similar style. I measured the other shirt I had and noted it was 23″ long. At just 21″ inches in length, as you can see in the screenshot below, I knew this wouldn't work for me despite falling into my size filters. Although I liked the flow and pattern of the shirt, I passed because the measurements indicated it wouldn't be the perfect fit for me.
Shop For Your Kids Too
While I love that I can find pieces for myself, I really appreciate that I can shop (and sell) pieces for my boys as well. Truth be told, I have tons of clothes so I'm currently letting go of more than I bring in. But my little guys, always growing, regularly need new clothes. When I earn store credit for selling my own clothes, I often use the credit to purchase new things for my boys as they outgrow their current wardrobes. Being able to intermingle shopping for my own needs as well as my boys allows me to better utilize store credit, more easily take advantage of free shipping offers, and simply saves me time.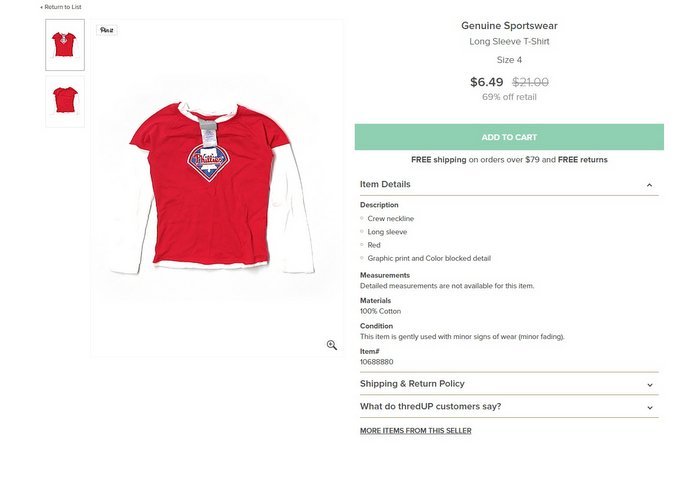 Save Even More Money
While shopping secondhand has many environmental and social benefits, saving money is an obvious bonus. >thredUP allows you to purchase better brands at lower prices, as you'd expect, because pieces are not new. But you can save even more money by using a few other features.
Send in your unwanted clothes ~ Chances are you have a host of items in your closet you no longer love but that have plenty of life left in them. Order a Clean Out Kit from thredUP and send in your high-quality pieces you no longer wear. The site offers helpful information about what types of pieces they accept. While you can cash out your earnings, you can also opt to use earnings on new purchases. I've come to buy many pieces from thredUP and I expend less real cash due to credit balances in my account from selling them things I no longer love. You can see below that all by $10.30 of my purchase I covered with store credit, most of which came from pieces I'd sent in previously.
Be on the lookout for coupon codes ~ Almost (though not) every time I shop the site, I have a 10% off coupon code waiting for me when I arrive. You can't argue with 10% off something you already planned to buy.
Get free shipping ~ When purchasing over a certain threshold, you'll get free shipping. Be sure to take advantage of it. Often, the shipping costs are more expensive the incremental item you might have to add to your basket. In this case, in the screenshot above, you can see I was $0.03 away from free shipping. That would be ridiculous to ignore. I knew my boys could use a few summer pieces, so I searched for shorts in their size and found a pair of shorts in one of T's favorite colors.
Use the referral program ~ If you love >thredUP, why not share it with your friends and earn a little store credit in the process? When your friend makes their first purchase, they get $10 off and you earn $10 in credit as well. That a serious win-win.
Shop through Ebates ~ In addition to already great prices, shop through >Ebates and get an additional 2.5% cash back. Pretty great, right? If you're new to Ebates, use >this referral link and get $10 when you make your first purchase.
I'm not advocating that you shop for the sake of shopping. I've been on a diligent course to minimize my wardrobe significantly over the last year and have encouraged others to do the same if they see fit.
But we inevitably want or need new clothes occasionally, and when the time is right to buy, thredUP is a perfect option. >thredUP has done all the 'dirty work' of shopping secondhand by sorting through and selecting only great quality pieces in current styles. They've filtered and sorted like crazy allowing you to use their technology to find exactly what's on your wish list. Being a more conscious, budget-savvy and efficient shopper doesn't get much easier than this!
On the thredUP site, you won't find a million pieces that you love at first sight. But heck, if we encountered that everyday we'd all be broke (and likely swimming in credit card debt). But when you applies the rules and tools above, you're more than likely to find just the right number of things that are perfectly perfect for you. You'll find a great piece, save some money, and feel great about being a more responsible shopper. What's not to love about that?!