These Non-Mom Mom Jeans Passed the Travel Test
Looking for the perfect denim for everyday moms? These non-mom mom jeans that are reasonably priced and made in the USA will do just the trick!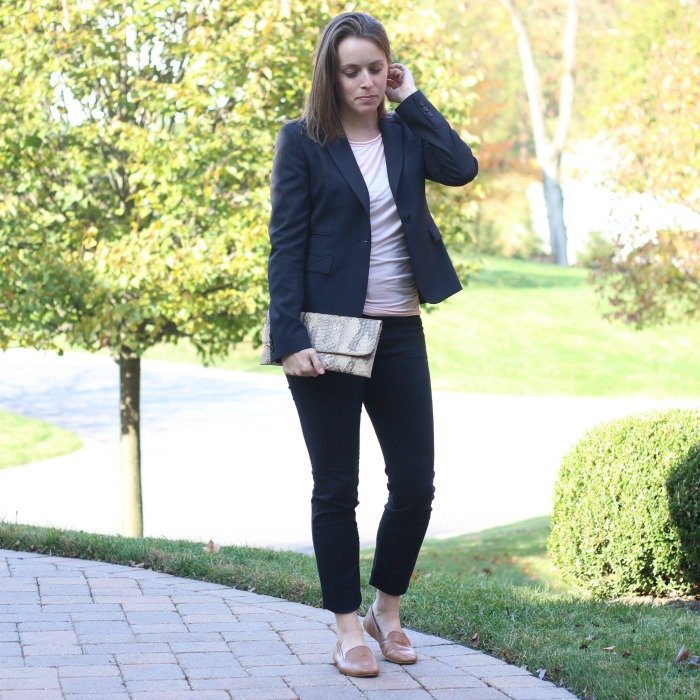 A few weeks ago, I hopped on a plane for a business trip, headed to a large company conference (where I was presenting to hundreds of high level personnel, no less). As I walked off the plane in my warm and sunny destination, I ran into five of the partners from my firm also flying on the same flight.
We were traveling on a Sunday evening to arrive in time for early Monday meetings, so most of us were in casual attire. But as it goes in the conservative accounting world, some of the partners sported sport coats, khakis, and polo shirts with nice denim (at worst). I suspect at least one or two of them were slightly mortified to see me wearing… leggings and a hoodie. Yep. That's how I roll through the airport.
Quick Change
M thinks it's a little ridiculous, and I can't really argue. But on most of my business trips, my M.O. is flats and a wrinkle-resistant dress artfully rolled up in my laptop bag to be donned only as needed. I make a quick pit stop in the airport bathroom upon arrival to change. Time permitting, I change back into my comfy leggings and hoodie in the airport before boarding on the way back home.
On the plane, I often sit with my knees to my chest and curl up with my Kindle or my phone and read a book, draft blog posts, or listen to a few podcasts. Business travel time on the plane is a wonderful reprieve from the constant inundation of life and demands on my time. I do some of my best brainstorming, be it work or personal or blog-related, on planes, as little interrupts my free-flowing mind.
With so much opportunity for insights and creativity, you better believe it won't be hampered by uncomfortable work clothes, tight jeans, or (gasp) a dress.
Plane Denim
This past week, I had a slight change of heart thanks to the most lovely pair of non-mom mom jeans from Industry Standard. I traded in my leggings for these jeans and they were so comfortable the entire flight.
They passed the travel test.
Non-Mom Mom Jeans
Let me break down why I call these the best non-mom mom jeans.
Fabric: The denim has the perfect amount of elasticity that keeps the jeans from stretching out too much between washes and helps them look and feel flattering without being too tight. As any mom knows, having a little flexibility in a pair of jeans to carry us through changes in our bodies as well as cater to all sorts of activities with our kids is paramount.
Waist: High-waisted jeans are totally in right now. For the most part, I hate them. Maybe I have the wrong body type or maybe just the wrong attitude, but I think high-waisted jeans walk a fine line between haute and horrendous.
Despite the style risk, high-waisted jeans offer the functional benefit of added coverage on our backsides. Bending over, picking up kids, and chasing little ones all around town exacerbates the need for something a little more conservative, unless you're the type that wants your underwear hanging out your pants. #NoJudgementHere … but.. #NotForMe
These Industry Standard Simone's (and my Emmanuelles, for that matter), have a really comfortable and well-fitting higher waist that offers all the extra protection I want without feeling frumpy and dumpy.
Price: There's a good chance my clothes are covered in crumbs, dirt, and stains by the end of the day courtesy of my boys confusing my clothes for napkins. Most great denim comes with a hefty price tag, something I'm not fanatical about paying when I know the clothes will be subject to pretty solid beatings from my boys. As I mentioned in my recent post about my Emmanuelles and the first time I shared this black pair, the price is very reasonable, particularly considering they're high quality and made in the United States.
"Mom Jeans" aren't exactly complimentary, and I hope no one ever tells me I look like I'm wearing "mom jeans." It might be a good style for others, but it's really not for me. Yet we still need functional clothes that let us do our daily job of being a mom without fretting over our what we're wearing all day. These jeans are definitely a great addition to a curated wardrobe that does just that!
Blazer – Reiss (secondhand) | Shirt – Johnny (secondhand, made in the USA) | Jeans – Industry Standard | Shoes – Sseko Designs | Clutch – old