18 Ideas to Remix a Bright Colored Cardigan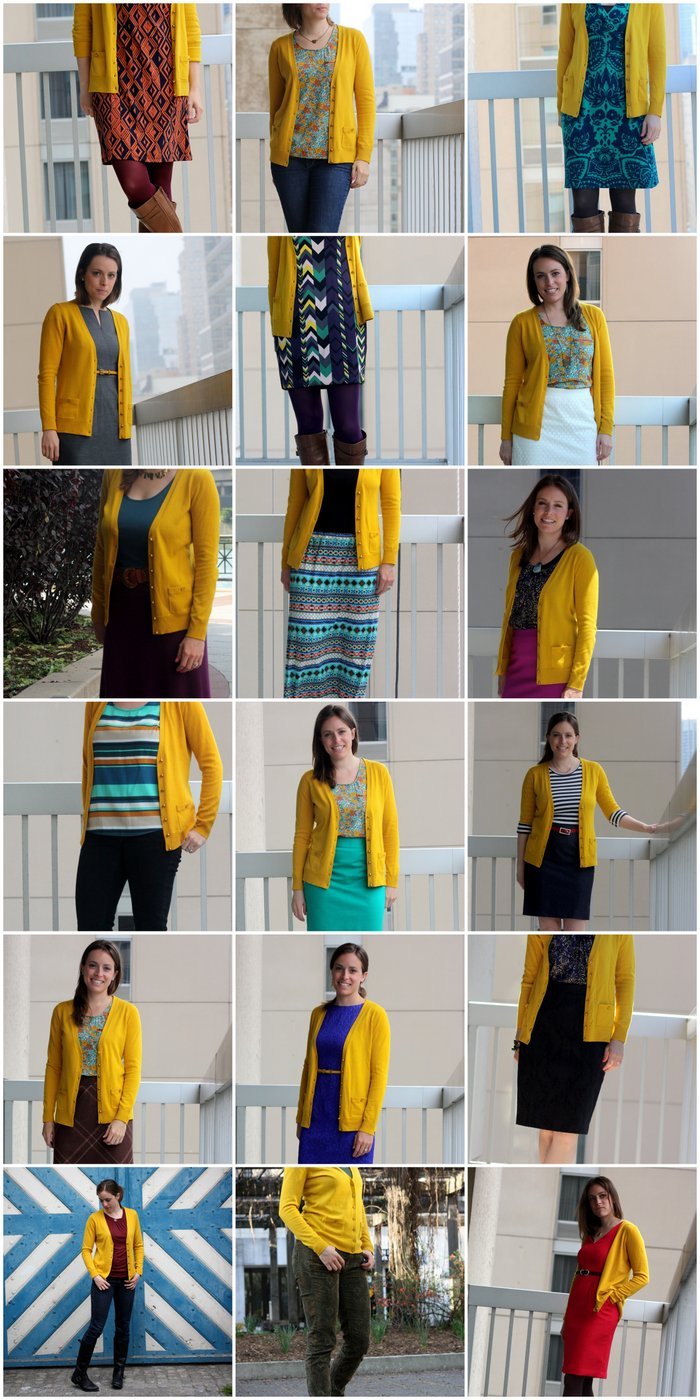 This post has been a long time coming! I started drafting this (in my head at least) back in December 2014. Then blog life somehow slipped away into the chaos of real life (work, family, a rare trip to the gym or yoga mat). Blogger or not, I suspect you all know how I feel about some things getting lost in the shuffle for a surprisingly long time.
Nonetheless, it's time for an ode to this bright colored closet workhorse, my mustard cardigan.
A friend of mine who's a buyer for a very large department store once told me that stores buy different colored products in the same style for different reasons. As customers, we're quite predictable, which allows stores to lead us toward certain purchases. Let me explain using this mustard cardigan as an example.
When Banana Republic chose their collection of colors in which to offer this sweater, they likely purchased a slew of sweaters in black, navy, beige, and other traditional colors. To draw our eye to the table or shelf on which the sweaters laid, they bought just a few in bright colors like this yellow one or hot pink or lime green.
In general, they suspect most of us will pick up the hot pink or lime green, decide it's too loud, set it back down, and opt instead for the black or navy option we may never have noticed without the attention-drawing power of the pink or green.
Guess what, B Rep?! I called your bluff! The bright mustard color caught my eye, and I bravely took it home with me. Honestly, when I bought it, I had no idea how I'd wear it (which perfectly explains why B Rep doesn't expect most of us to buy it). But I followed my instinct and have been truly amazed at just how often it's the perfect finishing touch to so many outfits. (It doesn't hurt that I have a pair of ballet flats and belt in exactly the same color.)
Above, I've included a round up of 18 different ways I've worn this bright sweater over the last three years. You can check out the full posts with the links above for each outfit. Two of the outfits are new today and the details are below, so enjoy these newbies to the "Mustard Cardigan Outfit Club" (which is now a 'thing' according to me).
Keep on scrolling down for the style summary of Ways To Wear A Bright Colored Sweater in a whole host of ways!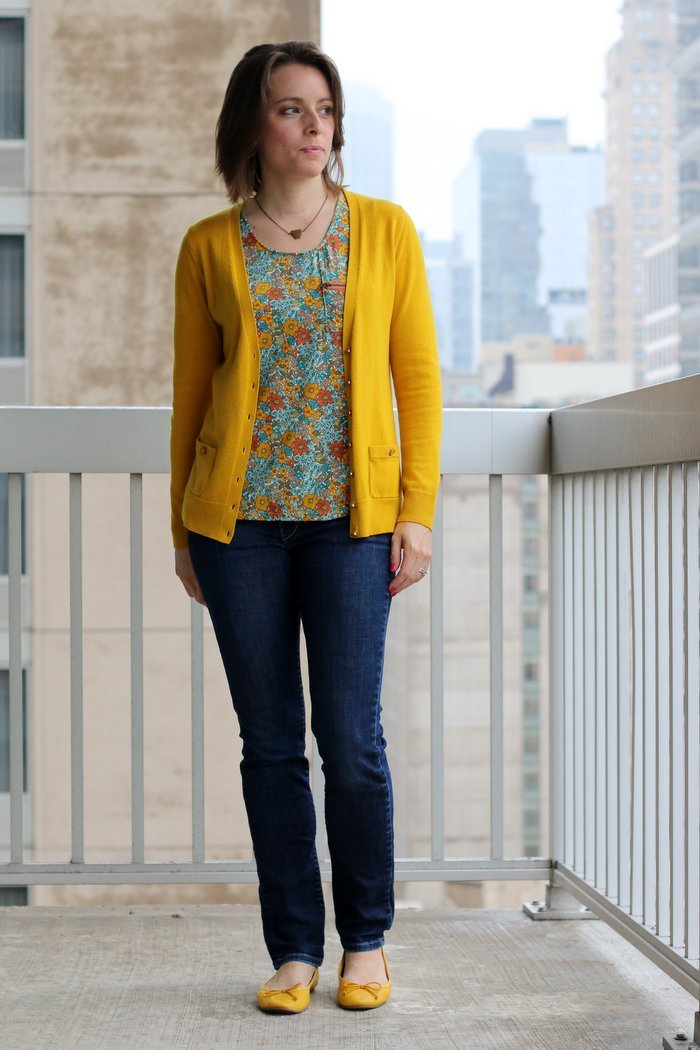 Sweater – Banana Republic // Dress – Kenar // Blouse – Tulle (thrifted) // Jeans – Banana Republic (thrifted) // Flats – Franco Sarto // Boots – Aerosoles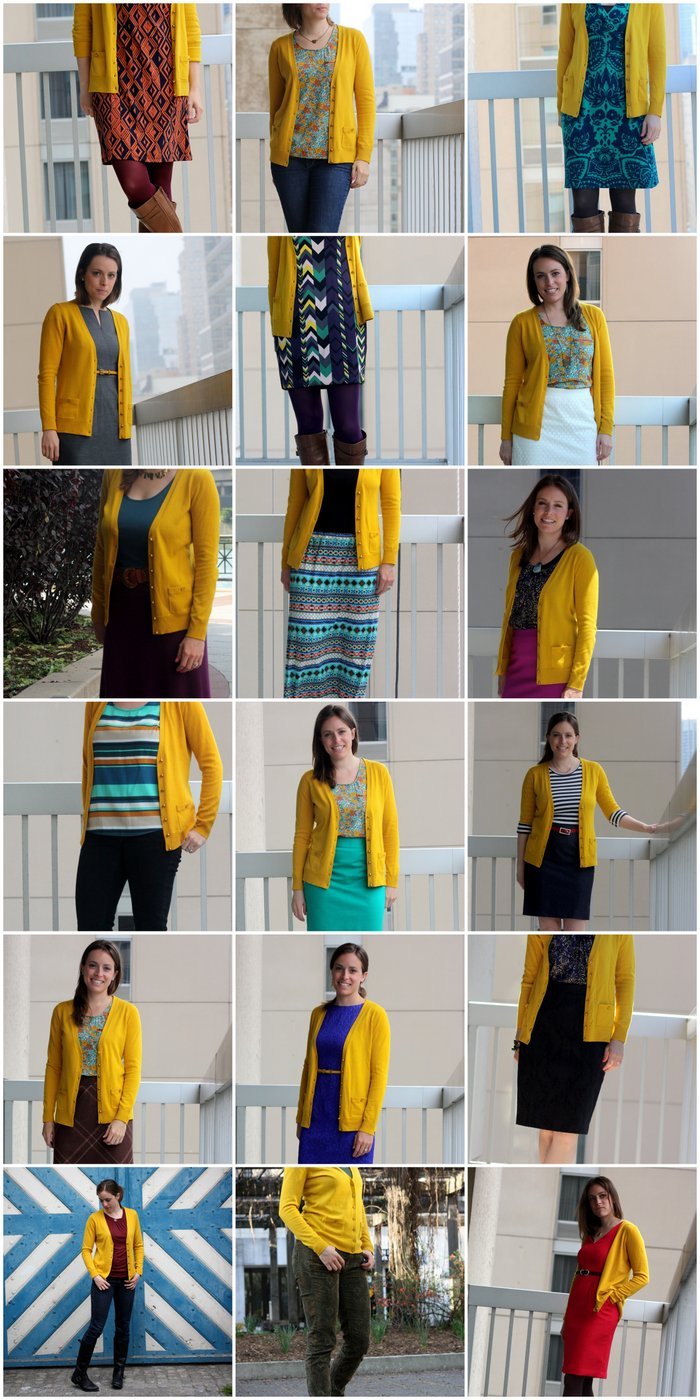 1 | 2 | 3
4 | 5 | 6
7 | 8 | 9
10 | 11 | 12
13 | 14 | 15
16 | 17 | 18
So let's break this down. I've included the photo collage as well as the links again so you can refer back as we travel through this style monologue. This post is a bit of a doozy, and I'd hate to be responsible for anyone's carpal tunnel. Here are a few ways I've sported this sweater since it landed in my closet.
Complementary Colors – Solid + Pattern (Outfits 1, 3, 9, 12, 15, 17)
Several times, I wore this sweater as a complementary color to another patterned piece in my outfit. The mustard color is bold and highly saturated. Consequently, I often wore it with other bold colored pieces (olive, deep orange, maroon and navy, for example). In all cases, the coordinating pieces were also comprised of saturated colors to help keep an aspect of consistency between all pieces.
Matching Color in a Pattern (Outfits 2, 5, 6, 10, 11, 13)
Probably one of the easier style lessons to learn (which explains why I can regularly execute it), the patterned piece in the outfit included the color mustard in it. Adding the sweater brings out the yellow in the pattern and creates a base to tie the bright color of the sweater into the outfit.
Complementary Colors – Colorblocking (Outfits 7, 9)
In the same manner of complementary color pairings noted above, I chose to color block instead of rely on a pattern to make a statement with the outfit. Simply stick with solid colored pieces that are in the same tones and you'll be good to go.
Coordinate with Accessories (Outfits 4, 14, 17)
At the risk of being too matchy matchy, I offset the bright color of the sweater with elements of the same color in other parts of the outfit. I don't own loads of mustard accessories. I do, however, own one pair of mustard flats and a perfectly matching mustard belt. In design and style alike, complementing elements often look great in groups of three, so the belt, the sweater and the shoes make a great team.
Pop of Color Against Neutral Base (Outfits 4, 15, 17)
You all know the drill here. Stick with a mostly neutral outfit (black, gray, brown, navy, olive, etc..) and add one piece that provides a pop of color to bring interest to the style combination.
So that's that! Hopefully you can use a few of these to remix the pieces hanging in your closet. If you've got one bright colored cardigan or sweater, you now have 18 potential ideas on your fingertips to put that bad boy to work.
Don't forget that it doesn't have to be a sweater necessarily for these style principles to apply. Consider following these ideas with a skirt or pair of pants that are 'loud and proud.' Just flip my outfits upside down and you're right on the mark.
Share Your Inspired Style: Should you create an outfit inspired by this, be sure to link up in the comments. Even if you're not a blogger, many readers have Instagram accounts and share their style there. Link up your Instagram post or simply tag me (@honestlymodern) in your post so I can check it out.
Thank you so much! I look forward to seeing your own style interpretations.