An Unpaid Review of the thredUP Goody Box
Have you tried a thredUP Goody Box? It's a simple secondhand style box made up of ten secondhand items curated for you by a thredUP Treasure Hunter. Read for answers to all your thredUP Goody Box questions.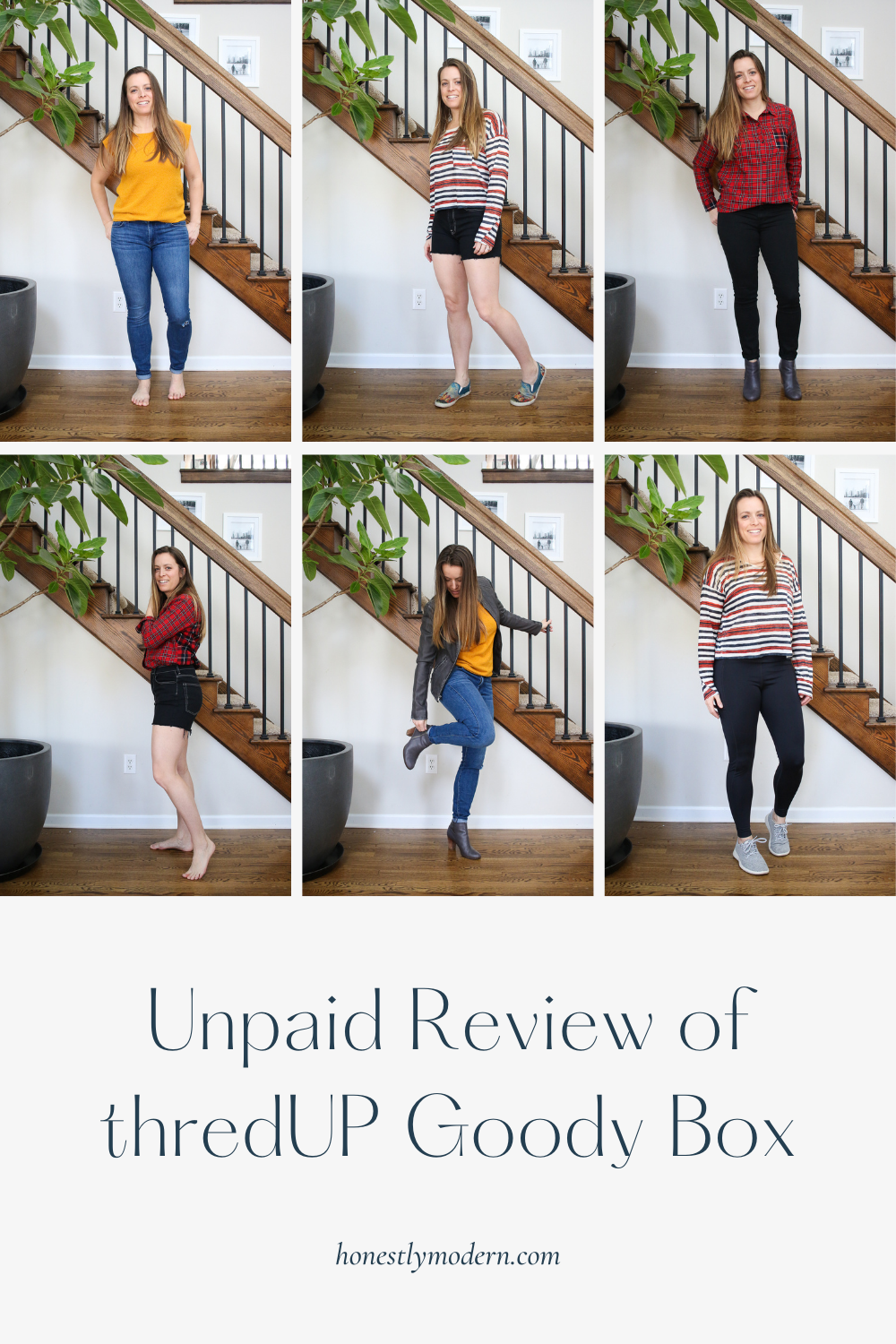 Maybe it's a year of sitting at home in leggings or maybe it's the promise of spring in the air, but over the last couple of months, I've been itching to refresh my closet. I felt like I was in a rut with my clothing, but I had no idea what to buy or what I wanted to replace. Leggings are quite comfortable and incredibly functional, after all!
I also don't have a lot of time or interest in sifting through style trends and different brands to find the perfect pieces for my wardrobe. Following fashion trends is just not my idea of a good time.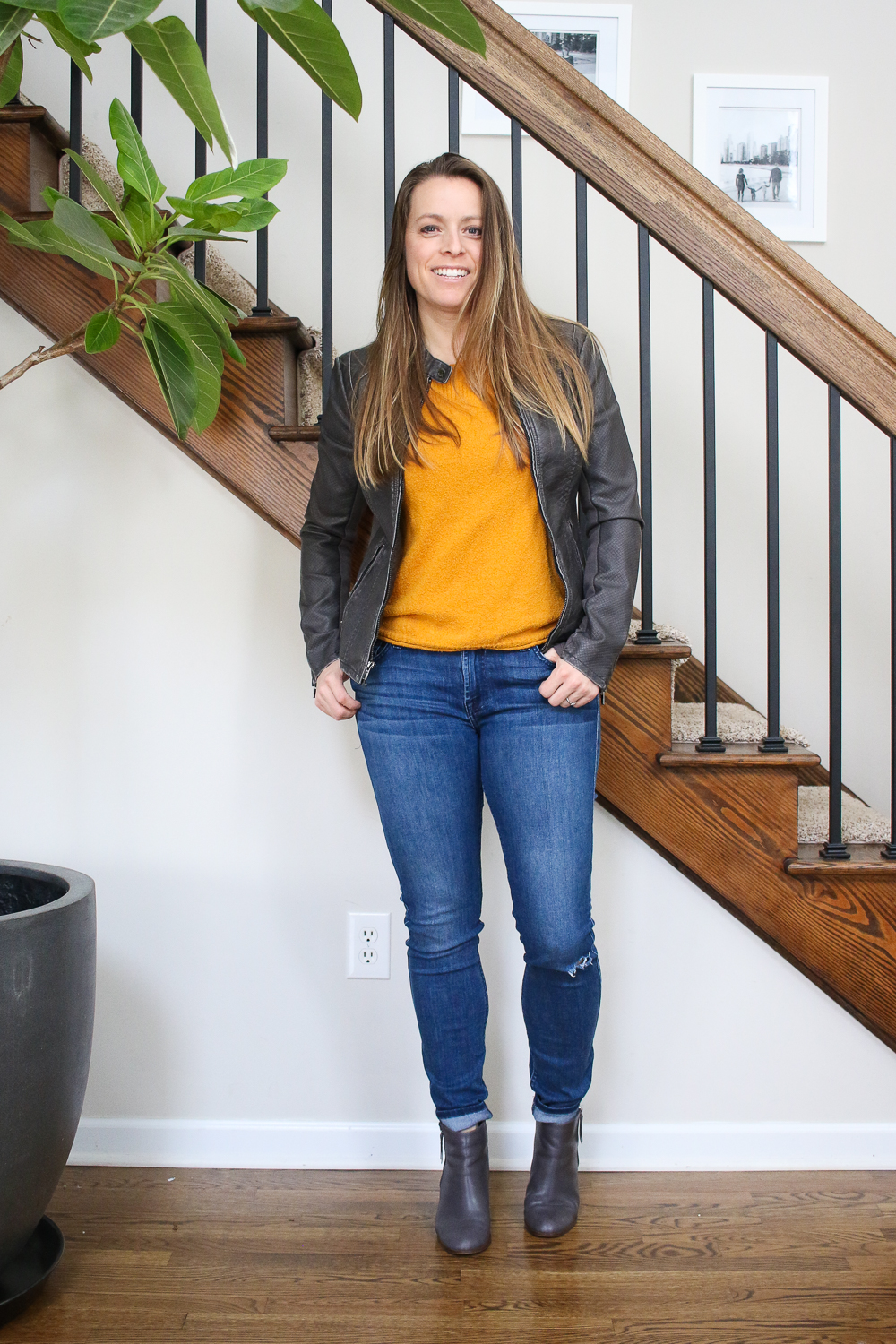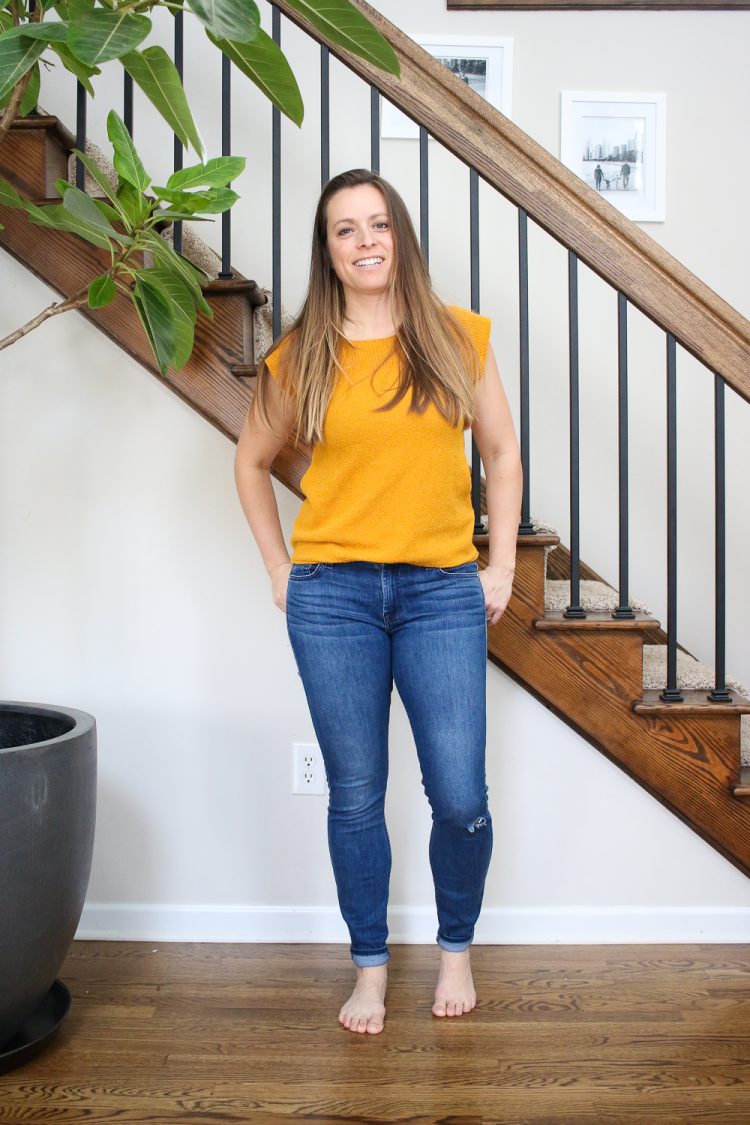 Over the holidays, my sister raved about her experience with another stylist-curated clothing box. I've contemplated trying it for a while but also felt like they encouraged overconsumption. I didn't want items sent to my house that I knew I would send back or that I expected I might keep but not entirely love.
As I reflected on her experience a bit more, I started to wonder if periodic receipt of curated style boxes might actually reduce consumption. So many people buy things because items are on sale or look great on someone else and end up with a closet full of items that don't work for them or don't work with each other. I know this because many years ago I was one of those people.
What might our closets look like if each person purchased 3-5 new items per season that were selected for them by a professional stylist? Maybe we would love our clothes more, feel great wearing them, be less inclined to overconsume, and slow the fashion cycle?
I'm still not a fan of receiving a new box of clothes every month. That feels too often for me. But a style refresh of a few new pieces two to four times a year doesn't sound so crazy to me.
The right frequency will be unique to each person, but my anecdotal experience makes me believe that most of us aren't fashionistas that thrive on new outfits every day. We just want a simple style that makes us feel great and that doesn't require new pieces every week if we can find a few things that feel good.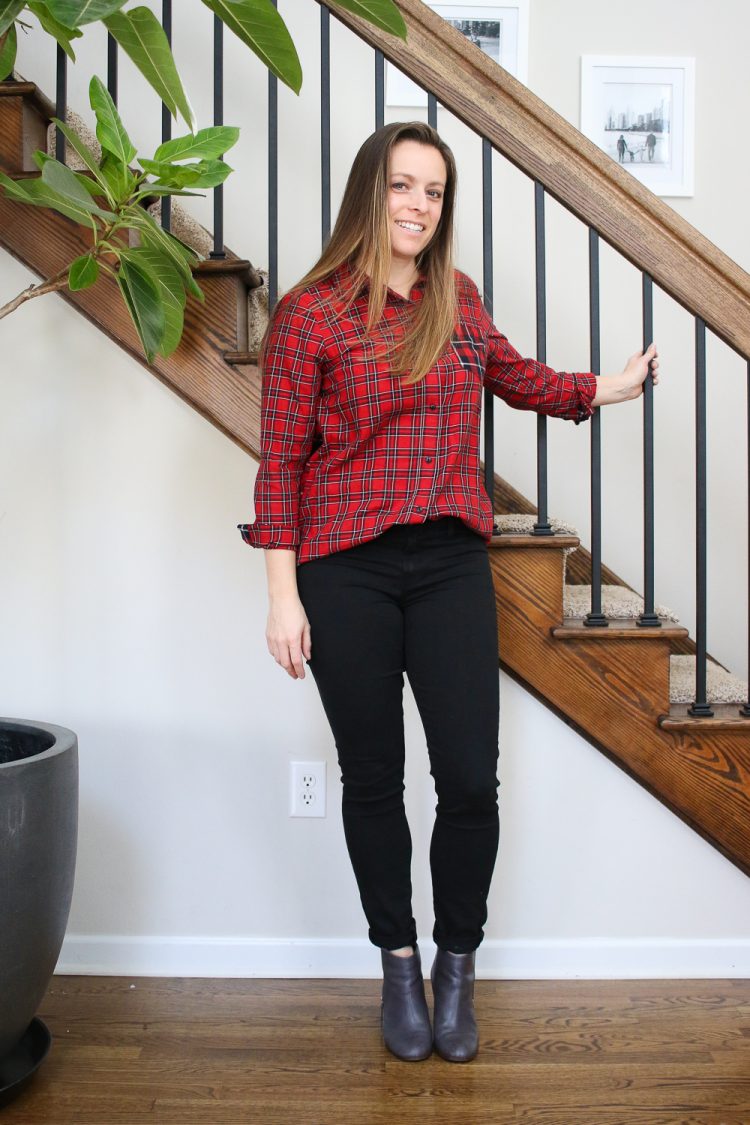 While some might consider it vain, I think there's value in feeling good about the clothes we wear and how they look on our bodies. A certain level of confidence comes with putting on something that fits well and looks great.
With all of this on my mind, I decided to try the thredUP Goody Box. I was ready for a closet refresh and had no idea where to start. I hoped the thredUP Goody Box would provide a few fun items to spice up my closet in a way that I couldn't do for myself, while also supporting the secondhand market.
I ended up really liking the experience! I received several items I liked (most of which I never would have chosen on my own), and I'll probably try it again sometime. Hopefully, the following thredUP Goody Box Q&A will help you decide if it's something that might be good for you!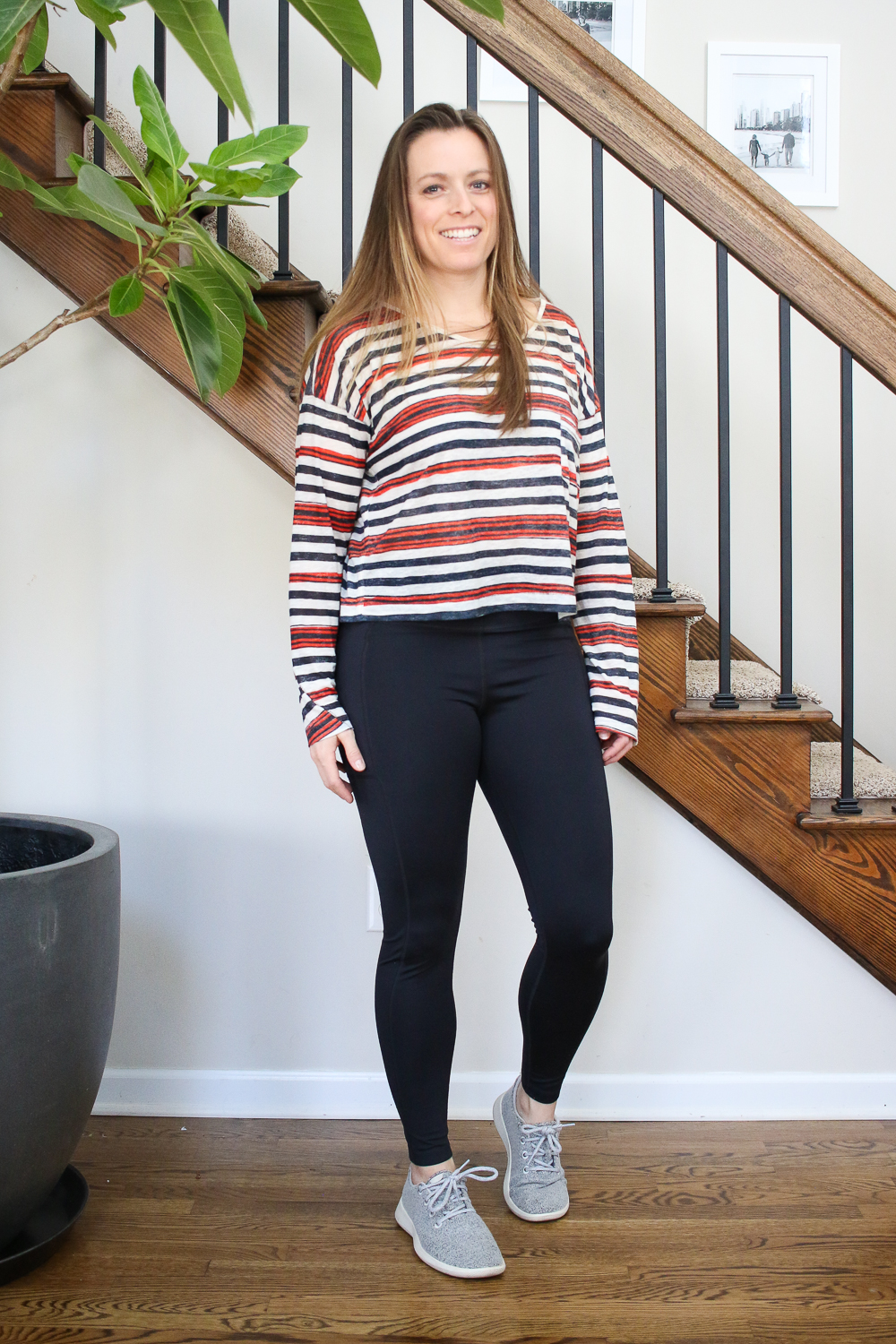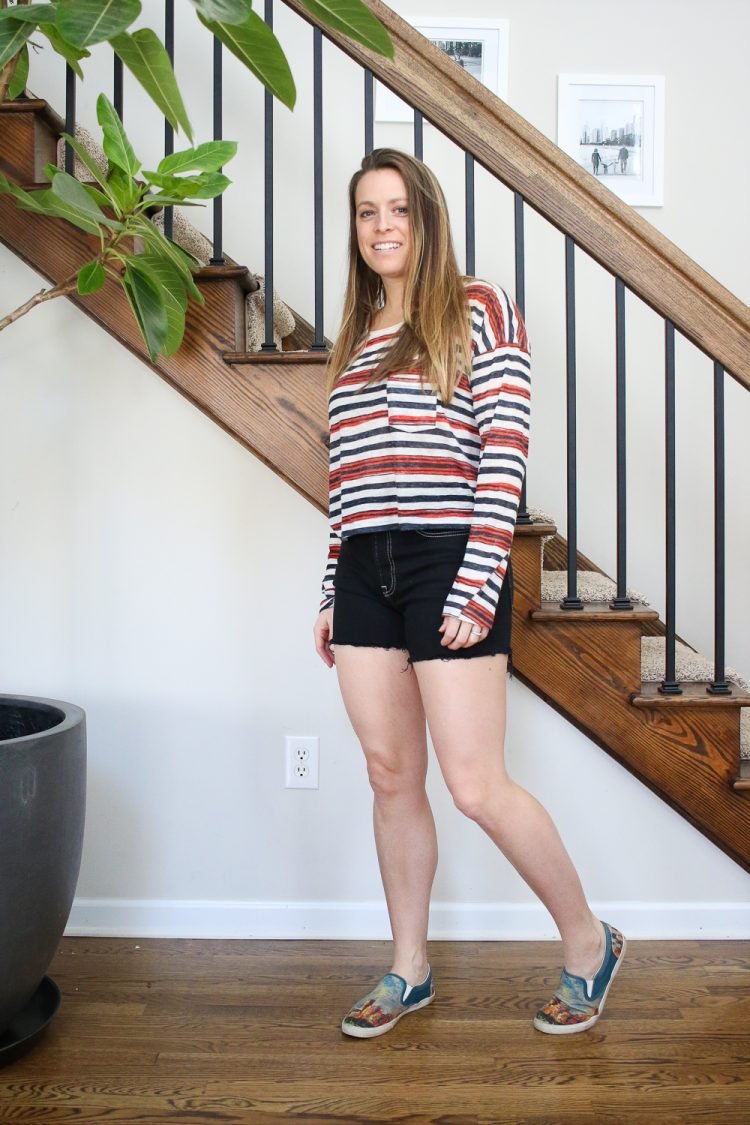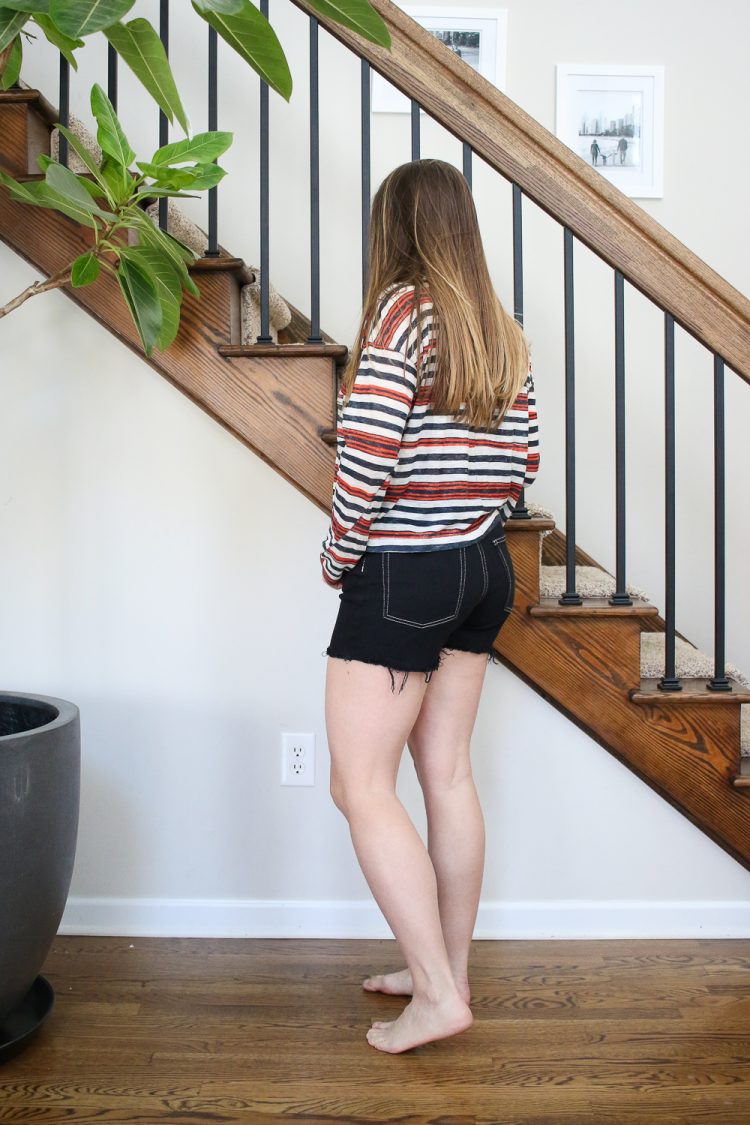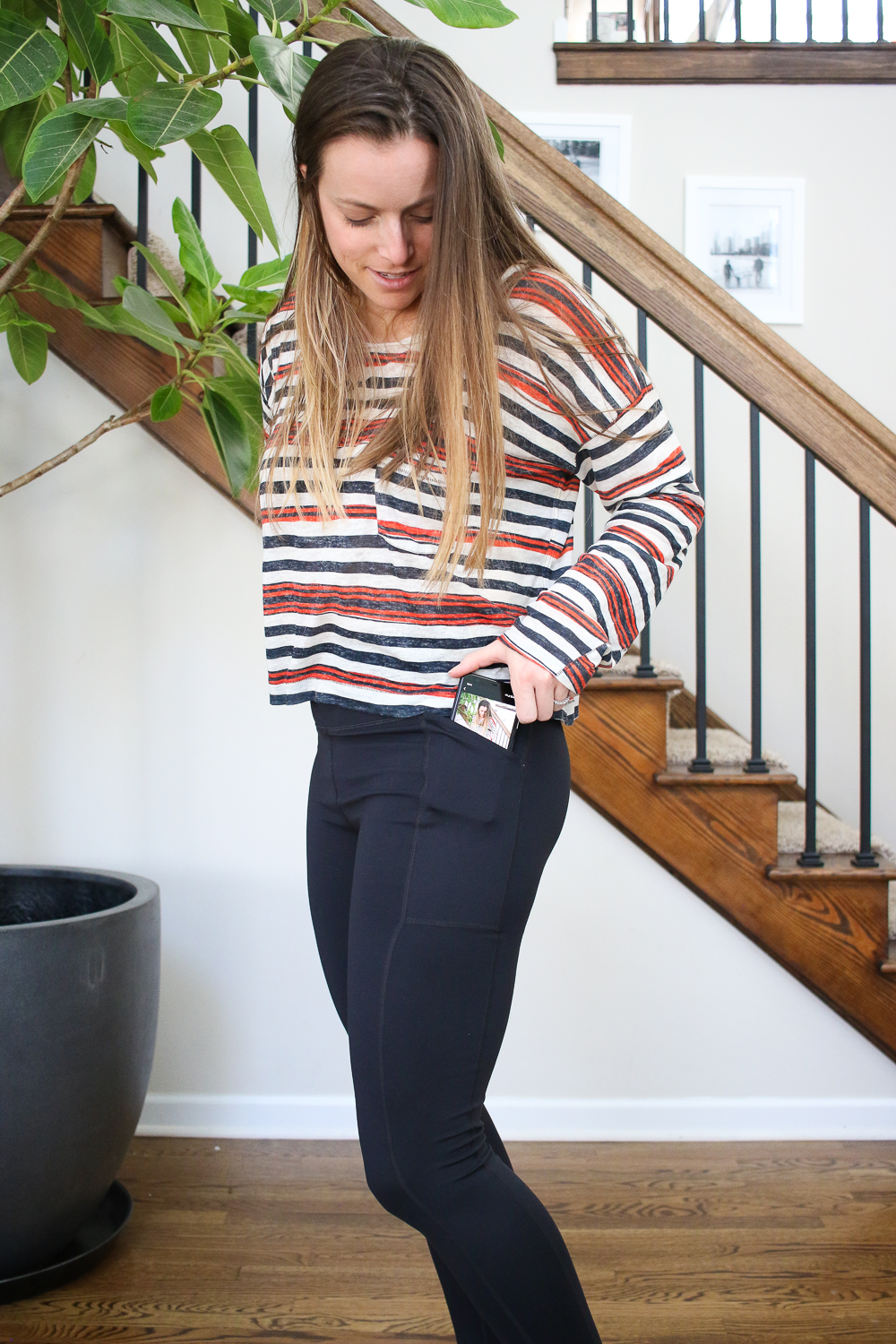 What is thredUP?
Before diving into the Goody Box, let's talk about thredUP first. thredUP is an online fashion resale site that helps support a circular fashion industry in a variety of ways. Through resale and consignment of individuals' clothes to partnerships with major brands, thredUP works to reduce the environmental impact of our clothing and compete with fast fashion in a sustainable way.
thredUP has an enormous inventory with over 2 million items listed on their site from more than 35,000 brands at prices up to 90% off retail. Although they have many filters for brands, pricing, styles, colors, and more, the site can feel overwhelming if you're not exactly sure what you're looking for.
I've been using thredUP for years to sell my clothes I no longer need and replace them with new-to-me items. I've shared a bunch of tips to find great items on thredUP and how to encourage your kids to shop secondhand as well.
What is a thredUP Goody Box?
The Goody Box is a thredUP kit that includes a collection of about ten items selected for you by one of the thredUP Treasure Hunters (i.e. stylists). You receive the Goody Box at home, review the items, mix and match them with things you already own, and pay for whatever you decide to keep.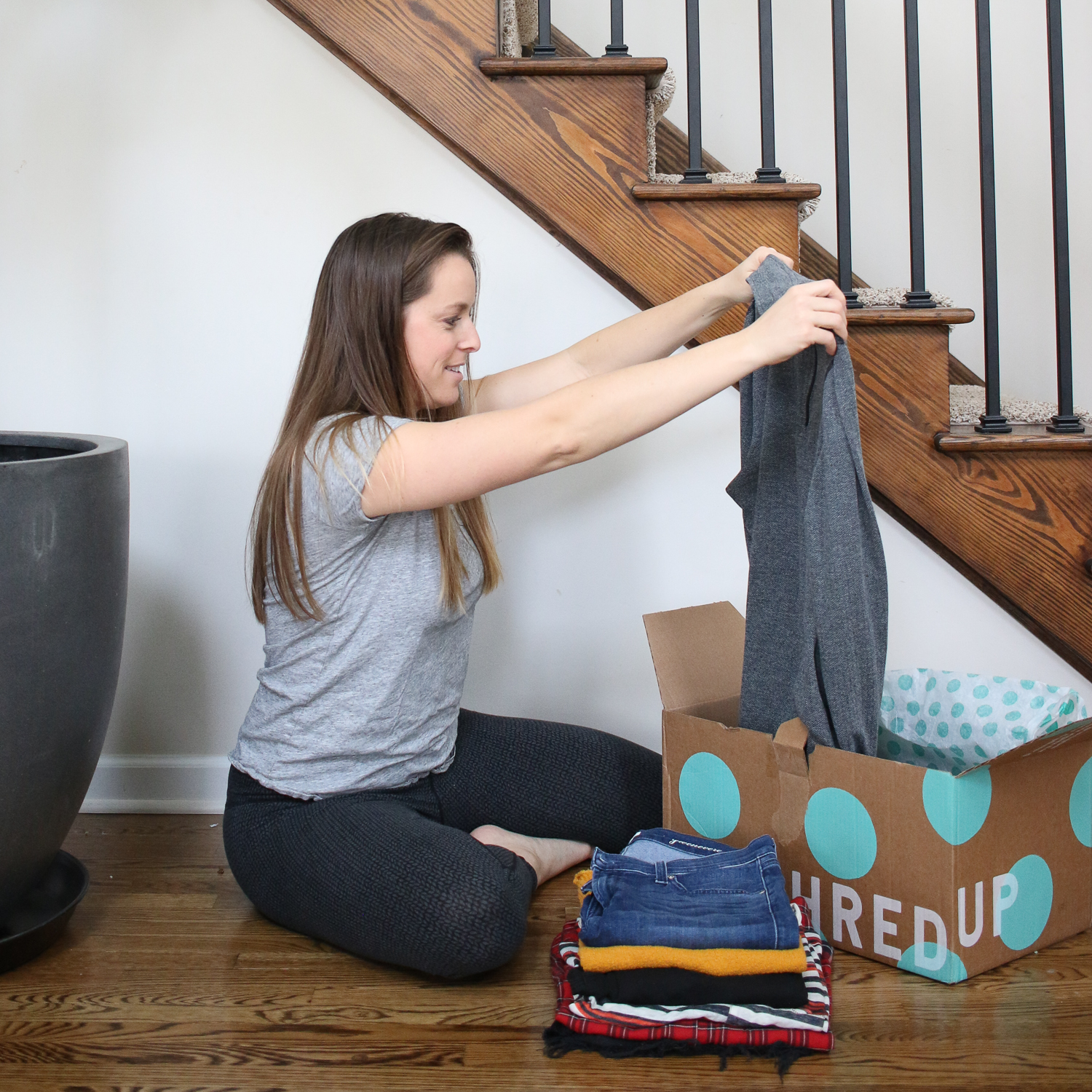 What Do You Receive in a thredUP Goody Box?
Each box contains clothing and accessories that are selected based on answers to a survey presented during the ordering process. When signing up for your first Goody Box, you answer a series of style questions that takes about 3-5 minutes. The survey includes questions about your size, favorite brands, types of clothing you want to receive, and a few other things to give the Treasure Hunter an idea of what to send you.
I asked for shorts, pants, and shirts, and I selected a few preferred brands from their predetermined list. They sent me items in the exact categories I requested and predominantly from the brands I listed.
The box includes a letter from the founder explaining the intent of the thredUP Goody Box program and clarifies that Goody Box Treasure Hunters aren't specifically stylists. Instead, they strive to sift through the massive collection of thredUP inventory to find the best items that match your preferences. In other words, they follow your survey preferences pretty closely, and I didn't expect the contents of the box to vary much from the guardrails I offered in my responses.
Even though the curators followed my requests pretty closely, they still chose several items I never would have selected for myself (which was precisely the intent of the experience). When I shop on thredUP, I naturally gravitate toward the same styles, cuts, and colors. The person who curated my Goody Box picked a few items in patterns and colors I never would have even considered but ended up really liking (and keeping!).
If you choose to order more Goody Boxes in the future, thredUP saves your survey answers so it's a pretty quick checkout process to order another box (though you have an opportunity to edit your survey answers for a new box if you wish).
They also offered themed boxes for seasonal clothes (spring, winter, etc..), work from home boxes, color coordinated boxes and more if you have more specific style needs.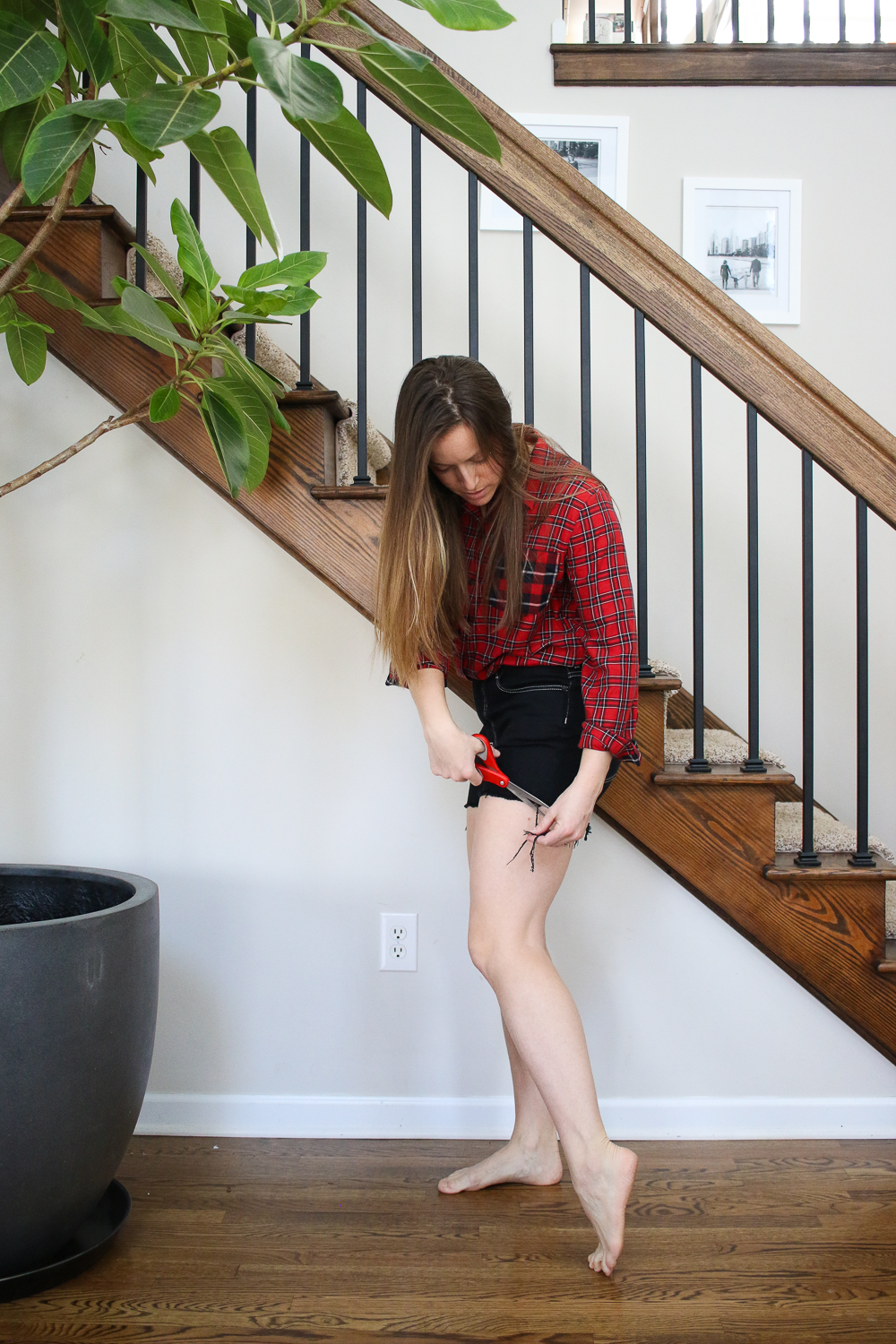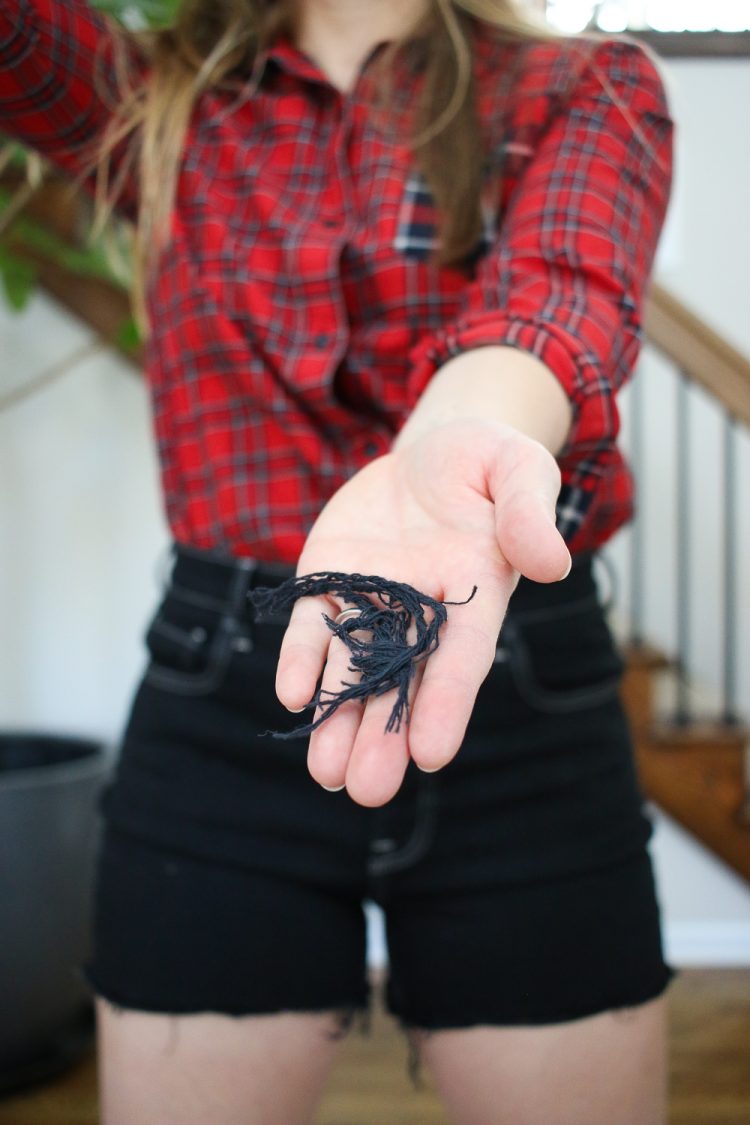 Can you select your own items for a thredUP Goody Box?
Yep! There are several Goody Box options driven by your answers to the survey I mentioned above. However, they do a have a customized option that allows you to choose the items in your Goody Box yourself.
For me, that kind of negates the intent of letting someone else take the time to find pieces and hopefully select a few things I might not chose for myself. But for those who enjoy the hunt, it could be a really fun way to test out ten items, do an at-home style session, and keep what you love!
How Many Items Are In a thredUP Goody Box?
Each Goody Box contains ten items. I kept seven of the pieces I received. One of them I didn't particularly like, and two pieces did not fit me (though they were in the size range I included in the survey). I don't think I would have chosen any of the ten items were I browsing through the thredUP inventory myself.
I kept two pairs of jeans, and I'm always hesitant to buy jeans online. I don't think I would ever have taken the time to look for a pair of jeans in their gigantic inventory. Shopping online for jeans feels massively overwhelming to me, so I was thrilled when several pairs of jeans showed up that actually fit.
I also received a yellow short sleeve sweater and red flannel shirt, neither of which would ever have landed on my radar were I shopping for myself. When I pulled the yellow sweater out of the box, I thought it would return rather quickly. I tried it on despite my skepticism, and now it resides in my closet. I've already worn the red flannel shirt and loved it.
How Much Does a thredUP Goody Box Cost?
The cost of the thredUP box depends on what preferences you include and what you decide to keep. thredUP charges a $10 styling fee that is applied to the cost of the clothing if you decide to keep anything.
With respect to the cost of the clothing and accessories, the initial survey offers three price range options per piece, so the price of items included in the thredUP box will depend on how you answer this question.
I chose the mid-range price option and received all items between $30 – $60. Nearly all of the items I received were between $30-$35 with a couple of items on the higher end of the price range. Thus, for the seven items I kept, I paid about $250.
You can use thredUP credit to pay for Goody Box items you decide to keep. I had some credit from items I'd sold on thredUP, so I used that credit to cover a portion of the cost.
While $250 is still pretty expensive, I received some really great quality pieces. Everything was in like-new condition from brands like Madewell, 7 For All Mankind, and Under Armour. Buying these items secondhand was much less than what I would have paid for retail prices. In my case, I saved about 65-70% off retail prices.
Were the Items Received in Good Condition?
Yes! ThredUP does a great job of sorting through items received from sellers to only resell those items in good or great condition. The site is clear about which items appear like-new and which may have minor fading, piling, or other slight imperfections. All of the clothes, however, are very wearable even if not perfect, and everything I received in the thredUP Goody Box was in like-need condition.
Were the items received of good quality?
Most definitely. The quality of the pieces probably relates, to some extent, on the item price range you choose and the brand preferences you select. Generally, higher-priced items and certain brands will be of higher quality. Within the mid-range price window that I selected, everything I received felt like high-quality pieces that would last me many wears and washes.
Does thredUP ship outside of the United States?
thredUP currently ships to the United States and Canada. According to their website, they do not have plans to expand this footprint in the foreseeable future.
Hopefully, that helps answer a lot of your questions. If you have any other questions about thredUP Goody Boxes (or questions about thredUP in general), be sure to drop them in the comments, send me an email, or drop me a DM on Instagram. I'd be happy to provide an honest answer to help you figure out if a thredUP Goody Box might be right for you!
If You Like A Review of thredUP Goody Boxes, You Might Also Like
Secrets to Scoring the Best Secondhand Style from thredUP
9 Reasons to Shop Online Resale for Your Kids
Our Favorite Secondhand Clothes for Boys