9 Easy Tips For A More Eco-Friendly Laundry Room
In search of a few simple tips to make your laundry room more eco-friendly and a bit easier to manage? Try these 9 Easy Tips For A More Eco-Friendly Laundry Room.
This post contains affiliates links. Also, thanks to Active Detergent for providing us with free products to try. All opinions are my own.
When we first moved into our house, after spending four months renovating, I remember our general contractor telling us it would take a year to really get situated in our house. We would need to get through all the seasons to see how things work.
Not that I'm surprised, but he was totally right. It takes a really long time to get situated and "figure everything out." Our laundry room was no excpetion and took nearly a nearly a year while we added a few updates here and there to make it more user-friendly and eco-friendly for our family. It's far from perfect, but it's a vast improvement over how it functioned when we first moved it.
Our laundry room is not a particularly large space but it's a dedicated space, which was new for us. It's also our entrance to the house from the garage, so it includes coats and shoes and backpacks. It would be nice if it was truly just laundry, but you can't have everything.
In our previous apartments, we had laundry in our unit (thank goodness) but it was always a stacked set of appliances shoved in a closet. To have a whole room and full-size appliances is an upgrade undoubtedly.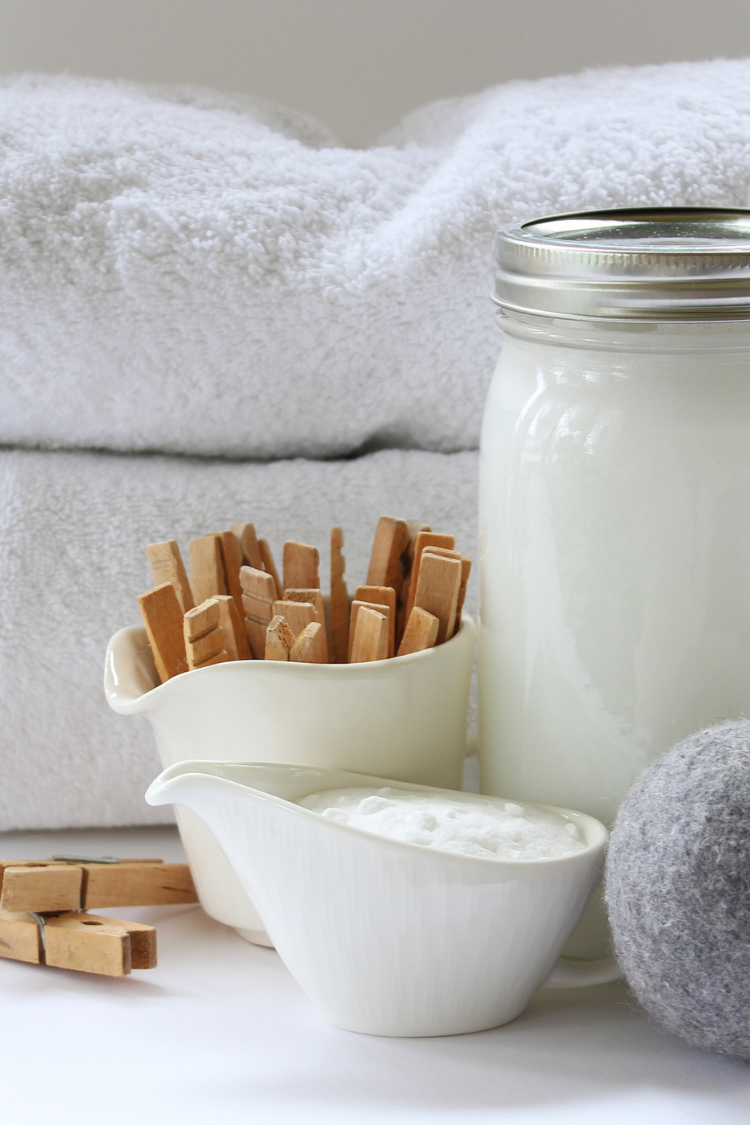 9 Easy Tips For A More Eco-Friendly Laundry Room
To date, we have made a handful of pretty small changes that make our laundry room space more eco-friendly and so much more functional for us. Some of them came along with a small cost while others were totally free. Check out this list of ideas to see if any of them might help your family transition to a more eco-friendly laundry room that's more efficient and effective.
Swap Out Your Detergent
There are so many types of laundry detergent that it can be hard to know where to start. Also, many laundry detergents that claim to be eco-friendly just don't cut it.
Homemade detergents can be hit or miss because they typically aren't formulated to work with modern washing machines. Eco-friendly detergents range in price and effectiveness.
We had been using an eco-friendly detergent for a while, but after many months, we started to have some real issues with our laundry smelling like mildew. We are a very active family, so a lot of our clothes aren't just dirty but quite sweaty and gross. I'll take the sweat factor in exchange for a healthy, active lifestyle, but we needed a better detergent.
Our laundry fiasco came to a head while visiting my sister. Apparently, using their traditional laundry detergent pulled out a lot of the disgusting gunk locked within the fabrics.
When we got home, we set out to resolve this laundry issue. We started by doing a full-scale clean of our washing machine, which definitely helped. But we also needed a new detergent.
I ended up buying a strong, odor-fighting (not-so-eco-friendly) detergent to do the hard work of getting our clothes back to clean. This isn't my favorite detergent, but we needed its power to undo the mess that the old detergent and lack of diligence about cleaning our washing machine left in its wake.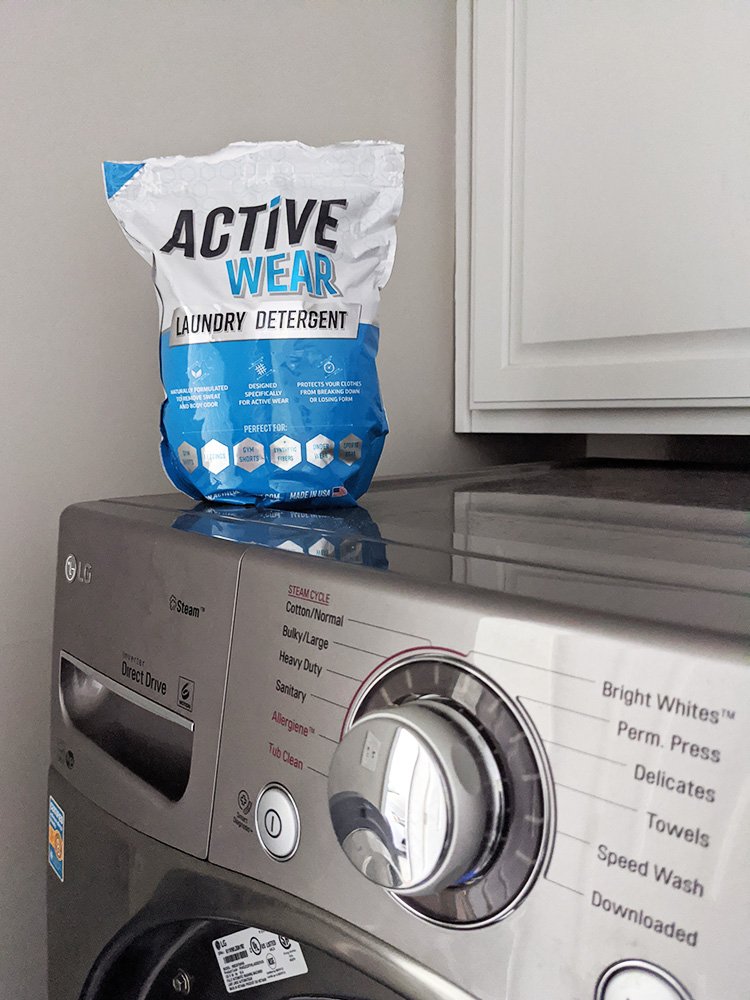 We also purchased new detergent, including Active Detergent, specifically made for our high-performance athletic clothes. Active Detergent is plant-based and scientifically formulated to remove odor from activewear technical fibers.
It comes in a concentrated powder, so there is limited packaging compared to many traditional detergents. The plant-based triple enzyme blend helps break down oil, sweat, and grease that gets trapped in technical fibers. So far, we've been really happy with this helping to keep our workout clothes much less stinky!
For our non-activewear clothing, we switched over to Seventh Generation. While it's not as ideal from a packaging and chemical perspective as some of the more eco-friendly alternatives, we also needed something that worked harder and worked in tandem with the high-efficiency machine that we prefer to run on cold water. This seems to be a good middle-ground for us that gets our clothes clean.
Wash With Microfiber Filter or Filter Ball
Many clothes are made from synthetic fabrics. Synthetic fabrics are essentially made from plastic. The fabrics break down in the washing machine and tiny particles of microplastics end up in our waterways. They pollute our oceans and our drinking water, meaning we end up drinking the plastic from which our clothes are made. Gross!
For a variety of reasons, including this microplastics issue, it's best to wear clothing made of natural materials like cotton, linen, or wool. However, this isn't an easy feat given the clothes we wear today.
Most underwear and just about all technical performance fabrics are made with synthetics materials that leave behind microplastics when washed. These synthetic fibers are what give our clothing stretch and make them work best for active lifestyles.
To prevent the microplastics from shedding into our waterways and oceans, we can use microplastic filters or washer balls. My favorite athletic-wear brand, Girlfriend Collective, sells a filter for your washing machine. Alternatively, you could purchase something like the Cora Ball that reduces about 30% of the microplastics that would otherwise flush through the regular washing machine filter into your water.
Given the variety of technical fabrics most of us wear today and the high-quality of wear they provide, it's unlikely most of us will give them up for cleaner water. However, adding a filter or Cora Ball to your washing machine could make a really big impact for a pretty small one-time price.
Hopefully, one day, washing machines will just come with microplastic filters built into them and we won't have to take the extra step to protect our oceans and drinking water!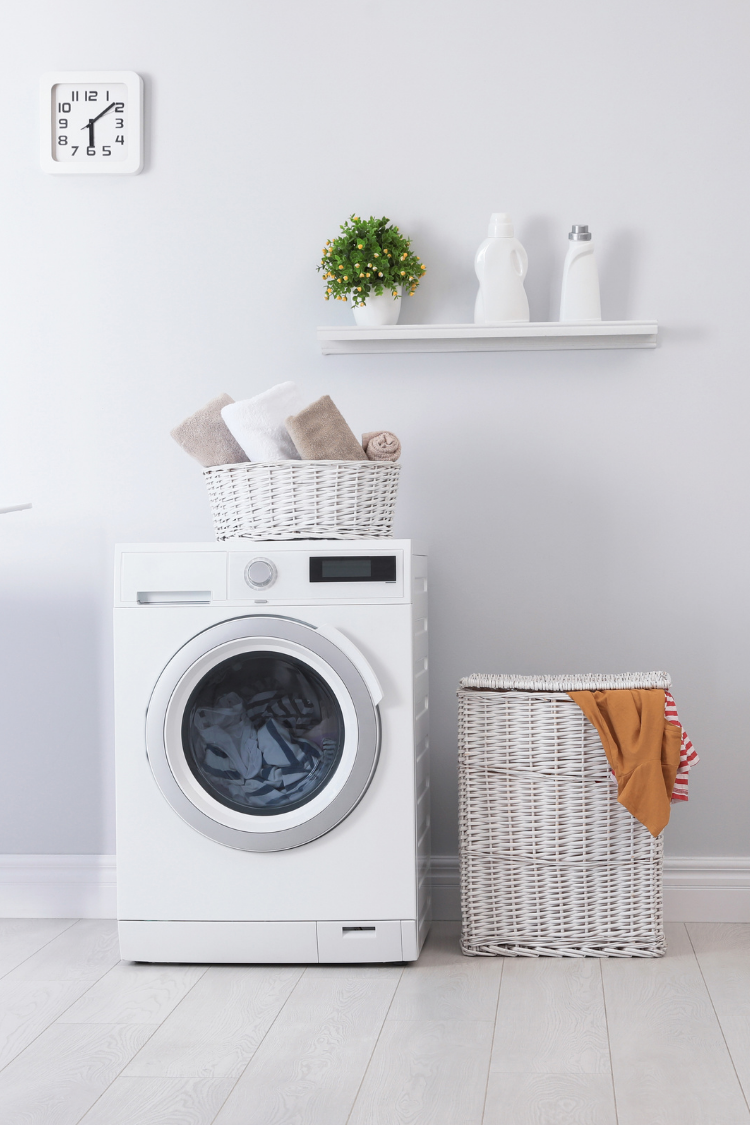 Add A Retractable Clothesline
Letting clothes hang dry always beats using the dryer, one of the most energy-intensive appliances in our homes. Permanent line drying racks can take up a lot of space. However, there are many retractable options for both indoor and outdoor drying.
We don't have a retractable clothesline yet. But when we get one, I will certainly share more about my research and which one we decide to buy. It's on my wishlist!
Save Energy With Dryer Balls
If you're not familiar with wool dryer balls, they are about the size of tennis balls. When placed in the dryer during a regular drying cycle, they help items dry faster to shorten the drying cycle (and save energy). We purchased a set of three dryer balls from MightyNest and use them in each load we put in the dryer.
MightyNest researches and curates natural, organic, and non-toxic everyday products all in one place. Their products are free from known toxic ingredients such as BPA, PVC, phthalates, lead, melamine, formaldehyde, flame retardants, parabens, and more. I regularly use MightyNest to find more sustainable alternatives to many items I might purchase for my kitchen, bathroom, and other everyday activities.
Add Low Hooks For Kids
It drove me a little bit nuts that the boys got home and tossed their coats and backpacks on the floor. But since they couldn't reach any hooks, I couldn't much blame them for not truly putting things away.
We had a half dozen wall hooks from their old room in Chicago that hadn't yet been put to good use. In about fifteen minutes, I put four of them up (two for jackets and two for backpacks) low enough so the boys could reach. Now I have a slightly cleaner laundry room and a little more accountability for the boys.
As we made this laundry room work better for us, we did our best to use things we already had. The hooks weren't fancy, but they did the job! When searching for solutions, be sure to think about the things you already have before heading to the store or online to buy something new.
Extra hooks might be a great type of request to pose to your local Buy Nothing group. Chances are you can get these for free if you don't have them in your home already!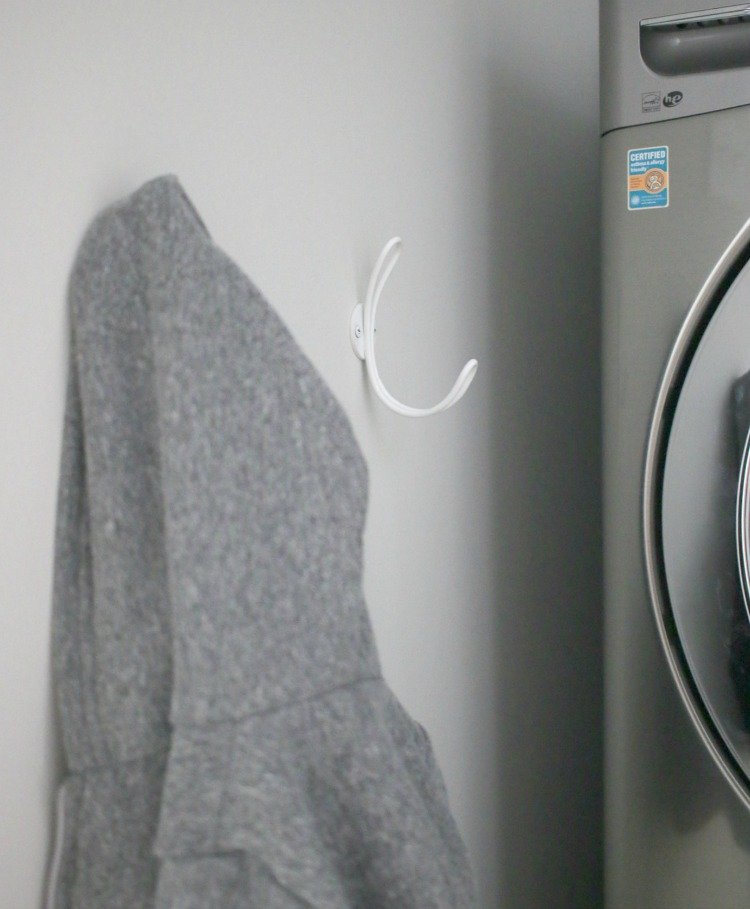 Include A Small Basket for Laundry
We use kitchen towels instead of paper towels which really helps us reduce waste. We have paper towels on our counter, but we don't really use them often.
However, we also have a fair number of dirty kitchen towels at any given time. We keep a small basket in the laundry room in which to throw all the dirty towels until we are ready to wash a full load. This has been such a small but helpful change in keeping all the kitchen towels from feeling like a burden.
We also throw into the small basket the random pair of socks hanging out on the floor, a shirt that gets covered in lunch remnants, or other pieces of laundry that I would otherwise have to run to a bedroom to park in a laundry basket. This is so much more convenient than having to run around the house with odds and ends all the time and makes using reusable items much easier.
Thrift shops often have tons of baskets at really great prices. You could also use a cardboard box or any other container you have on hand that's large enough for a dozen hand towels.
Hang Hooks For Keys
Tell me you've raced around the house looking for your car keys as you're rushing to get out of the house. I know I'm not alone here.
To alleviate (most) of this frustration, we added a small set of hooks for our keys just as we walk in the door. We had a small rack of hooks from our old apartment and reused the little thing.
I still misplace my keys occasionally, until I usually find them buried in a pocket or purse, but it happens far less often. At least I'm happy to have found a new use for an old thing that makes our laundry room a bit easier to use.
Have Small Trash Can Near Dryer
Our laundry room is adjacent to our kitchen, so I'm not far from our kitchen trash. But it bothered me to carry dryer lint from one side of the kitchen to the other considering it's where we eat and prepare our food.
Stealing the idea from M's mom, I added a small and inexpensive trash can to the laundry room so I didn't have to carry the dryer lint to the kitchen each time I cleaned it out.
Because we walk into the laundry room from the garage, it's also an easy receptacle for small trash coming in from the car on the way into the house.
Dryer lint can be composted if it's from natural materials like cotton, wool, and linen. I haven't yet composted our dryer lint because we wear a lot of technical fabrics in our activewear. In our house, we live in activewear or athleisure most of the time.
Most technical fabrics are made of some type of synthetic and/or polyester-based fabrics, which are essentially a form of plastic (as I mentioned earlier in the section about filters in our washing machines). I haven't been confident to add the dryer lint from non-natural fibers to our compost yet as these fabrics don't break down. So for now, our dryer lint heads to the trash via a small trash can right next to our dryer.
If you wear mostly natural fabrics, you could definitely add your dryer lint to your compost bin and make your small trash can a small compost bin instead.
Use Small Repurposed Storage Containers on Shelf
No longer needing many baby supplies, we repurposed our baby accessory dishwasher caddy to hold small laundry tools like stain remover and dryer balls. I love having a place to put these things so they don't roll around or easily fall out of the cabinet.
There are many containers that could easily be repurposed for laundry room storage. For example, a plastic detergent bottle with the top cut off could work well. We use an old OxiClean container that is rectangular to hold miscellaneous items.
There are many types of containers that might at first seem single-use that can easily provide great storage alternatives once the product inside is used up. Shop your home before shopping at stores. Be creative and save yourself the time and money of buying something new!
Before Buying Anything New
Before buying anything new to make your laundry room more eco-friendly or easier to use, consider ways you can repurpose what you have or how you might be able to find things secondhand.
Check out this list of a dozen ways to avoid purchasing from Amazon. While the article focuses on Amazon alternatives, many of the tips are free or encourage the use of secondhand marketplaces as more eco-friendly and less expensive alternatives.
Other Laundry Room Tips
What little tips or tricks have you tried in your laundry room that made it cleaner, simpler or more sustainable and easier to manage? I'd love to hear in the comments!