This shop has been compensated by Collective Bias, Inc. and its advertiser. All opinions are mine alone, but I'll surely share the recipe with you. #PackWithLove #CollectiveBias
Add a little personalized touch to a simple seasoned snack mix for an extra once of love in lunches, at parties, or pretty much any day of the week.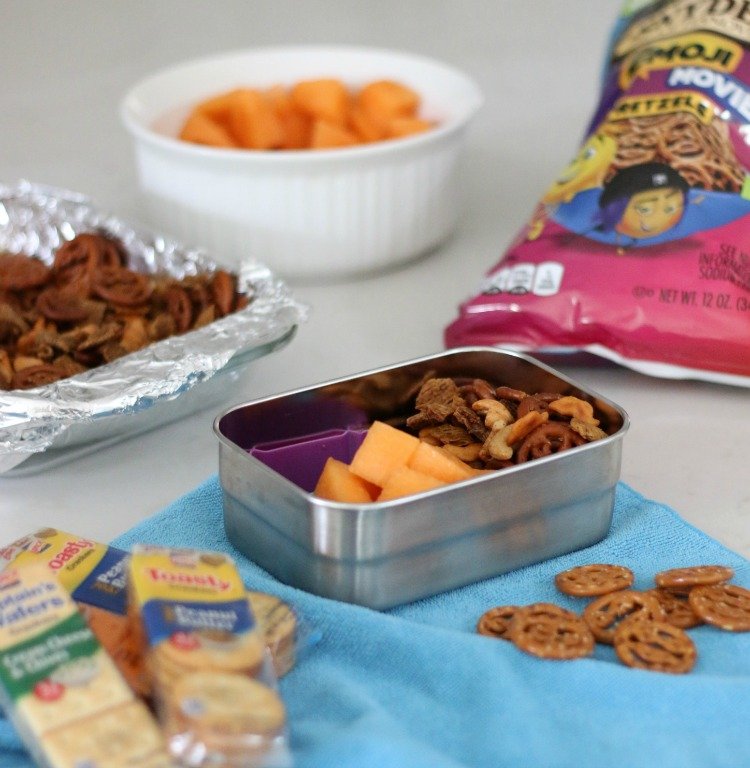 It's so cliche, but time flies. Our oldest son is headed off to kindergarten in just a few weeks, and I expect we're in for quite a few changes. Our boys have been in daycare since they were babies, so we are used to dropping them off for the day, but school feels pretty different.
No longer do we drop him off in a room with his teacher, but we put him on a bus and assume he made it to school safely. We wait for him to get on the right bus at day's end and get off at the right stop to meet us. He has homework and school events, and we don't see his teacher each day to get an update on the important news of the day or the week. We are definitely handing control of the day over to T and his school. I'm ok with this; it's part of life. But it will be a change for us.
Among other areas, I expect we will have a bit of an adjustment with lunch. A year ago, after moving to Philly and starting at a new daycare, we stumbled through learning what to bring for lunch. T is pretty picky, so it's not easy to find something he will willing, let alone excitedly, eat without an adult watching over him.
Our first daycare provided healthy lunches everyday. At his current preschool, we often give him dinner leftovers, heated up by his teacher.
No longer do teachers warm up his food and actively encourage him to finish everything we give him. I anticipate we will have to roll up our sleeves and fumble through a few more episodes of trial and error, finding lunches he likes and eats willingly without supervision that also don't require heating up. Expect a few turnovers on fumbled plays before we score any touchdowns in his lunch box…
Healthy But Not Boring
I've been thinking about a few ideas we can try that he might enjoy. I want T to have a healthy lunch, but I also want him to enjoy it (and maybe even look forward to what he's eating).
Recently, I thought it would be fun and special to supplement a healthy lunch for him with a tried and true snack recipe that has been around our family for generations: a seasoned snack mix that my grandmother makes from scratch.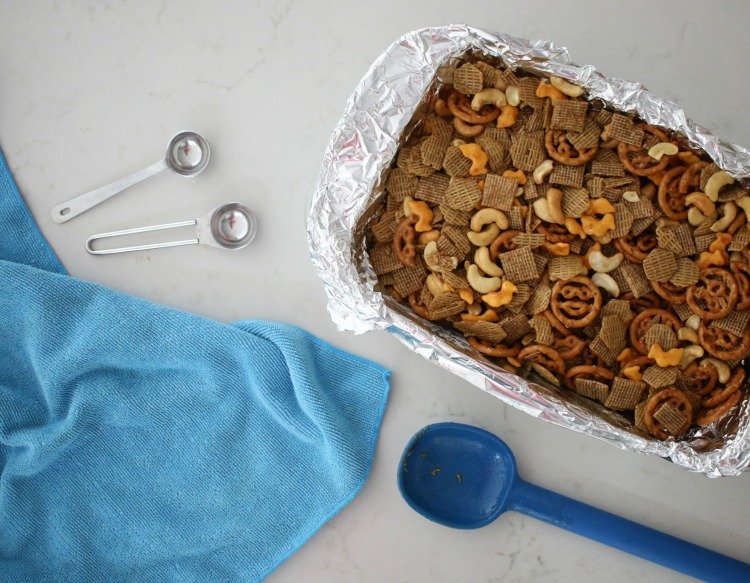 It's a really easy recipe combining simple ingredients like wheat and multi-grain waffle cereal as the base of the mix, Snyder's of Hanover Pretzels for a hearty crunch, cashews to provide a dose of healthy fats, duck-shaped cheese crackers for a fun twist, and a few seasonings that are likely already in your pantry.
The full recipe is at the bottom of the post, but basically it's:
Mix it up. Toast it up. Eat it up.
Of course we needed to make a trial batch for the boys (and me…), so we popped over to Target to pick up a bag of Snyder's of Hanover Emoji Pretzels, the two cereals, and the other ingredients. You can use any shape pretzels. I chose the Snyder's of Hanover Emoji Pretzels because T's eyes lit up when he saw them in the store, so I'm sure he will also be pumped to find them in his lunchbox.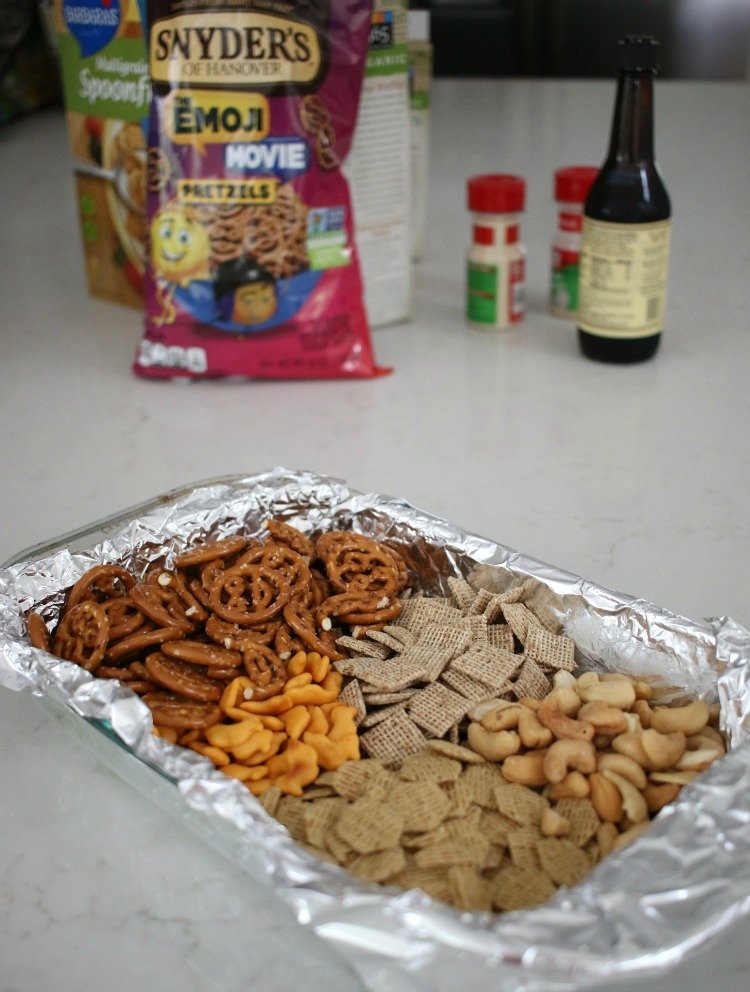 While we were there, we also grabbed a few other options for his lunch like grapes (a family favorite), carrot chips, cantaloupe, raisins, and Lance Sandwich Crackers (that T just had to have).
When we go to Target, I generally let the boys choose one special snack of their choice that isn't on the list. The variety box of Lance Sandwich Crackers was their special treat for the day. I know that when T finds these sandwich crackers in his lunch, he's going to be ecstatic.
Lunch Duty
While I make most of the meals and prepare much of the food in our house, I'm lucky to have a husband that carries his weight with respect to caring for our kids. Although I think we are moving in the right direction, I have several "mom friends" who bear most childcare and household responsibilities even if both parents work full time.
Among many other "domestic responsibilities" that he takes on, he makes lunch for the boys every morning before school. He's much more creative than me about piecing together meals from whatever is in our fridge that day and always tries to put together something they will really like. He always seems to come up with something healthy and great even when we don't have a ton of food in the fridge.
Many days, though not all, he leaves shortly after the boys get up. He's almost always out the door long before I corral the boys into the car to take them to school. Yet I know that great lunches will always be ready to go in the fridge when I'm gathering up everything they need in their backpacks for the day.
Whether it be making lunches, cleaning dishes, or folding laundry, splitting household chores and childcare between the two of us is a key reason why we can both pursue professional careers without one of us being entirely overwhelmed by too much responsibility. If one person has a particularly busy period at work, the other takes the brunt of more household work. When one of us has to travel, the other endures some added driving and childcare responsibilities that invariably cut into personal and work time until the other parent returns home.
With the demands placed on parents today, I think it's hugely helpful to be flexible and share parenting tasks depending on who has more time that day or week or month. We juggle chores, get creative about scheduling conflicts, and mix and match lunch menus, for example, depending on what we can most easily make work.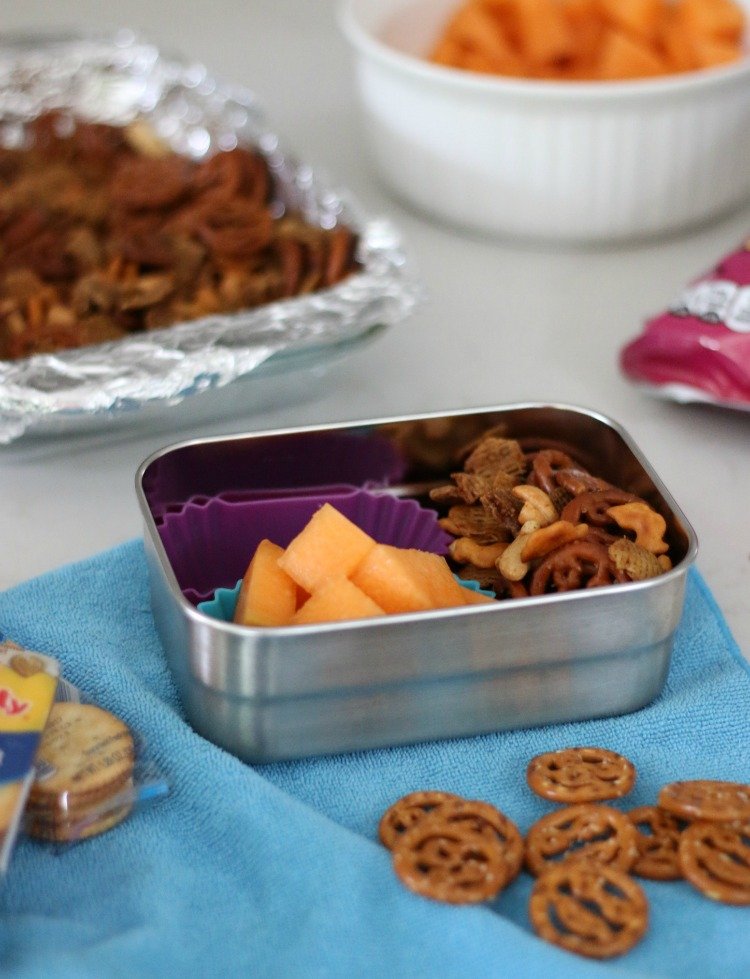 How do you get your kids a healthier and tasty lunch they're sure to eat each day? Do you make the lunches? Your spouse? Or maybe the kids make their own lunch?
Right now, you can enter the Packed with Love Sweepstakes, which ends August 28. You can win one of several prizes that include:
Custom Lunchbox "packed with love" – weekly
(6) $2,500 scholarships
(6) Years Supply of Snyder's-Lance snacks
(6) iPad/Tablets
(12) $50 gift cards for school supplies
(60) Swag kits – include robot keychain, chip clips, can cooler, thermos
If you haven't tried your own seasoned snack mix, give this recipe a try. It's a great special treat for your kiddos' school lunches that gives an extra touch of homemade goodness without any hard work (I promise). We'll have to make another batch before T starts school, because I might have eaten most of my last batch on the plane last week. No one is keeping tabs, right?
Pick up a bag of mini Snyder's pretzels along with some other wheat, corn, rice or multi-grain cereal ingredients, season, toast and enjoy! Currently, you can get $1.00 off 2 on Lance 8ct & 20ct Homepack and Nut Bars, $1.00 off 2 Snyder's of Hanover 5oz. or larger, and $1.00 off 1 on 16ct Variety Pack.
If you try it, let me know what you think! If you love it, I'll be sure to let my grandmother know.
Spice Up Lunch With a Simple Homemade Seasoned Snack Mix
Prep time:
Cook time:
Total time:
Serves: 4 cups
Ingredients
2 cups Snyder's of Hanover Mini or Emoji Pretzels
1 cup wheat waffle cereal
1 cup multi-grain waffle cereal
1/2 cup cheese crackers
1/2 cup cashews
1/2 cup (1 stick) butter, melted
1/4 cup Worcestershire sauce
1 tsp onion powder
1 tsp garlic powder
Instructions
Preheat oven to 275°
Cover a baking dish in foil. Spray foil with cooking spray or a thin later of butter to prevent food from sticking to the pan.
Mix all ingredients in a bowl until all the sauce has been absorbed.
Bake mixture for 1 hour and 15 minutes, stirring 15 every minutes.
Allow to cool and enjoy.
3.5.3208