Fire Up The Grill For Mediterranean Hatfield Pork and Vegetable Kebabs
This shop has been compensated by Collective Bias, Inc. and its advertiser. All opinions are mine alone. #SimplyTastyPork #ResetTheTable #CollectiveBias
No need to sacrifice real, whole foods even if your family dinner feels like a whirlwind. Try these tasty but easy Mediterranean Hatfield Pork and Veggie Kebabs which can be grilled up in no time for a busy weeknight family meal.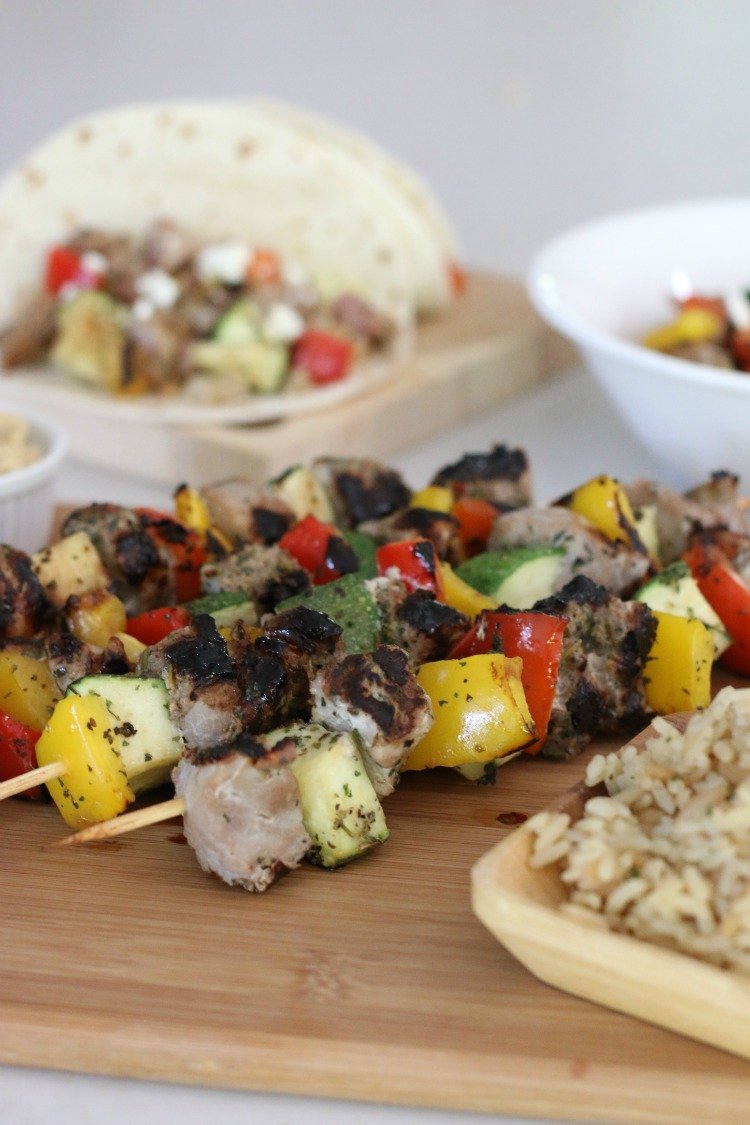 There never seems to be enough time in the day, and weeknight family dinners are one of the tell tale signs of this deficiency for so many families. Attempts at routine, healthy and pleasant dinners are hard to come by. We have a few staples in our weeknight dinner arsenal that make their way onto the menu pretty regularly. But we often like try to one new thing every week or two to keep dinner interesting.
I used to be the person who ate the same thing day in and day out; I ate a peanut butter sandwich every day for lunch in middle and high school. I can't do that anymore though; I get so bored.
Recently, we added a new addition to our family dinner menu with these Mediterranean Hatfield Pork and Veggie Kebabs. We're not fantastic at adding a lot of vegetables to the table, so incorporating them into the main dish is really helpful for us.
I also appreciate a meal that comes together quickly. If a meal requires more than about 25 minutes of preparation before eating, there's a slim chance we will have the patience to make it a regular weeknight meal. I don't mind a little advanced preparation on the weekends, but hungry mouths hovering over empty plates aren't ideal on a busy Tuesday evening.
Quickly prepared meals, however, aren't always the healthiest or the freshest.
These Hatfield pork and veggie kebabs buck that trend. I like that I can prepare the kebabs over the weekend or in the morning while the boys eat breakfast. I also don't need to prepare a separate vegetable because everything is all skewered up on one stick.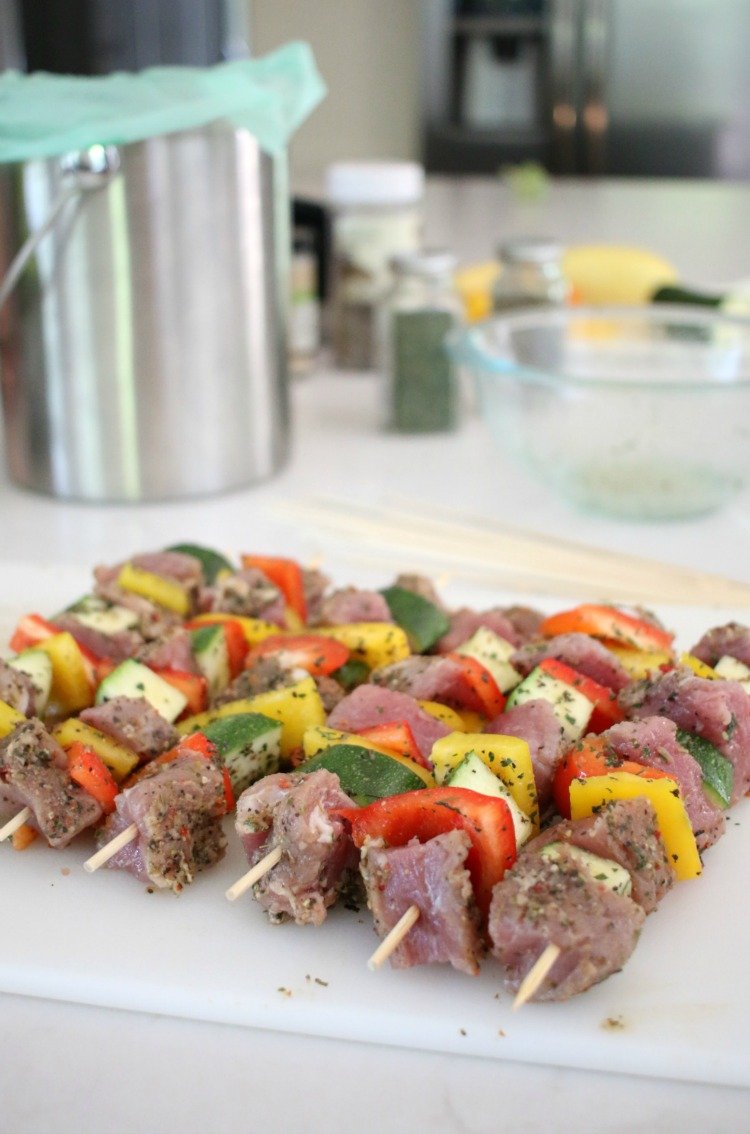 Simplicity doesn't show up just in our meal planning. Much like with our clothing and other purchases, I make an effort to buy products with a thoughtful and conscious supply chain.
Hatfield is a family-owned, American company that sources their pork from ethical family farms. Additionally, their pork has no added hormones. For us, the Hatfield Dry Rub Seasoned pork tenderloins get us one step closer to a quick and easy dinner without sacrificing real, whole foods. I chose the Hatfield Dry Rub Seasoned Tuscan Herb flavor, but they offer several new flavors like Hatfield Dry Rub Seasoned Cracked Black Pepper and Hatfield Dry Rub Seasoned Sweet Sriracha (which I'm sure will be a hit in our house) as well. If those aren't up your alley, you could also try one of the other four new flavors: Hatfield Dry Rub Seasoned Honey Ginger Teriyaki, Hatfield Dry Rub Seasoned Savory Brown Sugar, Hatfield Dry Rub Seasoned Touch of Sea Salt or Hatfield Dry Rub Seasoned Smokey Balsamic.
In addition to the Hatfield Dry Rub Seasoned Tuscan Herb pork tenderloin, I rubbed zucchini, red and yellow peppers, in a mixture of seasonings to add to the skewers. Typically, I include a bit of salt in a rub like this. But like most pre-seasoned products, the pork tenderloin already has plenty of salt in the seasoning, so I opted not to include any additional salt in the vegetable rub.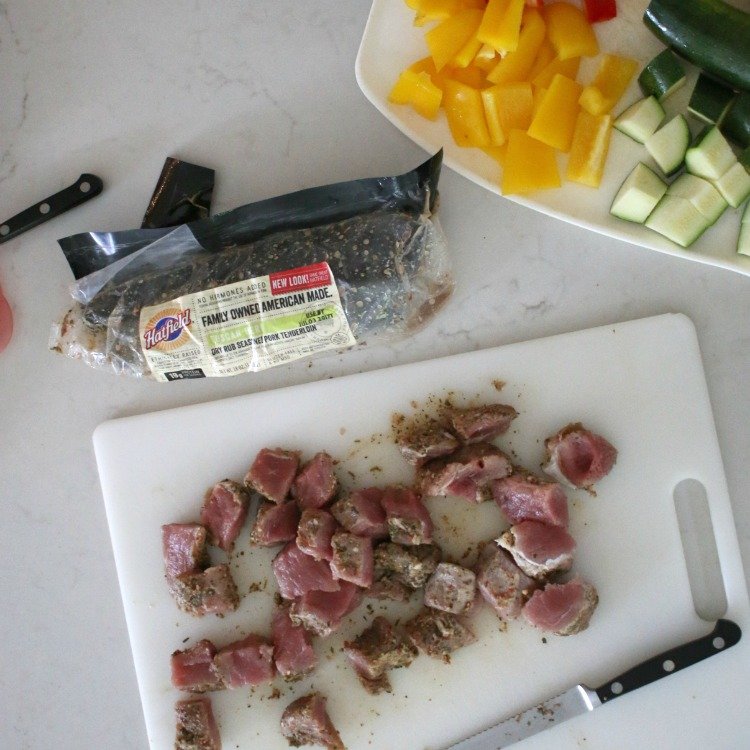 We often prepare enough food at dinner to have leftovers for lunch the next day or two. A single package of pork tenderloin provided for six kebabs, so we had plenty to eat extras mixed with garlic and herb rice pilaf in a salad or as Mediterranean tacos. For our boys, just about anything tastes better when it's on a tortilla.
Traditional family dinners may be really tough for most families. It certainly isn't a walk in the park to get all four of us around a table every night, and our boys aren't particularly active in extracurricular activities yet. Even if you're all inhaling dinner around the kitchen island while running out the door, consider whether or not you have 15 minutes to fire up the grill and get the family a whole food meal before jettisoning out the door.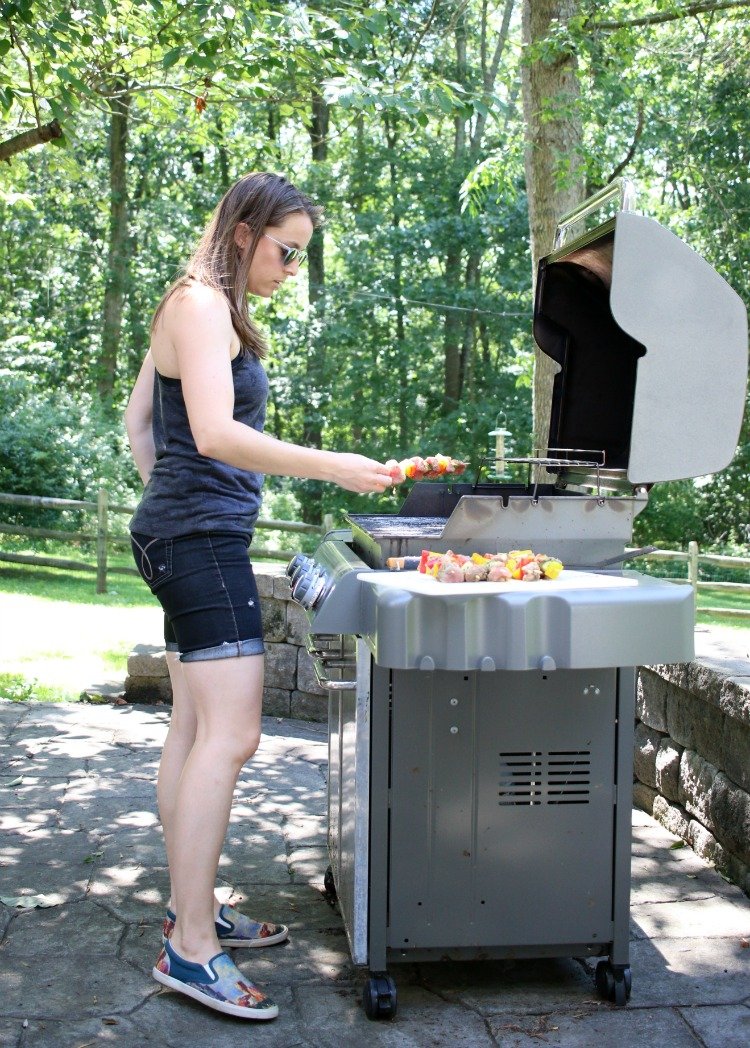 I found our Hatfield pork tenderloin at ShopRite. You can find out where to buy Hatfield Dry Rub Seasoning pork tenderloins near you and give this recipe a shot with your family.
If you try it, be sure to let me know how it goes. I'd love to hear if it offers one more opportunity for "real food" family dinners, even if they aren't exactly the kind of family dinners our grandparents used to have sitting around a cozy dining room table.
Hatfield Mediterranean Pork and Vegetable Kebabs
Ingredients
1 Hatfield Tuscan Herb pork tenderloin, cubed
1 box garlic and herb rice pilaf, prepared according to instructions on box
1/2 red pepper, cut into 1" pieces
1/2 yellow pepper, cut into 1" pieces
1/2 medium zucchini, cut into 1/2" pieces
1/2 tsp garlic powder
1/2 tsp onion powder
1/2 tsp dried basil
1/2 tsp dried parsley
1 tsp olive oil
feta cheese, crumbled (optional)
tortillas, optional
hummus, optional
Instructions
In a bowl, mix red pepper through olive oil.
Prepare skewers with mixture of pork and seasoned vegetables.
Grill on medium heat. Rotate to grill each side. About 4 -5 minutes per side or until done as desired.
Serve on skewers, over rice pilaf, or in tortillas with hummus, feta or other optional toppings.
Nutrition Information:
Yield:

6
Serving Size:

1 grams
Amount Per Serving:
Unsaturated Fat:

0g