Slowing Down the Style Cycle with Slowre
Secondhand and ethical fashion joined forces to create a whole new world of full circle, slow fashion. Meet Slowre, an online boutique giving ethical pieces a second chance at style life.
One person's trash is another person's treasure. The old cliche has been around for ages. But in recent years, this cliche, that once was relegated to garage sales and flea markets, is getting a whole new lease on life.
As we all begin to realize how much waste we generate, and especially how much waste the fashion industry generates, many people are taking matters into their own hands to solve this growing problem of environmental disaster.
Today, I'm interviewing one woman who's making her mark on the growing movement of elongating the circle of fashion life and closing the loop on the cycles of fashion.
Grechen Reiter, an ethical style blogger for many years, expanded her foray into ethical style by starting Slowre, an online consignment channel for ethical brand clothing and accessories. There are already a few online consignment and resale players making their mark on secondhand, but none of them (as far as I know) have a particular focus on ethical brands.
Such an outlet as Slowre is such a win-win. Certainly it creates a market for those of us focused on more sustainable style to find brands we know and love. But it also gives women just dabbling in ethical brands an opportunity to try a new brand for a lower price point than they might otherwise find in traditional retail channels. Though not always the case, ethical brands sometimes command a higher price point due to more expensive materials and production (you get what you pay for right?).
FYI: After you've had a chance to hear from Grechen, she's generously offering free shipping to all Honestly Modern readers with code MODERN at Slowre!
You maybe remember this Everlane sweatshirt shared in a previous post. While it's pretty simple, it's also classic, high-quality, can be remixed with so many things, and will be a staple in my closet for a while. I received it from Slowre (thanks Grechen!) and love the gap it's filled in my closet.
Slowre is a relatively new addition to the online secondhand marketplace and has quite a few great pieces to offer. If you haven't checked it out, I highly recommend giving it a glance. It could always use more buyers and sellers, so even if you have just a couple pieces in your closet made by socially responsible brands that could use a refresh in someone else's closet, consider if Slowre might be the place to take it.
On to the interview with Grechen:
Jen: Tell us a bit about yourself and how you became an ethical fashion blogger. Have you always blogged about conscious style or did you transition toward this niche over time?
Grechen: I started Grechen's Closet in 2004 as an outlet for my obsession for online shopping (which was rather new back then), and because I didn't see anyone who looked like me posting outfits online. I became interested in "eco-fashion" as it was called then, in 2008, exploring the issues, and learning as much as I could about it. I even had another blog dedicated completely to eco-friendly fashion for a while (green grechen LOL). Then I shifted almost completely to more ethical/responsible fashion and conscious shopping a couple of years ago after making A HUGE effort to get my own closet under control – and there I stay.
On her blog, Grechen shares some of her best ethical fashion finds, like this post about Ten More Responsible Alternatives to Madewell's Transport Tote.
J: How did you learn more about ethical fashion? How do you know what brands are responsible? Do you have any favorite resources that either introduced you to the ethical fashion world or continue to be valuable resources in becoming an expert in conscious style?
G: I'm such a nerd. And I enjoy research, A LOT, and I just took to the internet searching and going down rabbit holes, learning as much as I could about materials, labor practices, environmental impact, etc. until I felt like I understood it a bit more. Google is my best friend 🙂
I've also worked closely with smaller designers like Emerson Fry, Zady, and Elizabeth Suzann, as well as Eileen Fisher, to expand my knowledge and REALLY get hands on experience with more sustainable fabrics & designs.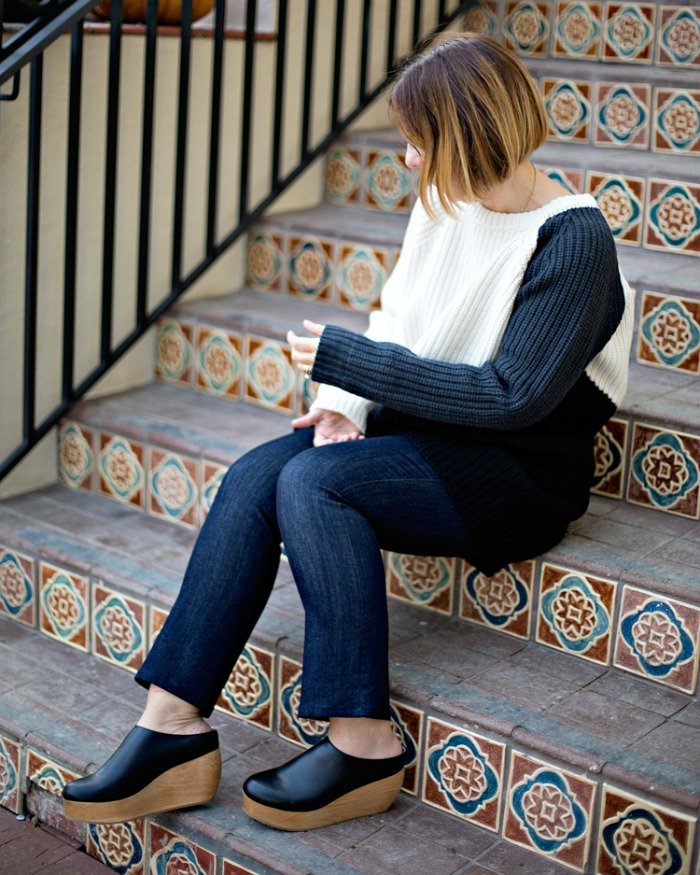 I also believe that better is better – I try to do better everyday, based on what I learn about brands and designers I'm interested in. But sometimes I make a mistake, or purchase something less than "perfect" and I don't beat myself up about it anymore. I'm just always learning and reading and trying new things…
J: You also run a site, Slowre, that sells pre-loved, modern and responsible style. Can you tell us about what prompted you to start this? How did it come to fruition and how long since you opened up shop?
G: At it's very basic, I started SLOWRE as a place for me to sell my own pre-loved independent designer pieces, but knew eventually I wanted to turn it into a marketplace where like-minded conscious shoppers – consumers who want to buy more carefully and with an eye for quality and unique styles – could buy & sell items by independent designers, more ethical brands, and companies that engage in more thoughtful production. I started it in March 2016 and have grown slowly but steadily since then. I already have quite a few loyal customers, and repeat consignors!
J: What are the standards for items to be accepted to your shop? Do you limit pieces to certain brands? Price points? Styles?
G: I try to keep the majority of brands/designers I accept/sell to smaller and already more responsible, or those that produce in the US, but I will also accept a wider range as long as the items are in very good condition.
An advantage to consigning with SLOWRE is that my customers are already familiar with smaller brands, and actively seek them out, especially US-based designers like Emerson Fry, Elizabeth Suzann, Rachel Comey, No6, James Perse, Eileen Fisher, etc. so that those items sell quickly and sometimes for more than they would on eBay.
J: o you operate under a resale model, a consignment model or a hybrid? What are some tips you have for those of us who might want to become consignors for your shop?
G: It's mostly a consignment model; I sell my own things sometimes, but the majority of things in the shop right now I've taken on consignment. In the future, I will probably branch out into selling "new" things as well, but for now, consignment it is!
Tips for consignors: Be realistic about pricing, and what you can expect to receive for your items, keeping in mind that you'll get 60% of the final selling price. I think the hardest thing to learn as a consignor is that in most cases, you'll not get but a small fraction back out of something you might have paid quite a lot of money for originally. Unless items are in high demand and/or from smaller, independent designers in nearly new condition I will price them at 50-60% off original retail or less.
Quite a lot of my consignors are happy just that their items have a chance to go to someone who will love them as much as they did. I'm that way too; I love everything I buy, but over time, things don't work out for one reason or another and when I'm ready to let go of them, I'm happy that someone else will get a chance to enjoy them as much as I did, or maybe even more. I hate the thought of perfectly good things languishing in a closet or drawer not getting worn!
J: I absolutely love your Slowre concept. I'm not sure I have a lot of clothes to consign now, but how can I help promote and grow the store? What means do you use to gather more consignors? More buyers? And what can others do to foster the growth?
G: Just getting the word out to more people helps a lot! I know there are lots of places for people to consign & sell their items online (and locally), but SLOWRE is more than just a place to shop, it's become an extension of Grechen's Closet & a destination for people who are really interested in ethical, modern clothing & accessories to buy interesting pieces, and also sell their own items to people who care as much as they do about slowing down fashion.
J: Do you have any favorite blog posts that busy moms can look to for ideas about easy, everyday ways to be more conscious shoppers and consumers?
G: I love my "How to Make Your Closet More Sustainable Without Buying a Thing" post for ideas on shifting your mindset to a more ethical/sustainable wardrobe without adding or buying ANYTHING AT ALL!
Also, my Minimal Closet series is a long and winding journey through my own emotional issues around clothes/shopping and coming to terms with the fact that I am, in fact, not a minimalist. And that's okay. Oh, and my disdain for capsule wardrobes!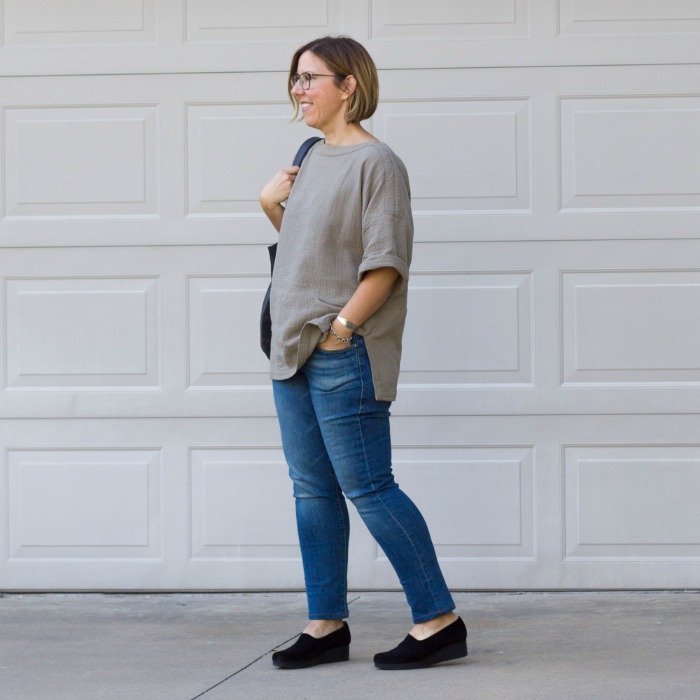 J: Where else can we find you on the web?
G: When I'm not at Grechen's Closet, Grechen's Codes or SLOWRE, I'm on Instagram.
Thanks so much Grechen for sharing your journey to and through ethical fashion! Be sure to stop by and say hello to her on her blog or social media.