Beginner Tips for Planning a Vacation to a National Park
Getting ready for your first trip to a National Park? Check out these beginner tips to make sure you're on the right track and will fully enjoy your adventure.
I took my first trip to a national park in June, visiting Zion and Bryce Canyon National Parks in Utah. My in-laws planned the entire trip, something for which I was very grateful. I had no idea how to go about planning such a vacation.
Six weeks later, my family and I met up in Banff National Park for our own outdoor adventure, and I used my experience in Zion and Bryce Canyon National Parks to inform my planning for our Banff trip.
Planning a trip to a National Park seemed very overwhelming. What did we need to bring? What should we wear? Do we need special skills? Did I need to buy tickets or passes in advance? Could I die? (That last question is a legitimate one, and the answer is yes if you're not careful. Mother Nature reigns supreme forever and her National Parks are one of the best reminders of that.)
If you're interested in checking out a national park or state park for vacation but aren't sure where to start, consider these following tips when planning. I am still a relative rookie, but I used all of these tricks and ideas to make our trip to Banff National Park a glowing success.
13 Beginner Tips For a Successful First Visit to a National Park
Use "Best Of" Lists
There are lots of hiking trails and various activities to try in national parks. Start out by searching for "best of" lists for the specific park you plan to visit. The lists might include a lot of tourist spots, but it's a great starting point if you don't know what to do or expect.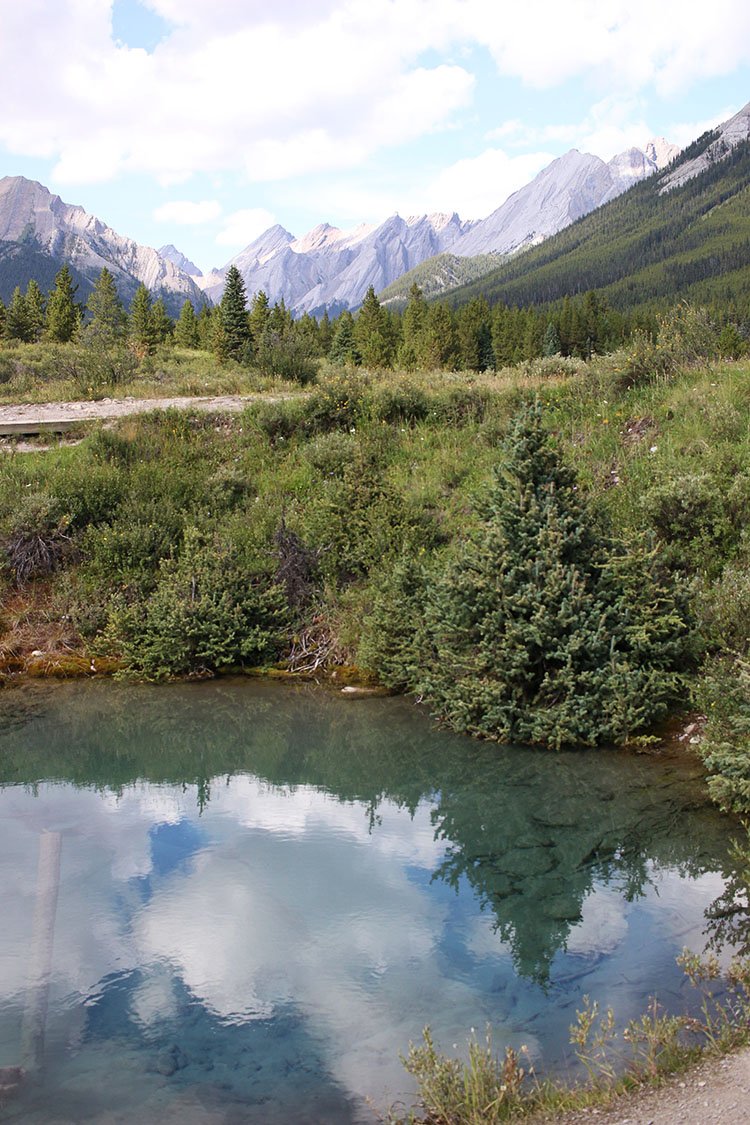 National Park Websites Are Great
Governmental websites aren't known for being the best, but the resources on the National Parks sites were really helpful. They aren't the "be all end all" for information, but they're perfect for starting to build an itinerary, getting a lay of the land, and understanding what passes and permits are required. We used the National Park Service site in the US and the Parks Canada site in Canada.
Crowdsourced Trail Information Websites
There are many crowdsourced hiking and trail websites, similar to Trip Advisor but just for hiking. Alltrails is a great example. You can find information on all sorts of trails including difficultly, elevation changes, courses, and current conditions. Be sure to read the comments; there were lots of helpful snippets that gave context to the descriptions.
Mix Activity Types
Choose different types of activities for consecutive days. Particularly if you aren't used to hiking and exploring this terrain, your body and muscles will get tired after a day of adventure. The variety not only gives your body a break but also lets you see the park from different perspectives (like from trains and shuttles, bikes, and on foot).
Consider Rest Days
I'm not suggesting you "waste" a beloved vacation day doing absolutely nothing, but include a day without a lot of plans. You'll probably find some simple activities you want to try that weren't on the planned itinerary. You might even just lay by the pool at your hotel.
At least for me, a vacation isn't very relaxing if we're slaves to the schedule. Make sure to save time to rest and enjoy the time away from the everyday grind.
Understand Park Passes and Permits
Some parks require passes and permits. At times, the parks limit the number of permits or passes they issue. Review the national park websites prior to visiting to know what to expect. In the United States, for example, some specific hikes and activities in the parks require permits that are claimed many months in advance and of which there is a limited number. Alternatively, we were able to buy general admission park passes upon arrival in both the US and Canada.
Do Popular Activities on Weekdays
Many parks and sites are busy all week, but they are especially busy on the weekends. To the extent you can, do the most popular activities on weekdays. You'll probably enjoy the experience more and avoid some of the crowds. Save the more remote or less-trafficked activities for the weekends.
Hike in the Afternoon (or SUPER early)
So many sites and guides suggest hiking in the morning to "beat the crowds", but we found this wasn't really effective when everyone follows this advice. We started some of our hikes around 2 or 2:30 in the afternoon and finished around 7 or 8 at night. We brought snacks and ate a late dinner. Much of the traffic died down by 5 or 6 pm as we hiked back to our cars.
If you get up really early, you probably can beat the crowds. We arrived at Lake Minnewanka for our fishing outing and had the lake entirely to ourselves, but we also woke up at 6 am and were at the lake by 7:30 am.
Follow Local Social Media Accounts
Find the social media accounts for the park services and tourism bureaus in the local area. They provide a wealth of information including safety warnings, weather updates, and ideas of things to do.
Dig through the accounts and you'll find the tourist hotspots as well as a few diamonds in the rough. They might be a little off the beaten path but well worth the walk.
The Banff Lake Louise Instagram account, for example, shared lots of ideas about things to do. Last week, they highlighted Emerald Lake, a beautiful lake that's just as gorgeous as many of the hot tourist spots but far less crowded and a bit less well-known. We learned about Emerald Lake too late to visit, but you better believe it's already on my itinerary for our return trip.
We also used the Zion National Park Instagram account to help us plan our trip in June. Due to high water levels and rushing rapids, The Narrows hike in Zion was closed up until 48 hours before our visit. We had all but thrown in the towel, expecting we wouldn't be able to traverse the gorgeous waters.
The night before we left, my brother-in-law found out The Narrows hike was open because the park system announced it on their Instagram account. Consequently, we brought our gear to hike the Narrows, and it ended up being the unanimous highlight of our trip. I shared all about our hike a few weeks back.
Pack Layers
The weather in national parks can be all over the map, particularly if there are significant elevation changes. You're also moving around a lot, so you may be cool in the morning and get really hot as you work up a sweat throughout the day.
Pack and wear layers to adjust your clothing for the weather and your energy expenditure as the day progresses. (It doesn't hurt to also check the weather forecast before packing, but there's probably a big swing in temperatures from morning to night.)
Bring a Backpack & Water Bottle
I got this Osprey hiking backpack and loved it for the trips. You definitely don't need an expensive backpack unless you're planning some serious hiking. However, my mom carried my bag as well as a regular backpack and noticed a big difference for her back and shoulders.
Don't forget your reusable water bottle. I almost didn't include this note because it seems sort of obvious, but bring a reusable water bottle and stay hydrated while hiking and exploring.
We even filled ours with fresh glacier water a few times. I'm not sure I can recommend it; I'm not an expert on the sanitation of the water. But it tasted delicious and no one got sick. Good enough for us.
Drink water and don't buy plastic water bottles. Simple by important!
Binoculars Are Cool
I never thought to bring binoculars and haven't thought about them in years. My parents brought a set though, and we definitely used them. Why didn't I think of that?
Don't waste money on an expensive pair. Even our tour guide told us that "binos are binos" and "glass is glass", "the set your grandparents had are the same as the newest ones on the market". I'm sure that's not exactly true, but don't waste the money. Simple binoculars will do the job just fine and are super cool in a national park.
The Right Gear Makes a Difference
You don't need to buy the Rolls-Royce of equipment to have an awesome adventure in a national park. However, a few good quality pieces of gear that are appropriate for the event can make it much more enjoyable and successful.
A great backpack is key to carry snacks, drinks, and layers. A backpack with straps across the front of your torso really helps even out the weight and take the pressure off your shoulders and lower back while hiking, as I mentioned earlier.
When we hiked The Narrows in Zion, we wore rented water boots and a hiking stick which made the hike so much more comfortable.
Related Reading: Visiting Zion and Bryce Canyons
If you're hiking on rocky trails or slippery slopes, hiking boots can make the exploration much more comfortable and even a bit safer than standard cross-training shoes.
These are just a few examples where the right gear really added value and was worth the investment on the trips we took this summer.
Pack In and Pack Out
This popular saying in national parks (and all nature areas) just means to bring your stuff in with you and don't leave anything behind. Take good care of the natural spaces and leave them better than you found them. No one wants your trash on the forest floor or swimming in the lake.
Just clean up after yourself and you're golden.
Our trips to national parks this year have been amazing. Two months ago, it all felt pretty overwhelming and I hadn't a clue where to start. I'm far from an expert but definitely feel ready to plan another trip to a national park in the future.
What national parks have you visited? Do you have any great tips for planning such a vacation? Share in the comments!
You Might Also Like
6 Travel Tips for Kids Who Love Sports
Fun and Easy Non-Screen Kids Activities for Road Trips
5 Fun Activities for Kids in Salem Oregon