Fun & Affordable Upcycling Ideas for Boho Garden Decor
Are you looking for upcycling ideas for your garden or patio? Are you interested in making repurposed planters? Here are some fun boho garden decor ideas to get you started!
I'm not usually much of a shopper, but if you let me loose in a bougie garden shop unattended, I will fling my debit card around like I'm a long-lost Kardashian.
Y'all, it is expensive being a crazy plant lady. First, I need all those adorable new plants I've never seen and will assuredly kill. Then, I need pricy little (or giant) pots to put them in. And do the pots need colorful tiles to sit on? Sure, swipe that card. What about chuckle-inducing decorative accents to tuck among the leaves? Ring me up. I'll hide it all in the car until my husband's out of the house.
Clearly, the plant store is a giant succulent-filled blind spot in my conscious consumerism goals. Fortunately, expensive trips to the store aren't necessary when building a beautiful boho-chic garden!
There are so many exciting ways to make eye-catching upcycled planters and boho garden decor from everyday items in your home or garage – all you need is a little creativity to get you started.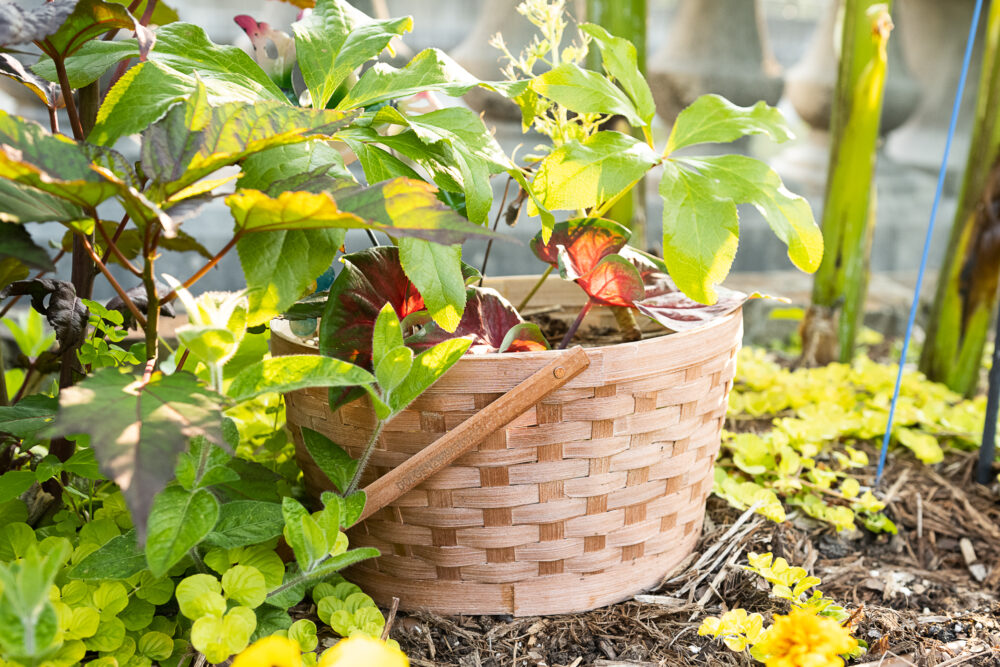 DIY Upcycling Ideas for Repurposed Planters and Boho Garden Decor
Turn a sturdy basket into an upcycled planter.
Who doesn't have a few baskets kicking around in their garage or attic? Breathe new life into a wicker, wood, or picnic basket by turning it into a planter. Your newly repurposed planter will add a touch of whimsy to your porch, patio, or garden bed!
To make the basket planter last longer, add a plastic liner before filling it with soil and plants. (This is also a great upcycling idea for an old plastic tarp or thicker bag.) These are especially cute when filled with brightly colored flowers or trailing blooms.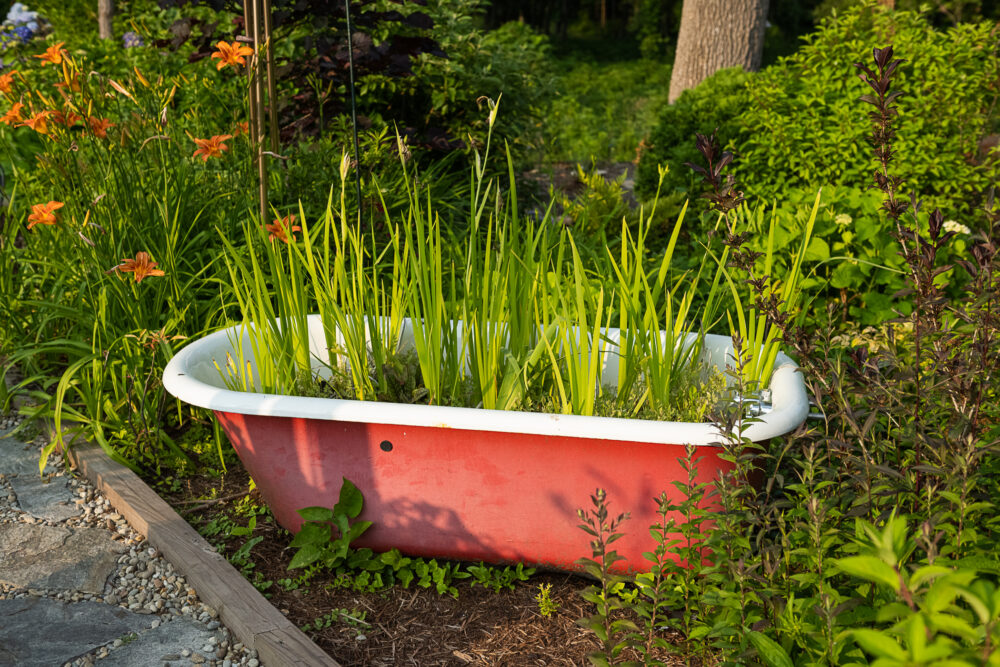 Create a large garden bed from an old bathtub.
Do you love the look of an old clawfoot tub but hate the process of actually bathing in one? Repurpose that vintage tub into a garden bed! The depth of the tub, the built-in drain, and the durable, water-resistant properties give you lots of options for turning this into a stunning centerpiece among your boho garden decor elements.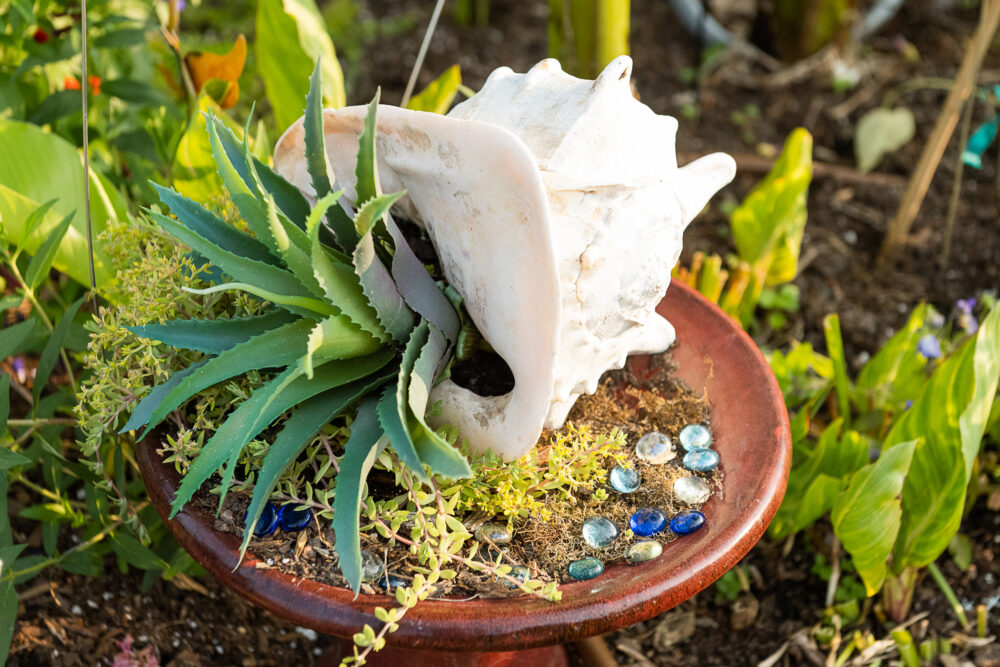 Put large decorative shells to practical use as an upcycled planter.
We live in a coastal community where decorative shells can be found on almost every shelf, coffee table, or bookcase. Whether they're beloved beach finds or cruise souvenirs, your shells are the perfect planter solution for succulents, air plants, and smaller aloe plants. The shells' eye-catching forms and colors are a fun, natural element to add to your boho garden decor.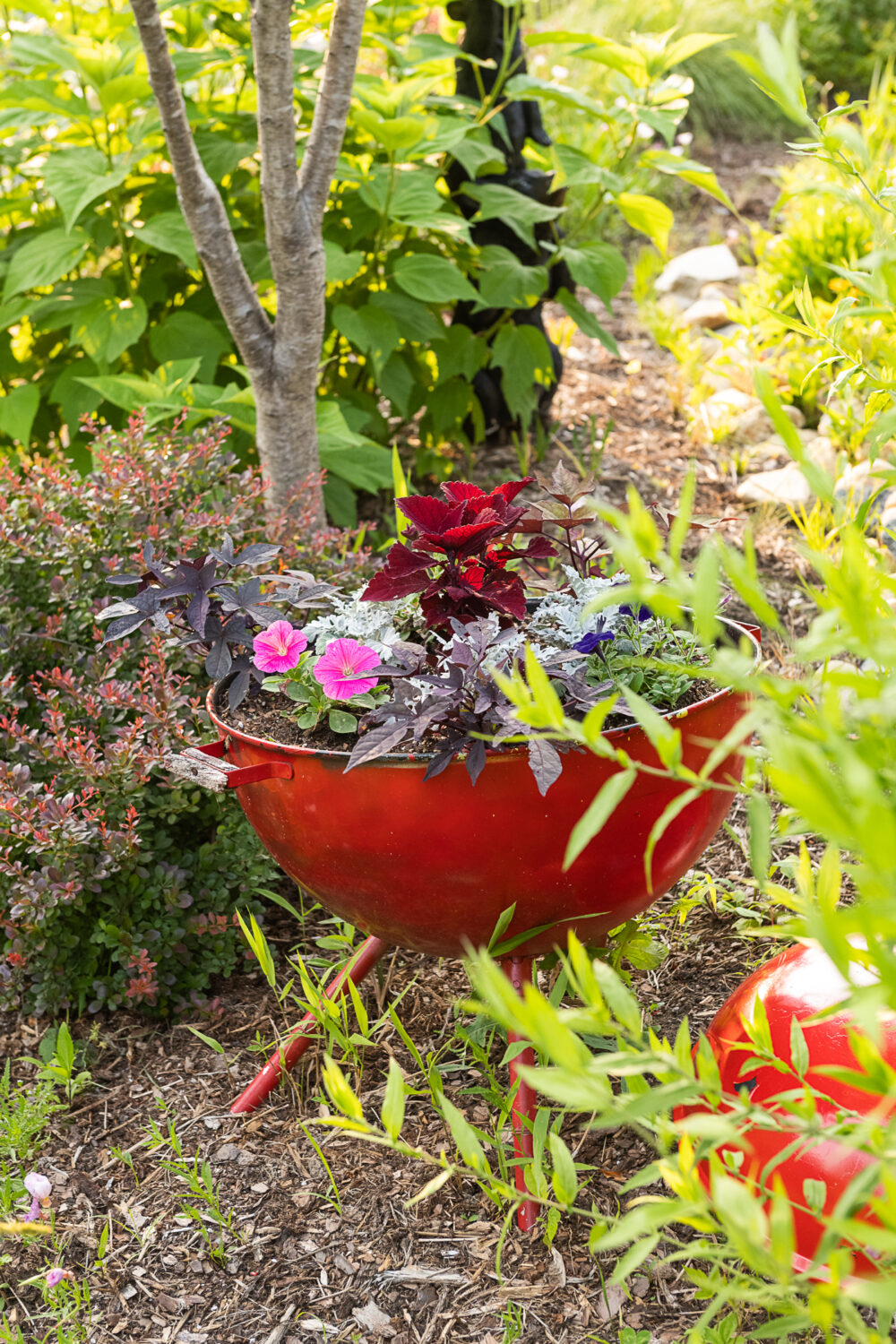 Use a defunct grill as a new repurposed planter for your garden or patio.
Is it time to retire your old charcoal BBQ grill? Give it a good scrub down or power wash, and then add a layer of brightly colored spray paint for a playful, funky aesthetic and fill the bowl with dirt and plants. If your grill has a bottom shelf, you can add more plants or use gardening tools.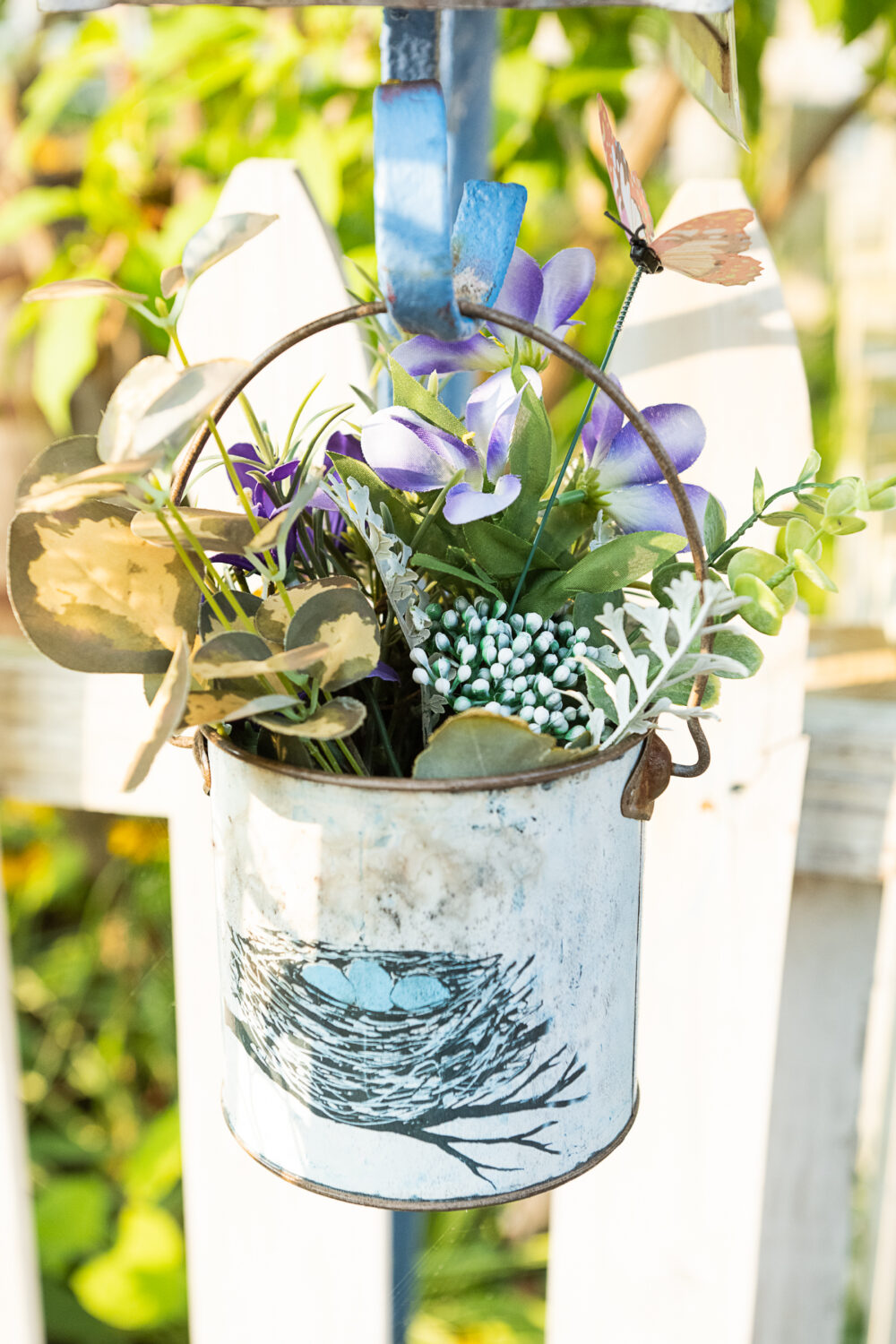 For a versatile upcycled planter, plant your flowers, herbs, or decorative plants in a cute bucket or pail.
Buckets with handles make versatile planters because you can hang them or let them rest on the ground, and they're often made from durable materials. If you're going to hang your planter, however, make sure that your bucket will be able to sustain the weight of the plants and soil; you may find more success with metal containers. And, if you're feeling crafty, you can paint or decoupage an adorable design or lettering on the front-facing side of your repurposed planter.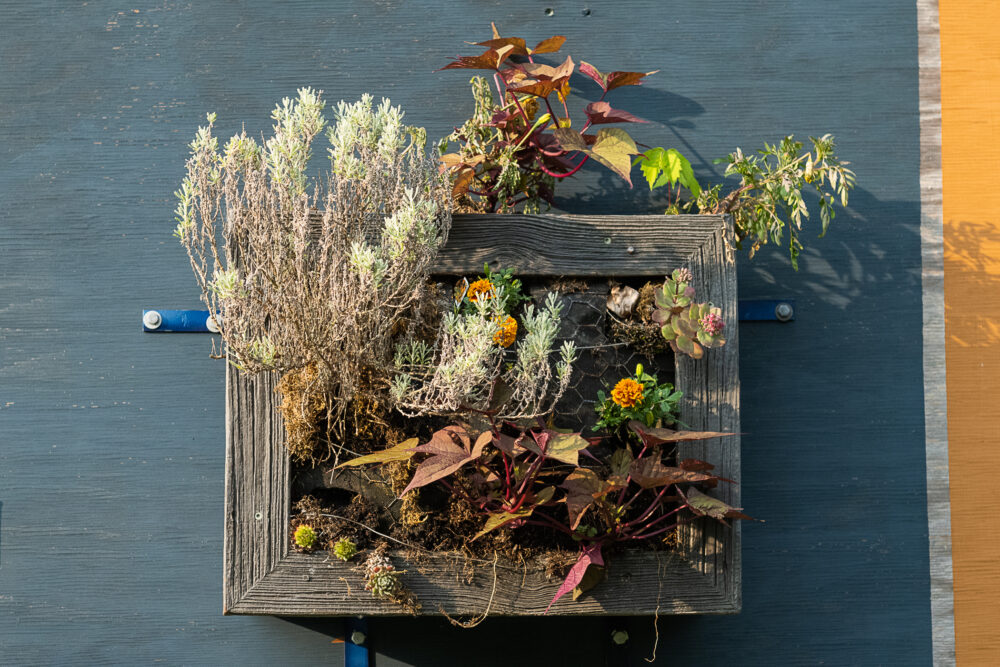 Create vertical recycled planters from old frames or boxes.
You'll need to lean into your crafty side on this one. With a little elbow grease, potting soil, wire mesh, and creativity, you can upcycle beautiful frames into vertical planters or moss walls. These lovely DIY containers are perfect for plant ladies living in apartments or gardening in small spaces, and they work well with moss, air plants, and succulents. Check out this Vogue how-to article or this piece from BHG to help get you started!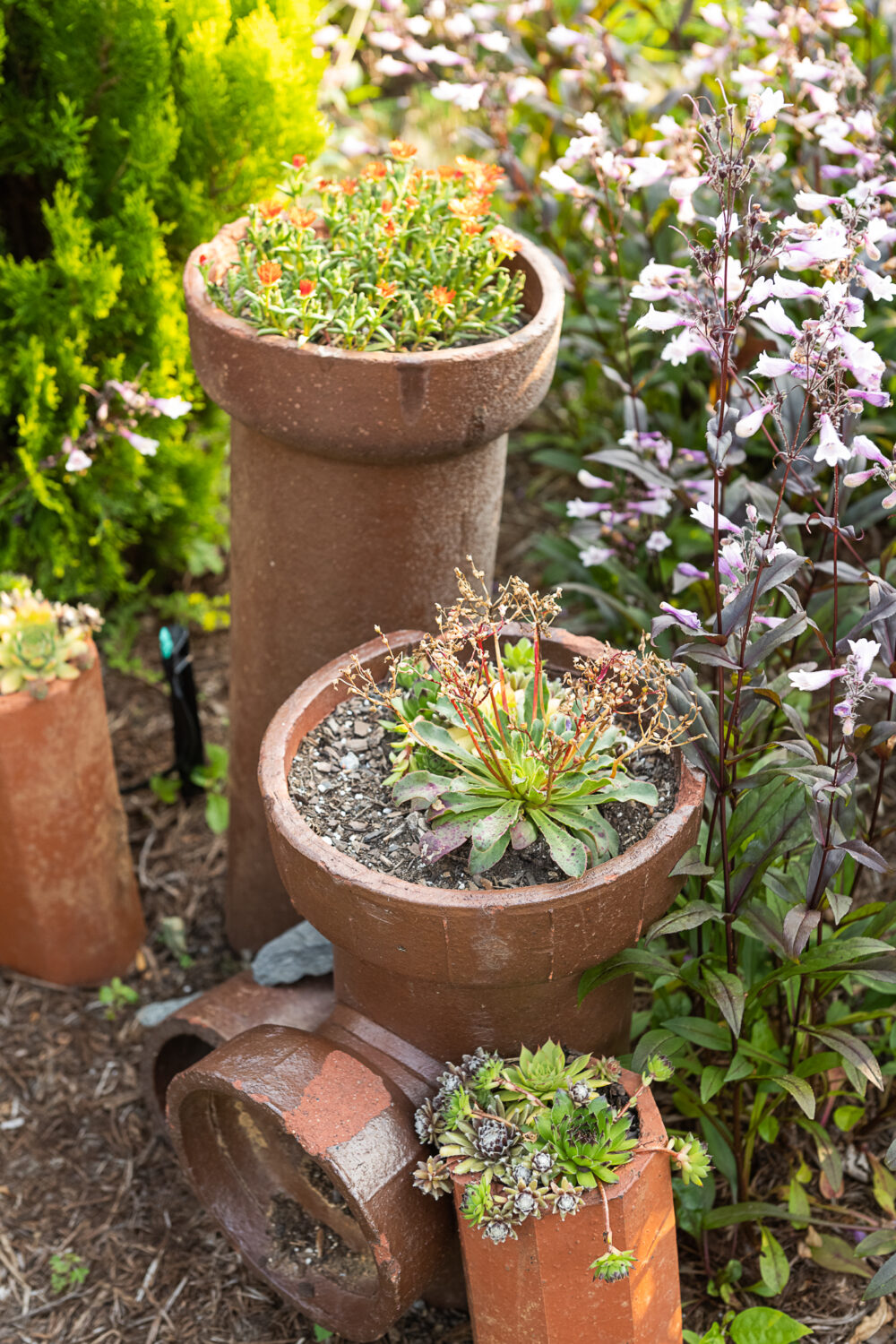 You can even turn old pipes and building supplies into repurposed planters.
Turn old pipes into planters by cutting them into sections, painting them with pretty colors or geometric designs, and sitting them up vertically. You can vary the heights to add visual interest or a focal point to your existing garden beds. Fill the pipe with dirt and plants, and enjoy!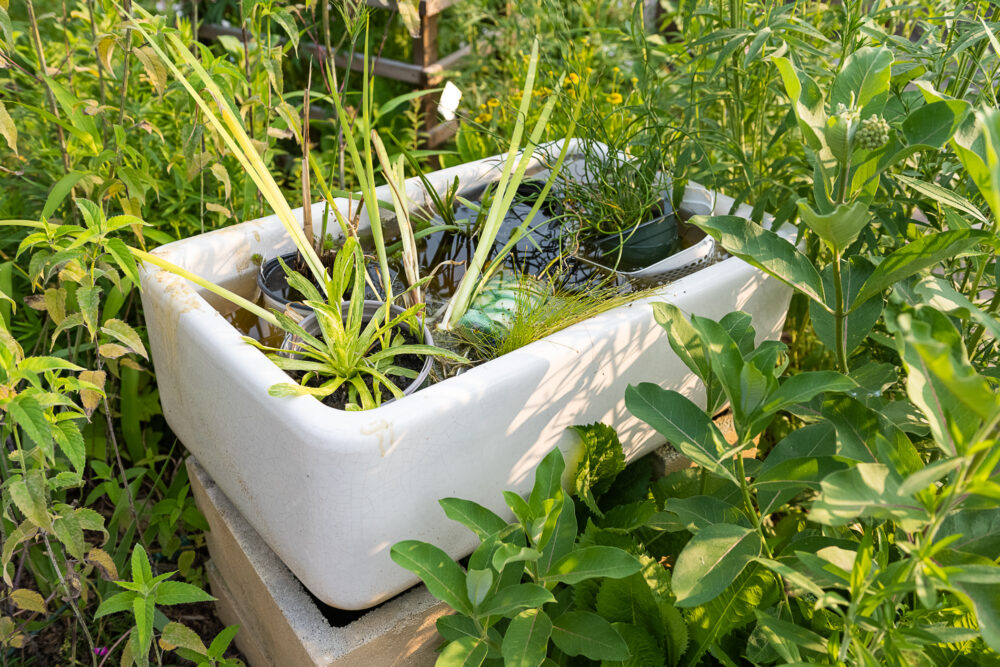 Recycle a farmhouse sink as a garden planter.
When it comes to upcycling ideas, we're including everything but the kitchen sink. Just kidding, y'all, the sink is in here too. Grab a farmhouse sink off the curb or from your local Habitat ReStore for a distinctive and affordable upcycled planter. Like the bathtub upcycling idea we mentioned earlier, sinks make great oversized pots because they're 1) waterproof, 2) durable, 3) deep enough for a variety of plants and shrubs, and 4) they have a hole at the bottom to allow excess water to drain.
Use a canoe to create an oversized recycled planter.
Grow, grow, grow your boat? If you've got an old canoe kicking around or you've spotted an affordable one on Facebook Marketplace, consider turning it into a charming large planter or garden bed. The vessel will be deep enough for a multitude of plants to set down roots while also serving as a fun focal point in your garden, especially if you're in a coastal or lakefront community. You can even add a paddle painted with your name as a decorative flourish!
Reimagine a rusty wheelbarrow as an elevated planter for boho garden decor.
Put an unused wheelbarrow back to work as an upcycled planter! I've seen this done with rusty, vintage wheelbarrows and newer, brightly colored wheelbarrows, and they're both adorable. The best part, however, is your new garden container will be fully mobile!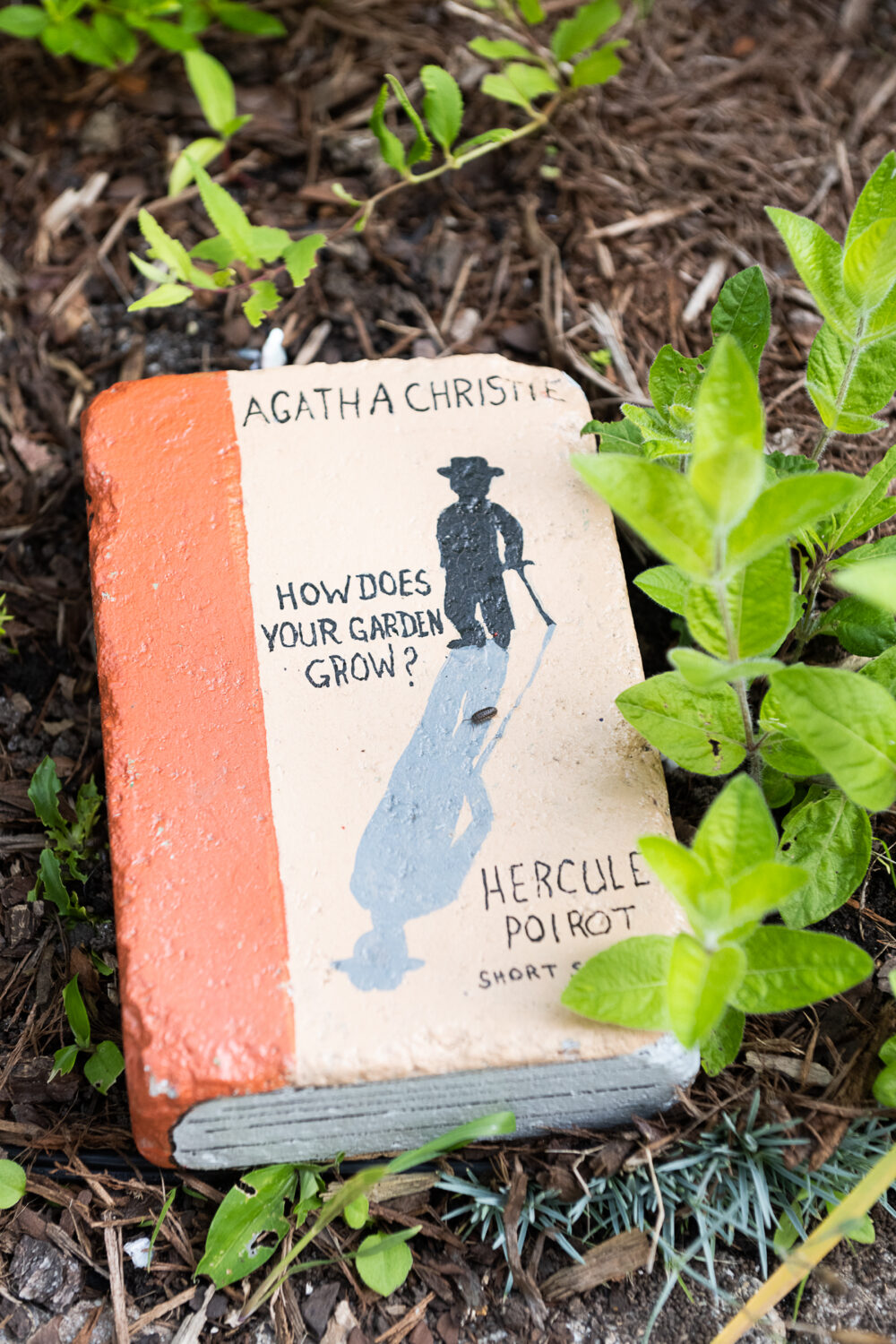 Other Easy Upcycling Ideas for Boho Garden Decor
Paint leftover brick or pavers as playful decorative accents.
Most of us have a stray paver or a few bricks kicking around from previous owners or recently completed projects, just waiting to be reimagined as something exciting. A quick coat of paint can transform these bricks into your favorite garden-inspired read, fancy plant markers, or fine art accents. Nestle them among your garden beds or beside a planter!
Use vintage plates or pottery as boho garden decor.
Trust me on this one, but a trip to the neighborhood thrift store is way cheaper than unsupervised time in the garden store. Plates and pottery can be beautiful ways to add color and interest to your pollinator garden, veggies, or flower beds. Explore patterns that complement your plants or match your patio decor.
Make a windchime from antique silverware.
If the sounds of chimes bring a smile to your face, try making your own from antique silverware. This upcycling idea will save you some money, breathe new life into unused items, and add a quaint touch to your garden.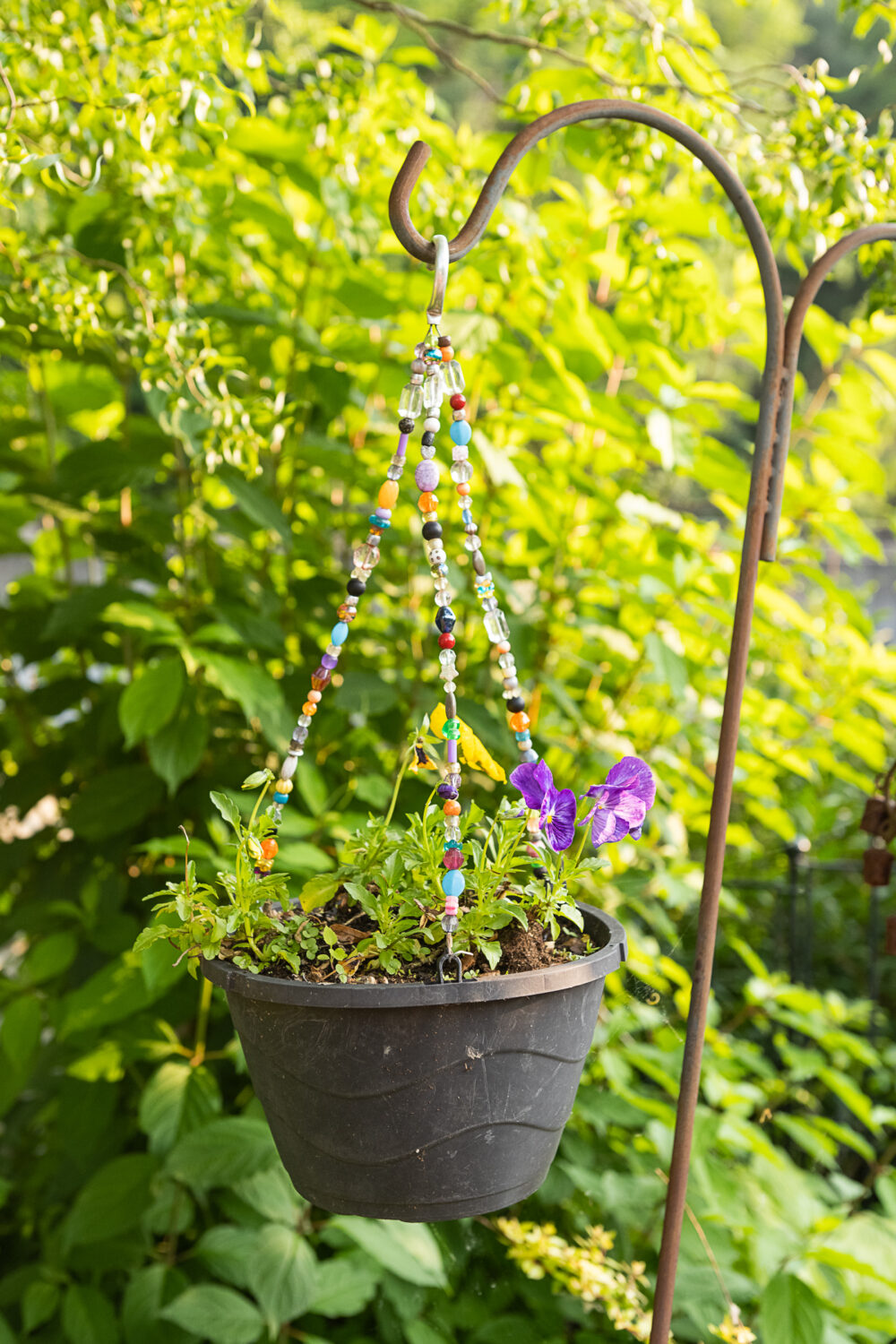 Embellish your existing hanging planters with repurposed beads.
Did your kid go through a short-lived beaded bracelet phase? Here's a great way to put those crafting materials to another use: Revamp your existing hanging planters by stringing craft beads (or beads from thrift store finds) along the support wires! The added color and flair will breathe new life into something you already own.
Repurpose a mailbox for scavenger hunts.
Engage and challenge kids by installing an upcycled mailbox in your garden and filling it with scavenger hunts. Not only will you be recycling a discarded item, but you can tailor your scavenger hunt clues to encourage kids to learn about pollinators, plants, nature, and gardening techniques.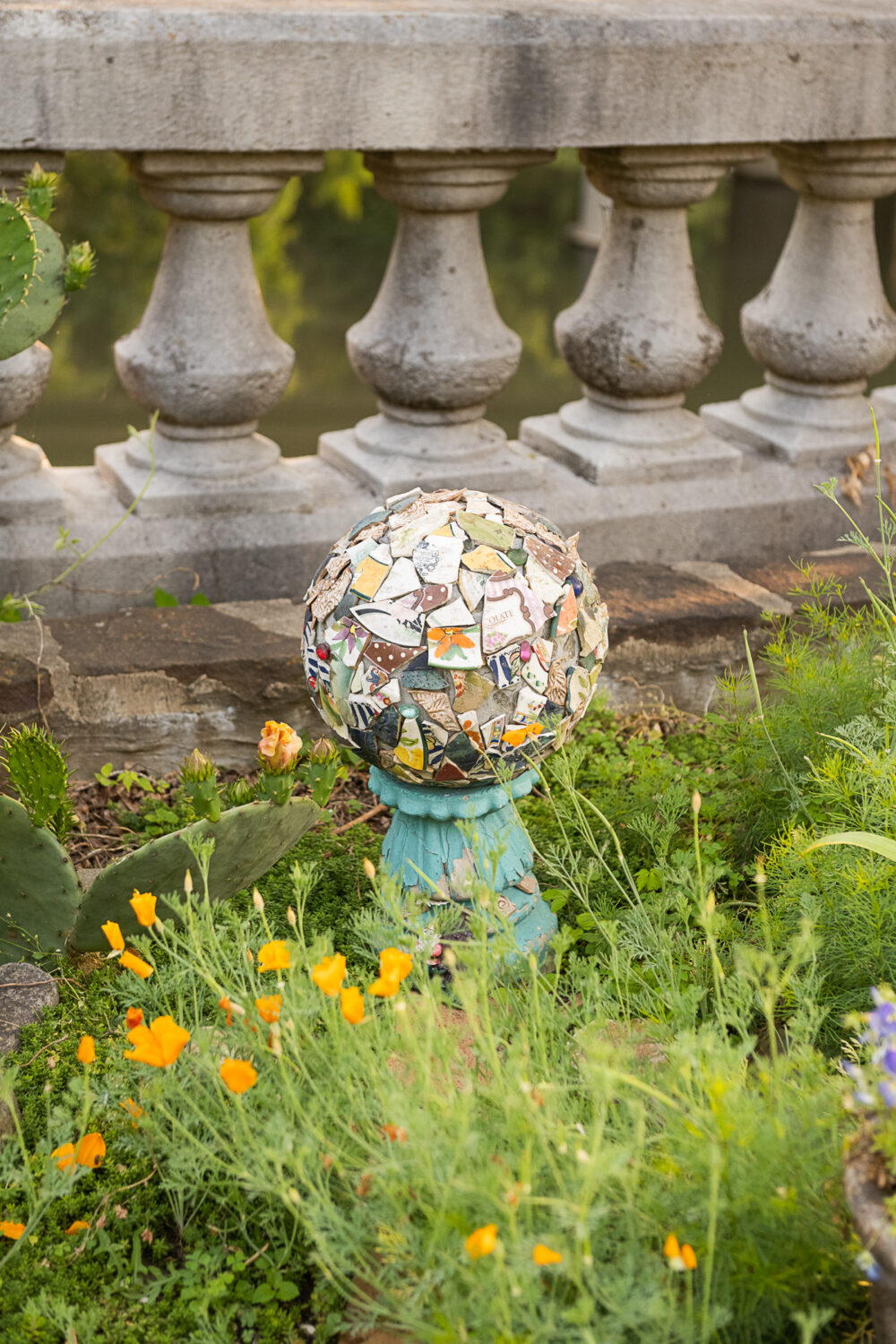 Make a garden globe from pottery shards.
One man's trash is truly another crazy plant lady's treasure when you turn broken glass and pottery into a boho-chic garden globe. This colorful upcycling idea adds a refreshing, eclectic element to any garden space, and there are lots of tutorials online for how to make your own garden gazing ball from items like bowling balls, broken mirrors, and more.
Hopefully, this post inspires you to explore upcycling opportunities in your garden, porch, or patio. Do you have a fun upcycling idea that we missed? Please leave it in the comments below!
All photos via Reese Moore Photography
If you enjoyed this post, you may also like:
7 Ways to Reduce Waste in the Garden
11 Important Benefits of Composting
Top 5 Easiest Ways To Compost At Home
About the Author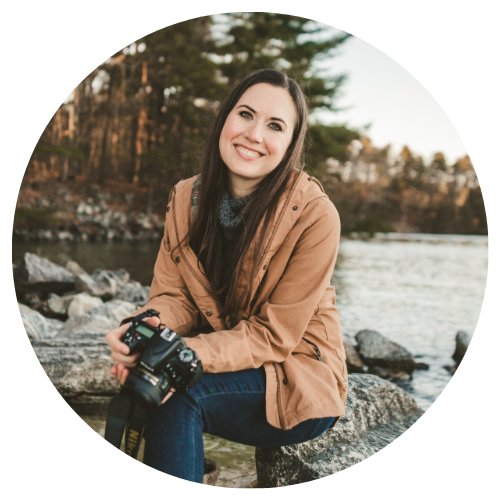 Reese Moore
Reese Moore is a photographer, content creator, and pickle connoisseur who divides time between Charleston and Lake Lure. When she's not behind the lens shooting stunning images for Reese Moore Photography, Reese loves to spend her time wandering the woods with her dog Gatsby or adventuring with her husband Logan in their Airstream Basecamp.