Simple Sustainable Style for Casual Presentations
Periodically, I give presentations on sustainable living, residential composting, and low-waste lifestyle basics. Here's a rundown of my sustainable style for casual presentations.
This post contains affiliate links.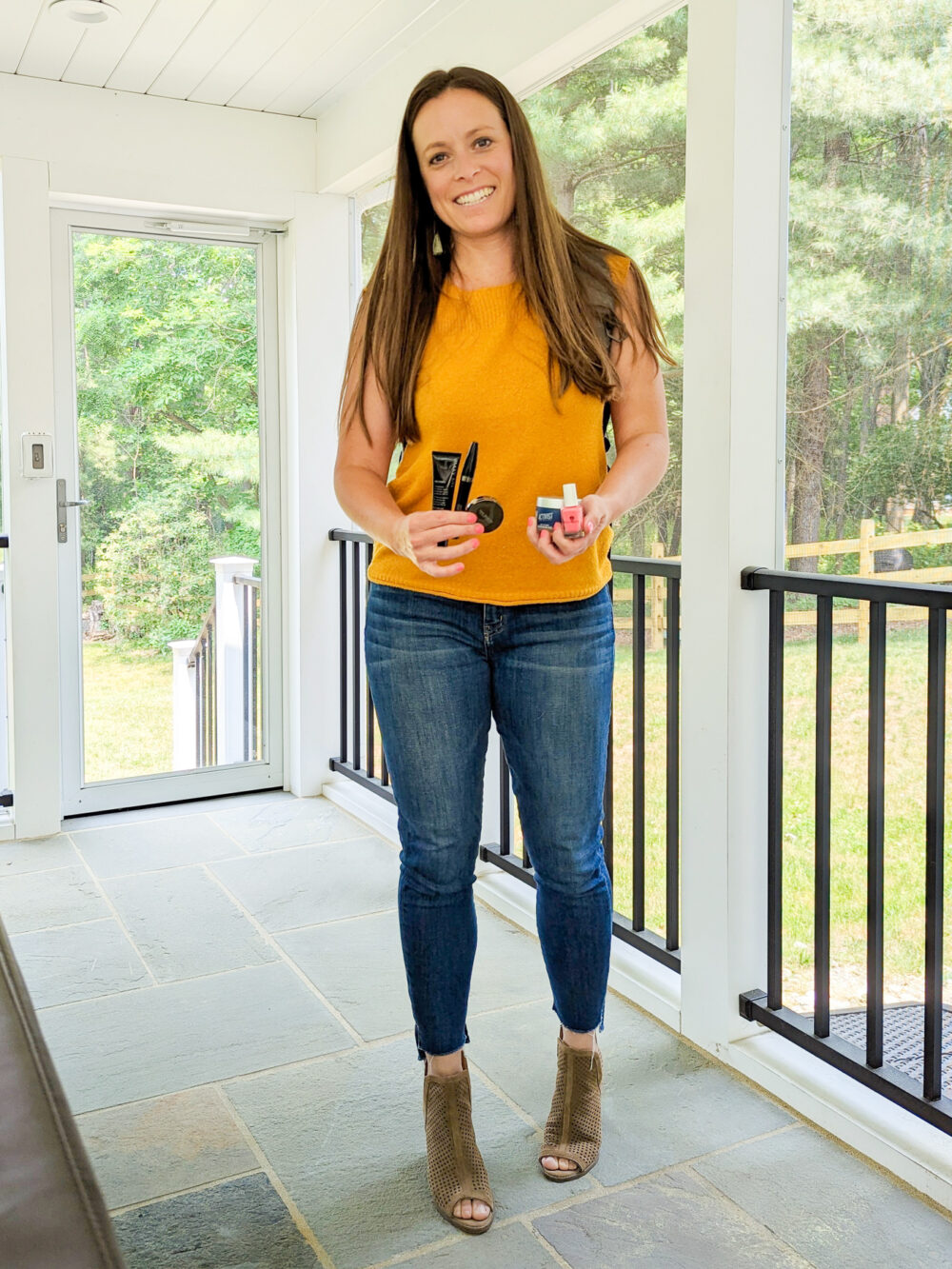 A couple of weeks ago, I gave a sustainable living presentation at a local community organization. My style is typically pretty casual, so I didn't have trouble making do with things I already had. But you better believe when I'm showing up to talk about low waste living, I best be dressed in sustainable style to walk the walk I'm about to talk.
Let's break down what I wore to this presentation so you can see a tangible example of how I build simple, sustainable outfits even when I need to dress up just a bit for the day.
Golden Top from thredUP + Old Denim
I started building the outfit with this yellow thrifted top from thredUP and paired it with denim jeans I've had for several years. I received the yellow thrifted top as part of a thredUP Goody Box, a curated box from a thredUP stylist.
Unfortunately, they no longer offer the Goody Box program. I got so many good pieces from it that I never would have picked out on my own. I would definitely do it again if they still offered it. This shirt however, along with a few other things their stylists picked out for me, are constant reminders that there are some really good things buried in the millions of pieces available on thredup's website.
If you haven't tried thredUP, it's definitely worth a shot. Use this referral link to get 40% off your first order!
Boots Made for Walkin'
I've had these summer boots for many years. I don't wear them all that often, because they don't work well in cooler weather. But they're a perfect example of a shoe that has classic enough style that it's lasted beyond seasonal fads. And I love that the neutral color matches so many things in my closet.
Free-to-me Earrings
Let's talk about the earrings. I received these earrings as a gift in my Buy Nothing group. Someone had several pairs that they had never worn. Maybe they received them as a gift, and it wasn't really their style, who knows. But I saw these posted on our Buy Nothing group and was stoked!
I had been looking to expand my collection of fun, dangly earrings and was ready to pay for something. What luck that these hit the spot perfectly! How fun is it that I can go to a presentation now and brag about my earrings that I received in a community gifting group for free?! So fitting, and truly living the lifestyle I'm preaching.
Related Reading: Buy Nothing Groups for Beginners: A Complete Guide
Sustainable Solgaard Backpack
I use my Solgaard Lifepack backpack all the time! I take it to hockey practices. It's my go-to bag on vacation. And I use it for work presentations. It has all the right pockets for my computer, my ReMarkable2, and plenty of space for any other gear I need to bring with me.
I love that it has a dedicated space for a solar powered battery charger. In today's day and age, everything needs to be charged. The solar powered charger was made particularly for outdoor adventurers and travelers who can slip it into the battery slot and let it charge on their backs while they hike and explore. I don't carry the solar battery with me everywhere, particularly when I know I won't need it. But it's a really nice feature that I can pop in when it makes sense.
The backpack is also made from Shore-Tex™️, their own fabric made from upcycled ocean plastic. Each bag removes 6 pounds of plastic from the ocean. Buying backpacks won't save the ocean from the Great Pacific Garbage Patch, but it's not a bad added feature to a bag that functions really well too!
Sustainable Beauty Routine
As for all that susty beauty, the products I use regularly are a combination of specifically eco-friendly products and more traditional beauty products. Let's do a rundown:
Activisit Skincare: This line of skin care is really focused on sustainability. I've been using it for a few months now and am working on a full review. I absolutely love their Trial and Travel kit, a great way to try the products and have refillable travel size containers going forward! Use coupon code HONESTLYMODERN for 15% off your first order!
Eyeshadow and mascara: My mom has been a Mary Kay consultant since I was 10 years old, so I've had a lot of exposure to Mary Kay beauty products. Their eye color and mascara have worked well for me, so I continue to use them. Over the years, I've tried other more "sustainable" brands, but I find that many don't work very well for me. Furthermore, many of them still come in single use packaging, and I don't have access to proper disposal methods when they would apply. At the end of the day, most beauty care packaging feels the same to me.
Cheek color: This is a cheek color from Juice Beauty brand that I bought from Credo Beauty, a sustainable beauty marketplace. I've only purchased from this marketplace a couple of times, and they seem to have a variety of mildly sustainable to hardcore sustainable beauty products. I've had this Juice Beauty Phyto-Pigments Last Looks Cream Blush for about six months, and I would definitely buy it again.
CC cream: I've tried a few different brands of CC cream or similar foundations, and I keep coming back to the Mary Kay brand. It goes on smoothly, and I like it, so I can continue to use it. I just make sure that I use every last drop. Before tossing out the container, I always cut it in half, and scoop out all of the extra products sitting on the bottom that doesn't squirt out without this extra step. It's often at least a week's worth of cream! So crazy how much perfectly good product gets left in the container if we aren't mindful about using it up.
Earth Kandy nail polish: This sustainable nail polish brand is a tiny brand based in Philadelphia. I tried it because it was a local brand, and have come to love it. It really is the longest lasting nail polish I've used. It's vegan, cruelty-free, and a 21-free brand, meaning it is free of 21 of the most harmful chemicals often found in nail polishes. The company also supports Urban Tree Connection which helps build local food-based ecosystems in West Philadelphia, an urban area traditionally underserved with respect to wholesome food availability.
I'd love to know how sustainability fits into your beauty and style routines. I'm an advocate of making space for more sustainable choices when they are accessible for us, and also acknowledging that perfection is next to impossible and not worth the energy and resources to achieve. I suspect most of us find a good mix of secondhand and fast fashion, sustainable beauty and drugstore brands, and just the right mix of accessories to meet our needs with a dose of fancy.
About The Author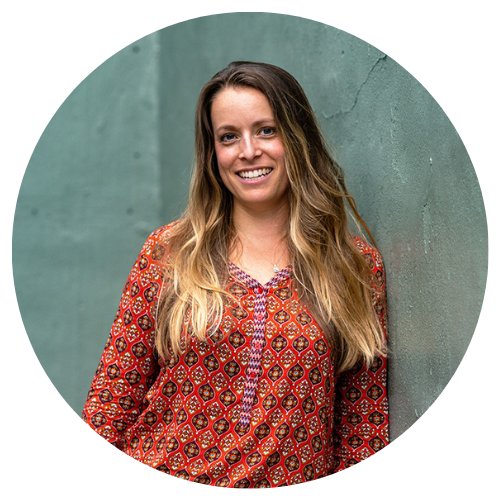 Jen Panaro
Jen Panaro, founder and editor-in-chief of Honestly Modern, is a self-proclaimed composting nerd and an advocate for sustainable living for modern families. In her spare time, she's a serial library book borrower, a messy gardener, and a mom of two boys who spends a lot of time in hockey rinks and on baseball fields.
You can find more of her work at Raising Global Kidizens, an online space to help parents and caregivers raise the next generation of responsible global citizens.