How to Make (Eco) Friends As An Adult
Wondering how to make friends as an adult, especially if you're looking for like-minded eco-conscious buddies? Check out some of these tips to make (eco) friends as an adult.
A few years back, in 2018, my family and I moved to the United States from the United Kingdom. We knew no one and left our support network behind. As we settled into our new home in the United States, the kids braved new schools and found their feet with classmates. My husband connected with new colleagues. I, however, had to be a bit more intentional about finding my new gang of friends.
Before moving, I felt comfortable with the attitude of "My time is precious. I only want to spend it with people I know and I like." But in a new country where the language was the same but little else felt familiar, I had to think differently. To be honest, I didn't like it.
At the grand old age of 38, I came to accept that it was time to start making new friends. I realized it was time to stop hiding at home and start doing the work of making new friends like my children and husband were doing at school and work.
Start Making Friends As An Adult By Being Generous With Your Time
At the start of 2020, I set a New Year's resolution to be more generous. I intended to donate more money to charity. I planned to be kinder to people while driving. (The shouting at people from behind my steering wheel also wasn't a great example for my kids to see.)
Most importantly, I set out to be more generous with my time. I could no longer pretend I was still in the United Kingdom, hiding in my house waiting for our 2-5 years in the United States to run their course. I needed to branch out, get involved, and find my gang.
Say Yes To Invitations & Events
I'm reading The Happiness Project at the moment by Gretchen Rubin and she talks about the Buddhist saying "when the student is ready, the teacher will appear". While I had a goal to be more generous, I had no idea how to do it. In January 2020, that Buddhist mantra couldn't have been more true. I was ready and the teacher arrived to help me achieve my goal, so long as I said yes.
One Saturday morning, I found myself in a conversation with another mum while watching my eldest play basketball. The mum ran the school-sponsored extra-curriculum program and planned to step down in the summer. She sought a replacement for her Parent School Organization (PSO) role, and I accepted the call of duty.
I knew nothing about the school system, the teachers, or if I could do the job. But I forced myself to say yes. That simple yes terrified me, and I had so many moments of self-doubt afterward. Would they all hate me when I failed (that little voice in my head always said when and not if)? Where on earth would I start? But that simple "yes" also led me to meet more mums and introduced me to the incredible community that makes our town what it is.
The PSO (often called the PTA or Parent Teacher Association) might not be immediately aligned with my eco-conscious and litter-picking lifestyle, but it was a first step toward connecting with other like-minded parents and neighbors.
Another time, during a routine visit to the local library one rainy afternoon, I met Chrissy, an amazing woman who moved from California to Massachusetts around the same time as me. She was starting a kids' clothing exchange, and I was so excited to hear about her plans. This suited my eco-conscious mindset perfectly.
When asked if I wanted to help, I said yes. (I was getting used to it by this point). I still had butterflies about this new endeavor. But once I'd said yes, I was committed!
Chrissy reminded me the other day that when I first turned up at her house, I commented on her compost pile and said "You compost. This is where I'm meant to be!" I'd met a member of my eco-mom gang.
Though it started small, the 143 exchange has grown into a free clothing swap for all ages. We keep thousands of pieces of clothing out of landfills and circling in our community. We reduce waste and make connections with neighbors over shared resources and a goal to live more sustainably.
The exchange also introduced me to Marisa. She has taught me so much and supported me on so many of my crazy projects, including South Shore Eco Fest happening this April. Because of Marisa and Chrissy, and many other awesome people I've only known for a couple of years, my confidence is back and I'm feeling like me again. It all started when I set a goal to be generous with my time and said yes to invitations for new ventures and projects with neighbors.
Stepping outside my comfort zone, especially during the pandemic, has taught me so much over the last two years. It reinforced that we need to be kind to each other and our planet. It taught me that I need to spend more time with people that give me energy. You know when you find "your people", the ones that put a smile on your face and help you feel ready to handle anything.
Attending events and saying yes isn't always easy. It's tough to make time. It's easy to prioritize other things (like our kids or our work). And sometimes it feels overwhelming to garner enough energy to do something new and put yourself out there. But it's worth it; it's worth finding the people who energize your soul.
Like the PSO event for me, not every activity may directly align with your most fervent passions. But getting out in the community to meet neighbors and new friends will get you on the right track towards finding your gang, just like the PSO and the library visit did for me.
Say Yes | Commit and Follow Through On Your Goals
If you're looking to branch out and find your people, here are three simple suggestions that might help:
Write Down Your Plans | Tell yourself that you're going to say yes to things more often and write down your intentions. I was always taught that a goal that's not written down is just a dream. Write down your plans, and your mind will help you achieve them.
Say Yes | Offer to volunteer. When the Sign Up Genius comes round for help, say yes. If someone asks you to come along to something you've never done before (that's legal, of course), say yes. What's the worst that could happen? You hate it and never go back? At least you'll then know!
Be Proactive | Ask other people to get together. Meet a friend for coffee without the kids. Take someone for lunch that you'd like to get to know better. You'll surprise yourself, I promise.
Parent, school, and family-focused events were natural places for me to meet people. It may be different for you. If you're not sure where to find groups or events to attend to find new friends or connect with your people, consider some of these ideas.
13 Places To Find Your Eco-People & Make New Friends As An Adult
Start or Join an Eco Book Club
If you're a bookworm, gather some friends who also like to read about environmental matters and start an eco book club. Lucky you if you already have friends running one that you can join.
If you're not sure what to read, check out the Honestly Modern Eco Book Club reading list. Every year, there's a new list with a book for each month. Even if you don't love every book on the list, it's a great place to start and you can swap out just a couple of books to have your entire year's reading list set from the beginning.
Become a ShareWaste Compost Host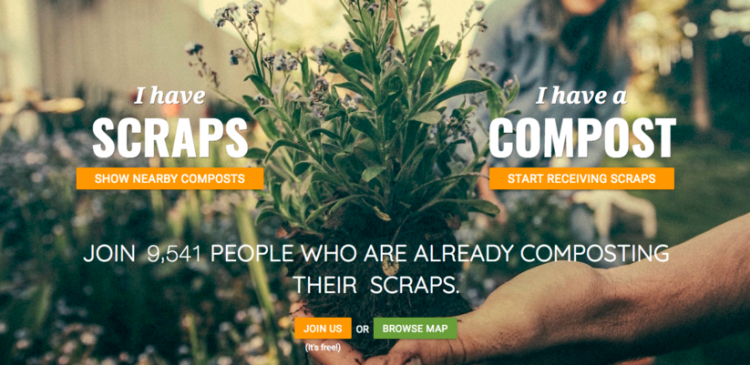 If you love compost as much as the next soil savior and have space to host a compost system, sign up on the ShareWaste app as a compost host. Others in your area who want to compost their food scraps but have no space or ability to compost themselves may reach out to drop their scraps off at your bin.
The ShareWaste app is free, easy to use, and works anywhere in the world. There's no easier way to do a favor for a friend trying to keep their food scraps out of the landfill.
You could also simply let your neighbors know that they can drop their food scraps in your compost bin. That's what I did. You don't need to use the ShareWaste app if you prefer to make more informal connections over compost.
Start a Little Free Library or a Little Free Pantry
If your neighborhood would benefit from a Little Free Library or a Little Free Pantry, consider building and maintaining one. Encourage neighbors to help you manage it. Drop a flyer in their mailboxes or at their doors and request that people reach out to you if they want to be part of the group to make sure it runs smoothly. These community boxes are only as good as the process to manage them, and it's always more fun with a team.
Join Facebook Community Groups
Even if you don't use Facebook to share your life events, Facebook has some really useful and well-run niche interest groups that can be great avenues to find others who share your passions.
For example, I know a friend who joined a native plants group for people in her immediate community. After connecting through Facebook, they could meet up in real life to discuss plants, gardening, and pursue their mutual interests. In her case, they even discussed starting a seed library at their local library.
Participate in Your Local Buy Nothing Group
If you're not familiar with them, Buy Nothing groups are hyper-local sharing communities that connect online to gift goods and services to each other out of their abundance. It's like an ongoing swap group for people in your own neighborhood.
Buy Nothing groups exist around the world, though they're especially popular in the United States where they started. They operate via Facebook groups or the Buy Nothing app. You'll find lots of people in the group who prioritize secondhand and responsible consumption over simply buying everything new or tossing things in the trash.
If you don't have a local Buy Nothing group, you could also start your own. It's a bit of work to get it up and running, but it's totally worth it if you have the time.
Use Social Media Hashtags
Social media has its flaws, but it can help bring people with similar interests together. Follow hashtags that suit your interests and you might be surprised about the connections you make.
If you are looking to meet people in your area, consider using hashtags that include your specific interest as well as your geographic location. For example, I might use #ecofriendlycohasset or #Massachusettslitterpickup or #SouthShoreEcoFest to find other people with similar hyper-local environmental interests.
Attend a Local Library Program about a Topic of Interest
School is back in session but without the tests. Attend a local library program to learn more about history, finances, environmental matters, and more. Who knows, your library might host a class on composting or installing renewable electricity for your home. By attending one of these library programs, you're likely to meet other people who like those topics as well.
If you're feeling especially brave, host a library program on a topic that interests you. Hosting the event is an even better way to meet people, and most libraries are thrilled to have volunteers lead programs for their patrons. It's good for their budget and community engagement. Ask your librarian for more information about programs to attend or how to submit a proposal to host a program for them.
Check Out Events at Your Local Farmers' Market
The farmers' market is another place to find eco-conscious people who have a hankering for taking care of the planet. While you can wander through the vendors, it will probably require a bit more effort than just shopping the stands to connect with like-minded neighbors.
Check out events hosted at the farmers' market. Get to know the people who run it. Talk to the farmers. Make the market a regular part of your food shopping, and you'll probably meet lots of people who prioritize local food systems, small businesses, and a healthier planet.
Organize a Hyper-local Green Living Event
Plan an event for your community that prioritizes environmentalism and green living. As part of our just1bag litter pickup movement, we hosted litter pickup events in our community. I've also co-hosted clothing swaps for kids on several occasions with other moms in the community. These women have become some of my closest friends since moving to the United States, and we connected over our love for the planet and green living.
Check out Local Meetup Events
There's no better way to find ways to meet up with other eco buddies than through Meetup groups, right? Search for events in your area in an area of interest you enjoy and plan to attend. You can find everything from hiking and biking groups to knitting clubs, travel planning groups, and more.
Attend a Local Event
Using local media outlets like community magazines or online news sites, find local events in your area that seem interesting. Sign up to attend even if you don't know anyone.
It might be difficult to put yourself out there at first, and you don't have to do it all the time. But if you're not an especially outgoing person, work up the confidence once or twice to go to the neat festival, quaint art show, open mic night, or poetry reading and see who shows up. You might make a new friend.
Participate in a Sports or Fitness Club
Lace up your running shoes and join the running or hiking club. Sign up to play pickup basketball. Attend the hiking event posted by your local outdoor adventure store. Or try out tennis lessons even if you've never played before. There's a pretty good chance some of these jocks and explorers will care about clean air and a healthy planet too.
Join a Local Volunteer Group
Find a local volunteer group that spends time doing things related to your interests. Even if you can only attend once a month or every couple of months, it's a great opportunity to start to connect with people who are involved in the community and have similar interests to you. People involved in these types of volunteer groups are often engaged citizens and can probably connect you to other similar opportunities.
If you can't find a volunteer group specific to your passions, a more generic volunteer community may fit the bill. For me, involvement in my child's school connected me to women who eventually became my eco buddies. You never know who you will meet until you put yourself out there and say hello.
As we plan our move back to the United Kingdom this summer, I'm preparing myself to heed my own advice. I know it'll be uncomfortable and I'm sure I'll make an idiot of myself multiple times, but I'll keep saying yes and see where I end up!
Give it a try and let me know how you get on!
About The Author
Sarah Burgess
Sarah Burgess is co-founder of the social movement Just1bag2020, mother of two, and British Expat who spent four years living in the United States and recently moved back to the United Kingdom. Sarah spends her time promoting local sustainable change through small, easy-to-do actions that everyone can do to help out the planet. When not picking up trash and persuading others to do the same, Sarah and her family can be found travelling the world and experiencing everything this precious Earth has to offer.