6 Easy + Flavorful Dishes Using Nut + Seed Butters
Looking for delicious vegetarian dishes using different types of nut butter and seed butter? Check out these plant-based recipes perfect for those looking to try new vegetarian and vegan, even for beginner plant-based eaters.
When trying to eat more plant-based foods, it is important to stock up on certain ingredients in your pantry to help you create both flavorful and savory dishes on a whim. Many of the vegan cookbooks that inspire me or that I use on a regular basis require homemade sauces in their meals.
As much as I enjoy making my own sauces, it's not always realistic for a quick weeknight meal. Nut and seed butters, however, are quick and easy alternatives to homemade sauces and easy to keep in your pantry or fridge. They add that richness to a dish quickly without the added fuss of making items from scratch.
The following easy plant-based recipes use different nut and seed butters and are very versatile. You can substitute different butters based on your flavor preferences or what you have on hand. The substitutions may change the flavor of the dish but that isn't always a bad thing. The key component in each of these recipes is a rich flavor, and none of these dishes fall short of that.
Some of these plant-based recipes provide heat while others balance salty flavors. You can prepare most of the meals in under 30 minutes, while a couple of them take about 40 minutes (with inactive time). These dishes also make great leftovers for the next day, so consider making a little extra depending on how many mouths you are feeding.
6 Easy + Flavorful Dishes using Nut Butters
Spicy Eggplant Noodles
Eggplant is one of those vegetables that seems to go bad pretty quickly. If you don't use it within a reasonable time, it starts to brown quickly. Maybe it takes a while to get from the farm to the grocery, but I find that it wastes a lot quicker than other vegetables.
It's also one of the "meaty" textured vegetables, making it hearty and satisfying at the same time while being a reasonable replacement for meat in certain dishes. In this recipe, I roasted the eggplant in the oven while preparing everything else. If you make enough for leftovers, t's just as delicious served cold the next day!
Check out the spicy eggplant noodle recipe.
This dish is dedicated to my friends who love penne alla vodka. Traditionally, it is made with tomato sauce, onions, bacon (pancetta), and heavy cream. In this dish, I removed the bacon and replaced the heavy cream with cashew butter. Just try it. You won't be disappointed. I promise.
Check out the vegan pasta alla vodka recipe.
This dish technically doesn't fall under the 30-minute meal category, but there is a lot of inactive time while the sweet potato bakes. While it bakes, you can do other things, like prepare the filling and maybe…wash the dishes?
We love to make this dish in our home because it is so versatile. We use whatever ingredients we have lingering around, especially those that need to be consumed quickly before they get tossed. (Food waste reduction for the win!) Usually, we include some greens like kale and a few different coloured veggies with some onions. The possibilities are endless.
You could substitute the sweet potato for a russet potato, but the baking times would change. Also, the sweetness of the sweet potato balances the salty from the filling and is a great marriage of flavors.
The almond butter crema has this wonderful nutty freshness that cuts the salty and sweetness from the potato and the filling. It really is a great hearty dish that will have you repeating it over and over again.
Check out the stuffed sweet potato with almost butter crema recipe.
Growing up as an Italian-Canadian, we always had salad on the table. It mainly consisted of romaine and radicchio with a simple oil, vinegar, and salt dressing. I am not here to downplay the beauty of a simple salad, but there are so many ways we can revamp it to make it more exciting and less typical.
Thai salads have a burst of flavor. From colorful vegetables to great-tasting dressings, it's like a party in your mouth. In this salad, I raised up the heat a little and added some Thai chili peppers, but feel free to omit them if you would like a more mild version.
Check out the crunchy Thai salad with spicy cashew dressing recipe.
We eat tofu about once a week in our home. At one point near the start of our plant-based journey as a family, we started to dislike it. After some trial and error, we realized that we just didn't know how to cook it properly. Once we made a few changes, it was a game-changer for us.
Some tofu experts say tofu needs to be marinated; others don't. For us, both preparation styles both work well. But for this dish, which is a quick one, it just needs a few simple steps.
Waiting for the tofu to bake is the longest element of making this dish. It takes about 15-20 minutes. Use that time to cook rice or any other quick veggies you want to add to the meal.
If you haven't already realized, I enjoy a little kick in my dishes. Any of these recipes can be customized to omit the heat, so don't feel nervous about the title. If you do not have any cashew butter, you can easily use peanut butter or even seed butter.
Check out the spicy cashew tofu recipe.
Roasting a whole cauliflower is probably one of the easiest ways to use cauliflower. There is minimal prep involved, as the cabbage is kept intact and most of the work is done in the oven, leaving time to prep other parts of a meal. In this recipe, tahini, a seed butter is used to add a savory and rich flavor to this cruciferous vegetable. The flavours are fantastic!
Check out the turmeric tahini roasted cauliflower recipe.
*All images from Simply Pure Simply Fresh unless otherwise indicated
If You Like Nut and Seed Butter Recipes, You Might Also Like
6 Easy + Delicious Chickpea Recipes For Plant-Based Beginners
How To Make A Whimsical, Garden-inspired Vegetarian Charcuterie Board in Less than 45 Minutes
Cooking with Broccoli Stems: Broccoli Stem Stir-Fry with Spicy Peanut Sauce
About The Author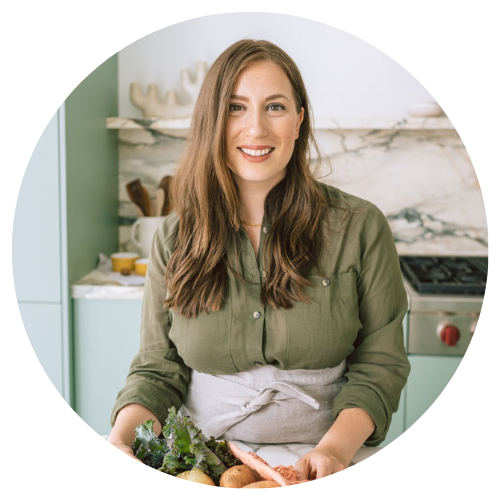 Antonietta Ferretti
Antonietta Ferretti is an elementary school teacher, mother of two, and a food waste advocate living in Toronto, Ontario. Despite living in the city, Antonietta continues to follow the philosophy of her parents' upbringing in the countryside in Italy.
Her passion lies in sharing more plant-based eating habits while being conscious of our relationship with food and our environment. You can find more of her recipes at Simply Pure Simply Fresh.