How To: Safely Teach Your Toddler To Chop Vegetables
This shop has been compensated by Collective Bias, Inc. and its advertiser. All opinions are mine alone. #YesYouCan #CollectiveBias
Growing up, my dad always joked that the reason you have kids is so they can eventually do all the chores around the house. Although I may not have agreed when I was fifteen, I'm entirely on board now as the mother of two little boys.
Three and half and nearly two, T and J aren't old enough for a whole lot of chores. They have a few things for which they're responsible each day (getting dressed, brushing their teeth, setting the table, etc..) and the list has been growing. They have, however, been able to contribute a fair bit in the kitchen.
I started exposing both of them to cooking (and baking, of course) just after they turned one. They're pretty good now at stirring, pouring, and, unfortunately, spilling, but that's all part of the learning experience.
Chopping It Up
While a bit more unconventional than the safe and simple skills most little ones exhibit in the kitchen, we've used a vertical chopper to let the boys try their hand at cutting and chopping all sorts of fruits and vegetables.
The tool has a sharp blade, so it's definitely not fool-proof. You still need to watch the kids while they're using it. But I love that it gives the boys a chance to be involved in cooking, of all things, their vegetables. Rumor has it children develop more positive relationships with healthy food when they're involved in preparing it. So if my boys help in the kitchen and learn to love their veggies (eventually…), that's a win-win.
Put Your Kids to Work
As T has gotten better and more independent using the chopper, it's great to have an extra set of hands to prepare food while I take a crack at something else on the menu. We're often rushing a bit to get dinner on the table between picking up the boys from school and bedtime. With T at the helm and able to help with preparation, we can fill our hungry stomachs just a little bit quicker.
On this particular day, while T chopped up baby carrots (one of his favorite vegetables), I prepared a really easy and kid-friendly baked chicken bruschetta.
The recipe doesn't require too many ingredients. Over lunch, I stopped at Walmart near my office to pick up a can of Hunt's diced tomatoes, a package of baby carrots, and a couple other last-minute ingredients to round out the recipe for that evening's dinner.
(Shout out to the mini-fridge in my office where I keep my shopping bounties before I head home for the day.)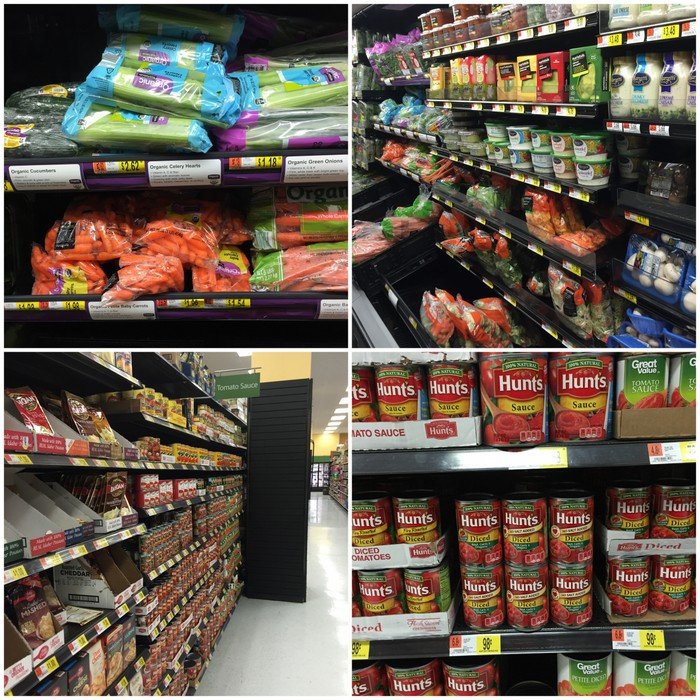 While I went to town on the garlic, Ty diced up the carrots. He was adamant we prepare them the same way the chef at his school does (because that's the only way he likes them…). Whatever gets him to eat some vegetables.
I don't know about you, but I hate chopping tomatoes. Maybe it's a user error, but it always turns into such a mess. Whenever a recipe calls for tomatoes in my house, there's a pretty good chance they'll be diced from a can; far less hassle and time. I do ensure, though, that I buy the "no salt added" variety so I can better control the salt content in the food.
To top off a really simple baked chicken dish, I threw together the can of tomatoes, some herbs, and a few fresh mozzarella balls which melted rather nicely in the oven.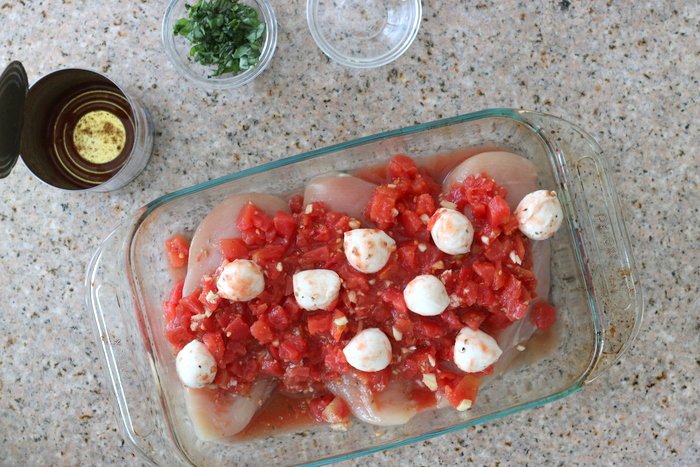 In addition to the chicken bruschetta, a small side salad, and T's diced carrots, I used the rest of the fresh mozzarella pairing it with cantaloupe and prosciutto. I don't know about you, but I love the perfect combination of salty prosciutto with sweet melon! And what's not to love about fresh mozzarella?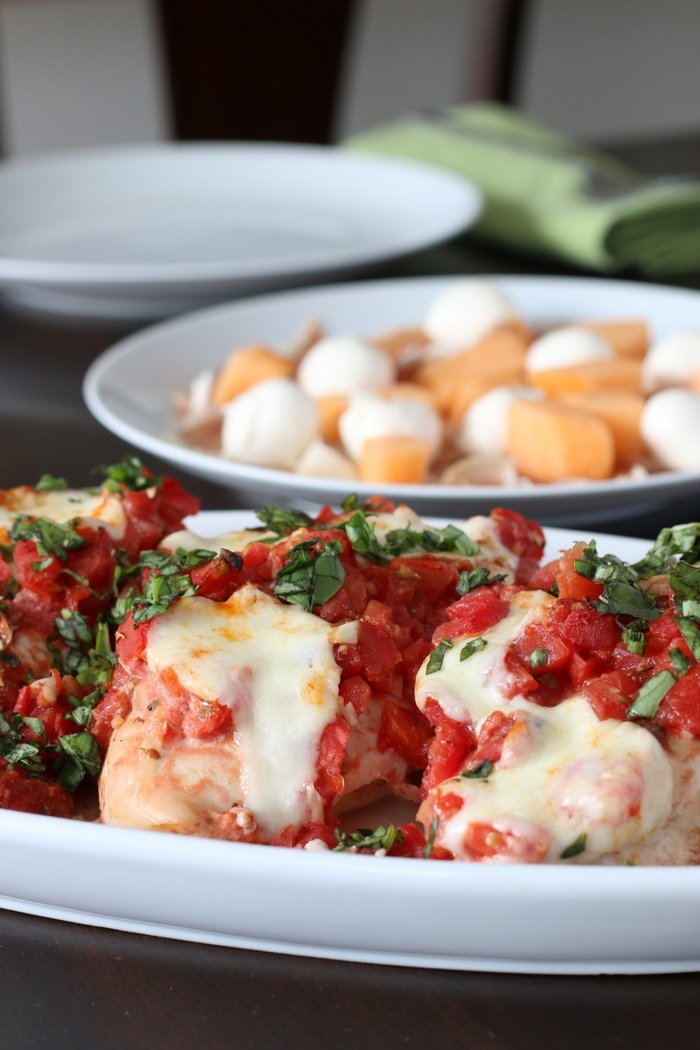 Although it's the middle of winter in our tundra town, I like mixing in some staples, like canned tomatoes, with fresh produce for lighter meals that still work for winter. I had to be a little careful ensuring the melon was ripe this time of year, which worked out. But beyond that particular ingredient, everything else is readily available despite the winter season and still combines to create a fresh, flavorful meal that's not too heavy.
What are you cooking up these days? If you're looking for some culinary inspiration, be sure to check out these other recipes for more great ideas about how to keep your winter menu tasty and lively.
Chicken Bruchetta
Ingredients
1 lb chicken breasts
1 14 oz can Hunt's diced petite tomatoes
1 cup cubed fresh mozzarella
2 cloves garlic, minced
1 tsp oregano
1/4 tsp salt
1/2 tsp black pepper
1 -2 tbsp balsamic vinegar
2 tbsp chopped fresh basil
Instructions
Preheat over to 350 degrees
Mix tomatoes through black pepper in a bowl
Place tomato mixture on top of the chicken in a baking dish
Drizzle balsamic vinegar over chicken and tomato mix
Bake for 30 minutes or until cooked through
Remove from oven and sprinkle chopped fresh basil over the chicken and serve.
Nutrition Information:
Yield:

1
Serving Size:

1 grams
Amount Per Serving:
Unsaturated Fat:

0g
Prosciutto with Melon
Ingredients
1/2 pound prosciutto
2 cups fresh mozzarella, cubed
2 cups cantalope, cubed
Instructions
Layer mozzarella and cantalope over prosciutto on a plate and serve.