When Is 'Good Enough' Better Than 'Perfect'?
Almost always…
So there's this funny thing about cameras and photography. Every photographer, blogger and snapshot-loving mom knows well that cameras capture life in a slightly different way than we might expect.
While our eyes (i.e real life) scan and see a quick overview of the scene in front of us, the camera sees everything (for better and for worse).
An outfit that looks perfect in a blog photo often looks a little too perfect in real life. And something that might look relaxed and casual but complete in person looks a bit unfinished on the blog.
Such might be the case with this outfit.
We grabbed a casual dinner as a family at a local spot with great food and a laid back vibe. My shoes added enough interest to the outfit, in my opinion, that it felt complete (especially in the context of a family dinner with two little ones in tow). But reflection on the blog photos suggest it needed a bag or some jewelry. I had a small bag with me, complete with fun essentials like my phone, a couple diapers and a few baby wipes in case of emergency.
Despite bordering on "boring", I appreciate simplicity: the simplicity of capsule-like wardrobes, no excess jewelry, no fretting about perfect finishing touches, and no worrying about my kids breaking and spilling on and ruining a plethora of accessories.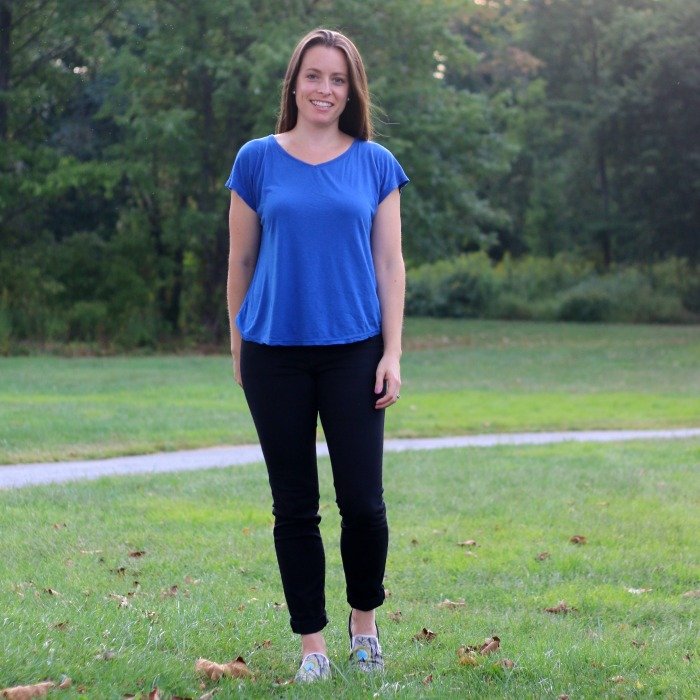 I wavered about posting such a simple outfit that may not be "blog perfection." In the end though, I decided to go with it, because attempting to lead a simpler life often means settling for less than perfection.
"Settling" has such a bad connotation, but I disagree that it's always the cop-out or the failure or the sign of giving up. Often, it's evidence of being relaxed and accepting about certain outcomes. Sometimes it reflects indifference, and we don't have to care or have an opinion about everything. It's nice not to care about everything. Other times, settling happens when we achieve "good enough but not perfect" and that's desirable more often than not, in my opinion.
Striving for perfection all the time creates undue stress and feels like it's little more than a path to failure. We can't always have perfection; that's just a simple fact of life. We can't always give 100% or be the absolute very best at everything. Being comfortable that "good enough" is "more than enough" on most occasions seems like a step in the right direction.
So… here's my "good enough" "night out with the family" outfit. I paired this ethically manufactured shirt with my thrifted Vince jeans from the Salvation Army. I have worn my indie-designer Bucketfeet shoes way more the 30 times. They've certainly earned their keep (if we believe the #30Wears campaign has merit).
Being comfortable and feeling good while at dinner with my family trumped a perfectly photographed outfit. That's feeling pretty good, at least to me.