How To Find Your Perfect Eco-Friendly Wedding Dress
Not sure how or where to find a sustainable or eco-friendly wedding dress? Here's your answer.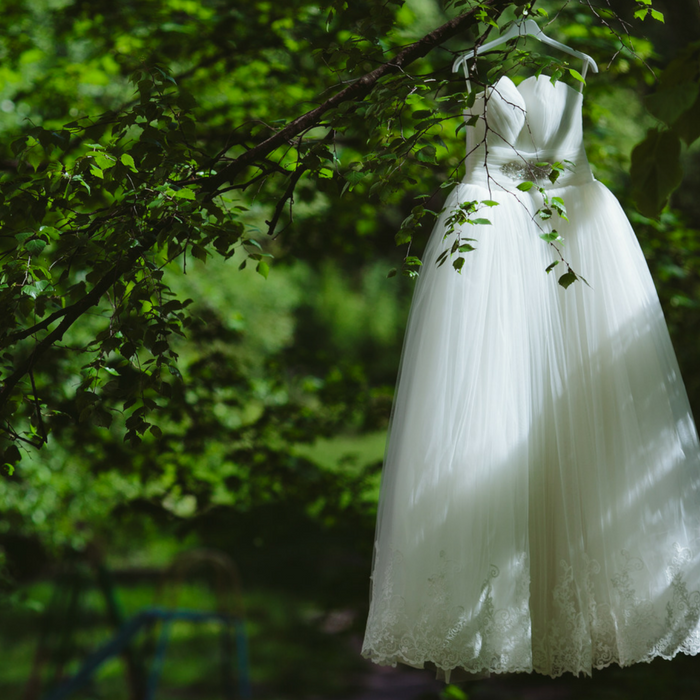 I'm currently spending time with family and taking a few days away from the blog. While away, I wanted to bring you some great posts from fellow members of the Ethical Writers Coalition. Thanks to Alden from EcoCult for sharing a handful of great tips on finding a perfect eco-friendly wedding dress.
When I set out to find myself the perfect, sustainable and ethically made wedding dress, I thought it was just about finding an eco-friendly wedding dress designer I liked and picking out a favorite.
It was not that simple. Yes, there are several designers proudly proclaiming their eco-friendly bonafides. But there aren't enough to fulfill the various styles and dreams of every conscious bride. In other words, just because I have the heart of a flower child – concerned as I am about pesticide use and child labor – doesn't necessarily mean I want to look like a flower child on my wedding day.
I'm not alone, here. I recently got an email from a reader who says she's also a little frustrated with her options. She's looking for something affordable, sustainable, and pretty.
Well, you just have to get a little creative! And I'm not talking about DIYing your dress out of used plastic bags. I'm speaking of defining what sustainability means to you, and searching for dresses that fit within those parameters, instead of just Googling: "eco-friendly wedding dress."
I myself went through this entire process. I held my nose and walked around a wedding dress trade show, asking bewildered designers nitpicky questions about their lace sourcing. I visited three different bridal boutiques with my mother, sister, and bridesmaid, asking a lot of nitpicky questions about how those gold sequins got there. I went into the belly of the beast, an uptown bridal salon with a dressing room the size of my bedroom, a stage with downlighting, and free champagne (I barely made it out of there alive).
In the end, I settled on a bespoke hemp/silk dress from the sustainable designer Susana Colina, after a visit to her apartment/studio in Brooklyn. She has several white dresses in her latest collection, but she's not expressly a wedding dress designer. Once I thought out of the box, it became so abundantly clear a dress from her was the right choice. Sustainable, ethical, and by a Venezuelan woman – it's a fitting way to incorporate another touch from my fiancé's home country, intertwined with my passion for sustainability. Plus, well, the dress I chose is incredible and just my style.
So let me walk you through all your options and avenues for finding the perfect dress that fits both your personal style, and values.
1. Define what you want.
There's a saying: you can have it two of three ways – fast, cheap, good – but not all three. When it comes to wedding dresses, you can have it three of four ways – sustainable, traditional, new, affordable – but not all four. That's because real silk sewn and embellished by fairly paid workers is more expensive than polyester and beading done by child labor. Traditional dresses, with their layers upon layers and embellishment, are more expensive than simple, modern gowns (and require a visit to the salon to try them on, rather than just buying it offline!). And of course, new dresses are more expensive than used ones. So if you want a new, traditional, sustainable dress, be prepared to pay. However, if you are open to a modern gown, or a vintage or used gown, then a world of options open up. For more on this, I suggest you read my story at Refinery29 on why wedding dresses cost what they do. One more thing: if you're vegan, you might want to think about getting a cotton voile gown, or maybe you actually do prefer a polyester gown. Things to think about.
Head over to EcoCult for the rest of this really helpful guide to sustainable wedding dress shopping. She's included more tips as well as some eco-friendly brands that offer plenty of modern-looking, beautiful dresses.