Family Activities To Do At Home Together
Looking for things to do with your kids while at home together? Consider these activities, some at home and others in the heart of nature, to enjoy quality time with your family without spending too much time in busy public places.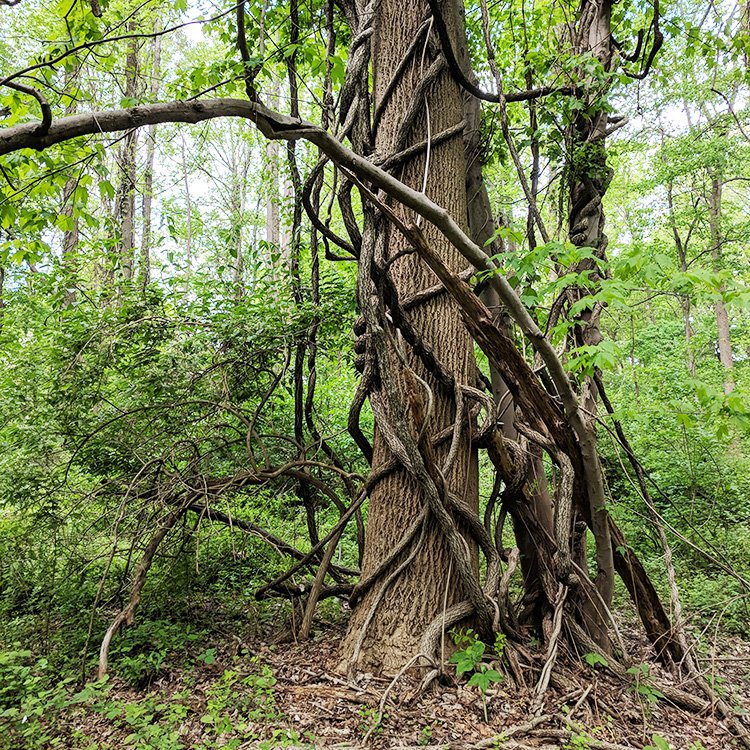 Lately, my inbox (like many of yours) has been overflowing with cancellation emails. Sports games, lessons, meetings, tournaments, and even schools have been canceled in some cases in response to the spread of coronavirus (or COVID-19).
Being prepared for significant changes in our lifestyle habits can help ease anxiety and stress as we endure those changes. Cancellation of so many activities that keep the cadence of our regular routines got me thinking about how to fill our days when we can't spend much time in busy public places. Now we have lots of time to hang out and entertain each other (hopefully without killing each other first). I'm only kidding… sort of.
Before I go any further, let me remind you I'm not a medical professional…. at all. I'm not here to offer medical advice or even pretend I'm an expert in the spread of infectious diseases. I'm just a mom looking to fill our days with fun activities that reinforce our family bonds while complying with public health recommendations and not getting the whole darn world really sick.
If you plan to fill your calendars with other types of activities and don't like our choices below, I totally understand and appreciate it. We all have different reasons for going about our lives in different ways, and that is 100% okay.
Finding the Silver Lining In Social Distancing
So long as we are not infected, we can practice social distancing in an effort to limit the spread of the outbreak among our community and don't yet need to be quarantined to our home (as far as I understand). M and I still have to work from home even if the boys are not in school. Our school has also planned virtual learning activities and sent home educational packets and projects for the boys to complete while out of school. They are not out of school yet, but even if they are, our days are not entirely free of responsibility despite having nowhere to be.
However, we (the collective "we") are all in the midst of trying out a "new norm" that involves far less air travel, fewer big social events, and maybe a dose of simpler living with a focus on family. I'm not making light of the coronavirus outbreak, in any way, but maybe there's a silver lining? Maybe it will remind us all that some of the more "mundane" and minimalist activities are actually pretty great.
Family Activities To Do During Coronavirus Outbreak
For our family, we need a few 'plans' on our calendar to maintain our sanity. I suspect we will spend some of that time at home and some exploring nature. Here are ten family activities, indoors and outdoors, we may try to pass the time for the next few weeks (months?) as COVID-19 barrels through our communities.
Create an I'm Bored List (And Don't Fear Boredom)
Before diving into any activities, spend a few minutes brainstorming WITH YOUR KIDS about all the activities they can do. On lazy weekends and snow days, we create an I'm Bored List at the beginning of the day with at least 15 – 20 activities the boys can do when they feel bored. When they whine that they are bored, I kindly remind them of the list they created!
Also, don't fear boredom. Boredom is a great opportunity for kids to exercise their creativity and just. be. kids! As adults, it's not our job to keep them entertained. Give yourself permission to let your kids be bored.
You may need to endure a bought of whining, but hold strong and get through it. Then watch the magic that happens when they realize all the amazing things their little brains and hearts can create.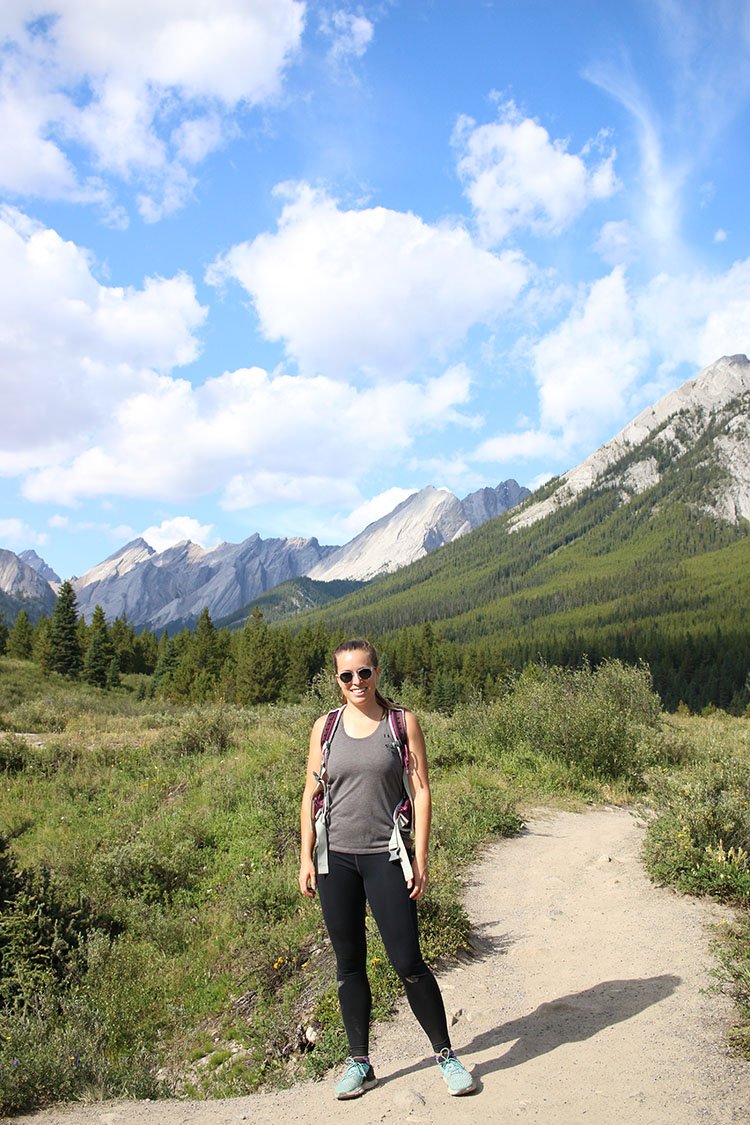 Beyond the boredom, there are plenty of fun things to do as a family despite recommendations for social distancing. Let's dive in.
Spend Time Outdoors in Nature
Experts say that coronavirus primarily spreads through close contact with others and through touching contaminated surfaces. Spending time outside, provided it's not in large crowds, might be a great way to turn the limitations of the outbreak into a positive experience for your family (assuming, of course, no one is already sick).
Going on hikes in the woods and outdoor areas that are not crowded shouldn't increase the risk of infection or outbreak. Heading to a city playground, on the other hand, might not be the best way to spend time outdoors. But if you can spend a day at a regional or state park or just hiking through a remote path or trail in your neck of the woods, it could be a great time to get some fresh air and let everyone blow off some steam.
Talk to your doctors for the best recommendations for you and your family, but a retreat to nature doesn't sound so bad right now.
Play In Your Yard
We have a good-sized yard, so spending time in our yard won't spread our germs to others or infect us with germs from neighbors and friends. If you have space, use this break as a time to rack up some of those 1000 hours outside, even if it's just playing tag in your yard or tossing a baseball together.
Do The 100 Burpee Workout Challenge
Connect with family and friends over video chat or social media while working out without leaving the house! Take on the 100 Burpee Workout Challenge together to blow off some steam.
Check out all the details on the @100BurpeeWorkoutChallege Instagram account. We're trying to get to 100 workouts. Grab a friend and tag @100BurpeeWorkoutChallenge so we can count your workout and reach our goal of 100 workouts together despite social distancing.
Plan and Prepare Your Garden
You might want to wash your hand after touching all the surfaces, but good old dirt from your yard isn't going to infect you! Spring is approaching. Depending on where you live, your yard might be ready for seeds or it might just be a good time to start prepping the soil and planing your garden.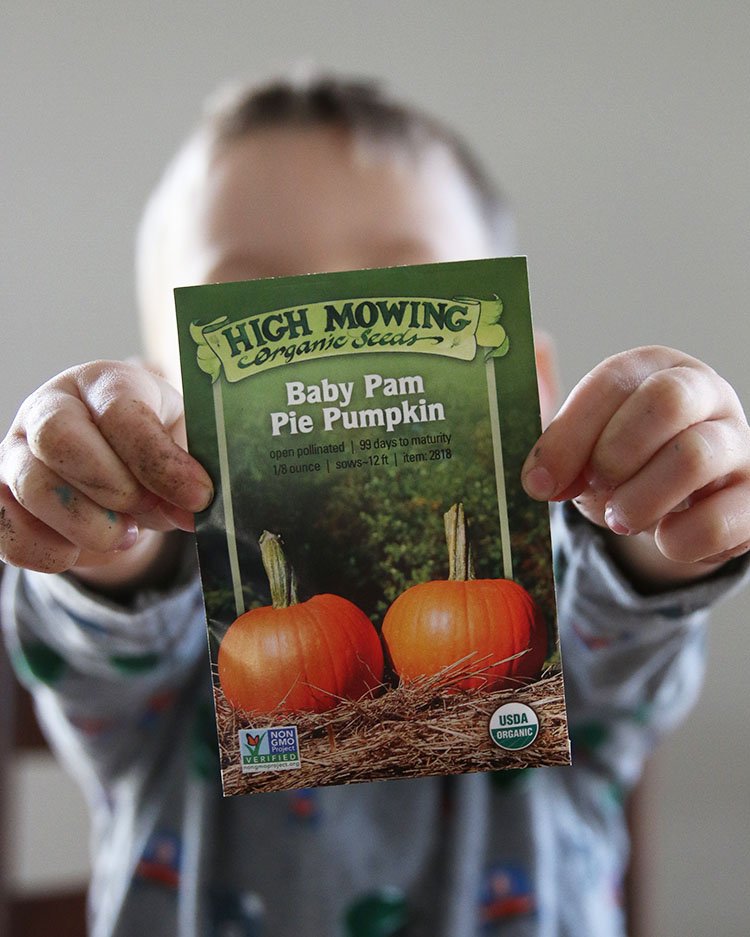 Set Up A Compost Pile
Your garden will love you if you fill it with nutrient-rich humus from a hearty compost pile. Getting started doesn't take much, and composting is a breeze once you get going. Here are all the things you need to know to compost at home. And yes… the kiddos can help with this (even younger ones, depending on the composting system you choose).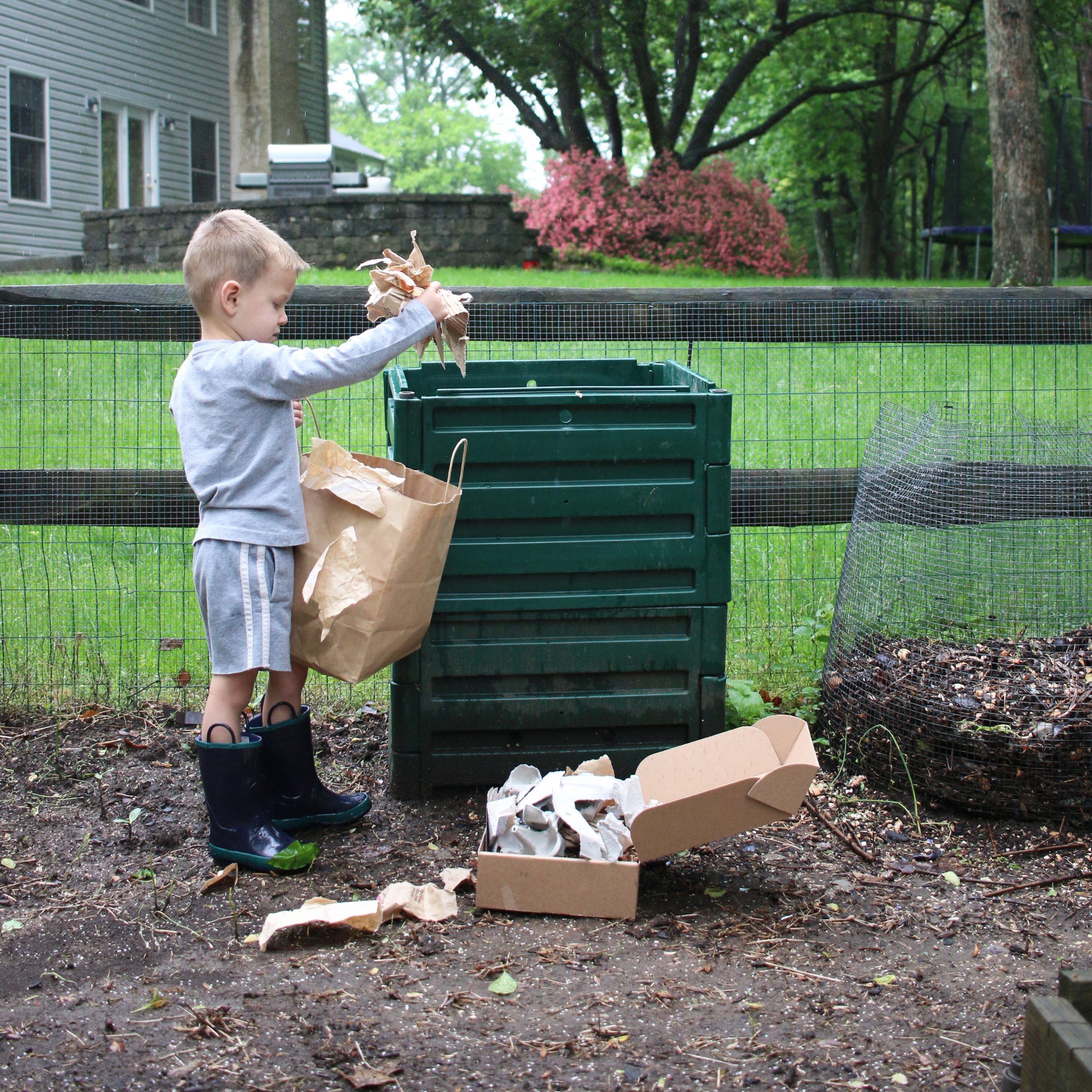 Spring Scavenger Hunt
Consider creating a little spring scavenger hunt for your kids. We did a scavenger hunt while traveling in California a couple of years ago and the boys loved it! I wouldn't necessarily recommend an urban scavenger hunt if you live in a particularly populated area. But if you can do it without coming into closet contact with others, try it out!
Maybe you can do it in your yard or a local park if it's available. Find items like buds on trees, blooming flowers, leaf piles that are partially decomposed, happy worms, and whatever makes sense for where you live.
Go Plogging
What the heck is plogging, might you ask? Plogging combines jogging and picking up trash. It's an environmentally-driven trend that started in Sweden and has been spreading across the globe (though not as fast as COVID-19 unfortunately).
Running with a bag to collect trash adds elements of strength training and stretching to an everyday jog. It's not only good for our bodies but also good for the environment. If we end up doing this, rest assured we won't be looking to break any speed records.
This could be something to try along quiet paths in parks in your area or even along roads with a little too much litter. If you do pick up a bag of trash, be sure to share and tag @just1bag2020 on Instagram. Their family is hoping to count 2,020 bags of litter collected during 2020. They are well on their way to their goal but could always use the extra help!
In addition to spending time in nature, I suspect we will have plenty of time in our home together as well. Here are a few more activities we enjoy that might work for you as well.
Sustainable Science Projects
Now might be the perfect time to try simple STEM experiments, especially those that help us better understand the science of sustainability. Even if the kids are not in school, and maybe especially if your kids are out of school, we can always continue learning and become better advocates for the planet.
Do a food waste audit. Try growing food from food scraps. Or give a go at one of the other #SustainabilityScienceSunday experiments that Jess shares on her Instagram account over at @thoughtfullysustainable. As a former science teacher with a passion for the planet, she has lots of great ideas to teach kids about why environmental awareness matters and what we can do to make the Earth healthier and safer for our families and communities.
Read Aloud Together
We already read quite a bit, and now we have even more time to hang out with a pile of books together. I checked out a bunch of books from the library in anticipation of potentially being cooped up in the house.
Heck! Why not read aloud together outside. Just grab a book and read on the front porch or on a blanket in your backyard. Here are a few more tips for finding ways to read outside. Not all of these are "coronavirus outbreak" friendly, but many will do the trick!
Play Board Games
We do family game night every Sunday, and we love it. The boys have a blast, and it's a great way for us all to spend quality time together. We even played Boggle together at the boy's music school while they each took their turn at piano lessons last week.
I'm not sure how much longer their music school will be open, but we will have plenty of time for games at home. Here are a few tips for making a family game night work for us as well as how we modify Boggle and adapted Cards Against Humanity so we could play both games with our kids.
If you don't have many board games, you can also play games like Hangman or the Dot & Line Game (on paper or in your driveway).
Bake Together
I enjoy baking, and both my boys like it as well. I have a funny feeling the resulting fruits of their labor might be the incentive to get their hands dirty with flour and sugar… as you might expect.
Tomorrow, we are making apple pie and a chocolate tart for Pi Day on Saturday. Your baking recipes, however, don't have to be fancy at all. If you are baking, be sure to check out this Comprehensive Beginner's Guide to Zero Waste Baking for ideas about how to make all the delicious desserts without creating all the yucky waste!
Try A New Dinner Recipe (With Your Kids)
Take this opportunity with a little more time available, thanks to lots of canceled plans, to try a new dinner recipe. Bonus points if your kids help you make it.
Cooking and baking with kids takes a little bit of patience, but it's also a really important life skill that our kids should learn. There are lots of things your kids can do in the kitchen. A few tips to consider:
Have them pour ingredients into a measuring cup or spoon over a small empty bowl so if they spill, it's easy to clean up, you don't waste the excess, and you don't ruin the recipe.
Let them crack eggs, one at a time, into a small bowl. Pick out any shells from the small bowl and then dump the egg into the larger bowl or mixture.
Kids can mix anything!
Let them practice reading the recipe, gathering ingredients from around the kitchen, and matching amounts to measuring spoons and cups.
With supervision, just about all children can stir something hot on the stove. Steer clear of pans that splatter grease or hot liquids, but this is a great way to learn about the power of the heat from the stove without getting hurt.
Make Bath Bombs & Sugar Scrub
My boys love making these homemade bath bombs, and I'm a big fan of this sugar scrub. We've made both of them several times. With a little extra time, whip up a batch at home. This sugar scrub is one of my very favorite DIYs because it's so simple and so effective!
Make Your Own Coloring Book
My boys have made several of their own coloring books by printing out free coloring pages and stapling them together. Here are the instructions to make your own coloring book that will be full of images your kids are thrilled to color.
Listen To Audiobooks
After you've made your coloring book, turn on an audiobook and enjoy the two together at your kitchen table. My boys love The Boxcar Children audiobook series. There are tons of audiobook options for kids. I love The Boxcar Children because there are TONS of stories available on audio, it's great for a wide range of ages, and I can get a lot of them from the library.
Use the Libby app to download audiobooks for free from your local library and let your kids do something with their hands like color or play with Legos or blocks while they listen.
Simple Educational and Creative Projects
There are lots of blogs and Instagram accounts with tons of great ideas for activities to do at home with things you likely already have on hand. Don't worry about making your craft and creative projects "Pinterest-worthy". Just enjoy the process and appreciate the opportunity to spend a little extra time together. Check out blogs like KidsActivities.com or BusyToddler.com for lots of ideas of simple activities you can do at home with your kiddos.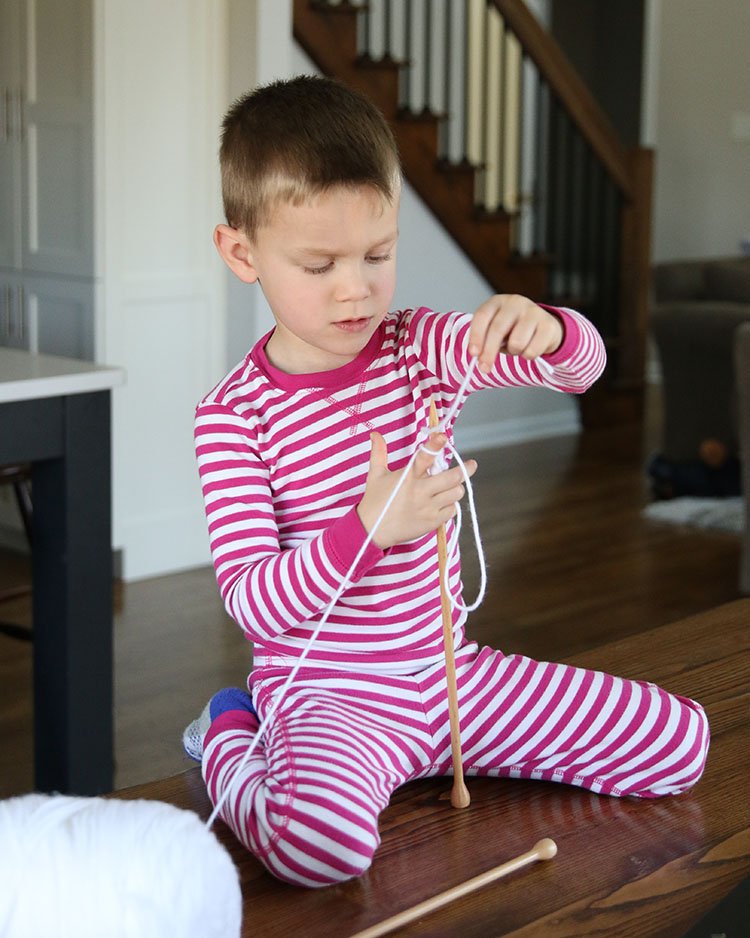 Learn A New Skill Together
My boys have been asking to learn to knit for a while now. My mom taught them a bit about how to do it, but they've been asking me to learn with them. Now is the perfect time to learn!
It might not be knitting for you, but have you had something on your bucket list or List of 100 Dreams that might be perfect to fill a day void of activities other than "avoiding coronavirus"? Go for it now while the world has decided that everything else on your to-do list is no longer an option.
Free Online Learning
I don't want my boys spending tons of time on screens while out of school, but there are lots of great options. Here are few online or computer-based learning projects our boys have done over the last several months.
Khan Academy | They have so many interesting classes about everything under the sun. They even have classes and lessons for adults. Just start exploring and you'll be amazed.
Bravery School | Bravery Magazine, a magazine publication for kids that highlights significant accomplishments of women in each of their quarterly editions, has put together a four-week homeschool curriculum based on four of the past publications. Sign up to receive the free lessons each week for four weeks and introduce your children to the wonderful world of well-accomplished women!
Hour of Code | My boys love doing coding games, and many coding sites like Tynker or Code.org have some free coding lessons to try an Hour of Code.
Prodigy | My older son uses this at school and also plays it at home as well. He's obsessed! It's all about math.
First in Math | My boys use this program through school to practice lots of basic math facts and more complicated math concepts. You can also purchase an individual account at home for about $30 a year. (I like this better than Prodigy, but I know Prodigy is really popular too.)
Word Docs | Write a story! Let your kids write their own story in Microsoft Word, Google Word Docs, or Apple Pages. My boys love doing this.
Revisit Your New Year's Resolutions
With a little extra time on our calendars, now could be a good opportunity to revisit your New Year's Resolutions. Is there something on the list that you still want to accomplish but maybe got lost in the shuffle?
You probably have your own list, but here is our list of 50+ Eco-Friendly New Year's Resolutions, some of which could become your "coronavirus project" if you're feeling up for it. Some of the resolutions can be accomplished in a couple of weeks. For others, it not might be a great time to start researching how to get started. Head on over to the list for lots of ideas.
Bonus: Dare I Say Clean and Declutter?
This might not sound like fun initially, but maybe you can make a game out of it? And… if you're stuck in the house anyway, what better time to sort through your stuff and ditch what you don't love.
Clean out your playroom. Sort through your clothes. Empty your kitchen cabinets and let go of all the things in the back of your cabinets that never see the light of day.
We may not be able to run them to a charity or thrift shop immediately, but that might be just the right reason to think more critically about the best way to pass these items along to a new home. The neighborhood thrift shop isn't always the best place for everything.
Slow Down and Connect
Life is going to slow for a bit while we all focus on family, staying home, and steering clear of busy public places in an effort to limit the spread of COVID-19. Much about life will feel in disarray but look for the good in what comes our way. How can we take this opportunity to step away from the daily grind, spend more time with our loved ones in our homes, or connect with the quiet of nature?
What are you doing in the midst of the coronavirus craziness? Share your ideas below so we can all build up an inventory of things to keep our kids busy without losing our minds. 🙂
Family Activities To Do With Your Crew
Here are lots more ideas of things you do with your family. While lots of commitments may be canceled, now is a great time to spend quality time as a family.