8 Tips for Fun Family Game Nights
Looking for a great way to kick off a new, fun family habit you can do together? Try a family game night! It's wholesome, simple fun, and it's best served with special treats the whole family will enjoy! Here are eight tips for an awesome family game night.
Every Sunday night, we sit down together for family game night. We started the tradition a few months ago, and it's been a huge hit (for parents and kids). With all the activities that fill our calendar, game night proves to be a perfect way to close out the weekend. It's a low-key, low waste family activity that's tons of fun, and it gives me a chance to bake something fun, often made of chocolate or something sweet.
Time together as a family feels fleeting, so I want to take advantage of the moments we have together now. Our boys are getting older and more involved in sports and extracurricular activities. My and M's work schedules continue to get busier. As a result, we've had fewer opportunities for family dinner with the whole crew at the table.
Game night doesn't replace family dinner for us, but it's a really good alternative. I love that we all sit around the table, focused entirely on spending time together. As we kick off a new year, flush with opportunities for fresh habits and schedule changes, I thought I'd share a few tips we've gathered as we have settled into our Sunday family game night routine.
8 Tips for Fun Family Game Nights
Play A Variety of Games
Variety is the spice of life, and it's certainly an element that keeps game night interesting. Consider board games and card games, math and word games, memory and strategy games. Mix up the specific games and general types of games you play.
If you aren't sure what games to play, ask friends or do a little research online. There are plenty of resources to find great games to play as a family.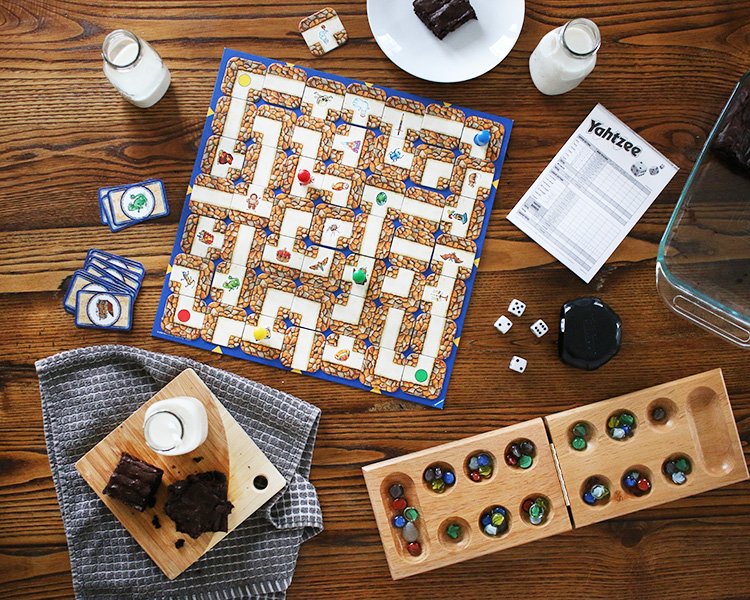 Build a Solid Game Collection
To play a variety of games you need a handful of games at your house. However, building a game collection doesn't have to break the bank. I buy many games from thrift shops and have found some really great games, including a few classics that I loved as a kid. Buy games as gifts for birthdays or gifts for holidays, when you would likely be spending money on gifts anyway.
You could also play games on paper like Hangman or Tic Tac Toe. Try making up your own games! We recently modified a version of a VERY adult game to make it kid-friendly, and it's one of the boys' absolute favorite games to play.
Some libraries have board games and puzzles you can borrow. Check to see what your local library offers. Our library even has a family game night event in the community room once every few weeks.
Maybe you could swap games with friends?
Take Turns Choosing The Game
We let the boys take turns from week to week deciding which game we will play. We only play one game, and they are pretty good about remembering who picked the previous week (which is good… because my foggy memory doesn't store that information long).
Make It Special With Snacks
Game night for our family isn't complete without a special dessert. And in our house, dessert almost always revolves around chocolate. My husband and I both passed on our chocolate affinity to the boys, so brownies and cookies are crowd favorites.
Each Sunday, we share a fun dessert to eat before or during the game (depending on what we are playing and how much a handful of chocolate might ruin the game). Snacks can be as elaborate as these homemade salted triple chocolate cookies or as simple as bulk candy from the grocery store. Choose whatever works best for your family.
Set a Time Limit
Some games can take a while, and the boys love to get every last minute of playing time out of the night. But we also like to get the boys to bed a little earlier on Sunday nights to give M and me a chance to hang out.
We try to have dinner before game night and get started with plenty of time to play and then put the boys to bed at a reasonable time. The specific timetable will depend on what works best for your family, but we find that 20 – 30 minutes to play games is a good duration for our boys, who are 7 and 5. We always finish shorter games but will set a time limit for games that tend to last longer than 30 minutes.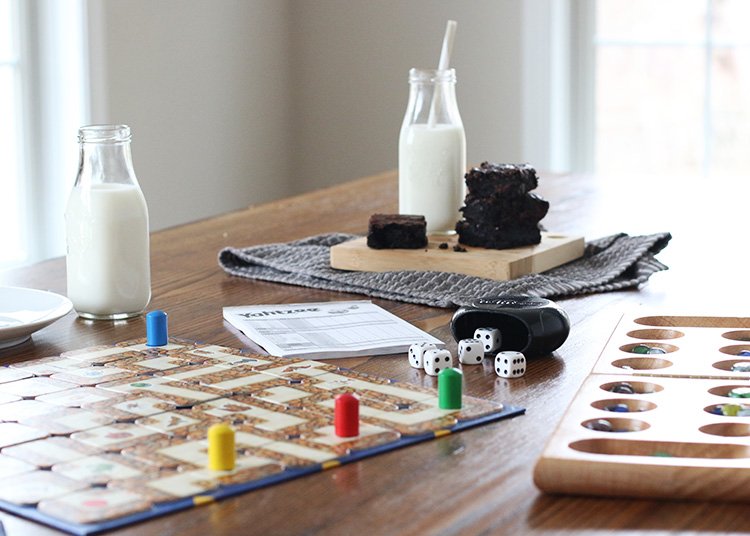 Make It a Habit (and Don't Break Your Promise)
Our boys look forward to game night. A couple of times, it slipped our minds and the boys were sure to remind us. Even if it's later than we'd like or doesn't feel ideal, we stick to our promise. We made a commitment to the boys, and it's important we follow through on it. I think this is a good life lesson, but it also reflects our commitment to time together as a family.
Once in a while, we plan ahead and do a game night on Friday or Saturday if we have something scheduled on Sunday evening that will conflict. But for the most part, Sunday nights are reserved for time together around the kitchen table playing games.
No Screens
Most of us spend far too much time in front of screens already. Some research shows that just having a screen or smartphone present decreases the level of engagement that two people feel when they are spending time together.
Put away your phones. Turn off the television; it doesn't even need to be on in the background. Commit to truly enjoying each other's company. Your kids will thank you (and you'll enjoy it more too).
Be Patient
Playing games helps kids learn so many life skills. They learn to listen, wait for their turn, work together, and solve problems. They learn not to cheat. They also learn to lose … and win … graciously. These are not all easy lessons to learn. Many adults struggle with these skills.
If your children don't behave perfectly, try to cheat, cry when they lose, or get frustrated when they can't figure out the answer, know that they're learning life skills that come with playing games. It's all part of the process and well worth the patience to endure it with grace. Definitely don't let it be the reason you give up on family game nights.
Do you do family game night? If you haven't tried it, I definitely recommend it. Round up your family. Grab a favorite game from your childhood. And prepare for a lot of laughter. I'm pretty sure you'll love it!
If You Like Family Game Night, You Might Also Like
22 Tips To Make Time For Family Dinners Around Extracurricular Activities
30+ Fun Adventures For Families To Do Together
37 Eco-Friendly Fun Things To Do With Friends