Low Waste No Waste Ginger Bread Houses
Are you looking for a fun and festive project to do together as a family? Gingerbread houses are a classic holiday activity that kids love. Don't forget that your gingerbread (or graham cracker) houses can be a little more eco-friendly with a couple of easy ingredient swaps.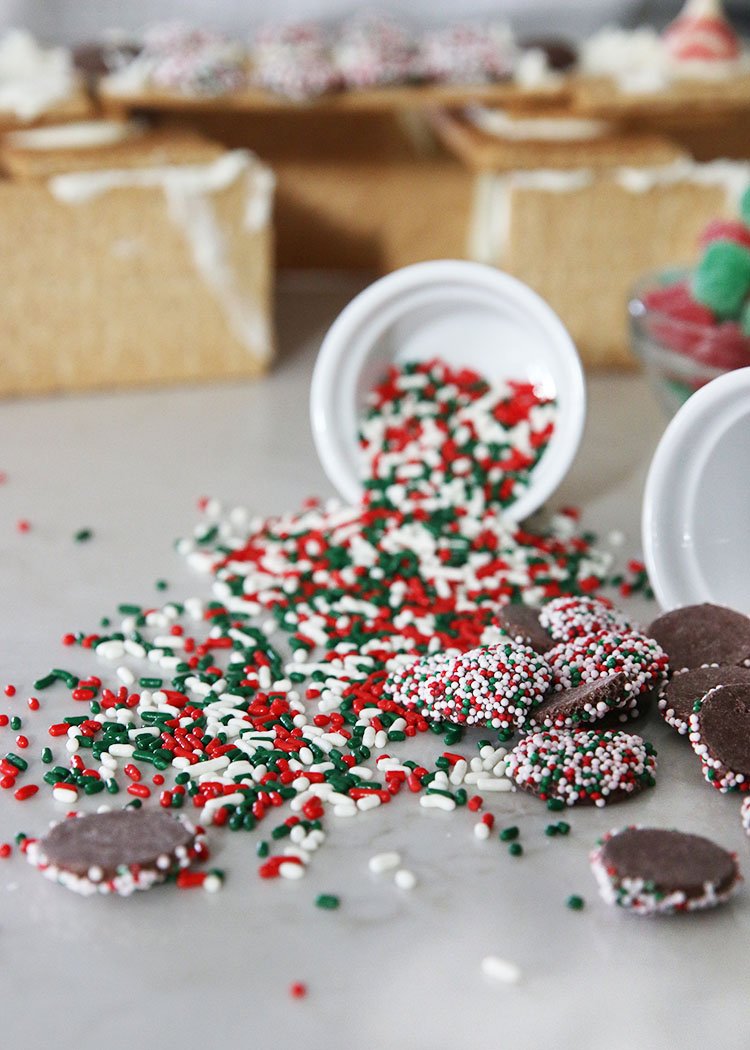 Earlier this week, as we walked out the door at J's daycare center, we admired the ginger bread houses made by each of the teachers. These were no ordinary ginger bread houses; the teachers went all out and had some really creative ideas.
One pair of teachers made a mini replica of the school's outdoor summer camp. Another teacher, who also happens to babysit our boys regularly and was coming over that night, recreated a CandyLand gingerbread house with lots of detail and great execution. Right then, I decided to make a last-minute pit stop at the grocery store on the way home to pick up all the ginger bread house fixins'. The boys asked about making gingerbread houses and I know they would have a blast making gingerbread houses with the babysitter.
The boys and I ran (literally) into the store and T called out "meet you in the bulk section". Apparently, I've trained them well. They each picked out three types of candy from the bulk section. We already had graham crackers at home, and I could whip up some frosting.
When we got home, I left the ingredients and tools with the babysitter and headed out for the evening. I returned to find a 'gingerbread fort' and a 'gingerbread office building' (that T wanted to decorate with the name of his dad's company – which I was thought was pretty funny and also sweet). The boys created the gingerbread "structures" themselves, so they weren't exactly "Pinterest-worthy" but they were all their own and perfectly perfect for the project.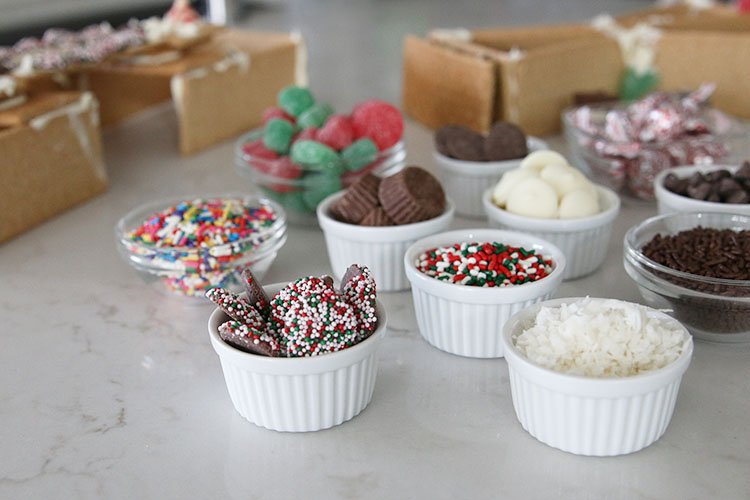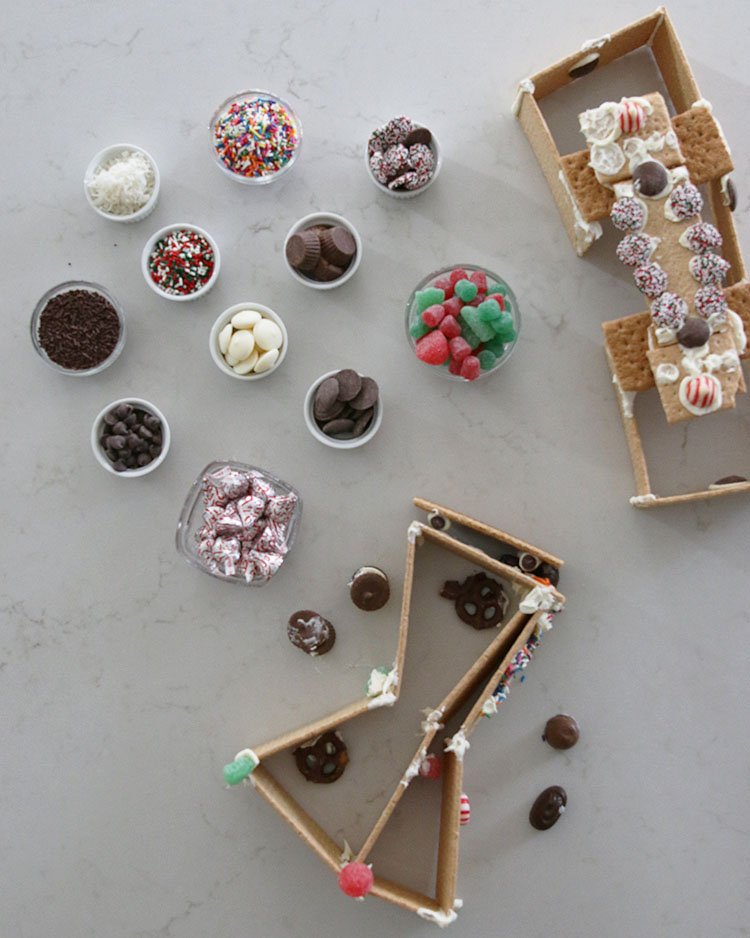 Making Low Waste and Zero Waste Gingerbread Houses
Gingerbread (or Graham Cracker) Walls | If you have enough time and interest, make gingerbread on your own. My mom did this a few years ago, but it's not really in my repertoire. Check out my Comprehensive Beginner's Guide to Zero Waste Baking for ideas on how to gather up all the ingredients and bake your gingerbread with little or no waste.
Alternatively, you can buy graham crackers, assuming your family will eat the leftovers. The boxes can be recycled and the wrappers most likely end up in the trash, so it's not a perfect solution, but it's a good compromise for a fun holiday project the boys enjoy.
I steer clear of the gingerbread house sets. I don't think they are really intended for eating, so that feels a little wasteful. My boys snacked on stale graham crackers and hardened icing (to each his own) for several days while they enjoyed their creations.
Icing | Frosting is pretty easy to make with just a few ingredients. Mix 1 stick of room temperature butter with 1 1/2 cups of powdered sugar and 2-3 tbsp of milk. For cakes, I use a bit more milk and a bit less sugar, as I did in this recipe for buttercream frosting on mini cupcakes. But for the gingerbread houses, I prefer when the frosting is a bit thicker to help the walls stick together. Add a bit of extra milk if you prefer thinner icing.
To pipe the icing on the gingerbread (or graham cracker) houses, I use this frosting gun. We've had it for a couple years, and I really like it. It comes in a cardboard box with some plastic wrapping on the inside, so it's another component that's not quite zero waste. However, I think it's a better alternative than single use icing bags and also works a lot better.
Decorations | You can buy plenty of gingerbread houses decorations from the bulk section of most grocery stores. Choose decorations you will actually eat, so they don't just end up in the trash. It feels silly to make something with the intention of throwing it away. In our bulk section, we found gum drops, sprinkles, chocolate wafers, peppermint crumbles, coconut flakes, and an assortment of chocolate candies.
As with many of our (almost) zero waste baking and family projects, we didn't strive for perfection but more thoughtfully considered how we built the gingerbread houses and found plenty of items that didn't create a bunch of trash. Also, I love that a holiday project like this is edible, so it doubles as a fun activity and a festive snack.
Did you make gingerbread houses with your family this year? Do you have any other low waste or zero waste ideas for making them? If so, share your low waste or zero waste gingerbread house ideas in the comments!