How To Make Easy DIY Cardboard Football Helmets For Kids
In search a fun and simple sports project kids can try to stretch their creativity and foster small motor skills? Make this DIY cardboard football helmet from everyday materials you probably already have on hand. No major preparation needed!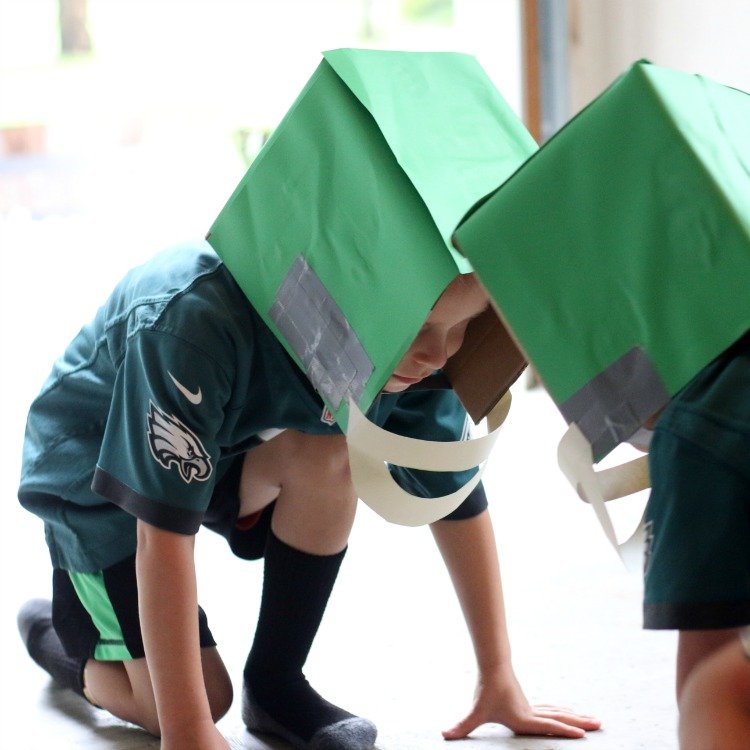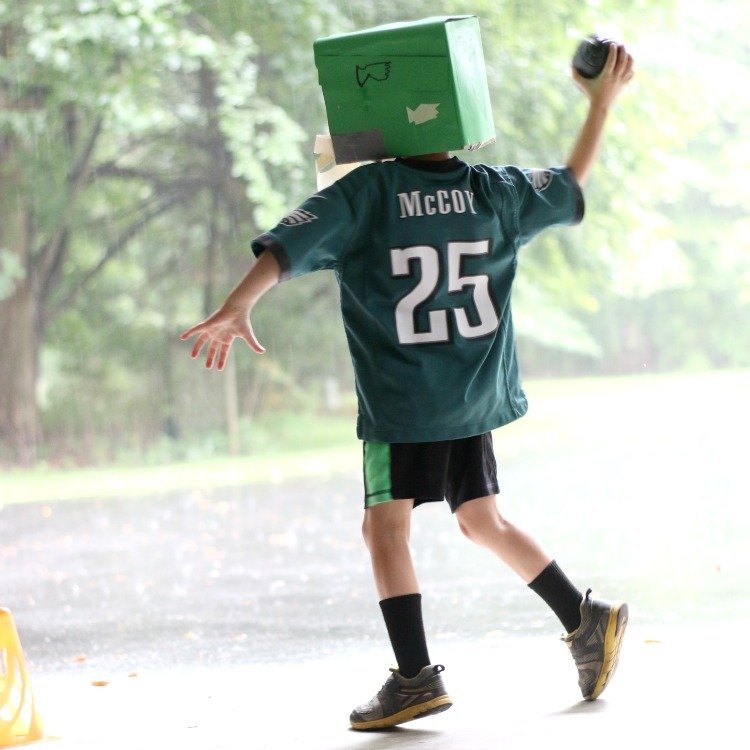 Despite the summer weather holding strong, fall and football are officially here. The Philadelphia Eagles started their season, and M is taking T to his first Eagles game this week. I have an inkling he's going to like it.
As of late, the boys have been playing plenty of football, which comes as no surprise. They generally obsess over whichever sport is in season, which works out well and keeps their little bodies and brains learning all sorts of new tricks.
In true football fashion, the boys decided they couldn't play touch football at home without helmets. Safety first; we've taught them well. Ignore the minor detail that the special helmets they created were constructed out of cardboard and maybe, just maybe, wouldn't meet practical safety standards. The boys happily pretended these helmets were the real deal.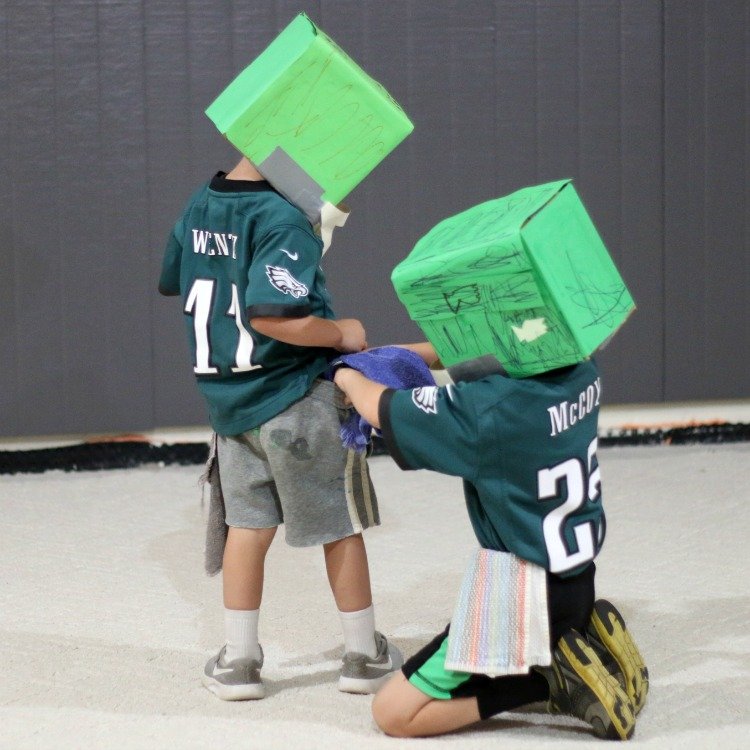 Easy DIY Cardboard Football Helmet for Kids
We got to work on this easy DIY football helmet project with a few really simple materials we had on hand.
Materials:
Cardboard box
Construction paper (or cardstock)
Scotch tape
Duct tape
Scissors
Markers (optional, for decorating)
Instructions:
With just a few materials that we found around the house, the boys created their own makeshift football helmets to accompany the dish towels flags tucked into the sides of their shorts.
1. We started with a cardboard box a bit bigger than a shoe box. The box needed to be large enough for the end to fit over their head.
2. We measured their heads from top to chin and cut the end of the box off to match that length (i.e. we cut off the end of the box with enough length to cover their heads).
3. For both boys, the boxes were too wide for their heads, so we cut a slit down the middle of the box (lengthwise) to push the sides together so they overlapped. We used duct tape to re-tape the new the seam that went down the middle of the helmet (from the middle of their forehead to the nape if their neck).
4. While the boys covered their helmets in green construction paper to match their favorite football team, we folded a piece of duct tape in thirds (so there were no sticky sides) to make a chin strap. Duct tape works really for chin straps because it has just enough stretch to be flexible yet strong.
5. From cardstock, we cut out a face mask and taped it to the helmet using duct tape (though scotch tape or masking tape works fine too).
6. With the helmets on their head, we measured the chinstrap to ensure it was tight enough to keep the helmet on their heads while loose enough to slip over their heads.
The boys chose to decorate their helmets to match their favorite teams. This is optional, but I'm always up for encouraging a little extra creative exploration and fine-tuning of small motor skills.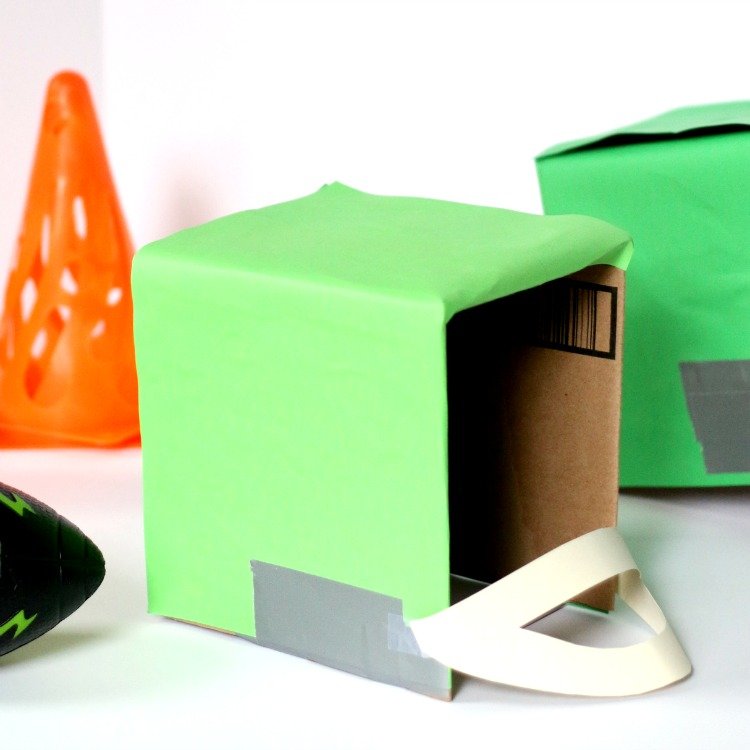 We completed this easy DIY cardboard football helmet project in about 30 minutes, and the boys played flag football for several hours with their "fancy" helmets. They couldn't have been more pleased with their work. It's also a really easy idea for a Halloween costume if you have a jersey lying around the house.
Beyond the small motor skills exercised in a project like this one, they each made something they wanted with materials readily available to them. I love that it encourages them to develop problem-solving skills and flex their creativity muscles.
In this case, the boys wanted new football helmets. With a little cardboard, cardstock, scissors, glue and duct tape, they made their own wishes come true without spending a dime.