Self-made Scarves | Giveaway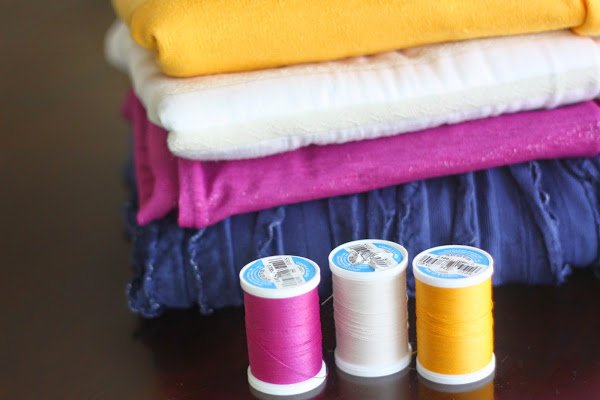 Heads Up: If you don't sew, don't stop reading. No sewing skills necessary for this giveaway. 🙂
A couple of weekends ago, I stopped by the fabric store in search of some great fabrics to make a few simple scarves to add to my growing collection. It's fall and I'm on a scarf kick.
For about $4-$5 per scarf and two to three hours of my time, I whipped up six scarves in fabrics and colors that perfectly fit gaps in my collection. Making these things couldn't be any easier, and I love having self-made 100% unique pieces to finish off any outfit. While it makes it quicker and I used a sewing machine for my infinity scarf DIY tutorial, even a sewing machine is optional.
In fact, this scarf required no sewing at all! Due to the ruffles and nature of the fabric, I simply cleaned up the edges cut by the fabric store with a pair of scissors on hand and it was ready to go. Seriously so easy! I made sure all the fabrics I purchased were knits, so the edges don't fray and, thus, don't require hemming.
If you're feeling so inclined, stop by to check out my yellow, pink, and white self-made scarves that I've worn previously.
For those who really aren't the DIY type and don't typically thrift their scarves (my top two options), the scarf experts over at Scarves.com might have some options for you. Even if you're not in the market for a new scarf, I loved their fabric care cheat sheet and found it super helpful.
After my babbling above, to further encourage you to give this DIY project a shot, I'm giving away a $10 gift certificate to JoAnn so you can stop in and grab some fabric to make your own perfect and unique scarf!
Use the Rafflecopter below to enter. Good Luck!