5 Tips to Teach Kids To Recycle … Because Looming Landfills Aren't Exactly Appley Ever After
This shop has been compensated by Collective Bias, Inc. and The Coca-Cola Company. All opinions are mine alone. #HonestKidsRecycle #CollectiveBias
Have you seen our landfills lately? If not, they're getting rather large and rather full. We need a plan to change the growth trajectory of trash production in the United States, and Honest Kids is offering one way to help us do that. Read on for more about five ways we can teach our kids to be better stewards to the environment through recycling.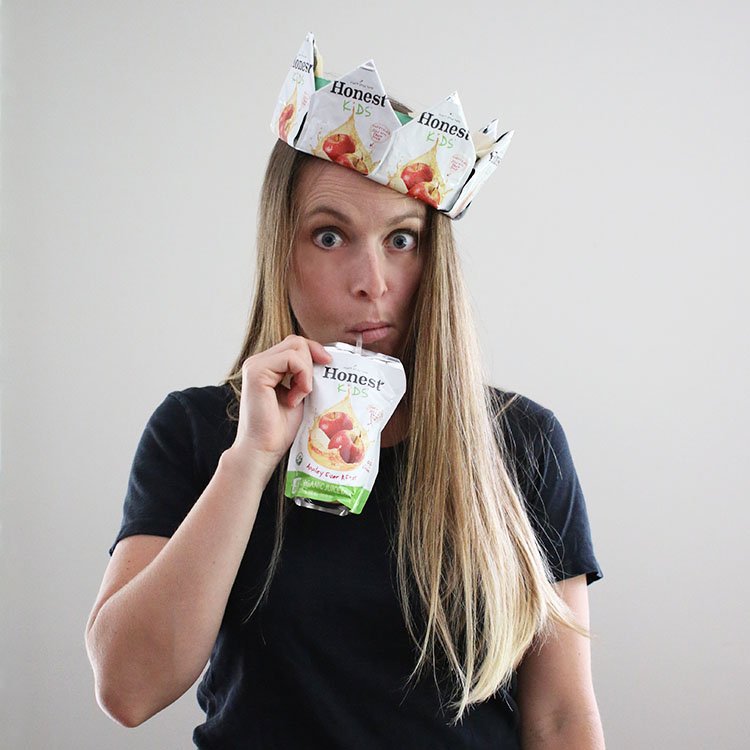 Hover over the image above to shop for Honest Kids Appley Ever After.
Have you ever visited a landfill? If you're like most Americans (me included), you probably haven't. At least as far as I can tell, we do a pretty good job of keeping them out of sight and out of mind. Unfortunately, though, we are still packing them to the brim at record rates. According to the Environmental Protection Agency's (EPA) July 2018 Advancing Sustainable Materials Management report, we added 137 million tons of municipal waste to our landfills in 2015 (the most recent year for which data has been reported).
Not only are we producing incredible amounts of waste, but the amounts of waste we produce each year continue to grow. As you can see from the chart below, extracted from the EPA's aforementioned report (which is publicly available on the EPA's website), our total waste levels have increased dramatically over the last 70 or so years. On a positive note, the per capita waste production levels have flattened, but with an increasing population, our waste production continues to rise.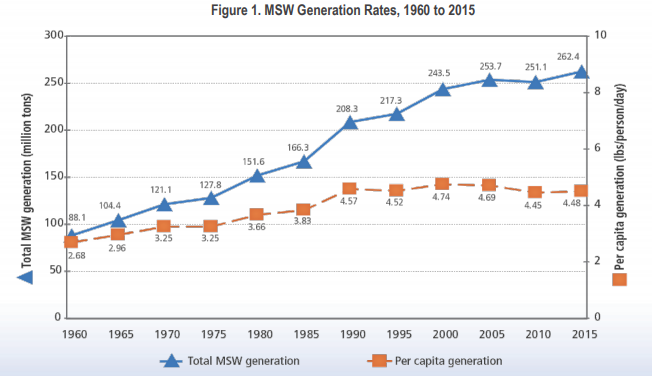 Since 1990, recycling and composting rates have increased from 10% to just under 35%, a very meaningful increase. Yet we are still sending to the landfill over 50% of the waste we generate, and the total amounts of waste are staggering, as evidenced by this chart, also from the aforementioned EPA report publicly-available on their website.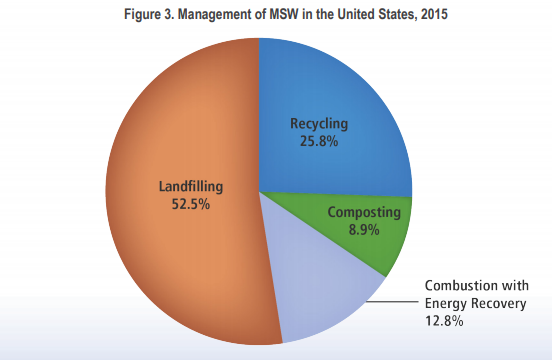 It's imperative that we find ways to close the loop and develop a more circular economy. If you haven't heard the term circular economy, in simplistic terms, it's a regenerative system in which energy and materials that are outputs from consumption become inputs to a new product or material. Instead of a linear consumption model, where resources are used to create, then we consume, and then we dispose, resources in a circular economy experience a loop life cycle and never end up in the landfill.
As an example, most of us have purchased juice pouches, let our children drink the contents, and then thrown the pouches in the trash. Honest Kids, however, has established a reuse program in partnership with Walmart, allowing customers to return their juice pouches at no cost, upon which they are melted and turned into hard plastic that can be used for the production of new materials.
Instead of adding to our landfills, the Honest Kids juice pouch take-back program allows us to extend the life of the pouches, save them from going to the landfill, and reuse them for something new. Not only does it reduce our trash production, but it also limits the use of virgin resources that would have otherwise been used to create the products now being made with the recycled juice pouches.
The Future of Waste Management
We have a lot of room for improvement in our waste management systems. We are in dire need of significant change in our waste production and how we handle the waste we generate. Moving toward more sustainable consumption and waste management systems will require a multi-faceted scheme.
We need corporations to think about their products through a lens of circular consumption and invest in research and development to make all aspects of their products more sustainable. We need regulation to create standards and incentivize best practices. We need consumers to care, and ultimately, do their part to connect all the dots. As much as I really don't think it's fair to hold consumers accountable for all of this change, many improvements will be contingent on consumers participating in programs like those that foster circular consumption to complete the loop.
The Honest Kids program is a great example of this in action. While Honest Kids has established the program and pays for shipment back to the facilities that reuse the juice pouches, consumers need to clean the pouches and add the shipping label to the box to get the pouches back to "the lab". It's not a hard task, but without consumers, the circular loop won't close.
Teaching Our Children to Be Good Stewards to Our Earth
Given the status of our waste production and our overflowing landfills, we can't go at this alone. It's important for us to teach our children the basics about waste and help them understand what happens to their things after they no longer use them. After all, our trash doesn't just vanish into thin air, something they might believe given how disconnected we are from our waste system today.
Instead of making sustainability an after-thought or a task on our to-do list, it needs to become ingrained in our daily lives. Why not start these conversations and practices with our kids now, and they will never have known any different?
In our house, we talk about composting, recycling, limiting waste, and landfills, so we can begin to socialize with them that our waste continues to impact our world in meaningful ways long after it leaves our home. Our boys are young, so we keep conversations fairly simple, but I don't think it's too early to start practicing good habits.
Proper Recycling Requires Some Ground Rules
Although it would be ideal if we could simply toss our waste in the trash and send it off to be recycled, there are some general principles we need to keep in mind when teaching our kids how to recycle properly and effectively. When the wrong items end up in our recycling, we can muck up the whole batch.
Contamination in our recycling has become particularly poignant in the last several months. For many years, China has imported significant amounts of waste from the United States and other countries.
On a side note, did you know that we ship large amounts of waste across the Pacific Ocean to be collected in another country?! Call me naive, but I was not aware of this until a few months back, and it's just another example of how disconnected we are from our waste.
Recently, China banned certain types of waste that they used to accept and also reduced the acceptable contamination rate. As a result of China's policy changes, we've seen increased enforcement from recycling facilities and collectors in the United States with respect to contaminants being included in the collections. I know that our collector recently started to refuse certain items it used to take, so we've had to modify our in-home recycling practices to meet their more stringent criteria.
As we're teaching our kids the importance of taking care of our planet and being more mindful about our waste management, it's important for them to understand the rules around recycling and what is required in order for the process to be effective. Consider these ideas for helping to educate your little ones about how and why we recycle.
5 Tips for Teaching Kids How and Why To Recycle
Clean Items Before Discarding to Prevent Contamination
Many families don't realize that food remnants on recyclable items can contaminate an entire collection and cause all of the items in the batch (that would otherwise be recycled) to be sent to the landfill. It's important to clean out recyclable items before putting them in the recycling bin. Even one plastic bottle that still holds a beverage (other than water) will likely contaminate everything in your recycling bin and prevent it from being eligible for recycling.
Know Which Items Are Recyclable
It's important to understand what items are accepted by your recycling collection company. Different companies have different rules. Your local waste management company probably has posted guidelines on their website or can send you a sheet with instructions. There are also many resources online that give you a pretty good general idea of the types of items that can and cannot be recycled.
Use Programs That Support Eco-Friendly Practices
Take advantage of programs that do the heavy lifting, like the take-back program from Honest Kids I mentioned earlier. It's helpful when another organization sets up the infrastructure to facilitate finding the right home for things we no longer need.
Recently, we stopped by Walmart and grabbed two boxes of Honest Kids® Organic Appley Ever After® and Berry Berry Good Lemonade. J loves juice, so these are special treats for him. (I may or may not sneak one on occasion, because they're pretty tasty.)
We saved the box to collect the used juice pouches. We cut open the top, rinse them out and let them dry, and then store them under the sink until we are ready to ship them out. You can print a free shipping label and reuse the product box for shipping.
Make It A Game
Teach kids about the kinds of items that can be recycled through a game. We made a memory game for the boys in which each of the photo pairs is an item related to recycling.
Read Picture Books About Recycling
We have found many books at our library about recycling and caring for the Earth. If you aren't sure where to start, search the online database for your library. Better yet, ask your librarian for suggestions. That's what they're trained and paid to do (among many other things, of course). You can also search online for lists of children books about recycling, being eco-friendly, and caring for our environment.
Recycling as Part of a Grander Plan
Recycling isn't the only solution to our ever-growing waste problem. It is, however, one component of a plethora of solutions that we need to employ that will lead us to greener pastures. Choosing to buy products like Honest Kids juice pouches that support circular consumption and participate in the take-back program help reinforce that consumers value a corporation's efforts to invest in more sustainable practices.
I'm not suggesting we all go spend money to solve our consumption issues; that's silly. But when we are filling a need, it makes perfect sense to choose an alternative that better serves the future of our families and our communities.
Ultimately, recycling is easier when the whole family is involved, and it's helpful for children to practice good habits early. Although we may want to shelter our children from the weighty realities of our waste system, it's really important that we get them involved. We don't have to share every dark and dreary detail, but it behooves all of us to let our princes and princesses know that looming landfills aren't exactly Appley Ever After.