Real Life Low Waste Meal Plan | Aug 16
This was our first week back home after a couple of weeks spent mostly out of town, which meant we ate LOTS of leftovers and miscellaneous mashups before leaving to empty our fridge as much as possible
Our menu this week was pretty simple, compromised mostly of chicken (cooked once and used a variety of ways) and lots of salads. I never used to eat many salads, but this Asiago Caesar dressing from BRIANNAS has been my jam and gave me a whole new view on salads!
Here's what we ate this week!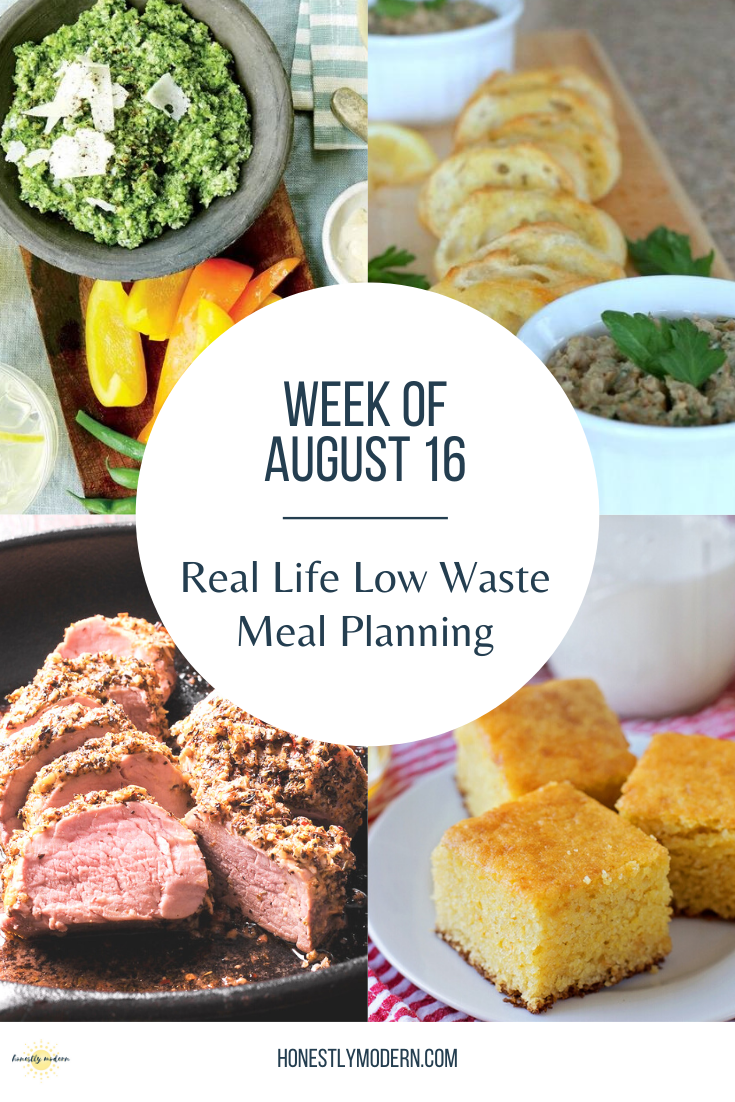 Sunday
Fusilli pasta with Arrabiatta sauce, broccoli, and sliced Italian sausage mixed into the sauce | Both the broccoli and sausage were in our freezer and remnants from meals past. I often scavenge the freezer for protein and veggies to put in our pasta sauce. If we don't love the specific veggie whole in the sauce, I puree it into the sauce with our Vitamix (which has been a fantastic investment for us!)
Garlic sourdough bread
Monday
Shredded chicken (cooked in our Crock-Pot, another kitchen appliance that gets LOTS of love in our house), topped with barbecue sauce
Cornbread | I used regular milk instead of buttermilk because we had that on hand, and it turned out just great.
Corn on the cob, from a local delivery service that brings food and household products from local makers and farmers to our front door each week!
Tuesday
Chicken bowls with shredded chicken (from Monday), Spanish rice, corn, guacamole, and shredded cheese
Wednesday
Leftovers – whatever people want from the fridge to make a decent meal | I had another chicken bowl from Tuesday while the boys had chicken quesadillas with chips and guacamole.
Thursday
Salads with shredded chicken, yellow peppers, apple, carrots, Soppressata, cheese, croutons, and BRIANNAS Asiago Caesar dressing | We've been eating these for lunch several times a week, so we have a container of the fruits and veggies that are cleaned and ready to chop each time we make the salad. I don't mind eating the same thing several times a week, and it definitely makes meals easier and reduces food waste.
Friday
Saturday