Simply Relish | Bee's Wrap Up Mini Chocolate Chip Banana Bread Loaves
This is part of a series,Simply Relish, about limiting waste and making the most of what we have in our kitchens to create simple and tasty recipes while reducing our impact on the planet.
What to do with overripe bananas and leftover buttermilk? Dig out the chocolate chips, of course, and make some mini chocolate chip banana bread loaves. Here's your recipe!
We're getting better about limiting food waste than we used to be, but we still have some room for improvement. We have a compost bit (although I feel like that's sort of cheating to call that "not wasting" if it's more than food scraps).
Also, we've been freezing fruit before it goes bad and making lots of smoothies, but I really don't like bananas in my smoothies. Over the last several months, we accumulated far too many overripe bananas in our freezer that needed a second chance at goodness. I want to try chocolate banana ice cream, but I haven't had time yet to make that happen. Instead, I turned to an old faithful recipe that never fails me, chocolate chip banana bread.
We mixed it up a bit and made mini loaves this time as well as some muffins (because those were the pans I had available #WhateverWorks). They also bake faster and my boys consider one slice a portion size no matter how big the loaf; win – win – win.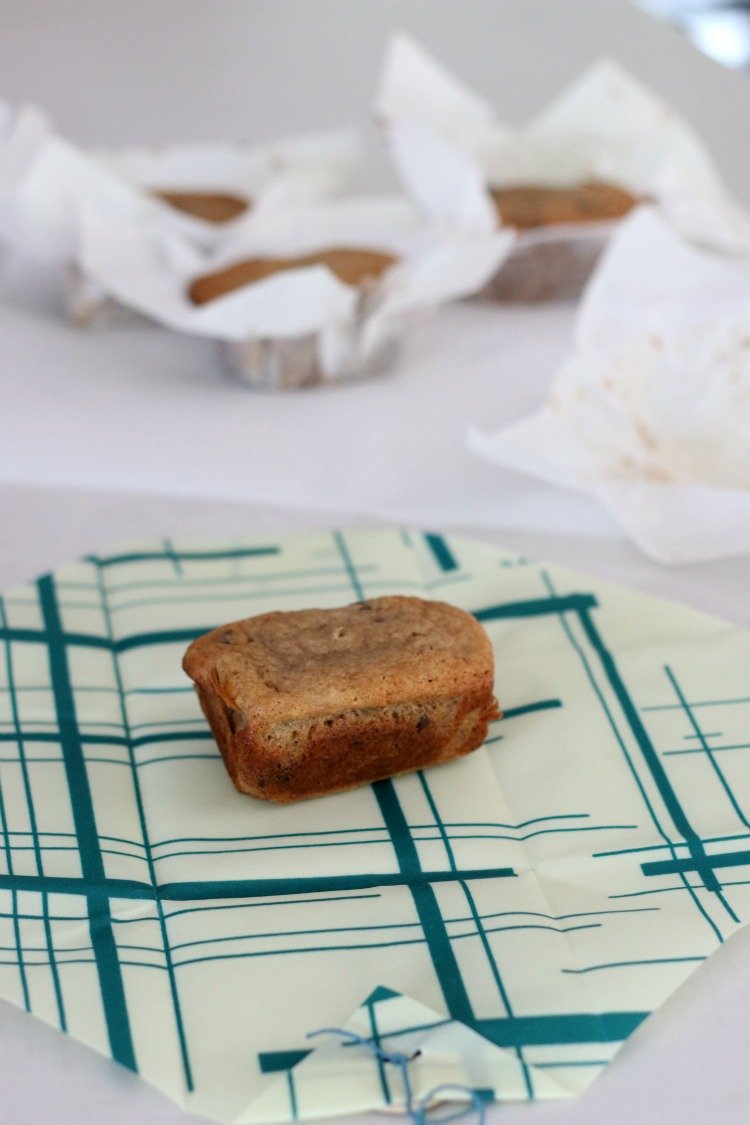 Until recently, keeping banana bread fresh always felt like a bit of a hassle. I ended up with lots of plastic wrap or foil leaving a giant mess of crumbs on my counter (and not particularly fresh bread after a couple of days). We have been using Bee's Wrap lately to keep quite a few products fresh and bread seems to be one of its sweet spots in the "freshness department."
I'm a particular fan girl of their sandwich wrap because it has a little button and string to wrap around the button to keep it closed. It's so easy!
Cleaning is a cinch (no pun intended); just wipe with a little soap and cool water and let it dry.
We aren't a 'zero waste' family and never will be entirely. I do, however, appreciate when simple shifts like using Bee's Wrap make it easy to reduce waste without a whole lot of effort. If you haven't tried it, I definitely recommend it.
We have a handful of different sizes and styles (but I'm partial to the sandwich wrap…). If you have more questions, I'll let the experts tell all. They have a good Q&A page with some videos that are really helpful in understanding how to use it.
And of course, when you have extra bananas and a little leftover buttermilk, whip up some mini chocolate chip banana bread loaves. You (and everyone in your house) will be glad you did.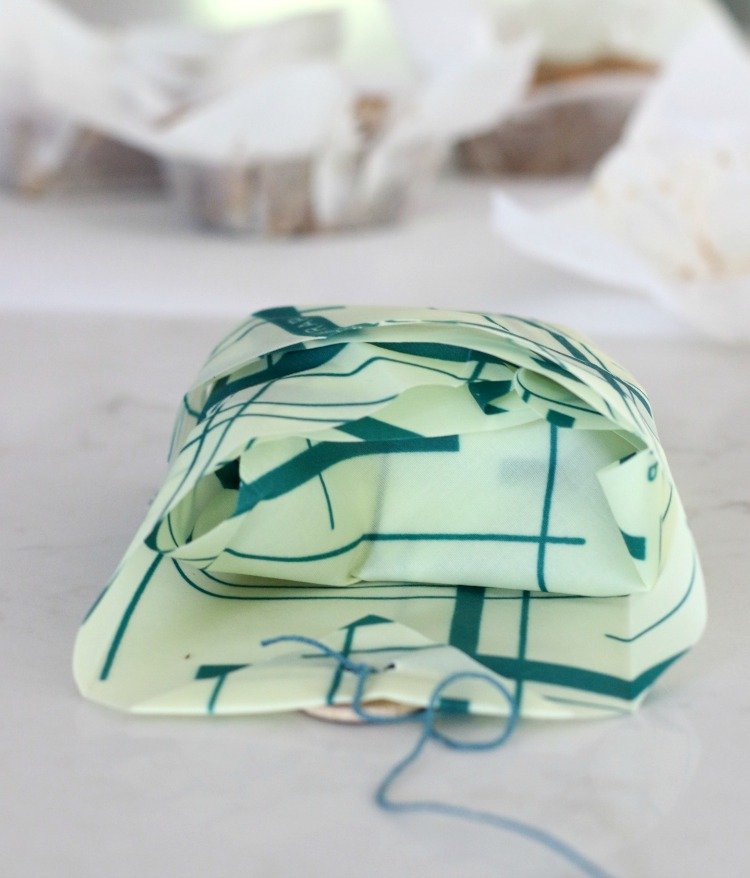 Thanks to Bee's Wrap for sending over some products for us to try. We have had some of their standard wraps for a while but fell for a new favorite when they sent us these sandwich wraps!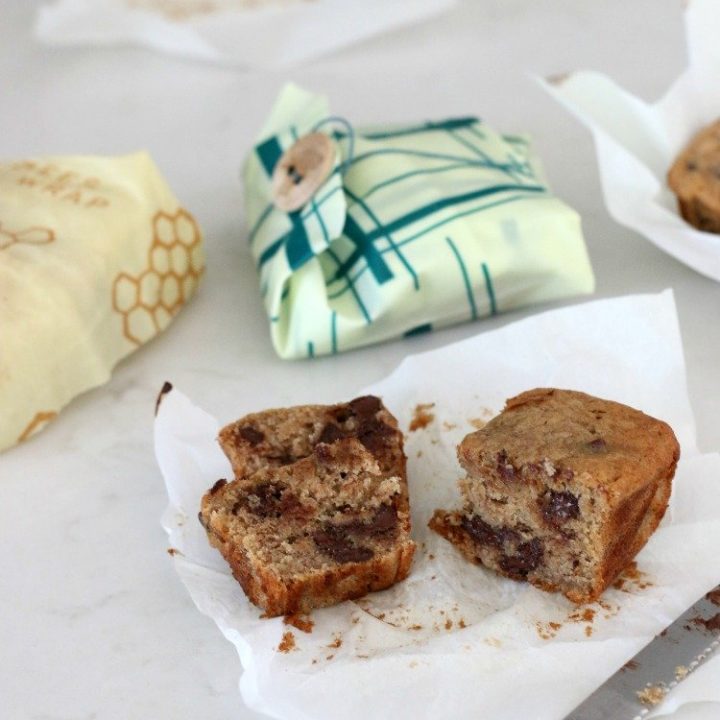 Chocolate Chip Banana Bread
Ingredients
1 ½ cups all-purpose flour
¾ tsp baking soda
¼ tsp baking powder
¼ tsp cinnamon
pinch ground cloves
1 tsp pure vanilla extract
3 cups ripe bananas, about 4 bananas
1/3 cup buttermilk, at room temp
½ cup 1 stick unsalted butter, softened
1 cup sugar
2 tbsp vegetable oil
1 large egg, room temp
1.5 cups of dark chocolate chips
Instructions
Preheat over to 350 degrees.
Whisk the flour, baking soda, baking powder, cinnamon and cloves in a medium bowl. Stir the vanilla and half the bananas into the buttermilk.
Whip the butter and sugar in a large bowl with an electric mixer on medium high speed until light and fluffy, about 4 minutes. While mixing, drizzle in the oil and beat until incorporated. Beat in the egg.
Slowly add flour mixture to the butter/sugar mixture in 3 additions, alternating with the buttermilk mixture in 2 parts, beginning and ending with the flour. Fold in the dark chocolate chips. Scoop batter into prepared pan. Bake for about 25 minutes or until a toothpick comes out clean.
Nutrition Information:
Yield:

12
Serving Size:

1 grams
Amount Per Serving:
Unsaturated Fat:

0g