A Handwritten Note To Sweeten School Lunch
This shop has been compensated by Collective Bias, Inc. and its advertiser. All opinions are mine alone, or that of my husband when he's stoked to see his "favorite pen" on my desk. #PilotPen4School #CollectiveBias
A handwritten note for each of my boys in their school lunch box is the perfect way to pop into their hearts midday. It's also a simple and meaningful gratitude practice for parents. Try adding a handwritten note to your kiddo's lunch box to start your day.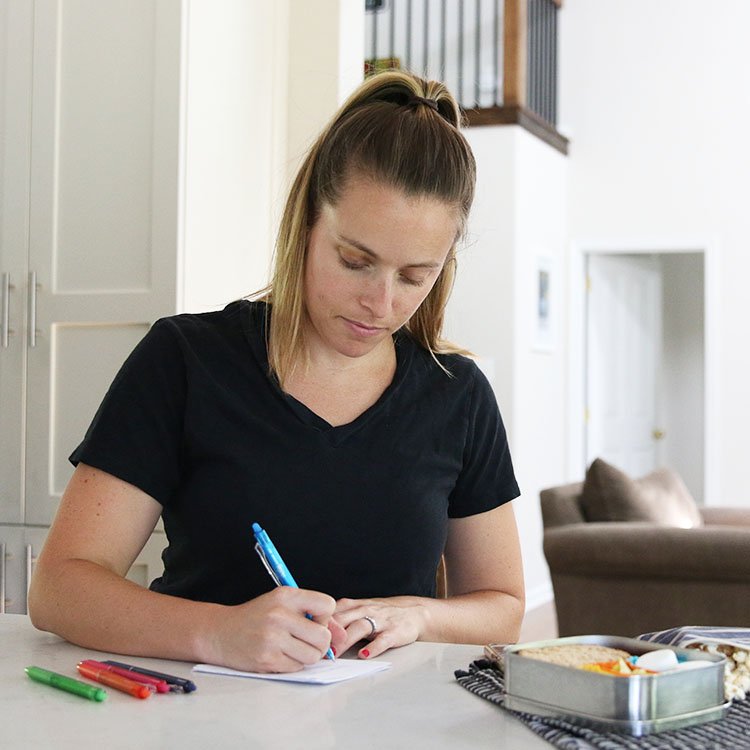 Can you believe summer is more than halfway over and school starts in just a few short weeks? Some of you might even be starting school in the next several days.
This year my younger son is off to kindergarten, so we'll have both boys in elementary school. J already knows his kindergarten teacher, and I'm sure T will be learning who his second-grade teacher is any day.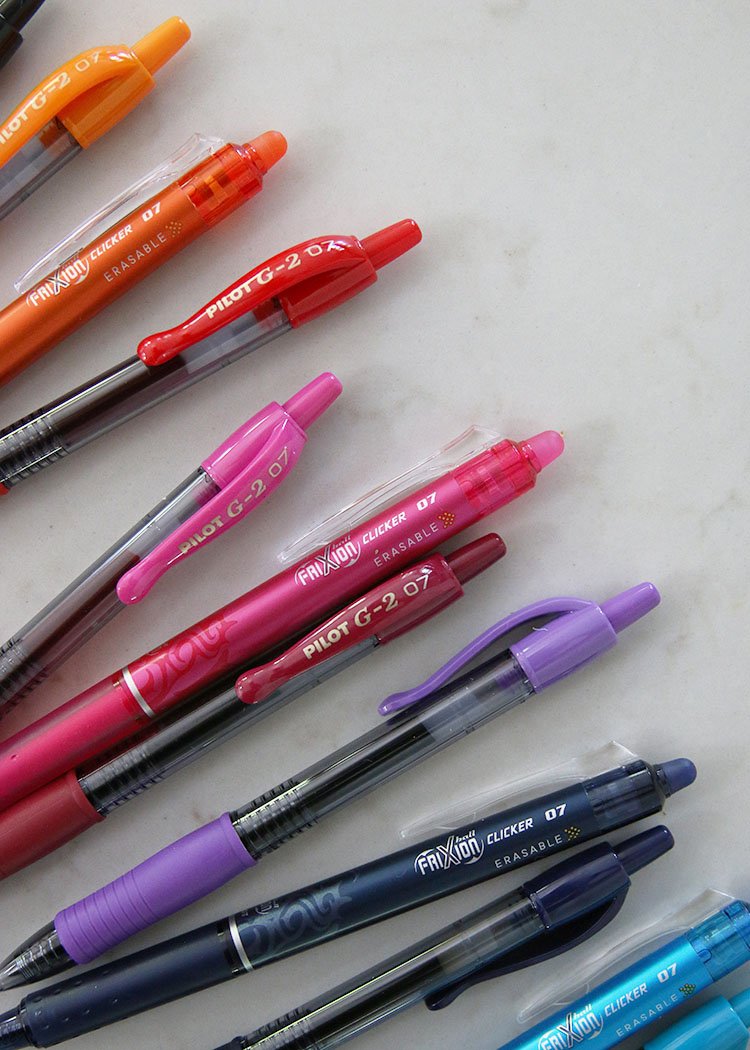 Each morning, as our boys get ready for school, the day's lunch is always a heavy topic of conversation. I want them to eat fruits and vegetables. They prefer a lunch of marshmallows and chocolate chips.
There's one thing, however, that we definitely agree belongs in their lunch. Every day, I pop a little handwritten note in their lunch box to let them how much I love them.
I try to make the note unique each day. Sometimes, I thank them for a good deed or nice gesture they did that morning. Other times, I let them know something specific they accomplished of which I am proud. And, let's be real, there are days when I'm a little bit tired and a little less creative, so I stick to the classic "I hope you have a wonderful day! Love, Mom."
The boys bring home lots of notes and papers from school, so I fold and rip the paper into quarters. I store it in a kitchen drawer to reuse the back for my handwritten lunch notes. While the boys eat breakfast, I pull out two pieces of scrap paper and my FriXion Clicker pens from Pilot Pen.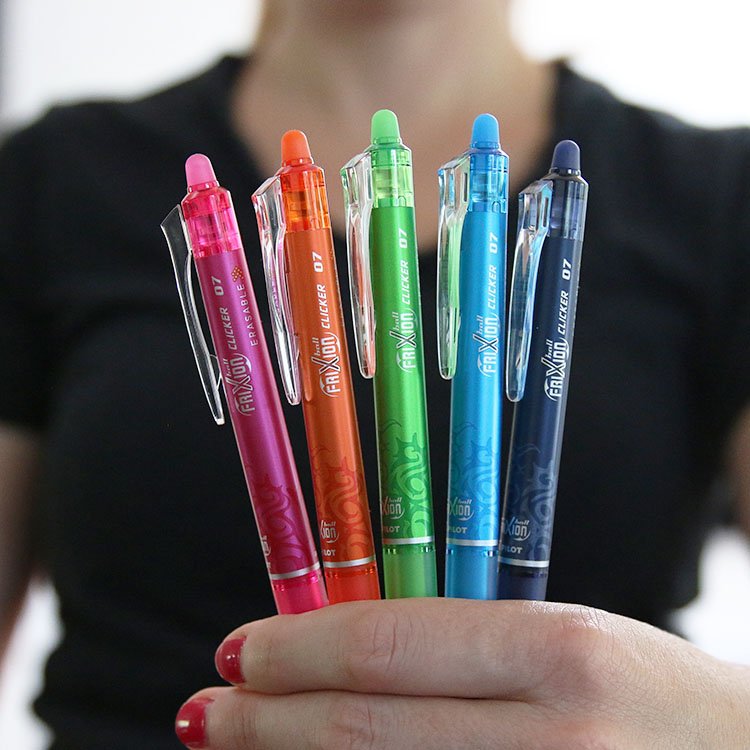 I'm not a great drawing artist (which might be the understatement of the year), so I love that the FriXion Clicker pens are erasable. They have smooth writing gel, come in a bunch of fun colors, and if I make a mistake, I can quickly erase any sign of my less-than-stellar artistic effort.
After a few notes in his lunch box, it didn't take long for my older son to pick up on my morning routine of writing him notes. He may not openly admit it (because he's way too cool for sweet notes from his mom). I know he really likes the notes, though, because he never fails to ask about it in the afternoon on days when I forget to include them in his lunch.
This tradition has even become a bit of a game in the morning. He tries to steal a glance at the note while l I do my best to sneak it into in his lunch without him noticing. Sometimes I can easily drop it in a snack bag while he's eating breakfast or brushing his teeth. Other days, he seeks me out and giggles while fighting to read even just a part of the note over my shoulder.
Handwritten notes are such a simple way to remind my boys that I'm thinking about them in the middle of their school day. They're also easy to do in the morning, even amongst the chaos of getting everyone ready and out the door.
Furthermore, writing the notes each day is a simple gratitude practice for me. The little notes remind me about all the reasons I love my boys, even during crazy mornings when peace and serenity might seem miles away.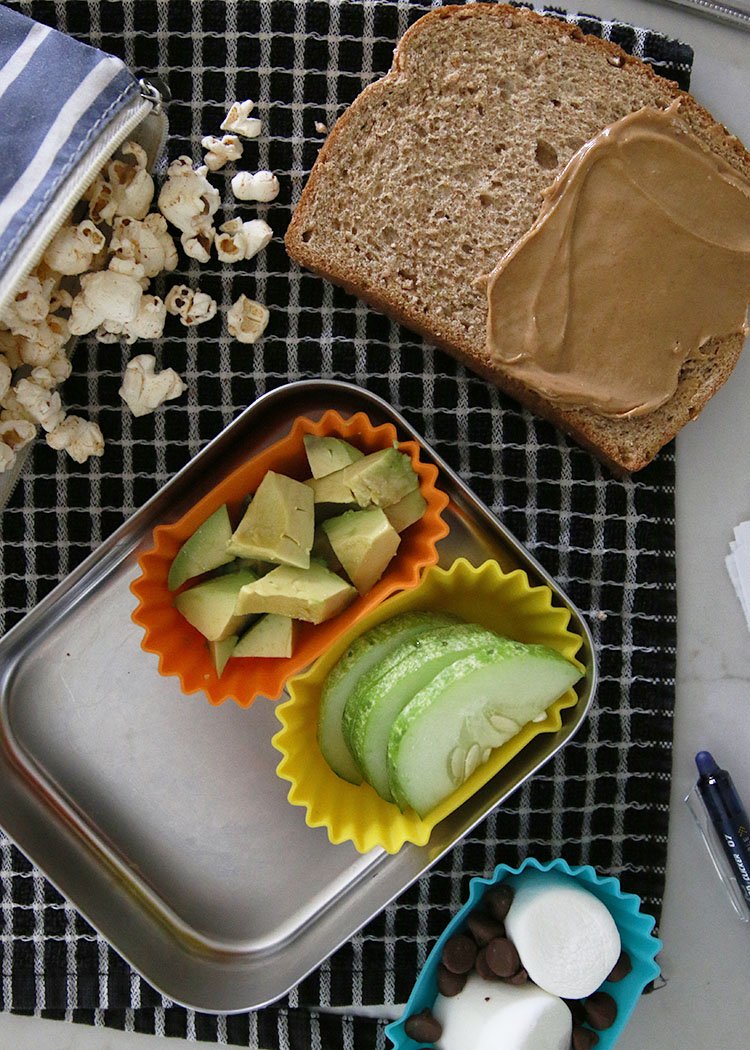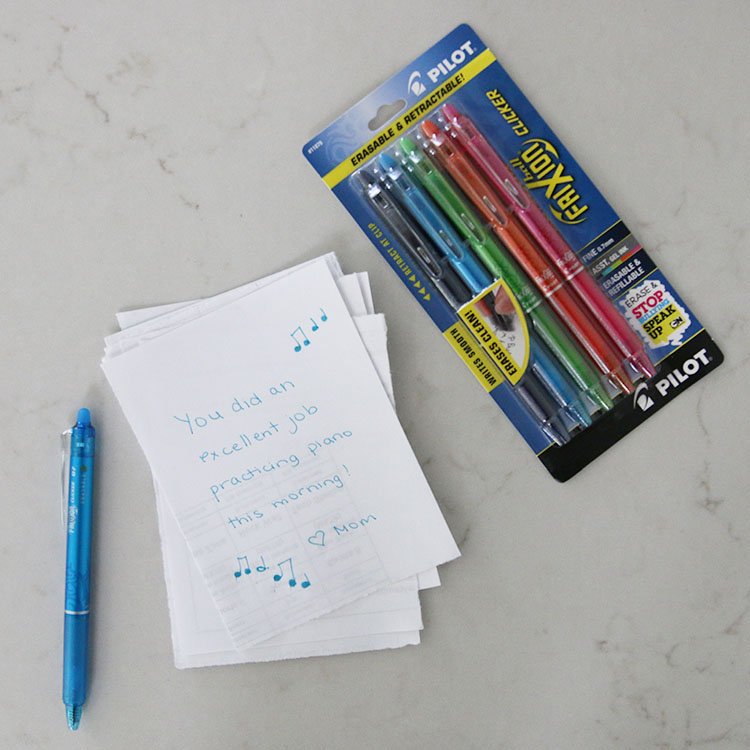 We all know there's nothing like a nice smooth writing pen. M and I have liked the G2® Pens by Pilot Pen for a while. I grabbed another package of them, in a variety of colors, at Walmart last week. He spotted them on my desk, and said "When did you get these? I love these pens! They're my favorite!"
While replenishing my pen collection, I noticed the FriXion Clicker Pens by Pilot Pen, which are on Rollback at Walmart for $4.77 for a pack of 3. These pens are erasable. I haven't had erasable pens in years. The original versions I had eons ago never seemed to work that well, leaving indents in the paper even if I could erase the ink. Intrigued, I chose one colorful pack of the FriXion Clicker pens to give them a test run.
After writing out a couple of lunch box notes for my boys, I was really pleased with the FriXion Clicker pens. They erase everyday writing really well. If you use them as a marker, like I did when drawing the music notes, it's hard to entirely erase the marks. When I use them for grocery and to-do lists, however, they work like a charm.
Even though weekday mornings can be a little crazy, I keep the paper and pens right near the counter where I prepare lunches. It's simple to grab my supplies, write a quick handwritten note, and pop it in their lunch (hopefully without the boys noticing).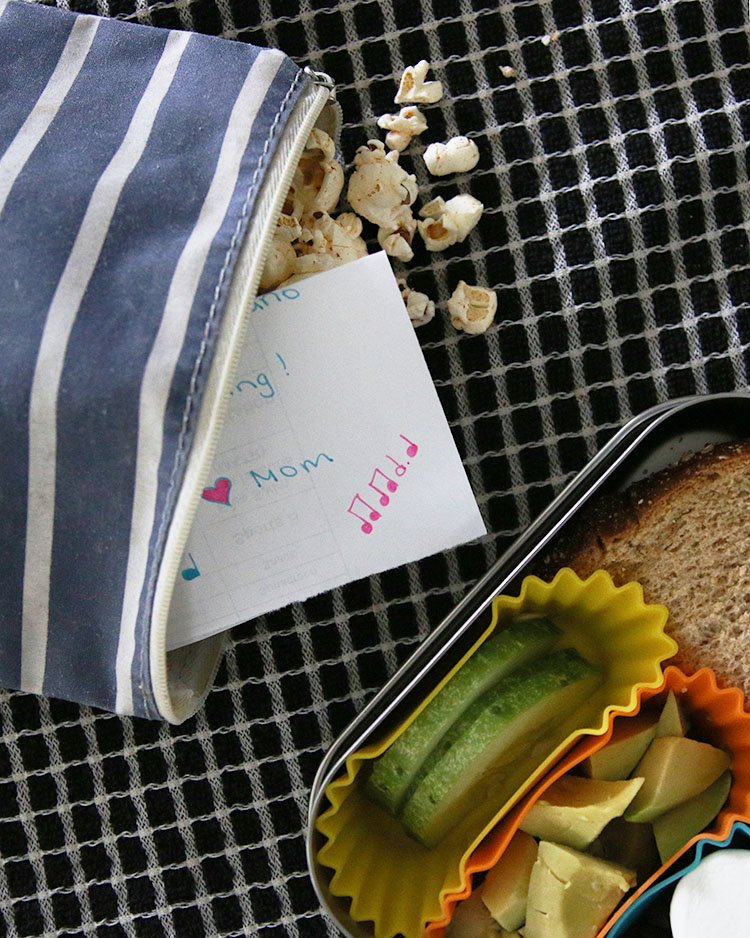 Do you have any tricks or secrets to help make your kiddos' school lunches a success? Big or small, share them in the comments.
If you haven't tried it, I definitely recommend dropping a little love note in their lunch. Don't worry about perfection. Grab the FriXion Clicker pens by Pilot Pen, and give it a go. Erase any mistakes, and know that the act of writing the note and sharing it with your kids is probably just as important as what the note actually says.