Leftover Soft Pretzel French Toast Recipe
What to do with leftover soft pretzels? After all, they only last for a few hours before they start to get stale. Here is one idea to put those soft pretzels to good use instead of tossing them in the trash.
This post contains affiliate links.
Remember our delicious soft pretzel chips? We had so many leftover soft pretzels from that party that we got to try a couple of different recipes to use them up. With so much food landing in the landfill, we weren't going to let these soft pretzels contribute to the food waste fiasco we're currently enduring.
My older son loves all things french toast and cinnamon, so when I stumbled on some soft pretzel french toast recipes in my food waste warrior Google searches, I knew I had to check them out. None of them exactly hit the spot. One was even missing cinnamon. Is it really french toast without cinnamon?!
So… we created our own recipe. It's an amalgamation of the ideas we found on the web combined with a dash of our own desire.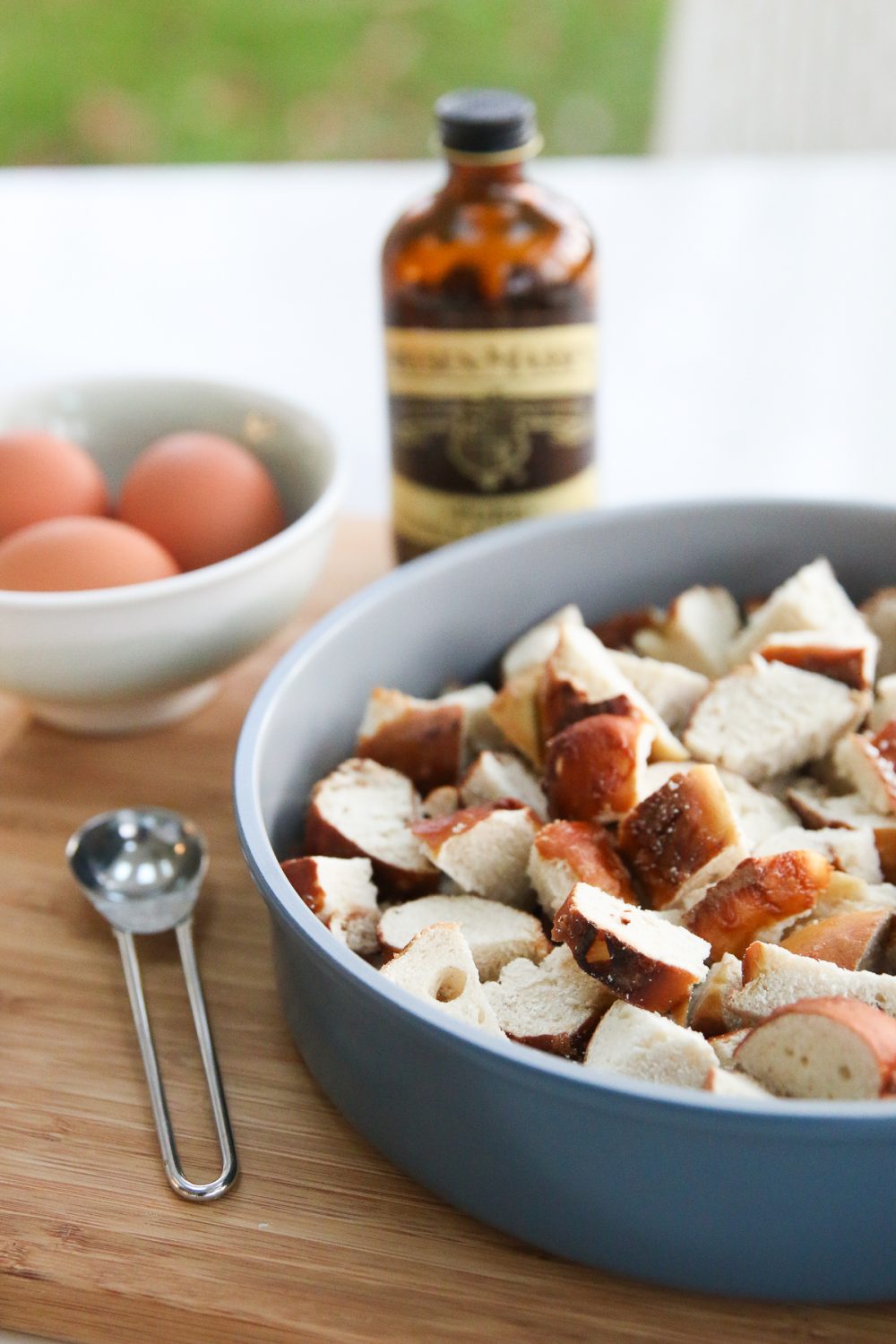 We used our round cake pan from Caraway, and it worked like magic. We did swipe the pan with a bit of butter despite their non-stick qualities, and everything came out clean and delicious. If you're not familiar with Caraway pans, they're a high-quality brand that is free of the yucky toxins and chemicals often used in non-stick cookware and bakeware. We have Caraway cookware and bakeware sets and use them almost every day. It doesn't hurt that they're gorgeous too. Have you seen all their colors?!
Caraway pans are some of the most eco-friendly pans on the market. Beyond the toxin-free production, they come in plastic-free packaging in a box that can be easily recycled or composted. They're great quality. We've had ours for a couple of years, and they've held up well to heavy use.
While it has many tenants, sustainable living really starts with buying less, investing in good quality things that last, and making the most of the resources and goods we already have. Caraway is an investment in something that will last and be loved time and again.
P.S. If you're in the market for new pots and pans, you can get $150 off when you buy the cookware or bakeware sets.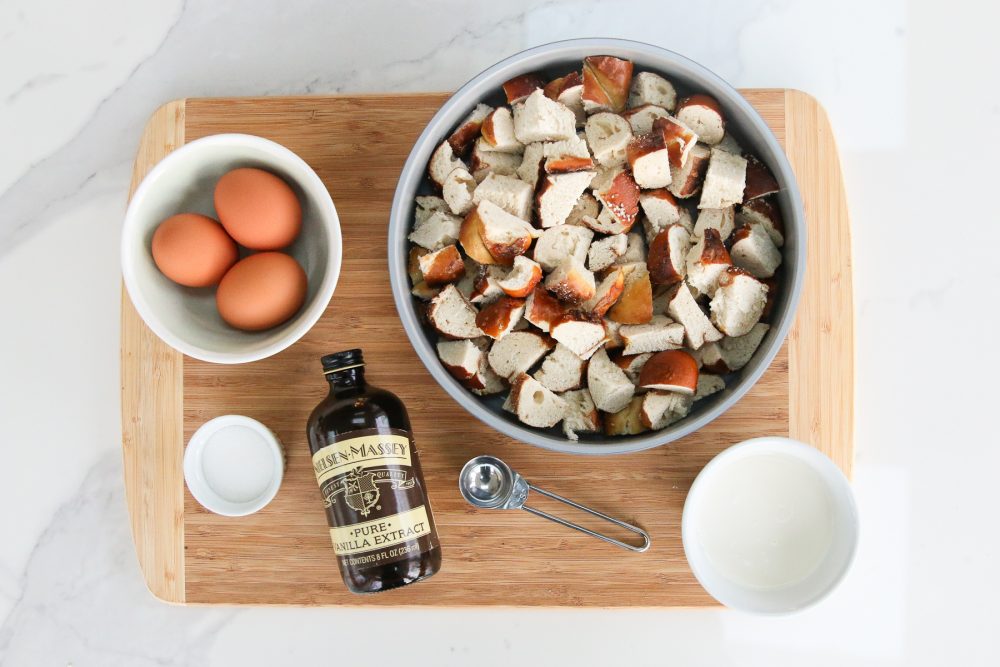 Notes on Sustainability and Food Waste
As you bake the soft pretzel french toast, there are lots of ways you can make the most of the ingredients while also reducing food waste.
Save your egg whites
Eggs are expensive! Don't throw away the egg whites. That may seem obvious to some, but it hasn't always been obvious to me. Save them for scrambled eggs or another recipe. I've stored them in an airtight container in our fridge for several days before using them.
Egg shells are compostable
Are they browns or greens? I'm not really sure; apparently composting does not have to be binary. Eggshells, however, are definitely compostable and good for the soil. Toss them in a compost bucket or grind them up and sprinkle them in your gardens to boost the nutrients of the soil.
Buy local eggs
If you can, buy local eggs. It's more likely they were raised humanely, and it's great to support local farmers and businesses. You might even have a friend with chickens with whom you can barter for your weekly egg fix. I find great joy in cracking an egg to reveal a rich, orange yolk that you just can't get from grocery store eggs. You know they are the real deal.
Look for recyclable or compostable packaging
Many ingredients, like sugar, come in paper packaging. If available, look for ingredients that come in compostable or recyclable packaging (or even something you can reuse). Plastic takes hundreds of years to break down in landfills, so it's always best when we have other reasonable packaging options.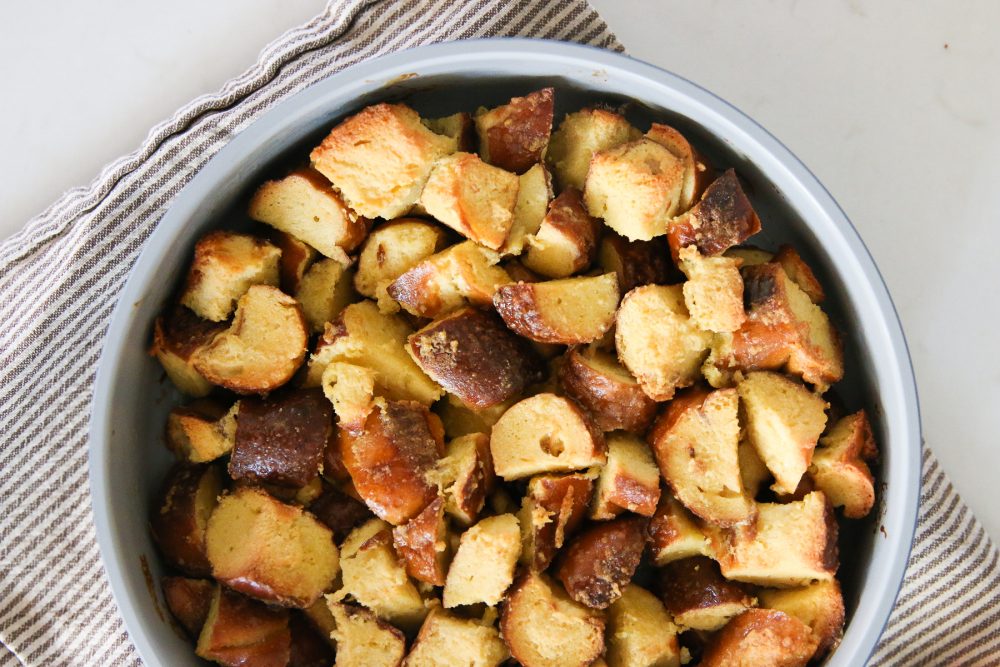 Cake pans and food waste aside, you should give this soft pretzel french toast recipe a shot. The finished dish is not the familiar soft and squishy french toast you're probably used to. The texture of the pretzel dough gives it a bit of a denser feel than french toast made with challah or white bread.
The irregularity of the pretzel shapes creates some soft inside sections and tastier edges and corners. In our family, some people prefer the soft middle while others opt for the crispier corners. That means there's something for everyone! After you make the recipe, let me know if you're a middle or an edge fan.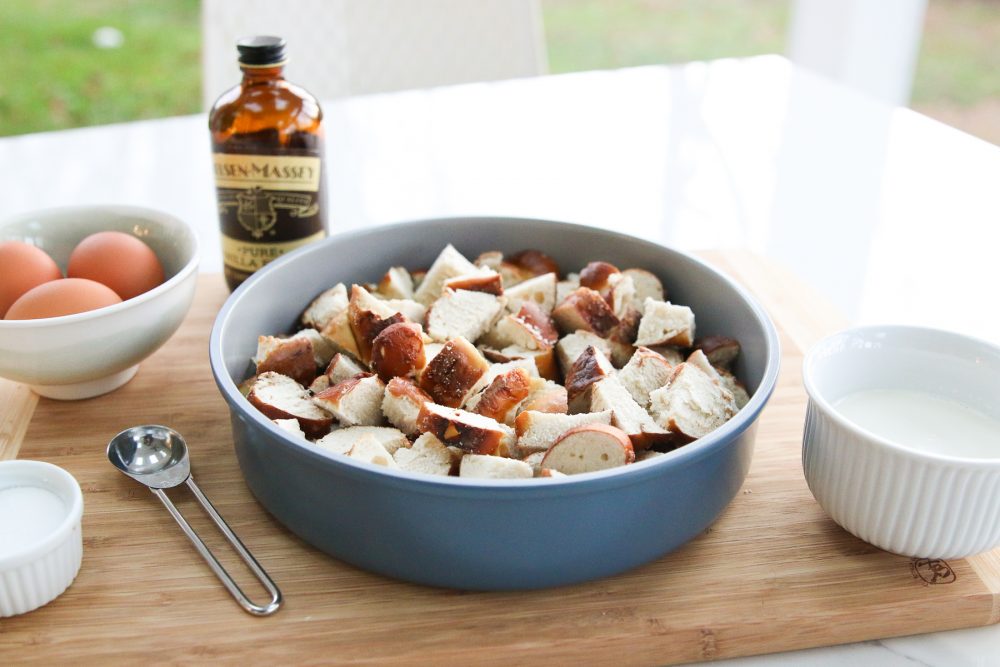 About The Author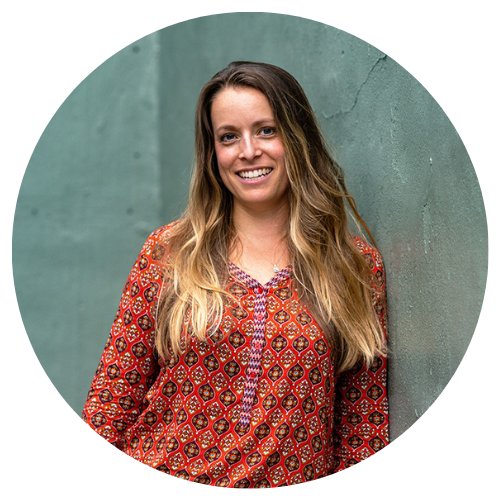 Jen Panaro
Jen Panaro, founder and editor-in-chief of Honestly Modern, is a self-proclaimed composting nerd and an advocate for sustainable living for modern families. In her spare time, she's a serial library book borrower, a messy gardener, and a mom of two boys who spends a lot of time in hockey rinks and on baseball fields.
You can find more of her work at Raising Global Kidizens, an online space to help parents and caregivers raise the next generation of responsible global citizens.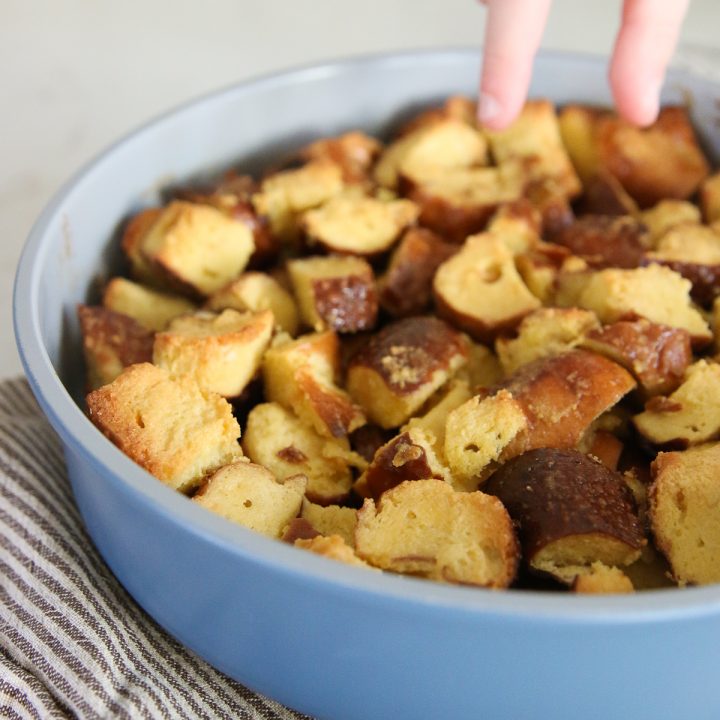 Soft Pretzel French Toast Casserole
Total Time:
1 hour
10 minutes
Try this simple, make-ahead soft pretzel french toast casserole made with leftover (stale) soft pretzels). Fight that food waste!
Ingredients
3 cups of stale soft pretzels, cut into cubes
1 egg
2 egg yolks
1/2 cup heavy cream
1/8 cup sugar
1 tsp vanilla
1 tsp cinnamon
Instructions
Add the cubed soft pretzels to a medium bowl.
Whisk the eggs through the vanilla in a small bowl.
Pour the mixture over the pretzel cubes, toss to combine, and coat the pretzels.
Cover the bowl and let sit in the fridge for at least an hour or up to overnight. Stir occasionally to help the pretzels absorb the mixture. We cover the bowl with a plate or a Caraway pan top so we don't need to use single-use wrap or plastic. It works like a charm
Preheat the oven to 350 degrees Fahrenheit.
Transfer the pretzels to an 8" x 8" or round cake pan and press them into the pan to form a packed layer. This layer won't be perfect because pretzel dough is dense but do your best.
Bake for 40 minutes or until there is no liquid left and the pretzels are browned.
Serve and enjoy with fruit, maple syrup, or your favorite topping.
Notes
A few notes about sustainability as it relates to food and baking.
Save your egg whites for scrambled eggs or another recipe.
Egg shells are compostable. Toss them in a compost bucket or grind them up and sprinkle them in your gardens to give a boost of calcium to the soil.
If you can, buy local eggs. It's more likely they were raised humanely and it's great to support local farmers and businesses.
Many ingredients like sugar come in paper packaging. If available, this is a better option because you can compost or recycle the packaging instead of adding to the mounds of plastic that take hundreds of years to break down in landfills.