Kernza Waffles + Local Syrup For a Breakfast Win
Have you tried making pancakes or waffles with Kernza? Read on for this easy Kernza recipe and why regenerative food should be part of the future of agriculture.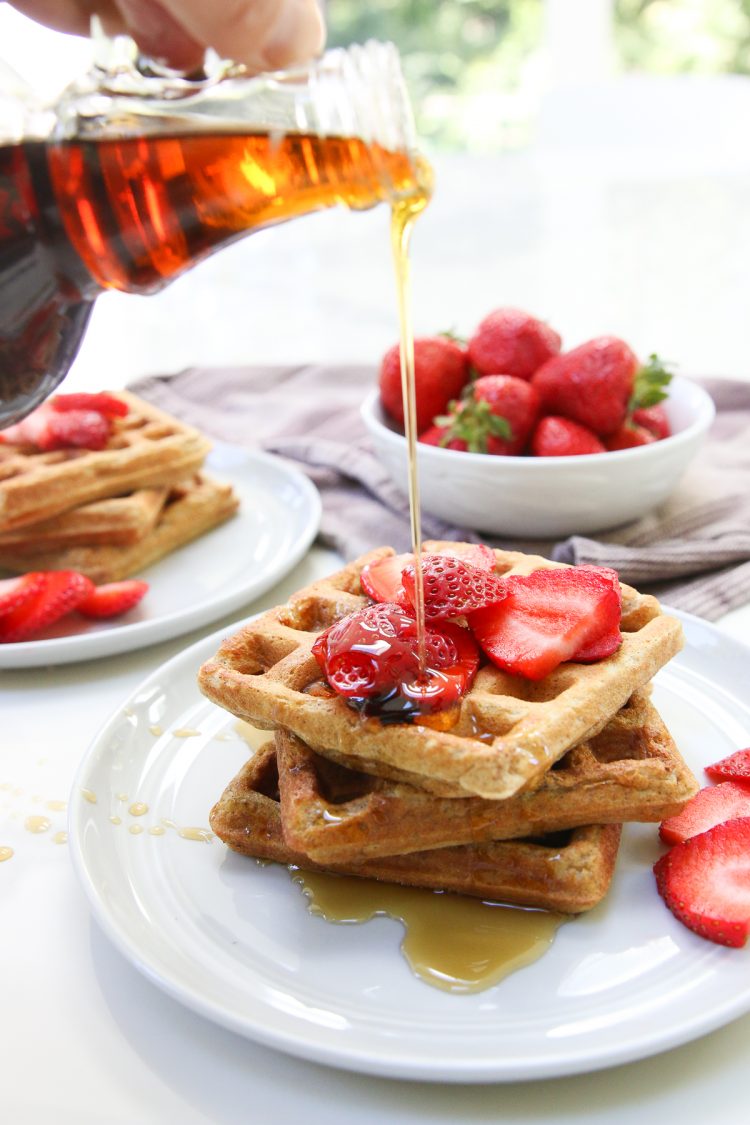 I grew up at a time when highly processed foods reigned supreme. They were the hottest things on the market, and I'm not sure most of our parents knew any better than to believe the convincing marketing that these Frankenstein foods were the next best thing.
We often ate pancakes or waffles from a box of boring mix along with puddles of pancake syrup, a fancy name for what is essentially high fructose corn syrup.
As we learn more about the harmful impacts of highly processed foods on our bodies, as well as the environmental consequences of monoculture crops used to make many of those processed foods, many of us are increasingly turning to better food alternatives that support local farmers, thriving soil health, and healthier outcomes for our bodies.
While waffles or pancakes dipped in syrup won't likely ever become the pinnacle of healthy eating, this delicious and sweet indulgence has the potential to be much better.
Enter local syrup production and regenerative, perennial plant-based flour.
We already buy our syrup from a local food delivery company that sources its products from farmers and artisans in our community. Whiskey Hollow Maple Syrup is a staple in our pantry. I didn't come to love the superior taste of real maple syrup right away as I grew up on processed pancake syrup. But now I'm a total convert and wouldn't go back.
Recently, I discovered Kernza, a perennial grain being developed in the United States to hopefully provide a mass-market solution that meets consumer grain demands without being such a drag on the soil and our environment.
Perennial Pantry is a test-kitchen-meets-food-manufacturer that makes new and innovative flour-related products using Kernza and other regenerative grains instead of traditional wheat flour. To date, they've developed products like pancake and waffle mix, regenerative flour, and Kernza pasta.
You can read more about Kernza and its host of environmental benefits in this article we shared previously. But in short, the perennial properties of Kernza make it beneficial to the overall health of the soil.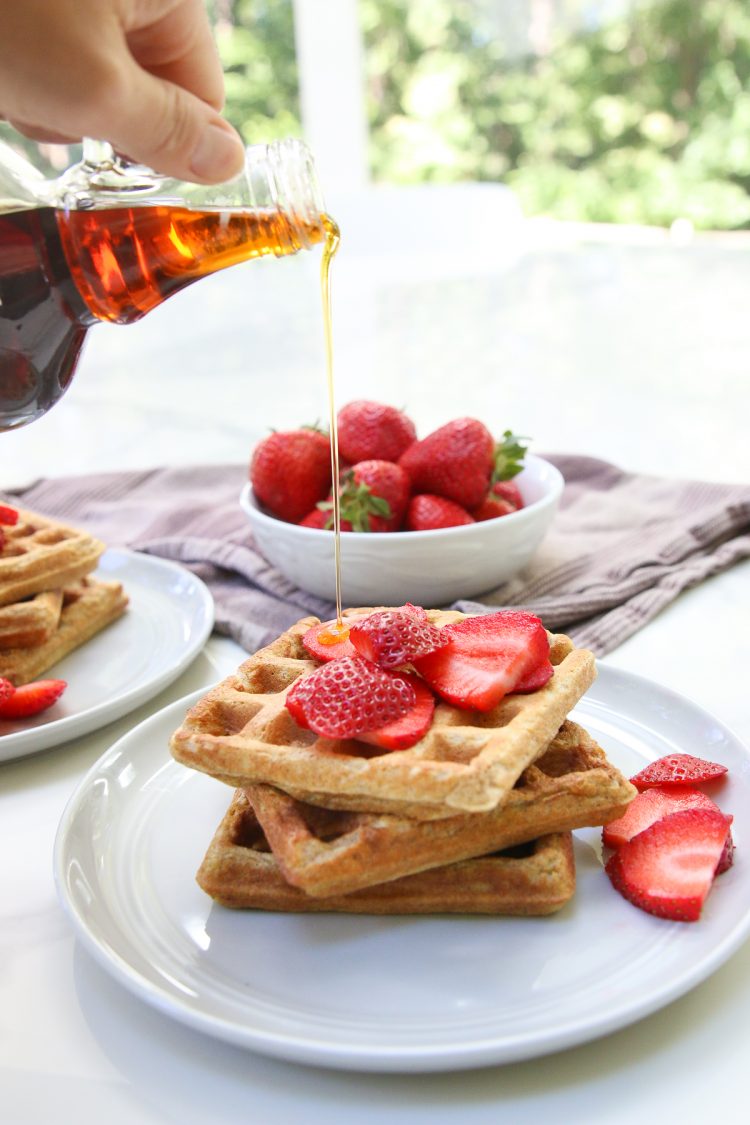 We recently decided to give their pancake and waffle mix a shot. Rest assured no one in our house is complaining about semi-homemade waffles for breakfast.
After adding milk, eggs, and a bit of melted butter to the Perennial Pantry waffle mix, we cooked up the waffles on our waffle maker and enjoyed a sweet delight. They were a big hit. The waffles are tasty, and the batter makes waffles with just the right consistency, soft on the inside and just a bit crunchy on the outside.
Swapping more complex and regenerative food products, like Kernza-based flour, is an easy way to support more eco-friendly farming, soil health, and biodiversity through our everyday eating choices. We all need to eat, of course, so why not choose better food alternatives when we can afford such options?
Below, I've answered a few questions about Perennial Pantry products that you might have. If I missed any questions, be sure to leave them in the comments and I will do my best to answer them.
Where can I buy Perennial Pantry products?
Currently, you can buy Perennial Pantry products on their website, and they ship to the United States. I haven't seen their products in major stores yet. Kernza products are still in the development phase, so I presume (without asking the company) that they don't have the scale yet to sell in large retailer operations.
Sidenote: With a little digging, we found out they will ship to Canada if you reach out to customer service. But you'll have to pay a hefty shipping fee.
Are Kernza products more expensive than traditional wheat flour alternatives?
Yes. Kernza is still in the development phase. Agricultural scientists and other experts are working to increase the yields of Kernza plants and make processing more efficient. Once successful, these efforts will help bring down the cost of Kernza. In other words, it's expensive now but that doesn't necessarily mean it will forever sell at a premium price.
Here is what Perennial Pantry has to say:
"As it stands, Kernza® can yield a comparable number of seeds per acre, however, the seed size is about one-fifth to one-sixth the size of traditional wheat, which is why it sells for a considerable premium.
Typically, for each pound of Kernza® we buy from farmers, we get about 6 ounces of usable grain. The rest is hulls and dockage. For this, the seeds require innovative processing techniques.
There continue to be exciting developments in both seed size and genetic traits that make Kernza® easier to grow, harvest, and process. In the meantime, Kernza® is a premium product in order to fairly support those committed to scaling this climate solution."
Does Kernza flour taste and bake the same as wheat flour?
Yes and no. Perennial Pantry and agricultural scientists are working to breed Kernza to replace wheat flour in many ways, to the extent possible. That being said, it doesn't have the same amount of gluten as traditional wheat flour, so it doesn't always rise, bake, or cook the same way wheat does. It also comes from a different plant, so it's not going to be exactly like wheat flour.
In the meals and snacks we've made with Perennial Pantry products, like the waffles, we didn't notice any difference in taste. The pancake and waffle mix combines Kernza flour with flour from other types of heirloom wheat.
Perennial Pantry has been pretty forthcoming about the fact that Kernza flour isn't simply a one-for-one replacement for wheat in any old recipe. In my opinion, it's on par with ingredients like almond flour in the sense that it's very similar but not always exactly a simple swap.
Got any other questions? How else can I help you bring more regenerative food products into your pantry?
If You Like Kernza Waffles, You Might Also Like
8 Resources To Better Understand Regenerative Living and Gardening
5 Ways To Practice Regenerative Living At Home
About The Author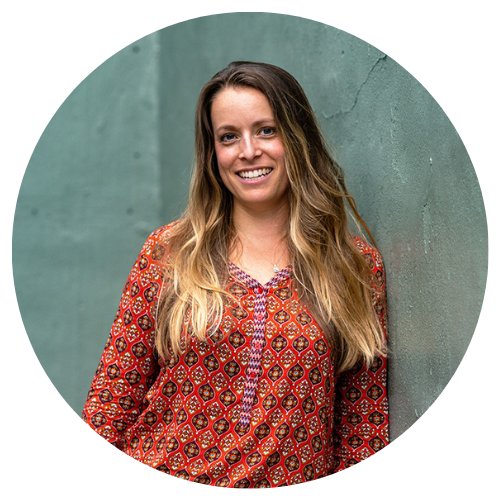 Jen Panaro
Jen Panaro, founder and editor-in-chief of Honestly Modern, is a self-proclaimed composting nerd and an advocate for sustainable living for modern families. In her spare time, she's a serial library book borrower, a messy gardener, and a mom of two boys who spends a lot of time in hockey rinks and on baseball fields.
You can find more of her work at Raising Global Kidizens, an online space to help parents and caregivers raise the next generation of responsible global citizens.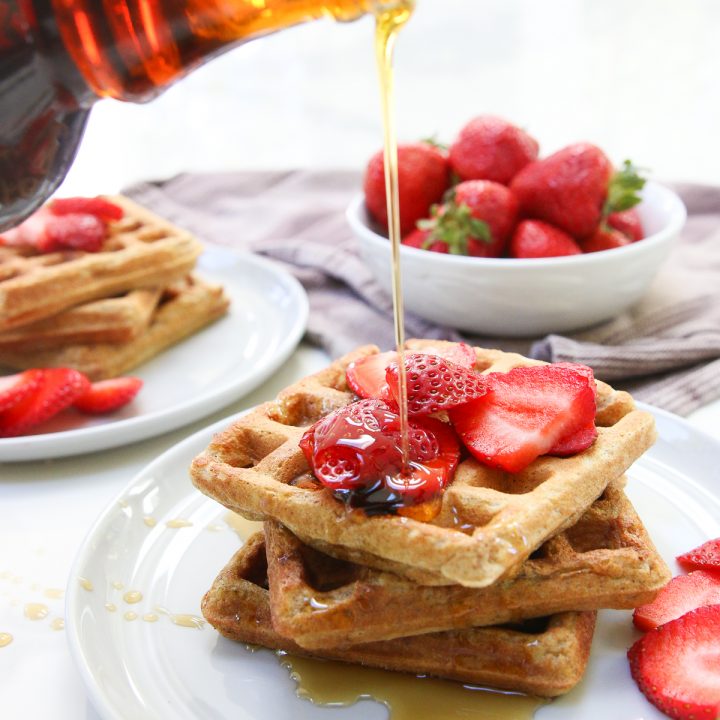 Kernza Waffles with Strawberries
Delicious waffles made from Kernza flour from Perennial Pantry with a dollop of fresh strawberries.
Ingredients
1 cup Perennial Pantry Pancake and Waffle Mix
3/4 cup milk (or milk alternative)
4 tbsp butter, melted
1 large egg
1 egg white
1 - 2 cups of strawberries (optional)
Instructions
Preheat the waffle maker.
Brush the waffle maker with a bit of melted butter (if needed). A pastry brush works well for this.
Combine all ingredients in a bowl and allow to rest for 10 minutes.
Add batter to waffle maker (amount will depend on the size of your waffle maker) and cook accordingly to waffle maker instructions.
Top with strawberries (optional).
Notes
This recipe is the same recipe included on the back of the packaging. I've included it so you can see how simple it is to turn this regenerative flour into a delicious breakfast for your family.
Recommended Products
As an Amazon Associate and member of other affiliate programs, Honestly Modern earns from qualifying purchases.