4 Easy No-Sew Upcycled Style DIYs in Under 15 MInutes
This shop has been compensated by Collective Bias, Inc. and its advertiser. All opinions are mine alone. #WardrobeSolutions #CollectiveBias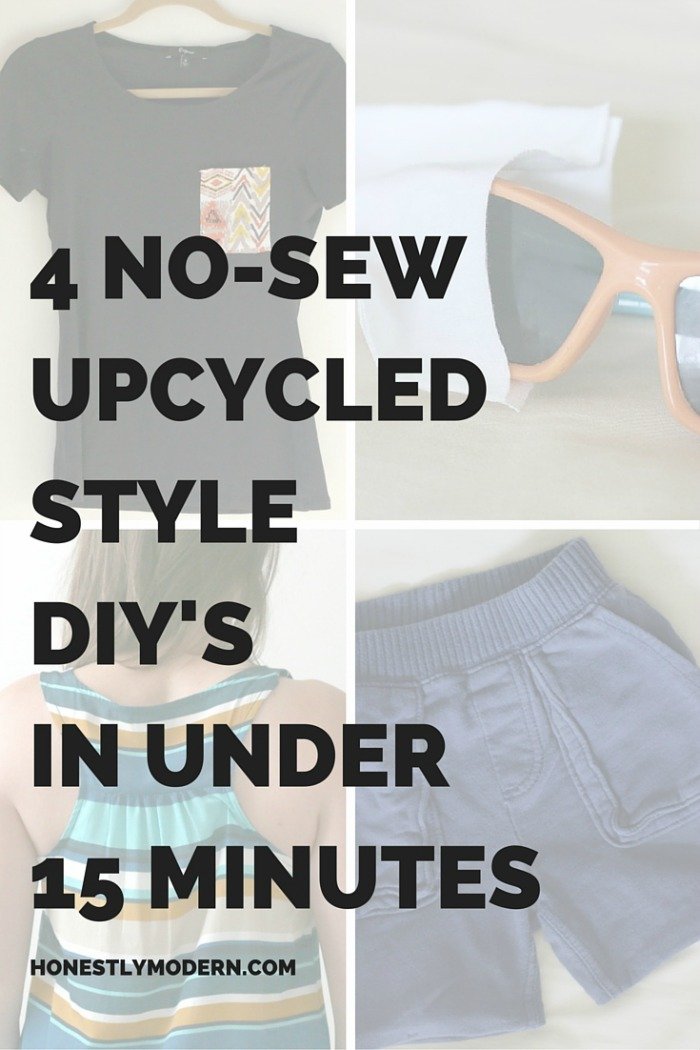 Summer's been hanging around for a bit now and there's a good chance you're starting to get the itch to move into fall style. But, the weather is still way too warm for layers of anything.
As a fan of upcycling and repurposing things we already have, why not mix up some things you've already got working in your wardrobe? Sometimes, a little change or a quick fix can make a world of difference.
I dug into my closet (and my boys' closet) and finished four DIY no-sew projects in less than hour.
Since we haven't moved into our new house yet, my sewing machine is in storage (and will be there for a little while). I picked up some Scotch™ Essentials products at Target.
The products (which you can find in the closet section, by sewing machines and kits) ended up making the projects quite a bit easier and faster. The Scotch™ Essentials Adjustable Hem Tape, Scotch™ Essentials Permanent Hem Bonding Strips, and Scotch™ Essentials Wardrobe Tape Strips that I bought all basically work like stickers (so you probably could have completed these projects back in elementary school when your exploding sticker book provided Friday night sleepover entertainment).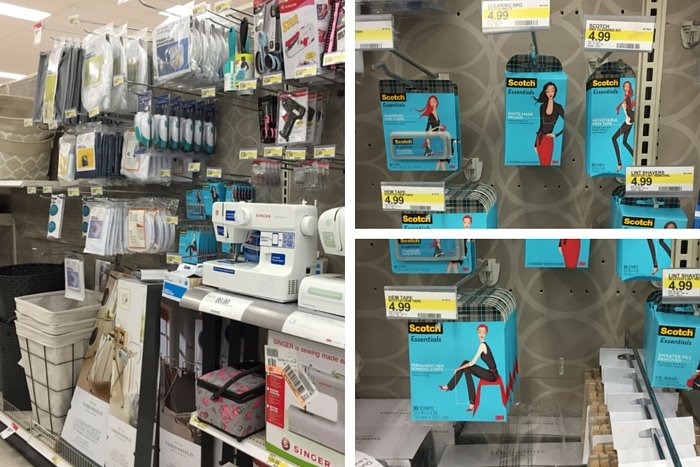 Here are four quick no-sew DIY projects that you can try to breathe new life into your summer wardrobe.
Although I didn't show you below, I have a pair of long jeans that fit perfectly with boots in the winter. But they drag on the ground in summer when I prefer to wear them with sandals. I used the Scotch™ Essentials Adjustable Hem Tape to tuck the hem up and under the pant leg to fix this little style dilemma. Come winter, the pants are still long enough to wear with boots having made no permanent change to their style.
Simple Sunglasses Pouch
We all have about a billion old t-shirts hanging around, so I love finding new ways to repurpose them. I kept this one white, but you could dye the fabric, use the design from a favorite shirt that carries some nostalgia, or paint the fabric after you make the pouch. Tie-dye or painting could be a really great project for your kids or as a summer birthday party activity.
To get started, you'll need the following supplies:
Long rectangle of fabric cut from an old shirt ~ Mine was 18″ long by 4″ wide, but yours can be whatever size you need to fit your glasses including about a 1″ allowance for the bonding tape on each side
Scotch™ Essentials Permanent Hem Bonding Strips
Scissors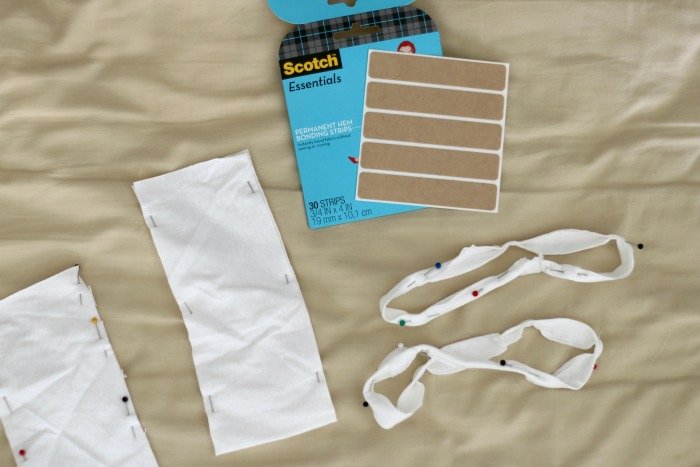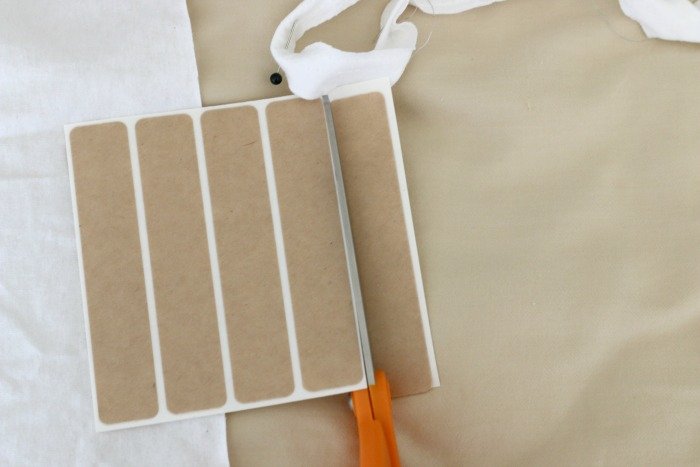 You didn't need the bonding strips to be full width, so cut each of them in half.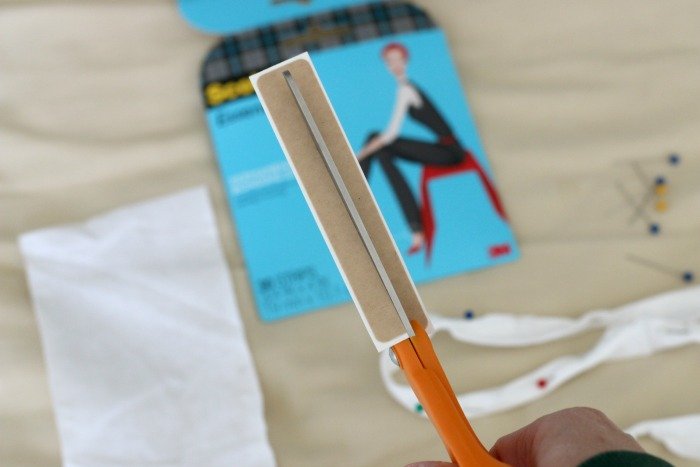 Place the bonding strips along each edge half way along the length (i.e. along 9″ of the total 18″ length, or however long you decided to make yours).
(Ignore the pins. I ended up not using them. I initially intended to sew these together, but decided the Scotch™ Essentials Permanent Hem Bonding Strips would be better and easier.)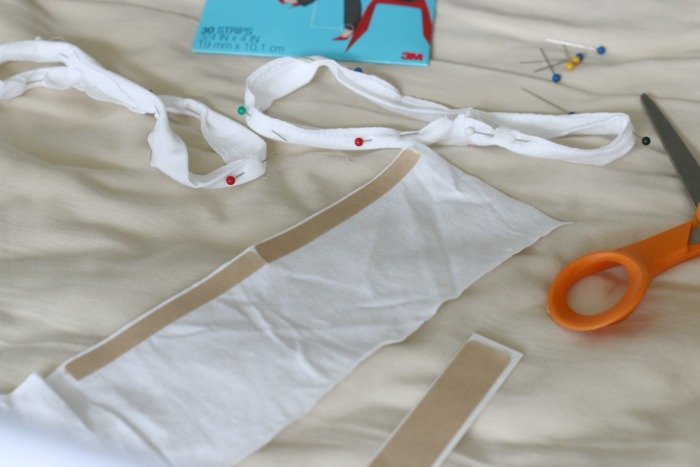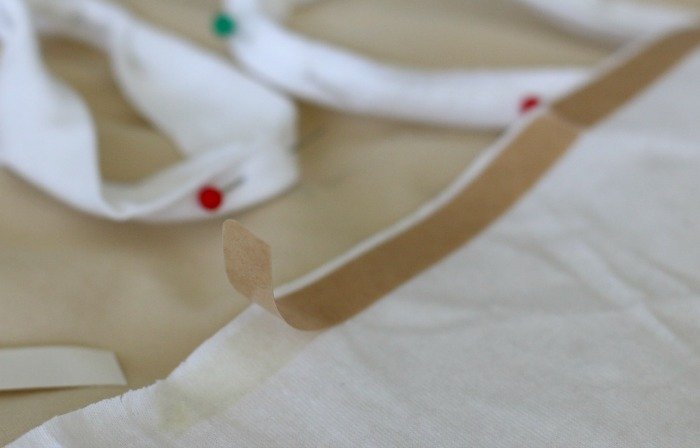 Peel off the back of the strips, fold the fabric in half matching up the open edges, and you're done. It's really easy, functional and keeps your sunglasses from getting scratched.
Pants to Shorts No-Sew DIY Transition
As I sorted through the boys' clothes a few weeks ago, there were several pairs of pants that still fit now but wouldn't fit by winter. The boys needed new shorts, so I decided to cut off the legs and make the boys a few extra pairs of shorts instead of donating the pants when they outgrow them this fall.
These only required a few supplies as well:
Pants
Rotary Cutter (or fabric scissors)
Scotch™ Essentials Permanent Hem Bonding Strips
Use a pair of shorts that currently fit as a template for the new pairs. Lined up, cut off the legs. For knit fabrics that wouldn't fray, cut the hem at the same length as the existing shorts.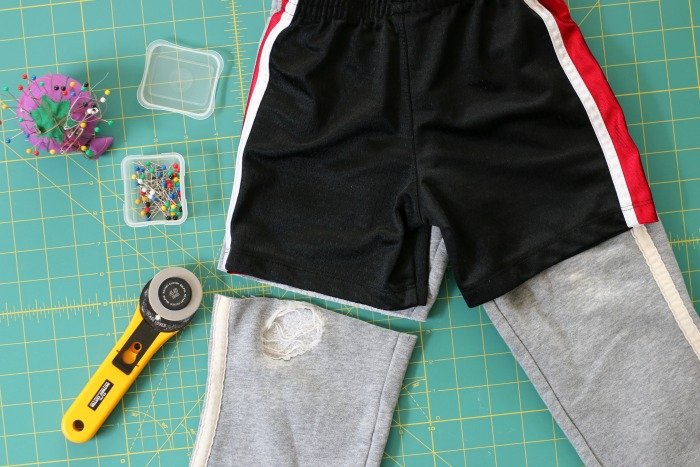 For pairs that may fray, add an inch for an allowance to create a hem.
The Scotch™ Essentials Permanent Hem Bonding Strips needs to be a bit thinner, so trim it into thirds (as shown below).
Fold the bottom of the hem up once, add the Scotch™ Essentials Permanent Hem Bonding Strips, and remove the backing. Fold the hem over again to create a permanent hem.
Done and done.
No-Sew DIY Accent Pocket
As summer continues, it's nice to mix up our wardrobes a bit. To add a bit of interest to a simple t-shirt, consider an accent pocket.
Supplies:
Fabric square or remnant (at least 5″ x 5″)
Scotch™ Essentials Permanent Hem Bonding Strips
Scissors
The accent pocket gave the shirt a bit more depth than simple black. You could also add other types of accents, like decor on the sleeves, shoulders or neckline.
Place a template on the fabric the size of the pocket you'd like. Cut 1/2″ around the template as an allowance.
Cut the Scotch™ Essentials Permanent Hem Bonding Strips into thirds, as with the shorts above. Place the strips around all four edges.
Clip out the four corners to prevent the fabric from layering and becoming bulky.
Remove the backing and fold over the strips to create clean edges on the front of the pocket.
Add another set of bonding strips on three sides (to leave the top of the pocket open), remove the backing, and add to the shirt in the desired location.
Note: You may want to put the shirt on to determine where on the shirt you want to place the pocket.
Hide Bra Straps
A cute shirt or dress with a lovely back design ruined by bra straps hanging around all over the place is the worst! Grab Scotch™ Essentials Wardrobe Tape Strips, stick them along the bra straps and stick the straps to the inside of your shirt. You may have to loosen the straps a bit to be long enough for this to work well. But it's a really easy way to get a much cleaner look when you're wearing all the great summer tanks and sundresses.
All these quick fixes are easy and take just a few minutes. If you're up for one (or all) of these, be sure to grab the $1.00 coupon. It expires September 2, 2016. If you're an early bird who likes to get the worm, you can also get 5% off Scotch™ Essentials products with the Cartwheel app (good from July 24 – July 30, 2016).
You can also see a whole lot more ideas here to breathe new life into your summer style.