All Neutrals | 90/10 SCSC Update #3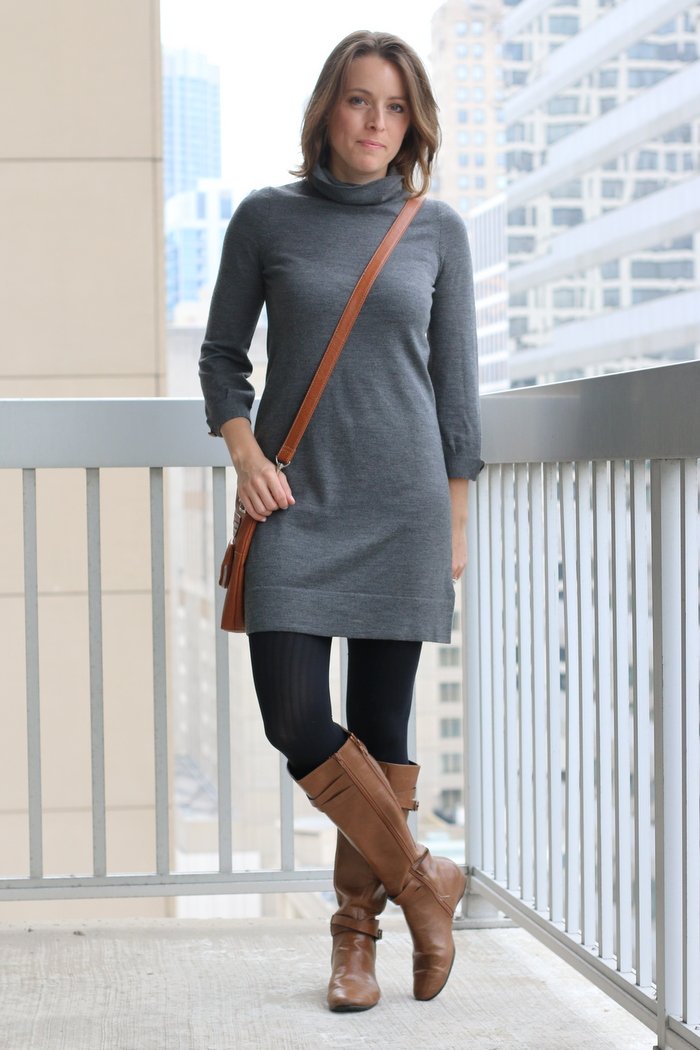 Sometimes neutrals feel boring. But sometimes they feel pleasingly simple. A few months back, I shared more about 4 ways to wear all neutrals to the office.
Also, I'm a sucker for sweater dresses and found this dress in my bag after a recent trip to the Salvation Army. It's just so easy, and forgiving, and comfortable, no?
With another thrifted addition to my closet, I've got my third 90/10 Socially Conscious Style Update today.
Long story short, my shopping hobby won and my bank account lost, due in large part to three big purchases. I've explained more below.
Dress – JCrew (via Salvation Army) | Tights – Target | Boots – Aersoles | Bag – Nine West (via DSW)
Documenting my spending through this challenge has been so eye opening for me. We know all the basics about the fact that managing any habit or practice strengthens greatly with documentation or diaries (budgeting, food journals, exercise logs, etc…).
Posing myself with this challenge has not only helped me be more aware of the origins and life cycle of my clothes, it's also forced me to track my spending (something I've never really done).
For a little back story, check out out the previous 90/10 Socially Conscious Style posts.
Here goes. Since my 90/10 Socially Conscious Style Challenge Update #2, I purchased the following:
Shirt ~ Arizona Jeans Co ($4.79)

Belt ~ Brand Unknown ($1.59)

Red Lace Dress ~ Brand Unknown ($32.00)

Cobalt Jeans ~ Calvin Klein ($22.00)

Tote Bag ~ Cole Haan ($96.00)

Wrap Dress ~ Lauren by Ralph Lauren ($26.54)

Sweater ~ Banana Republic ($24.29)

Caridgan ~ Garnet Hill ($27.44)

Cardigan ~ Moda International ($15.74)

Pants ~ JCrew ($21.14)

Dress ~ Michael Kors ($83.49)

Blouse ~ Fei ($17.50)

Blazer ~ Oak73 ($29.63)

Blazer ~ LOFT ($9.99)

Blazer ~ Zara ($14.99)

Wrap Dress ~ Eureka by Christos Garkinos ($12.99)

Sweater ~ Banana Republic ($8.99)

Swim Cover ~ brand unknown ($5.99)

Sweater ~ LOFT ($12.99)

Dress ~ Tahari ($15.50)

Sweater ~ Henri Bendel ($40.99)

Dress ~ JCrew ($8.99)

Bag ~ Coach ($189.00)

Sweater ~ Brooks Brothers ($8.99)

Dress ~ Three Dots ($8.99)

Pants ~ Adriano Goldschmeid ($18.99)

Sweater ~ Bloomingdale's Brand ($18.99)

Pants ~ JCrew Factory ($37.14)
Blazer ~ JCrew Factory ($95.68)
Boots ~ Ivanka Trump ($75.50)
Prior Total ($1,220.45) + Current Additions ($986.84) = $2,207.29 Spent Since March 2015
Prior to this update: Socially Conscious Pieces = 28; Total Pieces = 31 –> 90.3%

Challenge to date: Socially Conscious Pieces = 53; Total Pieces = 61 –> 86.9%
It looks like I took a bit of a step backwards…
Of the total spent this quarter, I purchase $115 from thredUP using thredUP account credit from pieces I'd sent it for them to sell. This reduced my total cash outlay to some extent.
The Cole Haan and Coach bags were impulse purchases. I don't have many bags and wanted to add a few to my collection for versatility. I still have a brown, cognac or camel colored tote bag on my wish list, but I'm determined to get that from a socially responsible source.
Right now, I'm leaning toward something from Nisolo, but we'll see. Nisolo also has a Kickstarter campaign in progress right now as they launch their first jewelry line. They have some pretty nice pieces. I think my favorite is the Brass Rex Pendant necklace… Maybe I shouldn't be talking about buying anything new right now. Ha.
Many of the items listed above I purchased from the Salvation Army. We spent some time clearing out our apartment, so we made a few trips to drop off donations. I have a hard time to stopping there without taking a peek at what's on the racks. No excuses, but that sparked the spending.
I have been in search of a camel colored blazer for months. I searched a heap of places to no avail. Even Nordstrom, the store that seemingly has something for every occasion, couldn't fit the bill. So I headed to "Schoolboy Blazer Central", JCrew / JCrew Factory, and found exactly what I envisioned. It's on back order but should be here next week. (I counted it above.)
Lastly, I won a $100 gift card to Nordstrom in the Get Your Pretty On Work Wear Challenge. I intended to use it to buy the aforementioned camel blazer. Since that didn't work out so well, I purchased another item on my wishlist that I thought would be difficult to find from a socially responsible channel, over-the-knee boots. Years ago, I'm not sure I would have made this investment. But I finally mustered the courage and I'm really pumped to wear them over jeans as well as under dresses. Chicago Winter, I have another layer with which you'll need to contend!
So it looks like it's time for a shopping break. I'm sure I'll continue to add a few small things to my closet before the next update. But I also know M will be happy to hear that I'm tapping on the breaks for a little while.