6 Tips to Find the Right Fit When Shopping Secondhand Online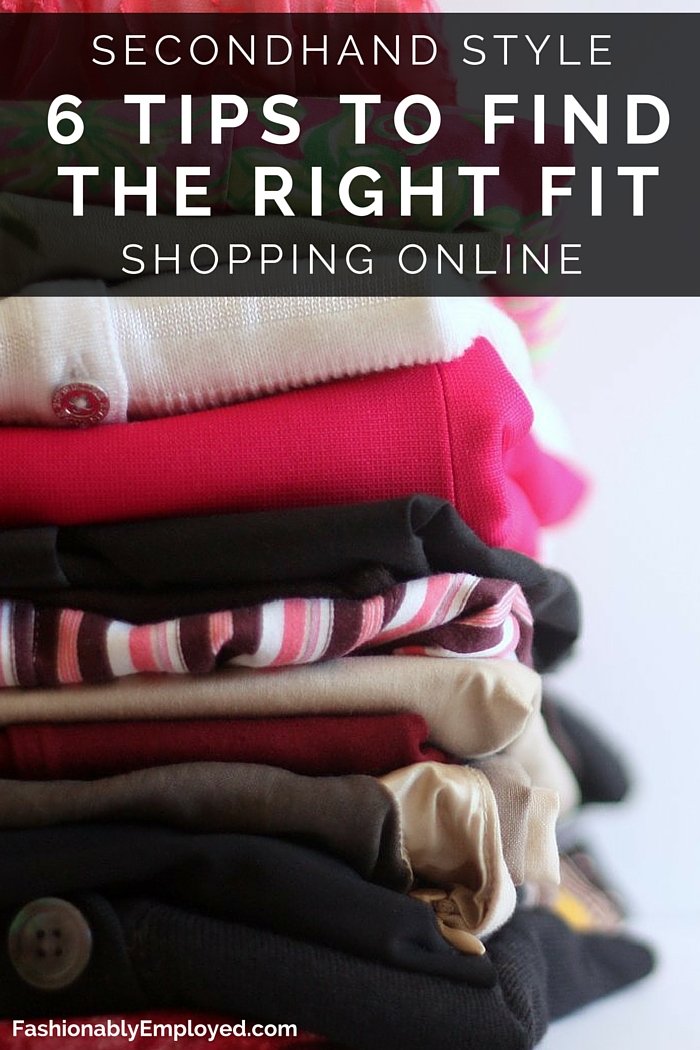 Online shopping can be fantastic. But some aspects of the experience have been tough to master, not the least of which is finding the perfect fit.
Retailers have gone to great lengths to help you find the right sizes through tricks and tools on our screens. Many have failed.
Several have resorted to trial and error (i.e. free shipping and returns) as a last resort. In an effort to make shopping as friction-less as possible, trial and error is not what you're looking for. Sending shirts and pants all across the country gazillions of times is annoying, and also really wasteful, but who I am to judge. Retailers know all this yet probably feel at a loss for better options.
Certain retailers are developing various solutions that let technology aid in perfect sizing and integrate the in-store and online experiences, among other options. With the pace of technological and real-world advancement, you'll surely have great solutions soon.
But one area of online shopping trails behind even the simplest of standard retailer platforms… secondhand online shopping. Having confidence in finding the right fit on a secondhand online outlet is really, really tough.
Regularly, you read about secondhand shopping here. While many of my clothes come from brick-and-mortar secondhand shops, I have been increasingly choosing online outlets for my thrifting escapades.
In the comments of a very old blog post from before I switched over to WordPress (which means her original comment is gone), Jess from Elegantly Dressed and Stylish pointed out that visiting thrift stores isn't always an option for everyone. She's totally right.
Total Tangent: Jess and I have the same blog design from Restored 316 Designs. Great minds think alike!
Thrift shopping is time consuming, can be exhausting at times as it can take a while to sift through racks and racks of miscellaneous items, and can be geographically prohibitive, among so many other restrictions. Even if you have one or two thrift stores in your area, they might not have a selection suitable for you or your tastes.
All that being said, let's dive into some tips to start to find the right fit for you on secondhand websites. Not only will it save your bank account a few bucks, but you'll be slowing down the fast fashion races. Further, you prevent a few extra pieces from continuing to fill our already-overflowing landfills that the fast fashion trends of the last few decades have packed to the brim.
1. Know Your Measurements
Most of you have a general idea of your body measurements, but it helps to really know them well and double check them occasionally. Many secondhand sites offer measurements of each piece which can give you a good idea of whether or not a piece might fit.
To take your measurements, you'll need a soft measuring tape. You can get them affordably at most big box stores like Target, craft stores like JoAnn's, and sometimes even the grocery store with a little sewing kit. If you really can't find one, you could always use a piece of string and then compare the string to a metal measuring tape that's more of the "construction" variety.
This site offers some good guidelines on how to take your own measurements.
Be sure to write them down so they're available next time your browsing online.
2. Stick with Familiar Brands
Many brands tend to have fairly consistent sizing among different pieces in similar styles. In other words, if you know you wear a size six in pants from JCrew, it's a relatively safe bet that a thrifted size six JCrew-brand pair of pants will fit you. Thus, it can be helpful to start by finding pieces in brands you already wear.
Certainly, pieces could be tailored, so it's not a surefire guarantee. But many pieces (especially those from everyday brands like JCrew, Banana Republic, Gap, etc.. as opposed to very high end brands) won't be tailored.
3. Start With Less Tailored Styles
While it may seem obvious, avoid buying highly tailored items or tough-to-fit items like blazers and jeans. It's hard to find the perfect fit in-store for pieces like these, let alone online. They are also harder and more expensive to tailor. Because they require a good fit to look flattering, it's more likely they result in a disappointing purchase when they arrive at the doorstep.
Consider pieces like wrap dresses, shift dresses, cardigans, flowy blouses that could be tucked in, and heavy sweaters. These aren't the only options, but they all provide some flexibility with respect to fit. So if it's not an entirely perfect, it still could look great and be a wonderful addition to your closet.
4. Consider Less Structured Fabrics
Related to the shape of the pieces, certain fabrics have a bit more stretch in them making them more likely to fit without being exactly the right cut. Workout clothes (while not appropriate for work) are a perfect example. The spandex in many leggings or exercise tops will allow the fabric to fit to your body if it's generally your size but not a perfect fit.
With respect to office-appropriate alternatives, cotton or polyester blends with a bit of Lycra or spandex could work well. The wrap dress I mentioned earlier is likely to be made of a fabric with a bit of stretch. Turtlenecks, sweaters and other cotton-blend or polyester-blend tops make great thrifted finds.
Dresses in similar fabrics with a bit of shape (but not too snug) could also be perfect thrifting candidates as a belt or blazer could add a little shape if the dress is a bit too big.
This orange and navy dress is a great example of the type of dress that fits this description. Here's another way to wear the dress in winter. It also worked during my second trimester of pregnancy, with a post-baby bump and after "maternity life." Laura, from I Do deClaire, also shares 6 ways she wore a thrifted dress that perfectly illustrate this idea.
5. Avoid Final Sale or Non-Returnable Items
Do you hate returning clothes? Especially things purchased online? The return process feels so disheartening and annoying. (As I mentioned before, a regular back and forth of purchases and returns also feels wasteful, if avoidable.) It is nice, however, when you have the option to return a piece.
Some sites don't allow returns. Other items are discounted and marked final sale. Although it could be a great price, a "well-valued" item is pretty worthless if it sits in your closet because it doesn't fit.
Particularly if you're just getting your feet wet in the online secondhand shopping world, stick to pieces that can be returned so any errors early on in your learning experiences don't leave you hanging out to dry.
6. One Size Fits All
Last but not least, consider one size fits all items. Most often accessories, consider pieces like scarves and handbags. Given their high price point, designer handbags can be a particularly great item to buy secondhand.
More Resources
If you're interested, also check out more about the basics of secondhand style and a listing of several online secondhand retailers. If you find them helpful, be sure to share them (and this post) with your friends and on social media. (Thanks in advance.)
While there aren't yet any perfect solutions, hopefully the tips above can help you explore and enjoy the growing world of secondhand style the internet has to offer. It certainly brings the secondhand experience to a broader audience. Even if you're just dabbling in the experience, every little bit of restyling, thrifting and upcycling you contribute to slowing down the wasteful cycle of certain aspects of the fashion world helps.
Happy Secondhand Shopping!