This shop has been compensated by Collective Bias, Inc. and its advertiser. All opinions are mine alone, but you're more than welcome to steal any of the travel plans! #ByeByeBlisters #CollectiveBias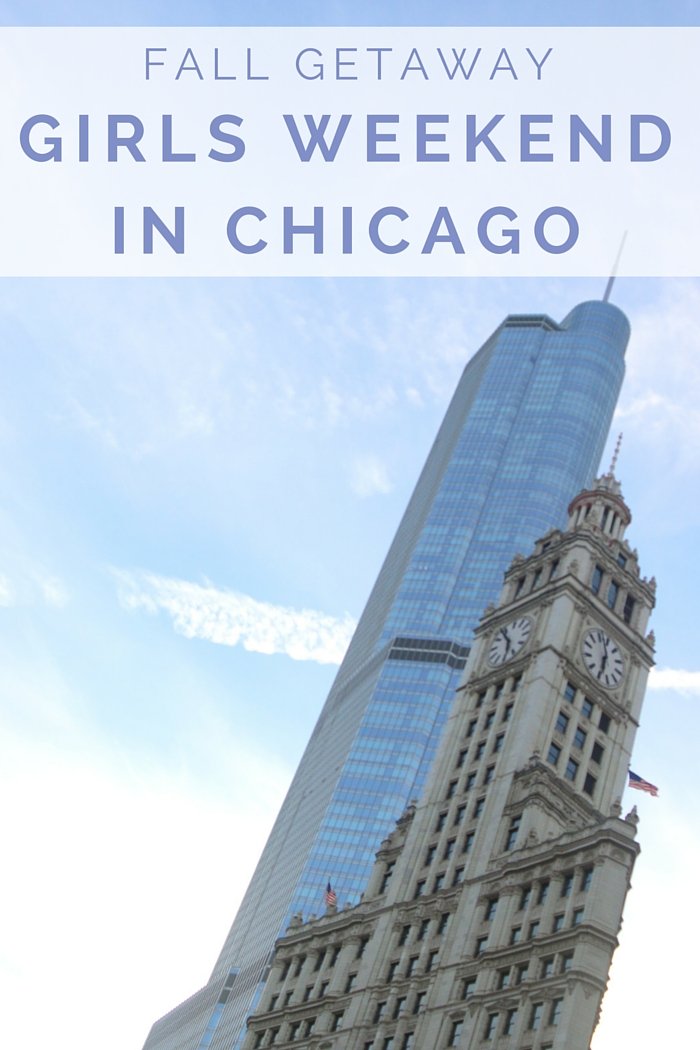 Need a girls weekend? Why not check out Chicago in the fall?!
Soon enough, we'll be wrapped up in winter coats for another six months. But while there's still some crisp fall weather in the area, it's a great time to grab some girlfriends and enjoy a jam-packed weekend in the city.
I thought I'd share a few ideas of fun things to do from a local's perspective with a few friends in Chicago.
What To Pack
Before arriving, be sure to pack accordingly. Fall around here definitely warrants a light jacket. I'm a fan of layers and a pair of flat boots.
Sweater – Banana Republic (thrifted via Salvation Army) | Jacket – Aritzia | Pants – Adriano Goldschmied (thrfited via Salvation Army) | Boots – Aerosoles | Bag – Coach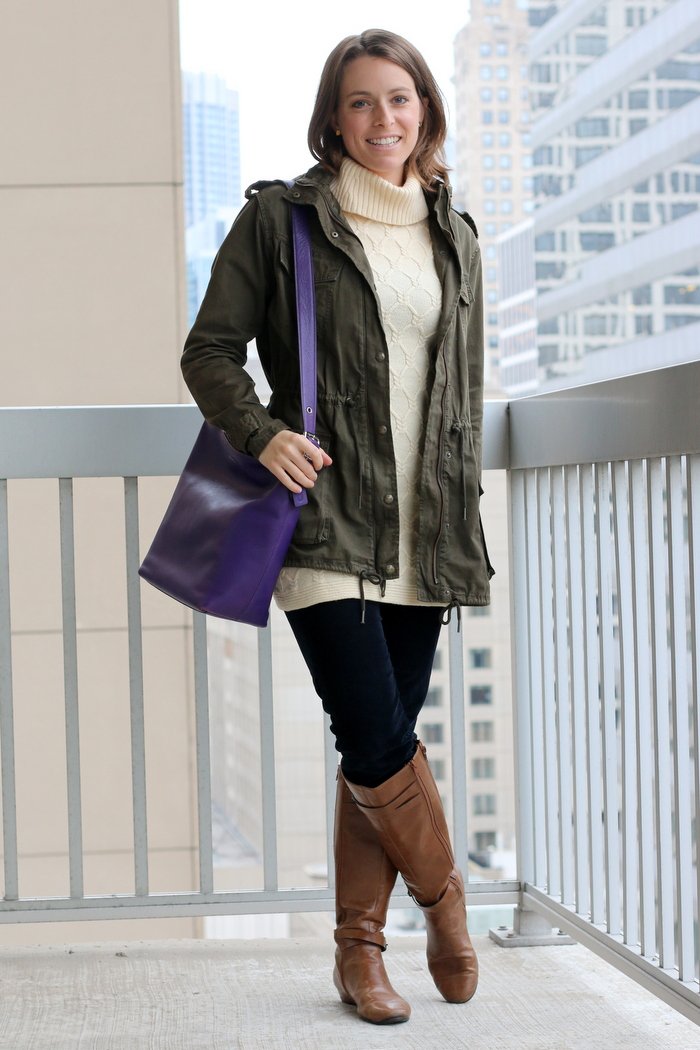 I like to bring a crossbody bag big enough for my camera (of course) as well as a pair of gloves (just in case), my phone, wallet, a drink, some COMPEED® Blister Medium Cushions, and maybe some chapstick.
Even in fall it starts to get a little dry, so the chapstick is great. Chicago also is a great city for walking. Living here, I walk 3 -4 miles a day, so be sure you've got good shoes and some foot protection so as not to ruin your trip with blisters and sore feet!
With a few essentials on your packing list, check out the itinerary I prepared for you. I can't make the hotel or dinner reservations for you, but I've basically planned your trip. You're welcome!
Friday
Dinner on the Patio at Piccolo Sogno ~ This is one of my favorite patios in the whole city. The restaurant is about a mile walk from the Magnificent Mile (Michigan Ave) shopping district and hotel area. But it's well worth the walk. Even if it's a little chilly, the patio has heat lamps so it's comfortable and amazing well into fall.
Ghirardelli Chocolate Store ~ Maybe cliche, but the chocolate is wonderful! If it's ice cream you're after, my sister loves the brownie sundae. You can definitely share one! I'm a bigger fan of the chocolate squares. I may have been known to buy them in bulk packages of 80 – 100 at a time… Of course I don't eat them all in one sitting. But I definitely eat too many at once.
They just opened a brand new location in the Wrigley building, right on Michigan Avenue. It couldn't be more convenient.
Saturday
Breakfast at West Egg Cafe or Waffles Cafe ~ Pop into either one of these simple yet tasty spots for a casual breakfast. West Egg Cafe serves traditional diner food. Waffles Cafe, as you might imagine, specializes in fancy waffles (including wonuts, where waffles meet donuts). Waffles Cafe definitely has a sweeter menu. Both serve good food and look fairly nondescript. Don't be fooled by the less than fancy decor. You'll enjoy either place.
Walk & Ride Along the Lake – Take a stroll along the lake front. It offers great views of the city and the lake, which are awesome. It could be a little windy, especially in the fall, so dress accordingly.
Most people walk south and stop around Museum Campus or Soldier Field. Grab a Divvy bike at the Shedd Aquarium or Museum Campus Stations and bike down to the lake to the Fort Dearborn and 31st Station. The path gets much less crowded and more peaceful after Soldier Field. It's an area many tourists don't explore, and it has amazing views of the skyline.
You can only keep the bike for 30 minute increments. Spend a few minutes at the beach near the Fort Dearborn and 31st Station, enjoying the views of the city and the quieter lake path, and then grab a new bike and head back north. Download the Divvy app to see all the station locations and availability at each station.
Lunch at Beatrix ~ Put those walking shoes (or boots) back on and meander over to the River North neighborhood for lunch. I'm a big fan of Beatrix, an eccentric American restaurant (you could call it) that offers several great unique dishes that have character but aren't too crazy (my kind of restaurant)!
Chicago Architecture Boat Tour ~ Give your feet a break and enjoy the Chicago Architecture Foundation's Architecture Boat Tour. Many other companies offer similar tours, but the locals are partial to the Chicago Architecture option.
If your feet are in need of a little TLC, you'll find a pretty snazzy Walgreens in the Wrigley Building. It's relatively new, next to that Ghirardelli I mentioned earlier, and just across the river from the Chicago Architecture Boat Tour docks.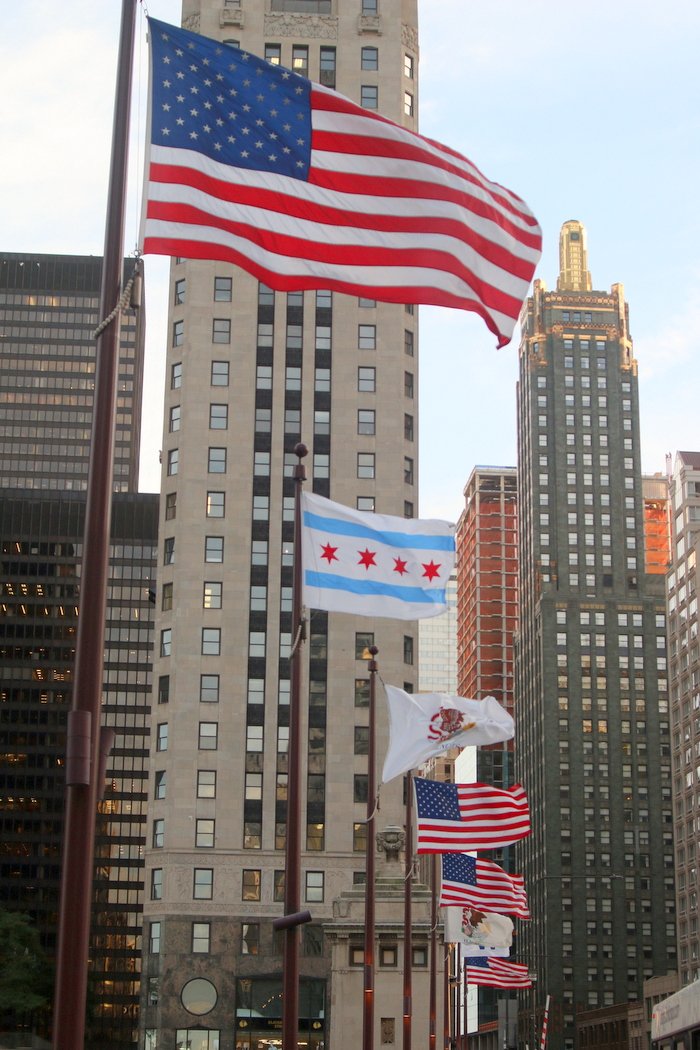 Pop in not only to check out one of the fanciest Walgreens you ever did see but also to grab a water, a snack and anything you might need to fix up your tired feed. I'm partial to the COMPEED® Blister Medium Cushions because they act like a second skin and stick like it's their job (because it is). You can buy them only at Walgreens, and this fancy-schmancy Walgreens is smack dab in the middle of the tourist sites.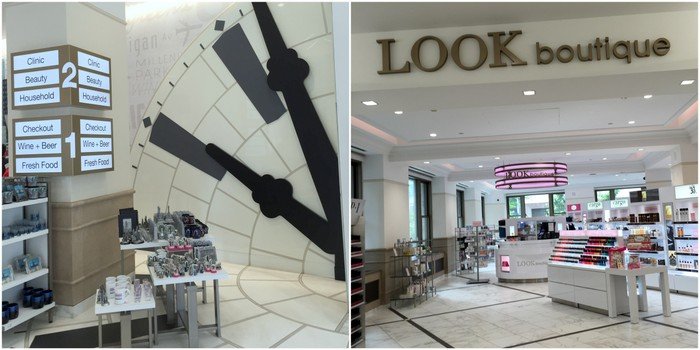 City Winery ~ If the weather is nice enough, you'll pass the City Winery Riverwalk location while on the boat tour. Chicago just rebuilt a portion of the riverwalk and it's quite nice! From the boat tour dock, head west along the riverwalk and you'll hit City Winery in just a few blocks. Grab a snack and a glass of wine with your girlfriends enjoying the view of the river from your table or bench. The spot is crazy crowded in summer, but it should be much more reasonable in the fall.
Blowtique ~ To get ready for a night on the town, let someone else do the styling! Enjoy a blowout and hair styling bar with your girlfriends. Not only will it make getting ready more fun, but you'll have a great hair day!
Dinner at Mercadito ~ Hair looking snazzy, head back to the hotel for a quick change into something a little sexier for dinner at Mercadito, an upscale Mexican restaurant with great margaritas and guacamole. Your feet, now in heels I suspect, will be thanking you for those COMPEED® Blister Medium Cushions.
M and I have visited Mercadito often. It's one of our favorite go-to spots with guests in town. Pair the guacamole and margaritas with any of the tacos and you'll be perfect!
See a Show at The Baton / Second City / Joffrey Ballet / City Winery ~ Any of these are great. The ballet, as you might expect, is far more conservative. The Baton offers a drag queen show while Second City showcases the city's best improv and sketch comedy. Second City can get a little vulgar sometimes and has plenty of cursing. If you're looking for something more PG-rated, I'd hit up the ballet.
Although you already experienced City Winery Riverwalk, the main City Winery location offers musical entertainment and loads of good food and wine. For the music lovers in the audience who want something straight down the fairway (not a fancy ballet though also not risque drag queen or dirty comedy), City Winery will do the trick.
You may need to buy tickets in advance for most of these events at least a couple of weeks in advance.
Go home and go to bed! You had a long and jam-packed day. Get some rest to make the most of Sunday before heading back home.
Sunday
Sleep in or Grab a Workout ~ If you're wanting a little rest from the long day before, toss your phone back in your bag and make sure not to set an alarm. Enjoy an opportunity to sleep in!
If you're feeling slightly more motivated to get the ball rollin', try a yoga class or barre class as a group to start the day. Although there are plenty of options, my favorites are Pure Barre for a class focused more on toning or Yoga Loft if you prefer a more soothing yoga option.
Breakfast at Hashbrowns Cafe ~ Jump into a cab or put on your walking shoes and head up to Hashbrowns. We really like this cafe as a quiet breakfast spot with a full menu of good morning options. If you arrive too late and the weather's nice, it could get a little busy. Chicagoans LOVE brunch!
Yamato ~ Ever heard of a foot massage bar? Is there anything that sounds more perfect with your girlfriends after a weekend full of walking and fun? It doesn't open until noon, and you may want to make some reservations. But it's like a more relaxing pedicure, sort of.
Chocolate Tour with Great Food Tours ~ Last but not least, before getting back on the plane, sneak in a chocolate tour. The tour starts RIGHT near the Walgreens I mentioned earlier. It's lots of walking, so be sure you have some great walking shoes and your feet are ready for some more work. But it's totally worth all the amazing bites of various chocolate the city has to offer.
I'm a huge chocolate fan, so I might be partial to this. But who can complain about everything chocolate?! Consider checking discount sites like Groupon which sometimes offer deals. It also may be worthwhile to purchase tickets ahead of time.
The fall is a great time to visit Chicago. The crowds are smaller and the weather more conducive to long walks and active plans, but many activities are still open. Have you done a girls weekend in Chicago? What did you do? Have you tried any of these things?