Michigan: Easy Day Trip from Downtown Chicago
Living in downtown Chicago, we have so much at our fingertips. We live just a few blocks from Michigan Ave and Millenium Park (known to tourists as the Magnificent Mile and The Bean) and walking distance from Lake Michigan, the Sears Tower, and the Hancock Tower (which many tourists mistake for the Sears Tower).
All of this is amazing, but it's also a constant hustle and bustle.
After years of living in Chicago and getting boatloads of recommendations to visit the Michigan side of Lake Michigan, we finally made it happen when we realized we were running out of time. Funny how that happens, right? Only when departure is imminent do we start crossing off all those gems that sat on our Chicago bucket list for years.
Last fall, shortly after Labor Day and the crowds in the small lakeside towns head home, we planned a day trip to visit Warren Dunes and Saint Joseph, both on the eastern shores of Lake Michigan.
The prospect of the trip overwhelmed me for years when I thought it required a full weekend stay. But when a fellow blogger I met at SoFab Chicago last year who lived in Saint Joseph, Michigan adamantly told me it was an easy day trip, I jumped at the chance to visit without making it a giant production. Finding the right lodging in an unfamiliar cottage town with few hotels seemed daunting. How would I know I was getting a place in the right part of town? Popping in for a day felt so much more manageable.
Early on a Saturday morning, car packed up the night before, we threw the boys in their car seats (half asleep) and hit the road. About an hour and a half later, we pulled into the Warren Dunes State Park.
Unfortunately, the park only accepted cash for the entrance fee. We didn't realize that and had but a whopping $3 in our wallets. After a little damsel in distress act, the park ranger gave us a pass. Michigan, we owe you.
A few winding roads through camp grounds and picnic table parks opened up onto an expansive view of the lake. If you've never seen the Great Lakes, they earned their title for a reason. They're massive and feel much like oceans in many ways.
A quick half turn to put our backs to the lake and we found enormous sand dunes. Before arriving, we had no idea what to expect other than "something great" after all the rave reviews. But this exceeded any expectations we had.
After playing in the sand, climbing the dunes, and enjoying a few adventurous runs down the dunes, we ate a picnic lunch and took a walk through the wooded part of the park.
During our walk, we found a super cute bridge where we took a few family photos. J opted to toss one of his shoes in the creek, which required a bit of imagination to reclaim. But curveballs build character, right? And they're definitely part of any adventure with little ones.
We also stumbled on a fallen tree that lay across the stream not far from the bridge. M skipped right across and back with T. I just about died of nerves trying to cross, but lived to tell about it. I'm not normally afraid of these types of things. I would have been totally fine crossing by myself, but the game changes entirely when I'm responsible for my three year old getting across safely too.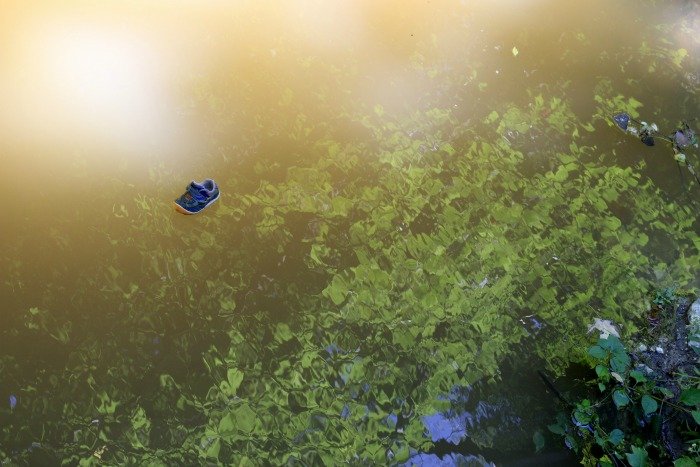 Following the morning at Warren Dunes, we packed the boys and our picnic gear back into the car and drove another 30 minutes to St Joseph, Michigan. This cute little beach town offered a handful of fun restaurants, a carousel we spent an hour riding, a large train display T watched for thirty minutes and several other quaint attractions.
We visited in mid-September, so the weather wasn't particularly warm. Despite that, the boys loved playing in the water fountain and running around on the large playground right on the beach. Because we visited after Labor Day, which made it "off season" we didn't experience any crowds or busy places, which was really nice.
After dinner, as we got ready to head back home, we stopped at the beach one last time to end our day with a perfect, glistening sunset over the lake.
We all loved the calm and serene day, and I'd definitely recommend others visit to check it out. It's so different from the hustle and bustle of the city we're used to but so close and a really easy drive! I particularly loved that we didn't have to stay overnight. It would have felt like so much more of a production, which I definitely didn't want, had we needed to find a hotel or bed and breakfast.
It's also nice to get out of our everyday routine and spend time together as family in a different environment. Whether it's close or far from home, a new experience seems to mix up the dynamic and bring us a little closer.
Now I just need to get more of these staycation day trips on our calendar, and with summer finally here it's the perfect time to line up a few of them.