Two Easy Recipes for a Cleaner Kitchen
This shop has been compensated by Collective Bias, Inc. and its advertiser. All opinions are mine alone. #ScrubDishCloth #CollectiveBias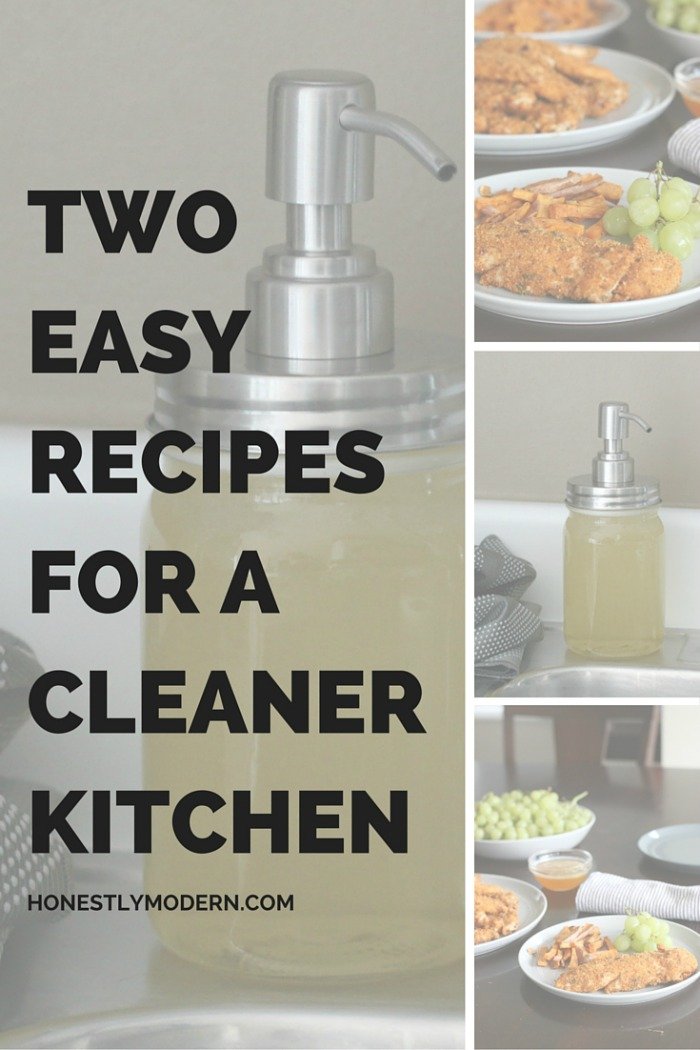 After vacation, I feel like we always need a little detox. We eat lots of fun food (that's often not the healthiest) and spend lots of time hanging out with family and friends.
Once we get home, we always need to simplify things a bit, eat some easy and healthy meals, and get back into our routine.
Last week, we spent five days in San Diego visiting my family. As I sat on the plane and put together a menu on my phone for the upcoming week, I stuck to a handful of family favorites and threw in today's new, healthy and slightly spicy twist on a good old American classic, chicken tenders.
In a continuous effort to take baby steps toward a cleaner, greener kitchen, I've been more generally working on developing an arsenal of cleaner recipes, simpler cleaning products and less wasteful tools and supplies. We'll call today's post a threefer.
We're by no means a diehard Paleo family but I'm definitely a believer in lower carb alternatives, and Paleo principles inspire our eating habits. As a result, most of the new additions to our weekly menus, like these spicy chicken tenders, are influenced by gluten-free or low-carb ideas.
In addition to the chicken tenders, M is a huge fan of condiments, so of course I made a sweet sauce to accompany it.
As we have slowly but surely made small changes to embrace a more socially conscious kitchen, we've replaced nearly all of our disposable products with more reusable and longer-lasting products.
Recently, I landed on these new Scotch-Brite® Scrubbing Dish Cloths while making my way through Target for "the usual suspects" on my shopping list. They come in 2 packs in gray, mint, coral, and navy for $4.99 at Target. Since gray is my jam right now, I opted for those ones.
Living in downtown Chicago, we have some pretty interesting Target stores. The two Targets closest to our apartment are both historic buildings that have been transformed into modern retail outlets while still holding on to some of their historic charm. The one where I purchased these dish cloths even has a pretty cool view of the Chicago 'L' train passing by (right next to these new dish cloths other ktichen tools, coincidentally) that you can see in the photo below.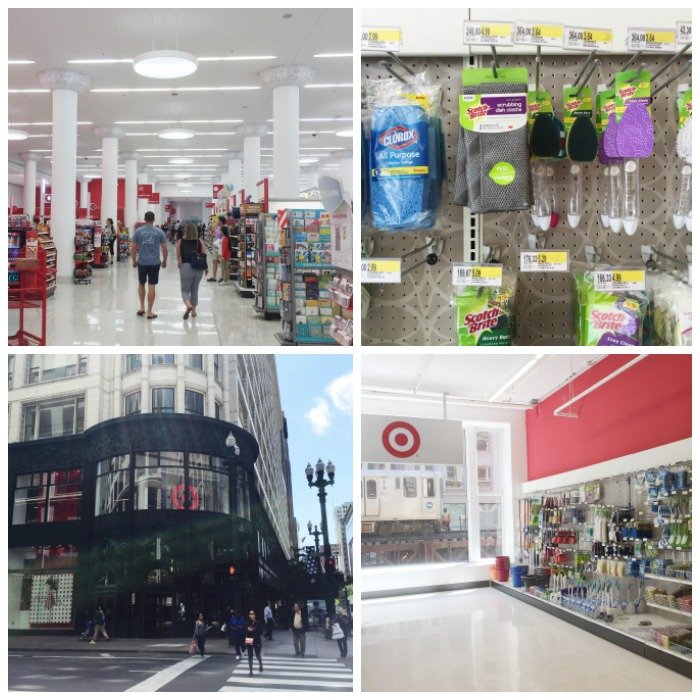 To complement new dish cloths, I've also been itching to try a simpler hand soap. I'm not sure why, but the hand soap next to our kitchen sink seems to disappear in no time. Instead of buying yet another bottle that would be emptied in the blink of an eye, I decided to try my hand at making my own.
We've had a set of vintage mason jars from my grandmother hanging out in our cabinet for months. A few had missing tops. I finally replaced the tops and bought one pump top that I thought might make a pretty little home for my new handmade hand soap. Much to my delight, I loved it. And I loved being able to put my one of my grandmother's mason jars to good use.
To make it, you can check out the recipe below. It's quite easy. Mix three ingredients, put the lid on the jar, and shake a bit. It's not quite as thick as traditional hand soap but bubbles up much better, so I anticipate it will last longer. One for the win!
While I've been working on making our home a simpler, more socially conscious space, it's certainly not an overnight change. We haven't made many (if any) overarching grand changes in one fell swoop. Instead, over time, we've made small changes here and there.
We've incorporated a new, healthier recipe into our rotation once every few weeks (or when I land on something intriguing on Instagram) and swapped out less wasteful alternatives where it makes sense for our family. Every once in a while, we try to find a simpler version of something (like this DIY hand soap that's made of fewer, more natural ingredients) but that doesn't take a lot of time or effort. This also gives me a chance to exchange a boring plastic bottle of hand soap for a pretty display of a vintage hand-me-down mason jar from my grandmother.
As for the latest recipe addition to our arsenal, I whipped up some baked chicken tenders dredged in a slightly spicy mix of herbs and spices that were all in my kitchen cabinet. It got a little messy when little J got to work helping me dredge the raw chicken in the spices, but we all survived.
Spice recipe: Measure, mix and shake. Super easy (and yes, that's another of my grandmother's mason jars.)
In addition to the chicken tenders, I made some sweet potato fries. They're baked after being tossed in a couple tablespoons of olive oil along with some salt and pepper to taste. Quick, easy, and generally healthy.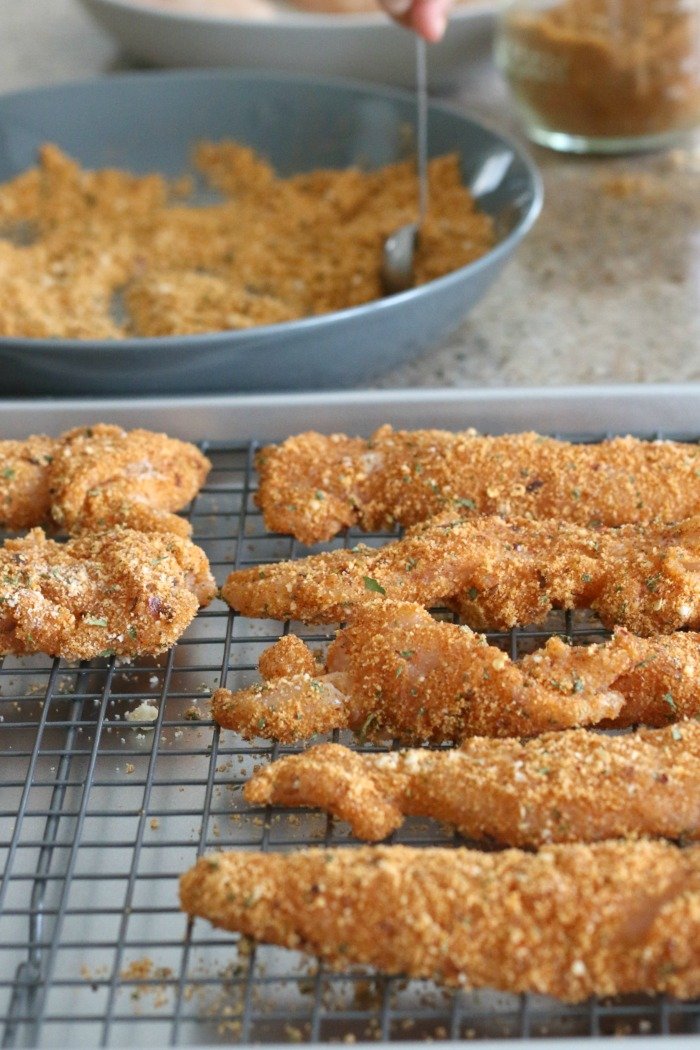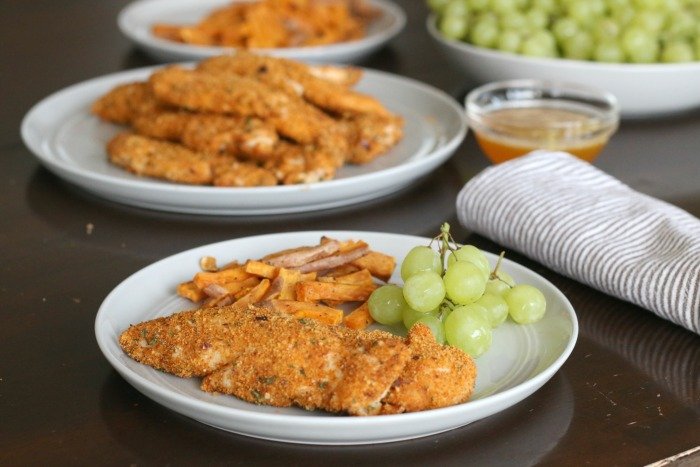 These aren't changes we've tried all at once and certainly don't significantly consume our time or resources in excess of what they replaced. They're just small steps we tried to find more sustainable options while generally maintaining our current lifestyle.
Consider trying out some of these small changes in your own kitchen that can help you live just a bit cleaner and more simply. The chicken recipe and the DIY hand soap are quite simple, as you can tell from the recipes below.
The Scotch-Brite® Scrubbing Dish Cloth worked liked a charm. It cleaned up all my slimy chicken and baked-on chicken tender remnants from the pan with its non-scratch surface as well as the sticky honey in the sauce. More impressively, it easily handled the hard-to-clean eggs stuck to the pan from the morning's breakfast. I don't know about you, but I hate when eggs get stuck in the crevices of sponges. Problem solved, and.. there's a Cartwheel offer from 6/19 – 6/25 for the dish cloths when you shop at Target (so consider that a bonus).
If it sounds like it's up your alley, be sure to check out more ways to use the Scotch-Brite® Scrubbing Dish Cloth in your home.
DIY Hand Soap
Ingredients
2 cups liquid castile soap
3 tbsp vegetable glycerin
90 drops eucalyptus essential oil, or scent of your choice
1 mason jar with a pump lid
Instructions
Add castile soap, vegetable glycerin and essential oils to the mason jar.
Cover the top (I used a regular lid) and shake to mix.
Replace the lip with the pump lid, and you're good to go. It's really that easy!
Nutrition Information:
Yield:

2
Serving Size:

1 grams
Amount Per Serving:
Unsaturated Fat:

0g