An Investment in Versatile Style with La Fille Colette
Finding a stylish and high-quality, ethically produced dress that transitions seamlessly (no pun intended) from day to night isn't always an easy task. Check out this brand that deserves a spot on your style short list.
Thanks to La Fille Colette for sponsoring this post!
This weekend, we're headed to the first of three weddings we are attending over the next two months. Historically, I've not been great about planning ahead about my outfit, accessories, and hair style for fancier events like weddings and parties. I end up scrambling to figure out what to wear and have an outfit that is barely pulled together with boring hair.
While that may not be a big deal, it always feels like a bit of a bummer. Without some planning, I end up feeling frustrated that everyone looks so nice and I look like I didn't really try (because… I didn't).
Determined to be ready for these three weddings (two cousins and one of my sisters), I've been thinking about what to wear to each of the events for a while. I'll be in a bridesmaid dress for my sister's wedding, but I still need an outfit for the rehearsal dinner. Bored with my hair, I've also been growing it out and practicing some simple styling ideas over the last several months.
It was pretty much serendipity when I fell in love with the Amelia dress from the new La Fille Colette collection. Just a few weeks later, we caught up about me featuring the dress on the blog, and I was totally pumped to have the perfect dress to wear to both my cousins' weddings and my sister's rehearsal dinner.
Not My First La Fille Colette Rodeo
A couple of years ago, I bought the Penelope dress from La Fille Colette and really loved it. It's a nice, thick yet stretchy material that is flattering and functional. It's still in my closet today.
Like many of the dresses in her collections, Colette (founder and designer) adds unique details to a piece that show a bit of skin combined with more conservative aspects to create a feminine dress that transitions well from day to night and through various occasions.
The Amelia dress combines a more relaxed fit and three quarter sleeves with a shorter hemline (though not uncomfortably short). My Penelope dress offers a tighter fit without sleeves offset by longer length. Both have the trademark cutout details that Colette adds to almost all her dresses.
With ethical and sustainable practices at the core of their business, the company pays fair wages and makes all their dresses in Massachusetts. Read more about how the company is securing it's place in the show fashion movement.
As is often the case with many garments made in the United States with sustainability as a focus, the pieces come at a price point that makes them more an investment and not necessarily an impulsive addition to your closet.
I think the dresses, however, have great versatility that make them workhorses in a closet and adept at looking lovely for myriad occasions. The high quality make and fabric of the dress ensure they'll endure lots of love and earn their keep in a well-managed closet. Also, investing in our closets in such a way that it "hurts" just a little bit each time we buy something new isn't such a bad idea, at least in my opinion.
While I love a lot about La Fille Colette dresses, I don't think they are for everyone. The fit of both dresses I own works best for bodies that are proportional on the top and bottom. I tend to wear small tops and medium bottoms; the bottom half of my body is slightly larger than my top, relative to traditional sizing.
The dresses work for me, but if my proportions were any more different, relative to each other, I don't think these dresses would work. If your body is a significantly different size on the top versus the bottom, you might have a hard time finding your size in this brand.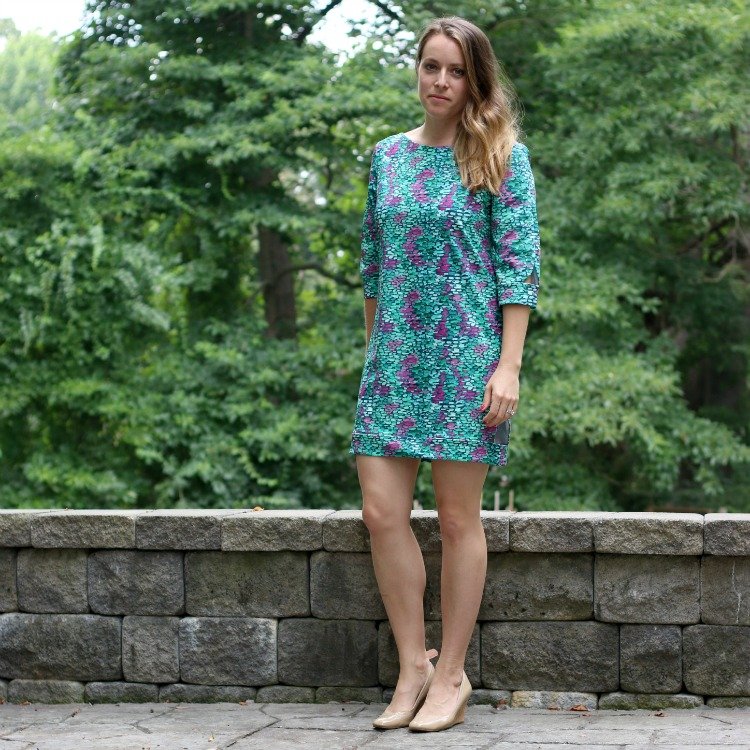 Thoughtful Additions to My Closet; La Fille Colette Made the Cut
I maintain a pretty minimalist closet. I haven't subscribed to the true capsule wardrobe practices, but I send most items through a gauntlet of questions about how often I will wear them before buying something new. Last week, I read a recent blog post from Miranda of Live Free Creative about the value of space over stuff and how many of us forget just how valuable space can be. I couldn't agree with her more.
With that in mind, I pondered thoughtfully how often I would be able to wear this new Amelia dress before accepting it. The three occasions already on the calendar for which I plan to wear this dress are generally different, so it's not an issue to wear it to all three eventd (not that I would necessarily care anyway). I also have an upcoming training conference in Chicago for work where I plan to give the dress a little more love.
Four wears in two months? That seemed like a great start to making this dress a staple in my own closet, and I was pumped to share it with you!
Check Out La Fille Colette For Yourself
If La Fille Colette is new to you, I definitely recommend checking it out. Even if you aren't in the market for an investment in a new dress right now, sign up for their emails to see their new collections. They release new designs every few months or so. They also have occasional sales that are shared through email too.
As I wear this dress to the various occasions over the next several months, I'll be sure to share on Instagram. Head on over and follow me if you're interested. It would totally make my day!