Our Sweet and Simple Minimalist Birthday Party
What does your ideal kid's birthday party look like? We stick to simple and small so we can enjoy a fun party with friends without all the stress. Read on for details of our easy minimalist child birthday party.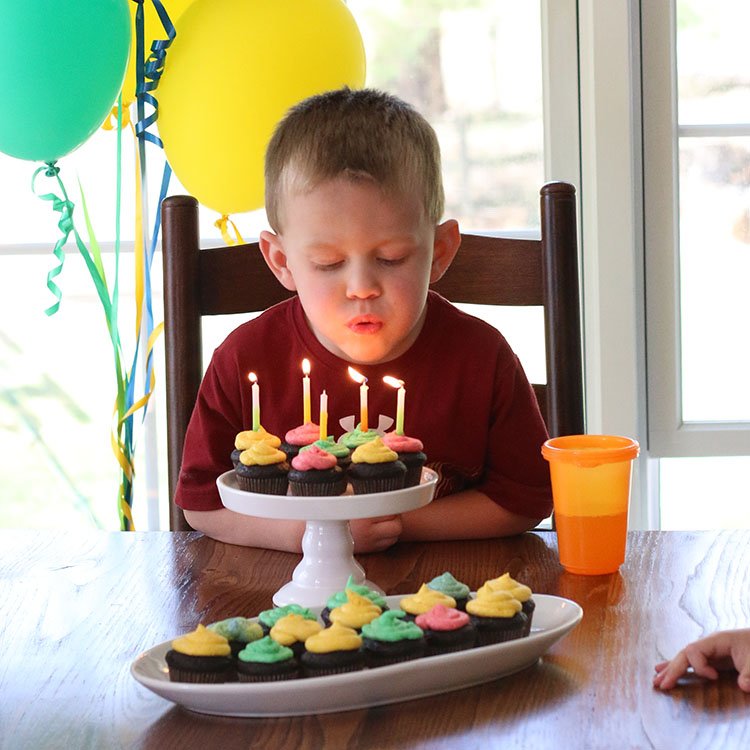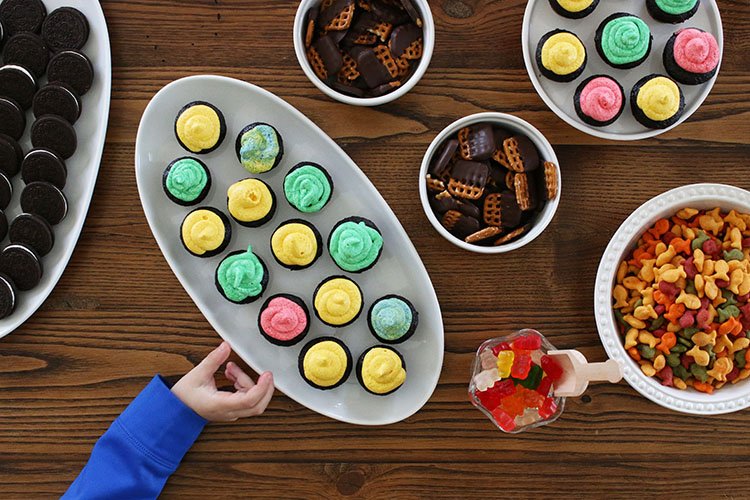 Two weeks ago, J turned four. We bought him one gift, though it was admittedly large (a backyard trampoline), and we threw him his first birthday party. I waited until the boys were old enough to ask for birthday parties before hosting them, so this was the first year he started to inquire about having friends gather to celebrate his special day.
I'm not really into big birthday bashes, so we opted for a simplified version. We had a few friends, no gifts, and hosted the gathering at our house to keep it really simple.
The party didn't fit the mold of most of the birthday parties our boys attend, so I wondered at times what other parents thought about the very small and very casual affair. But ultimately, I stuck to my guns about what I wanted a birthday party to be and went with my gut. I tell my boys that "different families have different rules and that's ok", so I ought to adhere to my own mantras.
Four Friends and Their Families
We gathered just a few of J's friends and their families, all of whom I informed about the party through text messages or Facebook messaging. I sent a reminder text to each of them about a week before the party (or mentioned it in passing when we saw each other at preschool). We also had M's parents here to help us celebrate.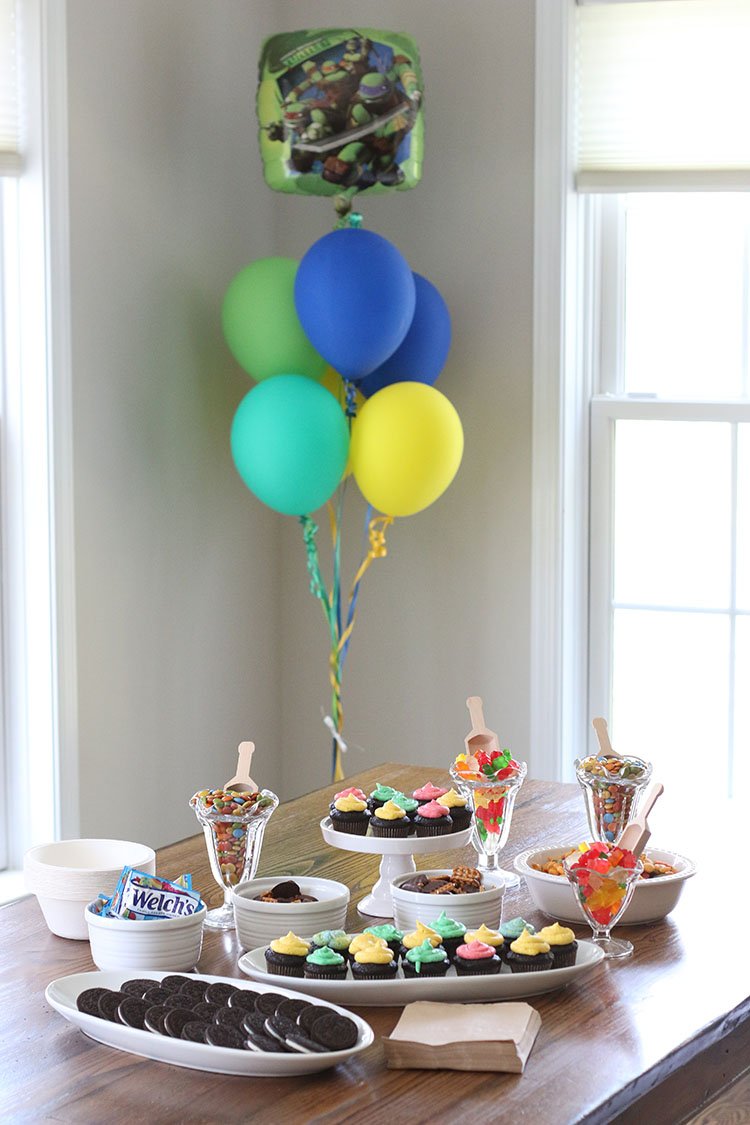 No Meals and All Play
We hosted the party from 2 – 4 pm particularly because I didn't want to be responsible for serving a full meal. We had a couple of really simple snacks (Goldfish and homemade chocolate covered pretzels) along with a host of drinks like juice boxes, sparking water, beer and wine, and Izze drinks (one of my and J's favorites).
Not having food made it easier and less expensive, but also meant I didn't have to worry about washing dishes or lots of disposable serving dishes and utensils. I like preparing food for a party, at times, but it also makes it much more complicated.
We lucked out with gorgeous weather and spent most of the party outside jumping on the trampoline, playing with toys, and pushing the kids on our tree swings. The kids had so much fun playing that they barely wanted to stop for cupcakes, so I can't imagine they would have been thrilled to take a break for a full meal.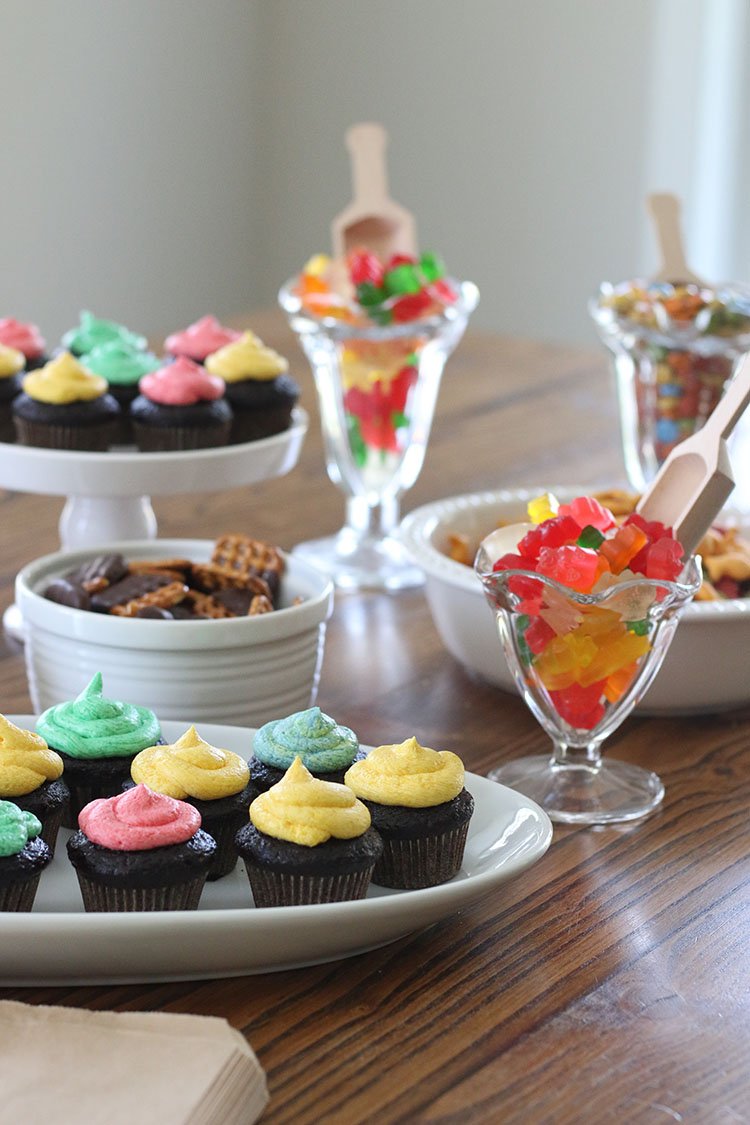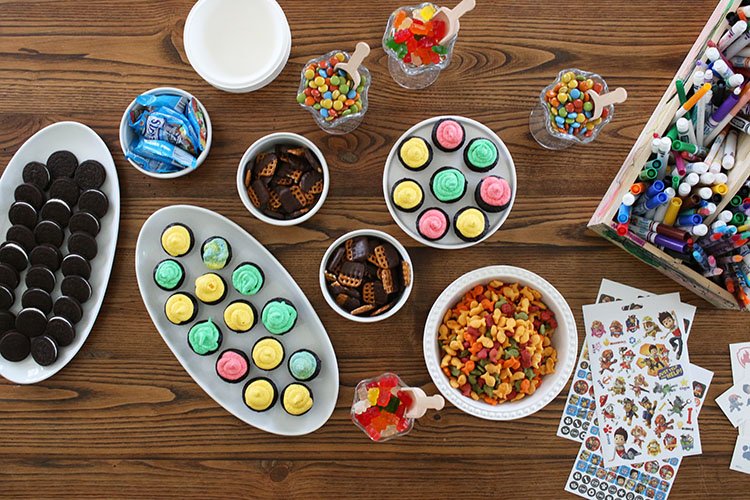 No Party Gifts (for real)
J and I discussed before the party that his friends wouldn't be bringing gifts. He didn't take to it initially. He knows that we bring a gift for each of his friends to their party, so he asked why he wasn't going to get gifts from his friends. It only took a calm discussion for about one minute, reminding him of how many toys he already has and that he doesn't have time to play with them as is, to appease his concern.
We bought him a trampoline for his birthday (that we were planning to buy for the boys this summer anyway, so we considered it a win-win). I reiterated my broken-record recording that "different families have different rules" and also that most four-year-olds don't get a trampoline for their birthday, so he should be grateful that he received something so fun and exciting.
During the party, we didn't hear a single word about gifts from J or any of the guests. Additionally, I was pretty pleased that all four families invited to the party respected our No Gifts request. One family brought a mason jar of daffodils picked from their yard which I considered perfect! The flowers brightened up the patio table during the party and adorned our kitchen island for the next couple days. For those feeling uncomfortable showing up to a party completely empty-handed, consider a small and casual hand-picked flower bouquet a perfect alternative.
Party Favor Bags (One and Done)
Last year, we didn't do any party bags for T's birthday. This year, I set up a small candy table and let the kids choose a few pieces of candy for a party favor bag. Honestly, I'm not sure I would do it again. It ended up being a bit crazy and, especially for the older kids, they got their hands on too much candy.
I filled ice cream sundae glasses, purchased from a thrift shop a few months ago, with gummy bears and chocolate candies from the bulk food section at the grocery store. I bought teeny tiny wooden scoops and small paper bags to help keep portions reasonable. These weren't as much of a deterrent as I had hoped, however, so I'm not sure I would do this again. I think forgoing party bags all together is a better option. Live and learn.
Simple and Relaxing Enough for the Host to Enjoy
Even as the host of the party, it felt very relaxed. I spent a few hours preparing for the party making the cupcakes, ensuring sure we had enough drinks, allergy-friendly snacks and activities to keep kids busy. The only activity I planned, aside from playing with our own toys, was a bit of time for the kids to play with temporary tattoos. Some of the kids thought these were great; others couldn't have cared less while they focused more on the games and toys outside.
I know families choose to have different types of birthday parties for a variety of reasons, and I'm totally on board with doing what works best for your family. If you're looking to keep things simple though, don't worry so much about what other parties look like. Stick to what works best for your family and is consistent with your values. Do what makes you and your kiddos happy!
What are your favorite ways to celebrate kids' birthdays? We have plenty more birthday parties in the future, so I'd love to hear any ideas you have.