Reading Lately | Food, Drugs and Magic
What have you been reading lately? Here are some books I've checked out from our local library or listened to on audio from Libro.fm lately. This post is part of a recurring series of book reviews of things I've been reading and listening to lately. Check out past editions of Reading Lately.
This post contains affiliate links.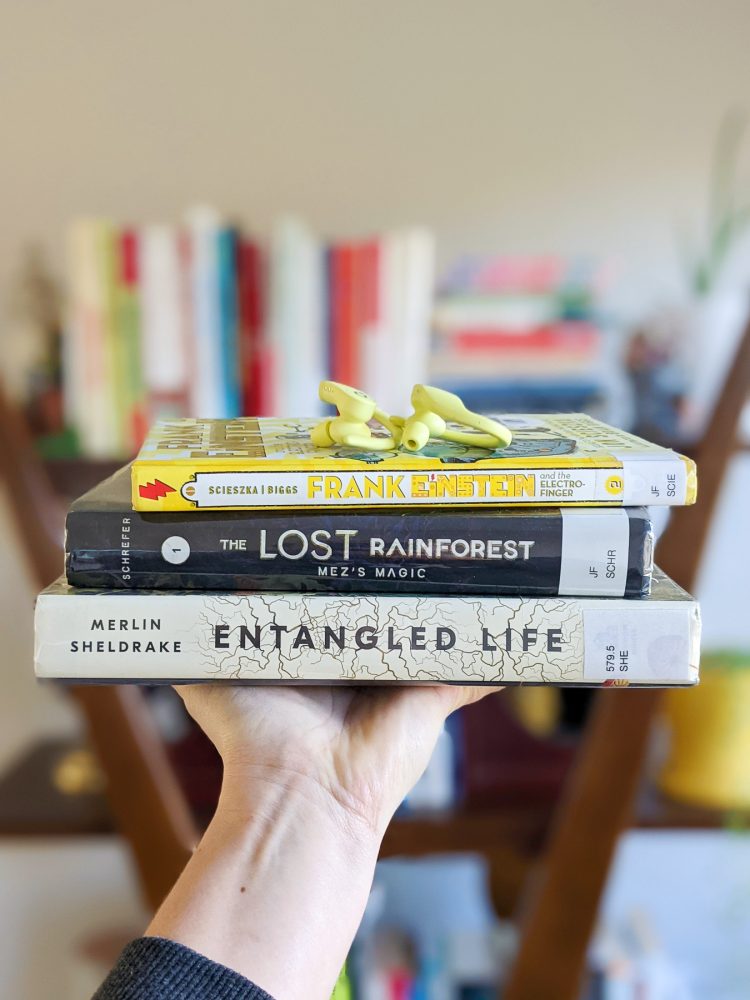 Over the last few weeks, I've spent a good portion of my reading time buried in adult non-fiction and juvenile fiction. Most of the books have some element of sustainability in them (surprise, surprise). Here's what I have been reading and listening to lately.
A Note on Buying and Borrowing Books
We include affiliate links to books we recommend. If you purchase through one of these links, Honestly Modern earns a very small commission that has no impact on your purchase price.
If you can find the books from your local library, from a friend, at an independent bookstore, or through a used book shop, those sources are ideal. Using the library is zero waste, saves money, and saves space in your home because you can read all the books without storing all the books on your bookshelves. If you're not sure of the best way to use your local library, check out these tips to make the most of your local library. With a little exposure, your kids will learn to LOVE the library!
If you prefer to listen to audiobooks, we recommend using Libro.fm, our favorite audiobook app. We've tried several audiobook apps and love that Libro.fm supports independent bookstores and offers a great user experience.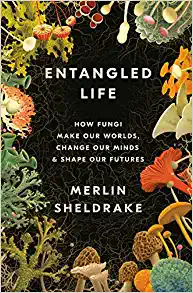 Entangled Life: How Fungi Make Our Worlds, Change Our Minds, and Shape Our Future by Merlin Sheldrake
I've never been particularly drawn to mushrooms (and I really don't like eating them), but this book all about fungi and mycelium networks that breed mushrooms was incredibly interesting. It has received raved reviews, and I fully understand.
The book is interesting in a way not like a fictional novel that draws in your heart or a drama that catches your attention until the last page. Instead, the author uses the little-known world of fungi and mycology to open minds to a whole new way of thinking about our world.
He discusses the complex networks of fungi that live in soil and connect our world in so many fascinating and mostly unknown ways. He challenges our ideas of individuals and stand-alone bodies once we consider how fungi play such an integral role in the existence of literally everything on the planet.
Genre Adult Non-Fiction | Pages 368 | Length 9 hours 32 minutes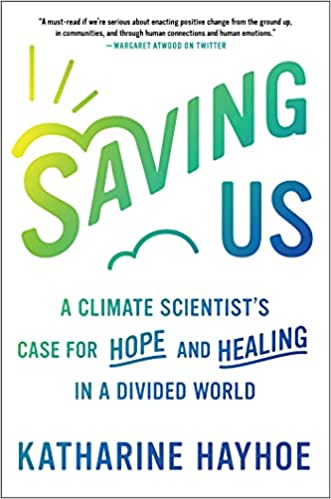 This book tackles the issue of divisive climate conversations and how to make them more productive. The author, Katharine Hayhoe, implores everyone to start talking about climate change and shares why she thinks it matters. She also offers several tips, tools, and examples to help guide those difficult conversations to productive fruition.
I shared a full review of the book a few weeks ago. Check out the full review for more details.
Genre Adult Non-Fiction | Pages 320 | Length 8 hours 7 minutes
Frank Einstein and the Electro-Finger by Jon Scieszka
Frank Einstein is a brainy kid who solves problems with his two robot friends. In this story, Frank has to unravel the mystery of several local power plants being destroyed.
While the story is plenty interesting on its own, it incorporates all sorts of science about electricity, renewable energy, and more. It's a fantastic book to integrate science and language arts in one unit.
This book is part of a series that includes several other books about Frank Einstein and his science adventures.
Genre Juvenile Fiction | Ages 8 – 12 years | Pages 192 | Length 2 hours 26 minutes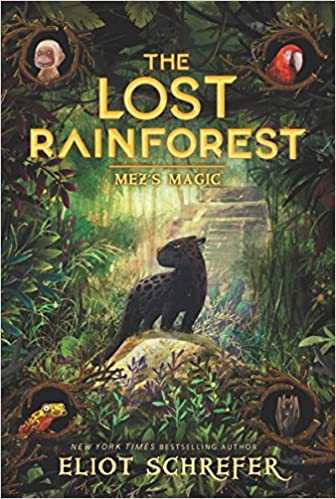 The Lost Rainforest: Mez's Magic by Eliot Shrefer
Mex is a young panther who was born during an eclipse. Most jungle animals are either night or day animals. The jungle is home to two very distinct groups of animals that know very little about each other because they each sleep while the other is awake and rarely cross The Veil, the distinction between night and day.
Like other animals born during the eclipse in the jungle, Mez has magical powers and can also traverse The Veil. Along with several other eclipse-born animals, Mez learns that they must work together and use their magic powers to save the rainforest from The Ant Queen.
This book is the first in a series about the same characters. I liked the book, but it was a bit weird. I didn't make many of the connections I think the author intended until reading the Q&A with the author at the end of the book. As a juvenile fiction book, maybe it's just right for young readers and I was overthinking the story in search of deeper meaning and a message.
This book is part of a series that also includes Gogi's Gambit and Rumi's Riddle.
Genre Juvenile Fiction | Ages 8 – 12 years | Pages 384 | Length 7 hours 50 minutes
Give a Girl A Knife by Amy Thielen
This memoir follows the culinary adventures of a young woman who grew up in a small town in northern Minnesota. She grew up cooking with her family and especially her mother. Time spent living off the grid with her boyfriend and future husband gave her insight into the roots of food.
Eventually, they moved from the house in the woods to an apartment in New York City where she earned a culinary degree and pursued several jobs at very high-end restaurants in New York. She worked long hours and lived a life driven by food and cooking in so many ways.
In the end, they moved back to Minnesota. Although the story doesn't have any grand climax or thesis, it's a winding tale of her connection with food and how food defined so many relationships in her life.
Genre Adult Memoir | Pages 320 | Length 10 hours 10 minutes
This book is a journalist review of the Sackler family and their involvement in creating the opioid epidemic through their family company, Purdue Pharma. This book recounts the deplorable and extensive greed, lies, bribery, hypocrisy, and complete lack of morals and empathy a billionaire family embraced to flood their personal bank accounts with billions at the expense of millions of Americans, including hundreds of thousands who died from various effects of opioid addiction.
As the author states, it's a parable of the recurring scenario of private corporations and interests funded by great wealth undermining public institutions for personal benefit.
It's a tale of the ultra-rich (mostly) successfully defending their right to be above moral standards and above the law. While the company finally endured a relative sliver of financial losses (after two decades of taking in billions in profits) and the family has a woefully tarnished reputation, none of them are in jail for a variety of offenses. After all, the author states with disdain, there's a prevailing perception that "wealthy, white, corporate men with families don't belong in prison."
This is also a great example of our capitalist health care system preferring to keep people sick and treat their symptoms instead of making them healthier. Sick people are much more profitable for pharmaceutical and insurance companies.
It makes me angry that some people hold themselves and their interests in such esteem that they don't care about the harm they inflict on others so long as it benefits them.
It also reminds me to be reasonably skeptical of public institutions that routinely get undermined by power and wealth from corporations, lobbyists, and the ultra-wealthy individuals in this country. This is far from an isolated incident, and I'm hard-pressed to believe it's not the norm.
This is a long book, but if you enjoy a deep dive into corruption and greed, this book covers all the bases. It feels similar to Bad Blood: Secrets and Lies in a Silicon Valley Startup, another journalistic book about the dramatic rise and fall of Theranos, a medical-related company that used questionable and sometimes unethical or illegal means to dupe scores of patients and doctors into using their subpar blood-testing products.
Genre Adult Non-Fiction | Pages 560 | Length 18 hours 6 minutes
About The Author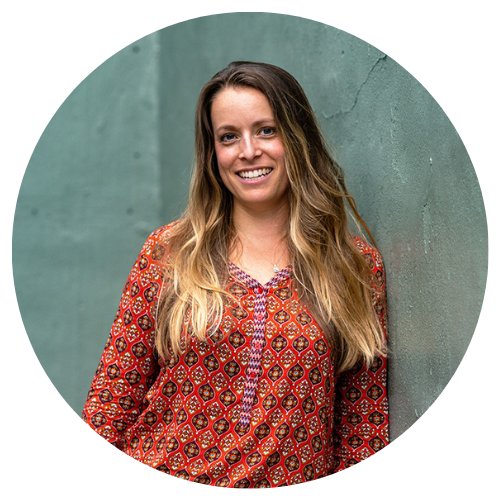 Jen Panaro
Jen Panaro, founder and editor-in-chief of Honestly Modern, is a self-proclaimed composting nerd and an advocate for sustainable living for modern families. In her spare time, she's a serial library book borrower, a messy gardener, and a mom of two boys who spends a lot of time in hockey rinks and on baseball fields.
You can find more of her work at Raising Global Kidizens, an online space to help parents and caregivers raise the next generation of responsible global citizens.