19 Great Picture Books About Friendship, Kindness & Acceptance Kids Will Love
If you're searching for some fun and engaging picture books all about kindness, friendship, and acceptance of others, check out this list of picture books below. We've read all of them as a family, sifted through many others than didn't make the cut, and really enjoy the messages and morals they bring to every family.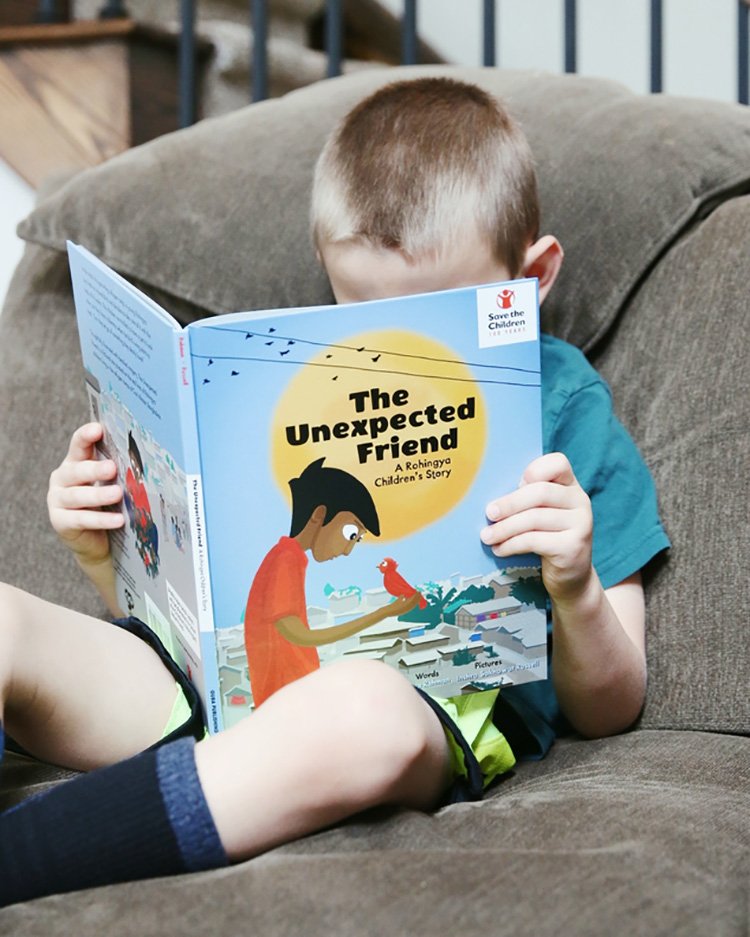 With school in session for just about everyone across the country, it's the perfect time to pull out picture books to reinforce the importance of being kind to and accepting of others, even if they are different from ourselves. In my opinion, this is particularly important to stress to our children in the context of school and classrooms.
Schools should feel safe and welcoming, a comfortable place to learn and explore. Further, as parents, we aren't around at school to redirect negative behaviors, and there is added peer pressure to "fit it" and "follow the cool kids" (who are sometimes also the mean kids). The group think mentality of school seems to exacerbate the tendency for kids to be nasty to each other.
These are a few of our family's favorite books that highlight why it's imperative that we show kindness to others in school and throughout life in general. Take a look and check out a few from your library! I'm sure you'll find at least a few that you love.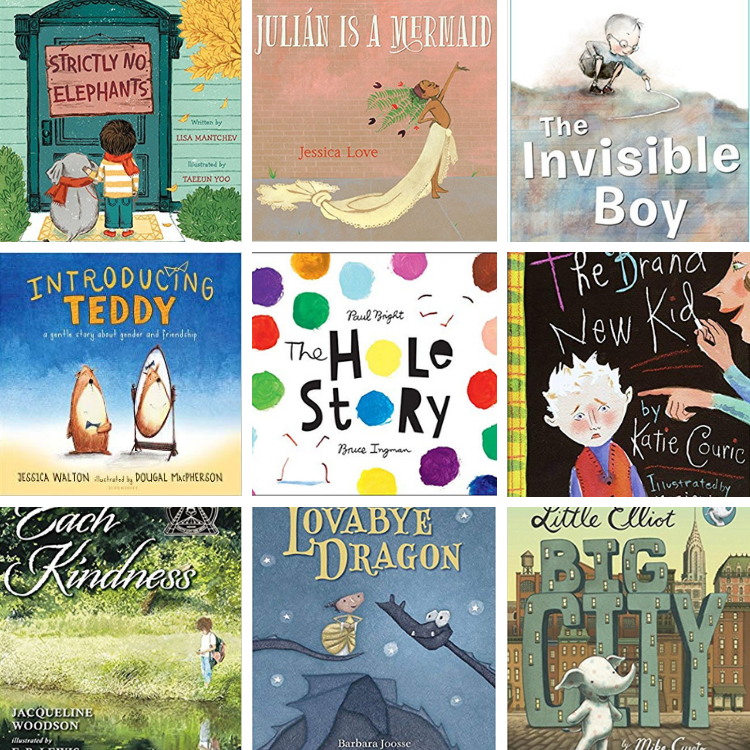 FYI: The following links are Amazon affiliate links.
Wonderful Picture Books About Kindness to School Classmates
Leo and The Lion Learn of Love by Holly Rose
In this very sweet story, the Lion teaches young Leo how to care for himself and the world around him. The Lion communicates the complexities of the modern world in a way which encourages children to work towards a kinder, fairer, more unified and peaceful future. This book is so lovely and has really wonderful illustrations.
The Invisible Boy by Patrice Barton
Using the power of color, this story demonstrates how we can feel invisible when others don't take time to be friendly or inclusive. The main character is a quiet boy who loves to draw and wishes he had more friends, but no one in class seems to notice him. Until a friendly new boy comes to class… and his social situation gets a brand new life thanks to a little kindness from one fellow classmate who always makes sure to include him.
The Day You Begin by Jacqueline Woodson
We aren't always going to feel comfortable in new situations, and this book does a wonderful job of helping kids navigate new spaces. The story, written in prose, as Woodson often does, follows a few new students through their first day in a new class where they have trouble finding commonalities with their peers. In the end, they find out that they can start to find similarities and feel more comfortable when they just start sharing their stories with each other. It's very sweet, and a great book for kids to read especially as they start the school year.
The Brand New Kid by Katie Couric
In a similar light, this story highlights the experience of a new student at school who looks and speaks differently than all the other children in class because he comes from a different country. No one wants to be friends with him, and he sits alone or is teased at lunch every day. Finally, one little girl decides to befriend him and finds out he's a really great kid. Making a friend entirely changes the little boy's experience at school and makes him so happy. This story provides another opportunity to discuss with children the importance of accepting others, welcoming those who are new, and the hurt that can happen when we aren't kind to our classmates.
I Am Human: A Book of Empathy by Susan Verde
As humans, we are full of wonder and possibility, but we also make mistakes. This book reminds us to be patient and accepting of each other as we navigate our world, make mistakes, and face all sorts of complex emotions.
The Smallest Girl in the Smallest Grade by Justin Roberts
A young girl, the tiniest in the school, watches how others are treating their classmates, and doesn't like how mean people are to each other. One day, she stands up in the lunch room, declares she's had enough, and gets all the students to promise they will be much nicer to each other. It's a simple but engaging story about how we all can stand up for others and call out those who are not being kind to others to change their behavior.
Each Kindness by Jacqueline Woodson
We never want to be bullied or excluded by the kids at school, and one little girl finds out that it also doesn't feel so great when you're the one being mean. She doesn't include a new girl at school, even though the new girl is very kind, because the girl seems different and not as well off as the other kids. This is a great story to remind our children about the importance of being respectful to everyone, including new kids at school and those who aren't exactly like us.
More Great Picture Books About Kindness, Friendship and Acceptance
The Unexpected Friend: A Rohingya Children's Story by Raya Rahman
Set in a refugee camp in Bangladesh, a young Rohingya boy finds an injured bird and takes it home to nurse it back to health. Eventually, it's time to release the book so it can return to its own family. While caring for the bird away from its home and through releasing the bird back to its family, the boy reflects on the importance of family and relationships with the ones you love, no matter where you live.
What If Everybody Said That? by Ellen Javernick
This story takes the reader through a variety of everyday scenarios where one child says or does something that's not very nice to another child. In each situation, another character in the story says "What if everybody said that?" It's a great way to highlight to children that a side comment or exclusive activity might seem harmless on it's own, but we have to consider how the other person feels and how our lives would feel if everyone thought it was okay to be a little mean.
You can also check a similar book from the author called What If Everybody Did That?
Julian Is A Mermaid by Jessica Love
With just a few words, this book has great illustrations that convey most of the story. The little boy, Julian, tells his grandmother he wants to be a mermaid and dresses up essentially in drag. His grandmother shows him that she accepts him just as he wants to be and takes him to a place full of drag queens, so he can be surrounded by people who feel like him.
I find this book really interesting, because it left my kids with a lot of questions and curiosity. They have no idea what drag queens are, so this depiction of them throughout the book did not resonate with them at all. But they did ask many questions about why he was dressing the way he did and if it was possible. Could you really become a mermaid? Are mermaids even real?! They definitely picked up on Julian wearing a skirt and makeup.
It provides a great opportunity to discuss that we can all be whoever we want to be and dress however we like, and we shouldn't be judged for it or told something isn't allowed or acceptable. By the end of the story, they seemed to think "Hmmm. I don't really get why he wants to dress like a mermaid, but coo. Works for me.," which I think is precisely what I wanted them to take away from the book. Even if you don't understand why someone wants to dress or look a certain way, it's perfect to let them do their thing and be cool with it.
Let's Be Kind by P.K. HallinanThis is a great board book for younger children as a first book about kindness. It speaks to kindness in the context of how we treat our family and friends. It's written in a rhyming manner, and was a favorite for both of our boys when they were young. I included several P.K. Hallinan books on my list of Great Baby Shower Gifts Not on a New Mom's Registry.
Introducing Teddy: a gentle story about gender and friendship by Jessica Walton
Teddy, a bear, and his friend Errol play together all day. One day, Teddy is very sad and tells Errol that he wishes he was a girl teddy instead of a boy teddy. Errol accepts the bear as his new friend, Tilly, and they continue doing all the same fun things together that they did before. Errol shows that he loves Tilly just the way she is, and they can still be best friends.
Cara's Kindness by Kristi Yamaguchi
The story follows a group of friends who pay forward acts of kindness to one another that ultimately come full circle. It's another book with a really great message for kids about being kind to others (and how that often comes back to you) that's written in a context they can understand.
Strictly No Elephants by Lisa Mantchev
When a little boy tries to attend a pet party in his neighborhood, he is sad to learn that he isn't invited because he has a pet elephant who is not allowed at the party. His pet is too weird. He leaves the party only to stumble on a handful of other children with unusual pets who were also turned down from the party. They choose to accept each other and their pets just as they are, even if they are different. They make their own party and remind little ones that we should be accepting of everyone, even those who are different, particularly because it can be really hurtful to those being excluded.
The Hole Story by Paul Bright & Bruce Ingman
This is a story of two holes who keep trying to find a place to call home. Every time they find a comfortable place, others complain about them and try to get rid of them. Eventually, they find a perfect home and understand that there is a perfect place for everyone, we just need to find where we fit in this world.
Little Elliott Big Fun // Little Elliott Big Family // Little Elliott Big City // Little Elliot Fall Fun all by Mike Curato
This is a great series of stories about an elephant, Elliott, and a mouse who share a meaningful friendship. They spend time together helping each other in the city, being brave at an amusement park, and more. The books are wonderfully illustrated, and each highlights a special aspect of the importance of friendship.
Lovabye Dragon by Barbara Joosse
A young girl and a lonely dragon each are in search of a friend. When they find each other, they know that even though they are very different, they are perfect friends for each other and having a friend makes them so much happier.
The Bad Seed by Jory John
One little seed is very grumpy and mean. However, he explains that he used to be happy until he experienced some bad things that changed his perception of the world. One day, he decides to start being nice and take a new perspective. It's hard, he admits, to just change suddenly (and not everyone gives him a chance to start fresh) but he appreciates those who recognize his hard work to be nicer.
Love by Matt de la Peña
This book is a really sweet book, written is prose, about all the ways love is present in our lives. It's a little deep and, at times, my boys have mentioned they think it's sad. It's not a book my boys would likely choose for themselves because it's definitely a more complex picture book than the ones to which they are naturally drawn. However, it's one I think is a great addition to our reading collection. It adds elements of diversity to what we read with respect to content, writing style, and characters (and it's a story I really enjoy reading). It's a well-done book, like all of de la Peña's work, and I highly recommend it for your family library even if it's not something your kids will always choose first from the shelf.