Simple Grilled Chicken With 5-Minute Marinade
This post has been compensated by Inmar Intelligence and its advertiser. All opinions are mine alone. #MyMazolaMarinade
A clinical study showed Mazola® Corn Oil reduces cholesterol 2x more than extra virgin olive oil. To learn more about this claim, visit Mazola.com.
I've always been kind of a picky eater, and I'm getting a taste of my own medicine with one of my boys. Almost every night at dinner, someone complains about something (ya know the feeling?!). They usually eat dinner, but not without first sharing their "constructive" feedback.
There are a handful of meals, however, that always score a unanimous win with everyone. One of those meals is this simple grilled chicken with a fresh marinade that you can whip up in less than five minutes (I promise). It's also made of everyday ingredients that you probably have on hand or can easily pick up at the grocery store.
Is the whole world baking right now, or does it just seem that way when perusing the baking aisle at the grocery store? Even if your store is currently out of all the ingredients to make bread and cookies, the items in this marinade have all been pretty easy to find… even as of late.
Every few weeks or so, I whip up batch of this simple marinade for grilled chicken to pair with an easy salad or some sauteed veggies. Green beans are a family favorite that's a win even for the pickiest of eaters in our house, and a simple salad can be a nice way to use up whatever random veggies are hanging out in the fridge.
We like this grilled chicken recipe so much that I am happy to grill it up year-round, even if it's rainy or cold outside. We even refer to it as "that chicken you always like" with my boys.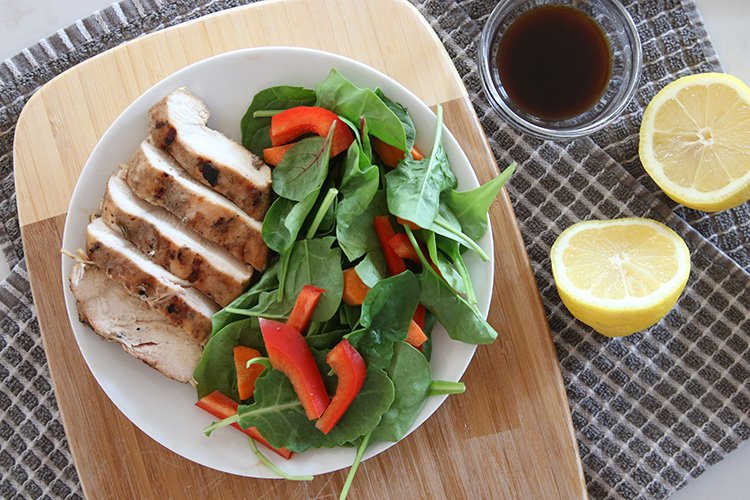 I also love making simple marinades at home because they tend to be healthier than store-bought alternatives. They have fewer preservatives, and often times have less sugar or other junk. This marinade has Mazola Corn Oil, Worcestershire sauce, lemon juice, garlic powder, ground thyme, and a bit of brown sugar and salt.
Mazola Corn Oil is a heart-healthy* cooking oil and creates marinades that make great-tasting food because it has a neutral taste that lets the natural flavor of your food stand out. Mazola has a high smoke point (450˚F), great for grilling and stir-frying at high temperatures. I'm not always thrilled about needing lots of different oils for various purposes, so having oils in my cabinet that serve multiple purposes is a win.
This marinade recipe is so simple that I'm pretty sure most of your kids could make it. With more time at home lately, we've been making a concerted effort to have our boys help with simple chores, cooking, and other age-appropriate life skills. They've been putting away dishes, mixing simple seasonings and marinades for meals, and getting more involved in daily household cleanup tasks.
If you're preparing dinner at home (who's not these days), try this marinated grilled chicken with your family. Maybe even include your kids in the preparation. I've included this quick video to show how simple it is to make.
I think you will find it's a quick way to put a wholesome meal on the table in under 30 minutes with just a handful of ingredients that the whole family will enjoy. If you try it, be sure to let me know how you and your family like it.
And make sure to stop by your grocery store or head to your pantry for the handful of simple ingredients like Mazola Corn Oil, lemon juice, Worcestershire sauce, and a few others that you're sure to find.

Simple Summer Grilled Chicken With 5-Minute Marinade
Super simple and delicious grilled chicken with 5-minute marinade and a side salad.
Ingredients
1 cup Mazola Corn Oil
4 Tbsp Worcestershire sauce
1 tsp garlic powder
1/2 tsp ground thyme
1/2 tsp salt
1/4 cup of lemon juice (juice from about 1 whole lemon)
1 tbsp brown sugar
2 pounds of chicken breast
Instructions
In a small bowl, mix together all the ingredients.
Pour the marinade over the chicken breast in a sealed bag or container and allow to sit for at least 1 -2 hours (though you can allow it to marinate longer if needed).
Grill chicken until cooked through and serve!
*see Mazola.com for more information on the relationship between corn oil and heart health.