Refreshing Rainbow Sherbet Ice Cream Pops
Try this fun and easy-to-make ice cream pop treat that your kids are sure to love on a hot summer day.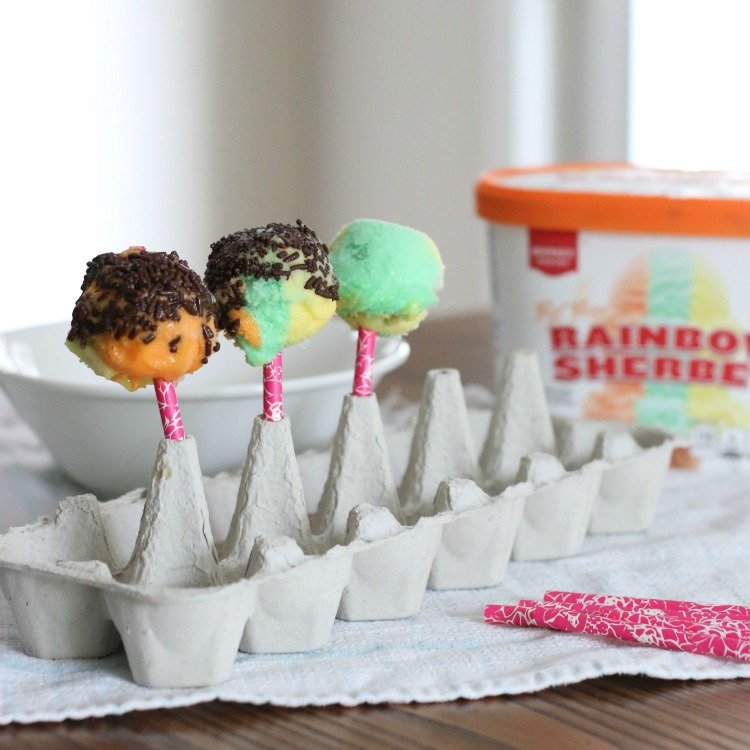 Soon enough, the crisp spring mornings will be the dog days of summer. I'm not a fan of the cold and much prefer warm weather, so for now, I'm excited about the change in seasons. But maybe ask me again in August…
Either way, my boys often ask for a fun treat around mid-afternoon on days when I'm home with them. If the day has gone well and they ate a good lunch, I'm usually pretty quick to oblige (especially if I also like what they're requesting).
At the grocery store recently, I saw rainbow sherbet ice cream in the freezer section. It immediately reminded me of my childhood and the refreshing flavor of citrus in the summer. I don't buy a lot of ice cream, but a carton of this goodness came home with me.
With cake pops everywhere on Pinterest, I thought it might be fun to try ice cream pops. I expected a bit of a technical challenge knowing the ice cream could melt, but if manufacturers can make ice cream Popsicles, there's got to be a way, right? Not only did it sound fun, but I also love the portion size. A small ball of ice cream on a stick is more than enough to please my boys without inundating them with loads of sugar.
I was on the case.
After one failed attempt when we naively tried to defy gravity, our second attempt worked like a charm. Using a tablespoon-size cookie scoop, we placed a ball of ice cream in each cavity of a silicone mini-muffin pan. We cut paper straws to our desired length and stuck one in each ice cream ball. We put them back in the freezer for several hours to set, and then we enjoyed a little snack just big enough to satiate our sweet tooth.
A few things we found really important to making this work.
Be sure the ice cream is really cold when you create the ice cream balls. You won't have much time to work between taking it from the freezer and getting the ice cream balls in the silicone pan, so just be sure everything else is ready to go before removing the ice cream from your freezer.
It really helps to use a cookie scoop with the small metal bar inside the scoop that cleans it out when you squeeze the handle. I tried using a traditional ice cream scoop first and it didn't really work.
Eat and enjoy quickly :). They're ice cream and they melt, after all. But who am I kidding? Who's gonna eat these things in more than a few bites.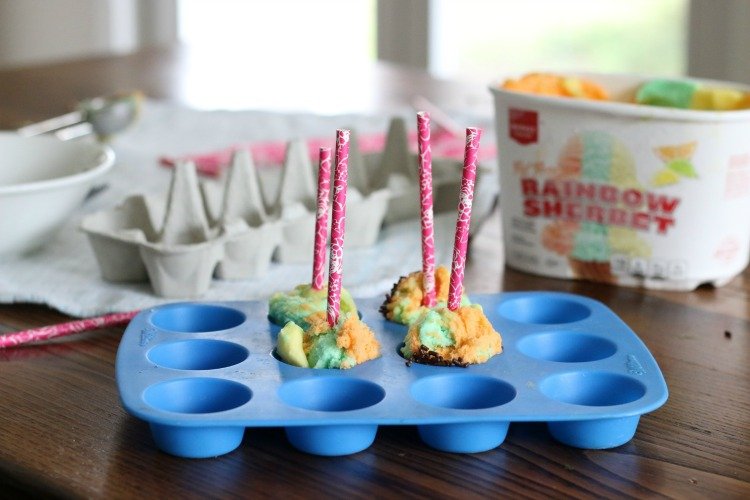 Consistent with my M.O., I meandered through my house to find something suitable to serve them. An egg carton proved to be the perfect example. I keep a few egg cartons on hand, stocked away in my "art supply" closet because I find they come in handy with my boys quite often. We used them most recently to grow seedlings for our garden, something J loved making and both boys had a blast watering before we moved them to our outdoor garden.
The boys got a little sticky trying to eat the ice cream pops. But what's summer if not for ice cream dripping down your arm under a warm sun?
If you try them, be sure to tag me (@honestlymodern) on Facebook or Instagram so I can see them. I'd love to hear how they worked for you!