Easy DIY Low Waste Mint Cookie Truffles For Holiday Gifts
Looking for an easy and low-waste chocolate truffle to gift to a neighbor (or eat all yourself… we're not judging). Check out these low waste mint cookie truffles, including our low waste packaging ideas!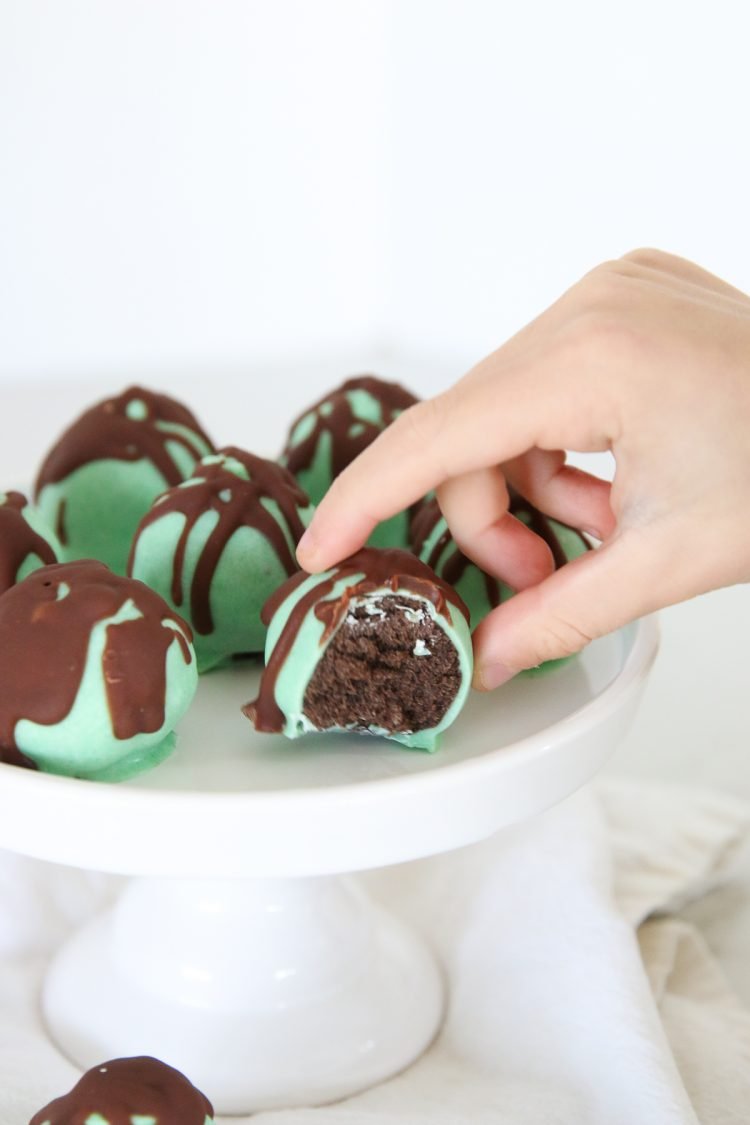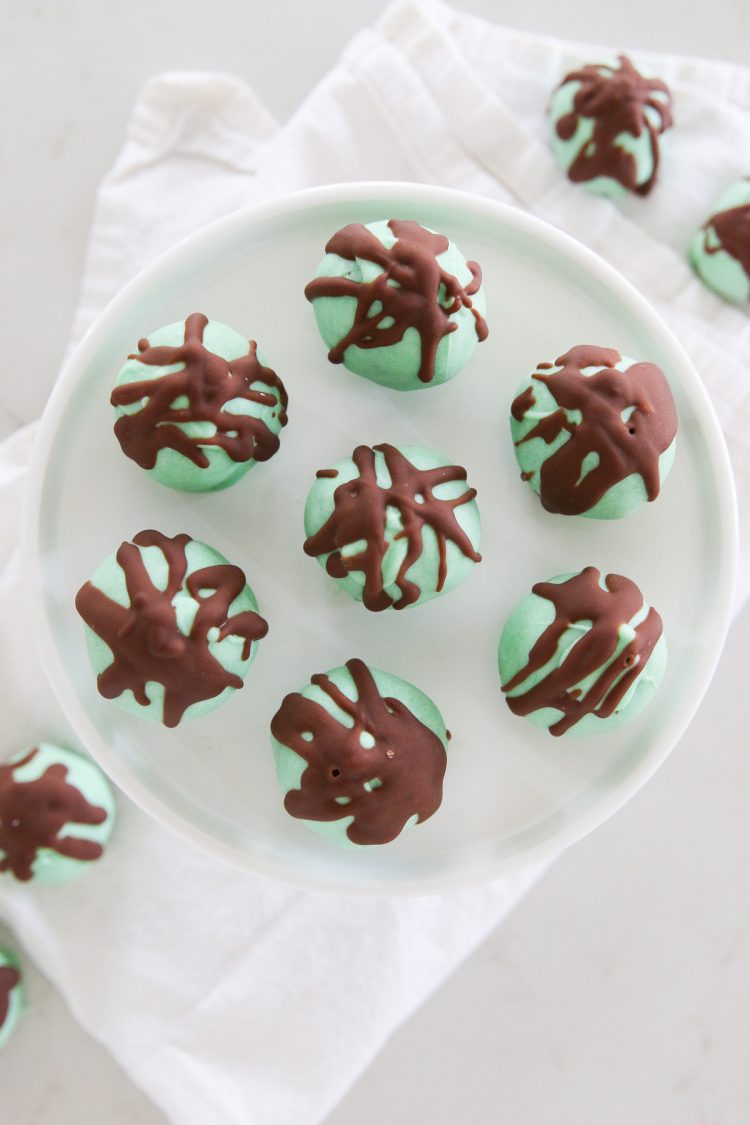 How often do you walk past the little Girl Scouts selling cookies outside the grocery store and feel like maybe, just maybe, you should buy a box? They're only available for a short period during the year, right? And it's nice to help out the cause.
Let's just say I may or may not buy too many boxes of Thin Mints each year when the Girl Scouts start their cookie patrol. Instead of eating a whole sleeve at once, I decided to put those extra Thin Mints to good use.
I rounded up the boys to help me throw together these really easy mint chocolate truffles (which require no baking). Not only do my boys enjoy sneaking a couple of bits of dough while at work, but rolling the balls of dough is a great sensory exercise for them. My occupational therapist sister would be proud of me.
P.S. You don't have to make them during Girl Scout cookie season. You can use any chocolate-covered mint cookie. Just don't tell the Girl Scouts I told you that.
Zero Waste Mint Truffles For Holiday Treats
While these truffles are great any time of year, they're especially perfect for a quick and easy holiday treat. Whip them up and gift them to neighbors or friends.
They'll be great gifted in so many reusable containers like a fruit container, takeout container, or even an upcycled cookie tin. Wrap some ribbon around it, preferably from another package if you have a stash on hand, and your zero-waste mint truffles are ready to go.
Tips To Make Low-Waste Mint Truffles
To reduce waste when baking and making sweet treats, we can always start with the procurement of the ingredients. I've got a Comprehensive Beginner's Guide to Zero Waste Baking if you're curious. It includes a bunch of ideas for reducing waste while baking related to ingredient choices, packaging, and more.
For these mint cookie truffles, the main ingredient is a store-bought (or Girl Scout-supported) box of mint chocolate cookies. Naturally, that's going to come with a side of plastic. It's not perfect, but don't let perfection be the enemy of good. Live and let live.
You can probably find the rest of the ingredients in the bulk section of your regular grocery store or in recyclable packaging. Food coloring is definitely optional. We have made these white with no food coloring (and surprise… they taste just as good).
As you make your truffles, be sure to crumble the cookies before adding the cream cheese. We found out the hard way that it doesn't work nearly as well if you try to do it all at once.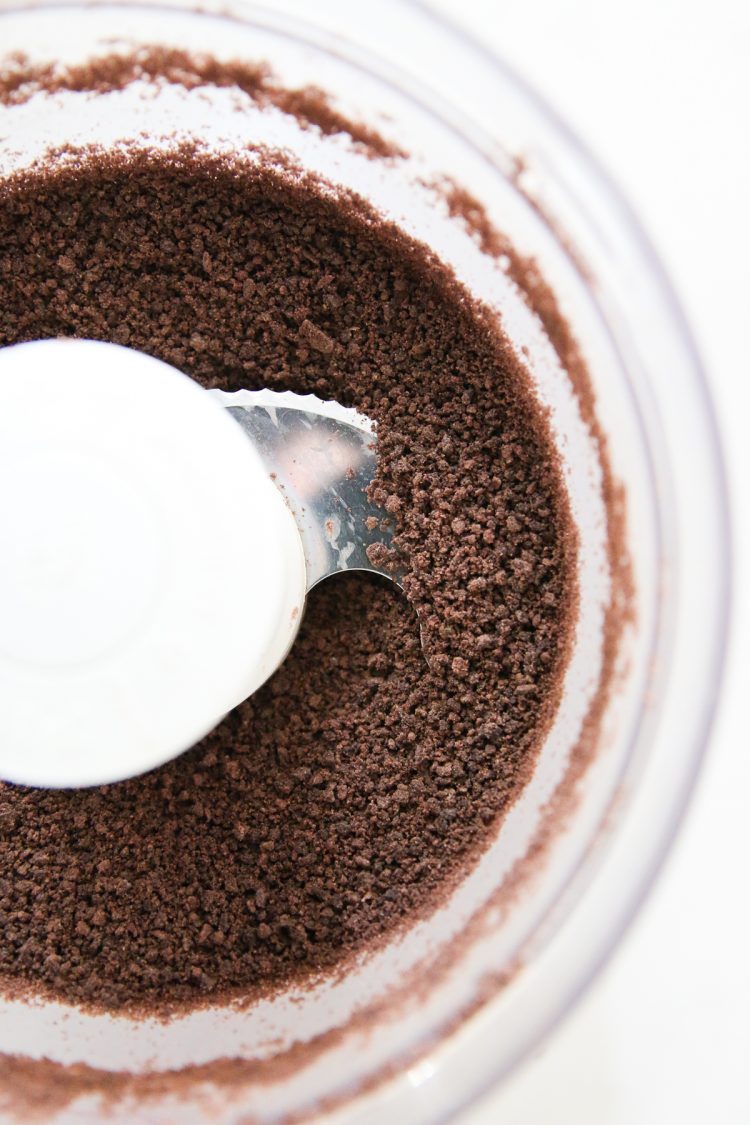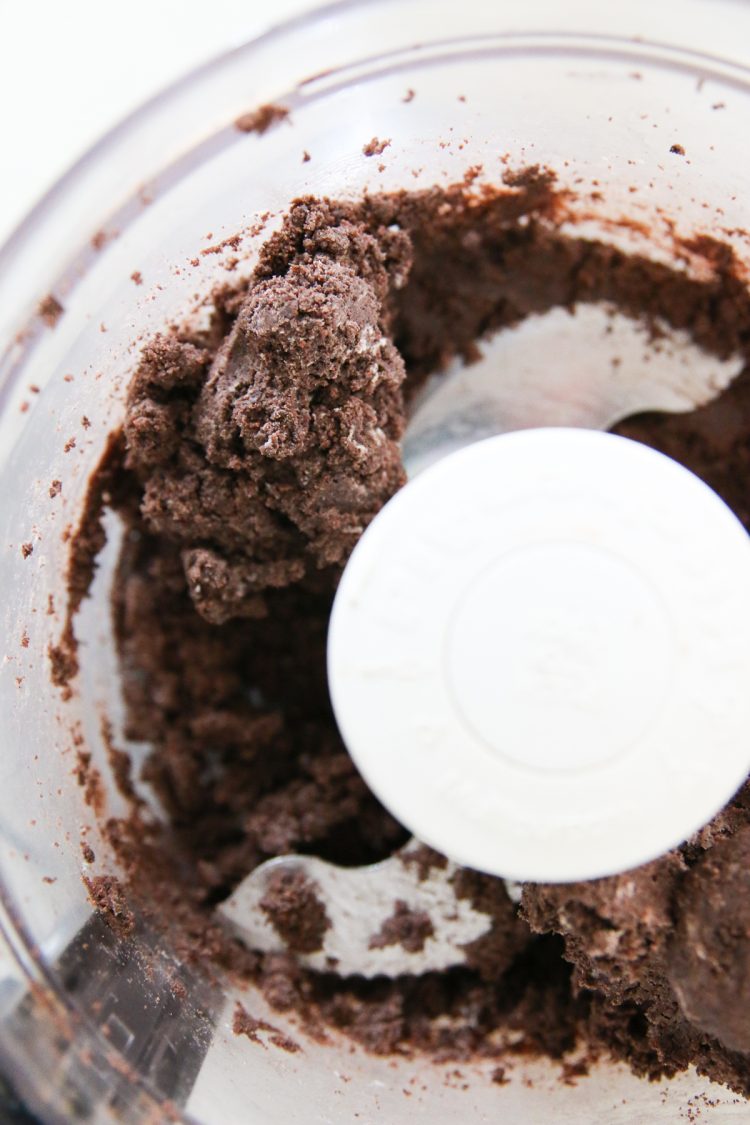 To melt the chocolate, I used a glass bowl over a pot of boiling water (effectively a double boiler without actually owning one). It works quite well. You could also melt the chocolate in the microwave. Just be sure to heat it in 30-second increments so you don't burn it.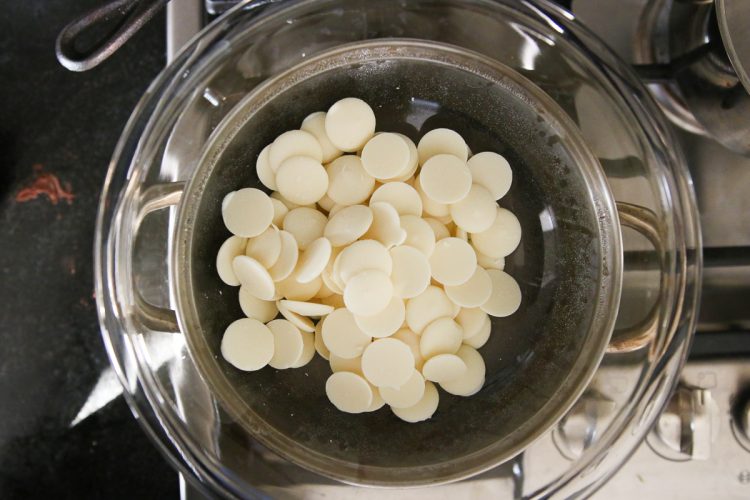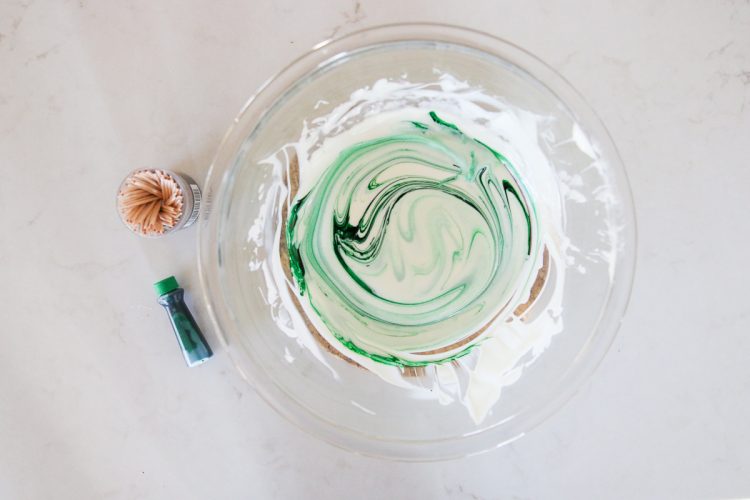 I used a toothpick to dip each of the chocolate truffles into the melted white chocolate coating. Then I drizzled the melted chocolate chips (or chocolate wafers, depending on what you have) using a fork. If the drizzle isn't smooth enough, you can always add a bit of butter to make it thinner and easier to spread over the truffles.
Low Waste Packaging For DIY Mint Chocolate Truffles
When your truffles are hardened and ready to serve or pass along to a friend, skip the expensive or extra fancy store-bought gift boxes. You probably already have so many other packaging options available if you use what you already own.
We used a plastic strawberry container in one instance and opted for a bulk flaxseed container in another instance. There are so many great single-use containers we can reuse for holiday gifting, and these low-waste truffles are the perfect sweet treat to put inside.
Alternatively, consider gifting your decadent desserts in a thrifted holiday tin or secondhand container. There are often lots of these available at thrift shops.
Use Up Extra Ingredients For Homemade Low-Waste Peppermint Bark
We had extra melted white chocolate after covering all the truffle balls. Instead of throwing it away, we melted some dark chocolate and made a bit of peppermint bark (one of my very favorite holiday treats).
During the holidays, I often buy one container of crushed peppermint candies for various desserts from the bulk section in our grocery store and enjoy them for the season.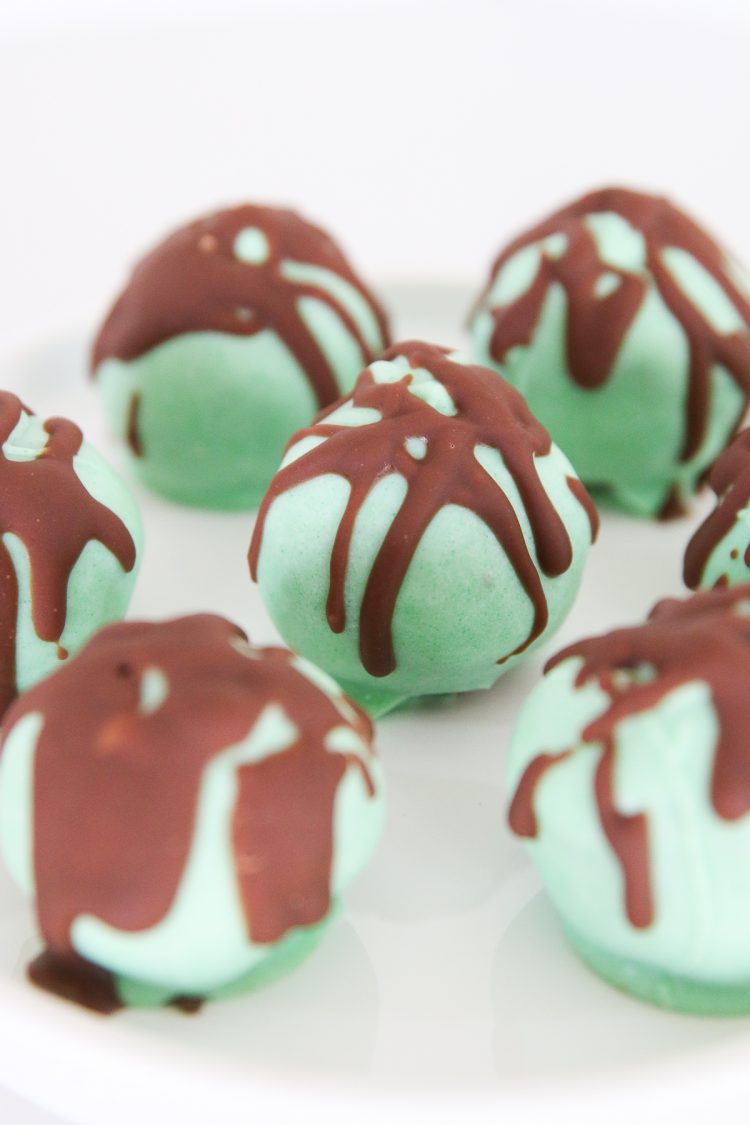 What do you make for the holidays? Do you have any favorite low waste desserts? I'd love to hear about them.

Easy DIY Mint Chocolate Truffles
Simple, low waste mint chocolate truffles you can make with everyday ingredients.
Ingredients
1 package Thin Mint cookies or other chocolate-covered mint cookies
12 oz. baking white chocolate or almond bark, broken into pieces
1 tsp pure mint extract
4 oz cream cheese softened
1/2 cup semi-sweet chocolate chips
6 - 8 drops green food coloring
Instructions
In a food processor, crumble the cookies until all pieces are quite small
In a stand mixer, combine the crumbled cookies and cream cheese
Form 1" balls and chill in the refrigerator for about 30 minutes
Just before taking the balls out of the refrigerator, melt the white chocolate over a double boiler.
Add the mint extract to the melted white chocolate and stir until combined.
Remove about 1/4 cup of melted white chocolate from the bowl before adding food coloring. Use this to drizzle on top of the truffles, if desired.
Add the green food coloring, if desired, and stir until combined.
Remove white chocolate from heat.
Using two forks or toothpicks, dip each chilled cookie ball into the melted white chocolate and place on wax paper or a silicone baking mat.
Return to the refrigerator to cool.
Once cooled, melt extra chocolate in a double boiler and drizzle over each truffle, if desired (this is optional).
Store in the fridge until ready to eat.