Simple Cinnamon & Sugar Pumpkin Donuts
Have you ever made donuts at home? How about baked pumpkin donuts with cinnamon and sugar on them? If not, I suggest you make these with breakfast stat. They are seriously amazing! Read on for more about our special Christmas morning pumpkin donuts, including the recipe below.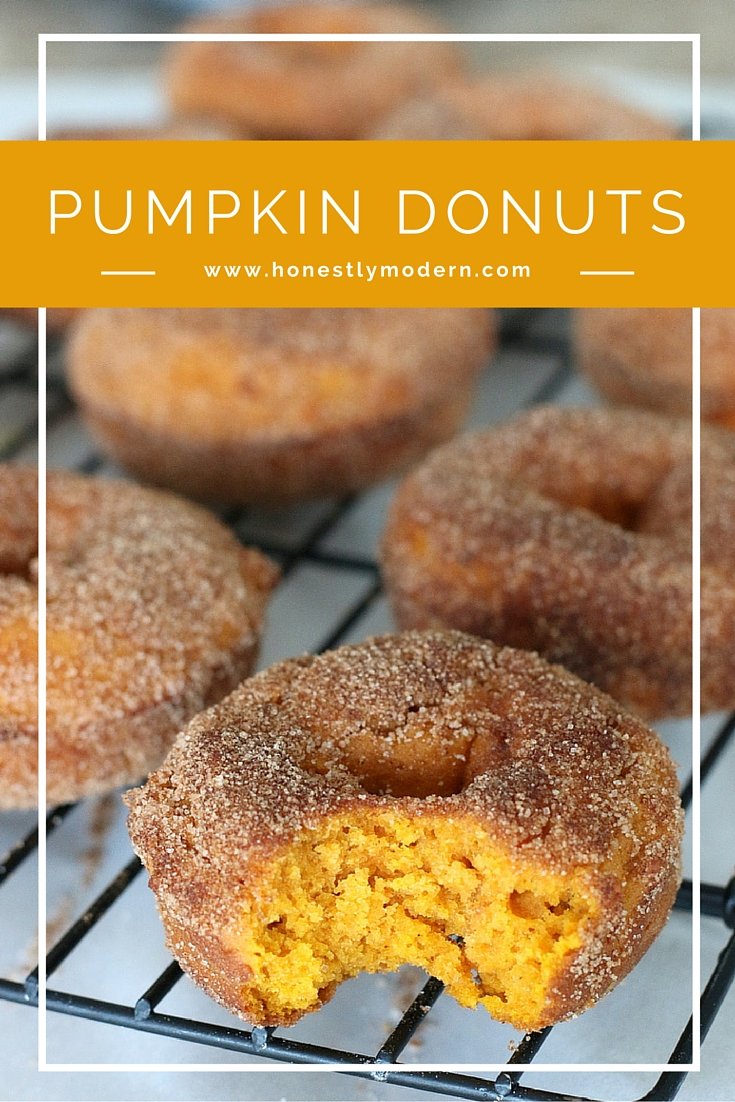 A couple of weeks ago, I made these pumpkin donuts topped with cinnamon and sugar and everyone went nuts over them. They were so good, in fact, that I've decided to make them Christmas morning for my whole family when we're all home together for the holidays. This will be no easy task given the number of mouths I have to feed, but there's so good it's worth it.
As one of five daughters (no boys… my poor dad… blah, blah, blah.. not original) who live in four different cities across the country, Christmas is the single holiday we almost always all get together to celebrate. This year, all five girls will be home together for over a week. That means that on Christmas morning, I'll be feeding five daughters, two parents, two brothers-in-law, and four grandchildren, all of whom enjoy a good donut indulgence. I have full faith that many of them will eat more than one.
I'm also no dummy. I'm not about to feed an army of faces with a fussy, complicated recipe on Christmas morning. Instead, this recipe is quite simple and comprised of pretty common ingredients probably found in your pantry. You might have to buy a donut pan (I've got this 6 cavity pan and this 12 mini cavity pan) if you don't keep one of those on hand, but beyond that you're golden.
If you give them a shot, be sure to let me know what you think.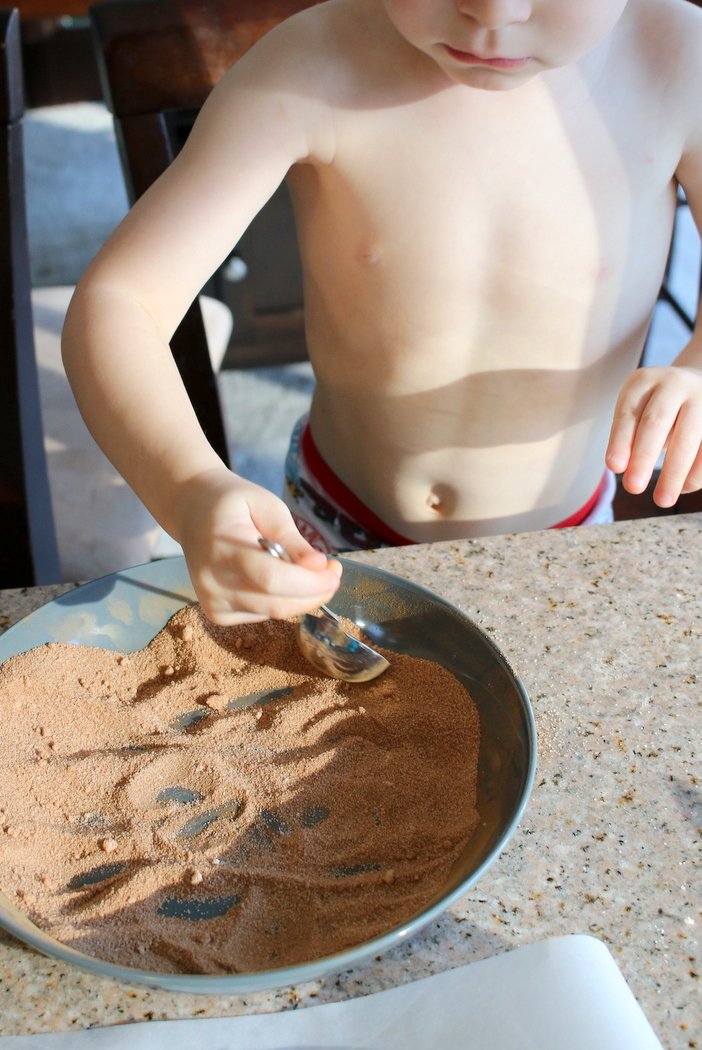 Oh yeah. If you're a 3 year old little boy dredging delicious pumpkin donuts in cinnamon and sugar in the comfort of your own kitchen, no shirts required. I'm pretty sure he thinks they're overrated.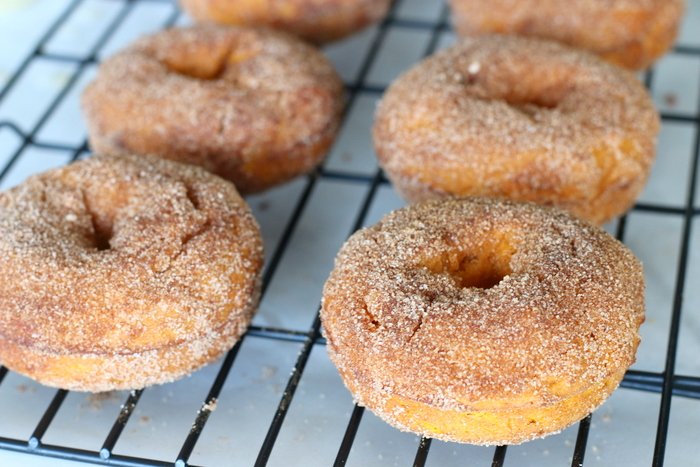 Cinnamon & Sugar Pumpkin Donuts
Simple baked donuts to start off a lazy morning in a special way. They are a perfect treat for a holiday morning together too! We love them at Christmas time.
Ingredients
½ tsp cinnamon
½ tsp nutmeg
½ cup vegetable oil
3 large eggs
1½ cups pumpkin puree
1½ cups brown sugar
2 cups flour
1½ tsp salt
1½ tsp baking powder
1 tbsp butter for coating pan
2 tbsp flour for coating pan
1/2 cup sugar
2 tsp cinnamon
3 tbsp butter melted
Instructions
Preheat oven to 350.
In a large bowl, combine the vegetable oil, eggs, pumpkin puree, and brown sugar.
In a smaller bowl, combine the cinnamon, nutmeg, flour, salt, and baking powder. Add the dry ingredients to the wet ingredients while stirring.
Coat donut cavities in the pan with a bit of butter. Lightly sprinkle flour over the donut cavities, shaking and swirling the pan to create a light layer of butter/flour to prevent the donuts from sticking to the pan.
Fill each donut cavity about 3/4 full with batter (any more full and the donuts will rise over the edges of the tray).
Bake for 10-12 minutes.
Allow the donuts to cool on a cooling rack.
While they are cooling, melt 3-4 tbsp butter (can do this in increments if easier). Mix ½ cup sugar + 2 tbsp cinnamon mixed for the dredge.
Brush the donuts with butter, roll in cinnamon/sugar mixture, and enjoy!
Nutrition Information:
Yield:

12
Serving Size:

1
Amount Per Serving:
Calories:

344
Total Fat:

14g
Saturated Fat:

4g
Trans Fat:

0g
Unsaturated Fat:

10g
Cholesterol:

57mg
Sodium:

408mg
Carbohydrates:

51g
Fiber:

2g
Sugar:

32g
Protein:

4g