Sparkling Eyes Meet Sparkling Drinks & Double Orange Donuts
This shop has been compensated by Collective Bias, Inc. and its advertiser. All opinions are mine alone. #NewWayToSparkle #CollectiveBias
New here? Welcome! You'll find all sorts of ideas about (what I call) mainstream intentional living, the pursuit of a more sustainable and thoughtful lifestyle without it becoming an all-consuming endeavor. I'd love to have you check out more about Honestly Modern if you're interested!
—
Knowing I left them a special surprise, my boys came running out to the kitchen and their eyes lit up. Their little blue and green eyes sparkled at the site of mini donuts and fun drinks filled with some of their favorite fruit. In a matter of minutes, both T and J devoured their donuts and indulged in their sparkling orange pineapple sunrise drinks I made to start our morning off with a bang.
Weekday mornings before school and work don't often leave a lot of time for special breakfasts or relaxing. But on the weekends, we try to keep at least one morning a bit low-key and do something fun as a family. On occasion, I'll make a special treat, like these double orange mini donuts or these pumpkin donuts I whipped up a few months back.
Of course the boys loved the mini orange donuts with orange glaze (both the donuts and the glaze included fresh squeezed orange juice). You can find the whole recipe at the bottom of the post.
They also enjoyed the sparkling drinks I made for them. J in particular love watching the fruit fizz as he dropped it into his Dasani Sparkling Tropical Pineapple.
Sometimes I like to hole up (no donut pun intended) in the kitchen and bake up an involved and creative dessert. Most days, though I prefer something that's relatively easy and with which the boys can help me. This donut and drink combo is definitely the latter.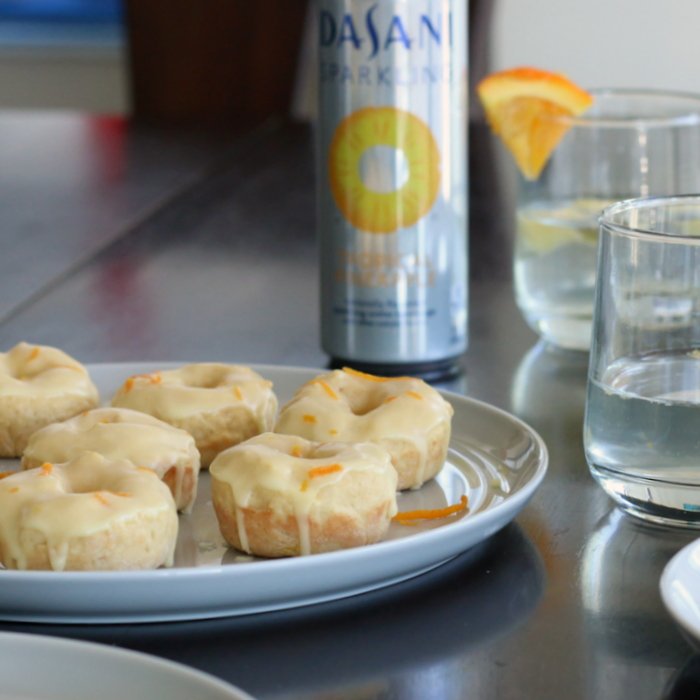 The batch makes 24 mini donuts. We definitely didn't need all 24 mini donuts at our house, although (and probably because) I would eat them. I wrapped up little packages, each with two mini donuts for a surprise treat for the boys' teachers. It's a small token, but it's a little something to let them know we appreciate all their hard work!
To make the drinks, I took advantage of the tropical pineapple flavor already infused in the Dasani Sparking water and simply added some fresh fruit to liven up the color. They had all sorts of flavors in these new sleek cans at the Target near our apartment (including a discount for 3 for $9 (and a 5% cartwheel offer) from 4/10/16-5/1/16), so I grabbed Tropical Pineapple as well as the Black Cherry flavor.
You could also add fresh pineapple juice or fresh squeezed orange to amp up the color and flavor (if your kiddos aren't chomping at the bit to get their hands on your dynamic drink and donut duo). I liked the pure and clear color of the simple version of the drink, but you can also check out lots more mocktail recipes to mix up your favorite flavor of Dasani Sparkling.
If you give it a shot, I'd love to hear what you created!
Dasani Sparkling Orange Pineapple Mocktails
Ingredients
4 cans Dasani Sparkling Pineapple
1 cup fresh pineapple, cubed
8 - 12 orange slices
Instructions
Combine fresh fruit with Dasani Sparkling Pineapple for a fun fizz and a flavorful drink.
Add extra fresh fruit slices to dress up the glass, as desired.
Enjoy!
Nutrition Information:
Yield:

4
Serving Size:

1 grams
Amount Per Serving:
Unsaturated Fat:

0g
If you like donuts (and who doesn't, especially if you're here), check out these other donut recipes popular in our kitchen.