Summer Skincare for a Bachelorette Party Weekend in the Sun
This shop has been compensated by Collective Bias, Inc. and its advertiser. All opinions are mine alone. #FreshSummerSkin #CollectiveBias
Take good care of your skin this summer, even when you're on the road and enjoying the summer sun. Here are a few things to pack in your travel or pool bag to ensure your skin stays happy and hydrated.
When each of my four sisters and I graduated from high school, our parents gave us the opportunity to open our wings and explore a new part of the country. We all chose different cities and now scatter the country from coast to coast. I'm not sure my parents anticipated the whole crew spreading out quite so far, but jobs, personal interests, and those pesky boyfriends (some of whom are now fiancées and husbands) brought each of us to different places, and our parents have been nothing but supportive.
Despite the distance, we take turns trekking cross country to get together several times a year (some here, some there, all together once in a while). This year, with one sister getting married soon, all the sisters and a cohort of girlfriends will be gathering in Southern California for a bachelorette party next week.
A decade older than the most of the attendees, I'll probably be feeling my age a bit. But I'm embracing my chance to soak up some California sun with my sisters as we lay by the pool, hike the hills, and relax with no kids for fourty eight hours.
I hate overpacking, and I tend to underpack in an effort to avoid lugging around more than I need. I'm hoping this time to find the happy medium of filling a carry-on with everything I need while not feeling like I've forgotten everything because I was too stubborn to check luggage.
Sun-kissed Skin
The house we rented has an amazing pool overlooking the ocean, a trampoline, and lots of great outdoor activities. We're also planning to hike through the hills in the area, so I expect we'll spend a good bit of time outside.
Every time I travel to see my sisters who live in California, I'm reminded of the area's blazing sun. It's so much brighter and stronger than anything we experience in the northeast. My fair skin always gets a simultaneous jolt of excitement and fear as I step out into the glorious but strong rays. I'd love to arrive home with a sun-kissed California tan, but without proper skin care, I'll be looking more like a fried tomato.
To make sure I'm giving my skin the TLC it deserves next weekend, I'm packing a few things in my carry-on that I know will make it much easier to be a steward to my skin despite wanting to roast in the heat by the pool.
Reusable Water Bottle ~ We all know the importance of staying hydrated for our skin and our health in general. But… I'm still not as diligent as I should be. Having a water bottle helps limit my excuses (and ensure I don't waste money on disposable water bottles that quickly flood our landfills).
Cleansing Wipes ~ When I travel, especially for just a couple of days and without checking luggage, I prefer to bring cleansing wipes to clean my face. I don't have great skin, so it's important that I wash my face every day. While making my weekly rounds at Target with my boys a few days ago, I picked up the Neutrogena® Pink Grapefruit Wipes that are particularly convenient because they avoid having to finagle with liquid limitations in airport security.
Some might suggest that refilling a travel size bottle with my face soap from home is a more eco-friendly alternative. I don't disagree. However, having to find (or carry), hang and dry a wash cloth with which to clean my face every morning and night is always such a hassle.
Rinsing with soap and splashing water never removes all my make up. I've tried several different alternatives to keep my skin clean while traveling, and convenient cleansing wipes that do the job well win out for me in this case. In the trade offs among quality, convenience, effectiveness, and eco-friendly alternatives, the Neutrogena Pink Grapefruit Wipes fit the bill for me.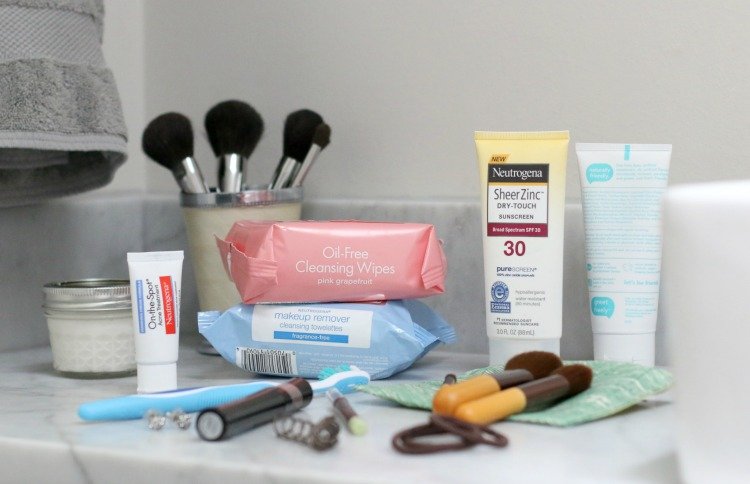 Makeup Remover Wipes ~ In conjunction with the cleansing wipes, I also grabbed the Neutrogena Makeup Remover Towelettes Refill. Akin to the cleansing wipes, this was my favorite option for travel on a weekend when I'm sure we'll be getting a little dolled up for various occasions.
I am not the girl who sleeps in her mascara. I like wearing eye make up on a regular basis, but I know it's important for the health of my eyes to remove it before going to bed.
Sunscreen ~ Shelves are loaded with sunscreen this time of year, but I chose this Neutrogena Sheer Zinc sunscreen option for three reasons. With zinc oxide as the main ingredient, I can avoid some of the more toxic chemicals present in traditional sunscreens. I love that it comes in a 3.0 ounce package, so I have plenty for the whole trip yet it still gets through airport security. Also, I'm a big fan of the 'dry touch' line from Neutrogena because greasy sunscreen drives me a little nuts.
Lotion ~ After hiking, swimming, and plenty of time in the sun, my skin will undoubtedly need some moisturizer. I packed a small mason jar of my favorite moisturizer.
Separate Bags ~ I often pack my skincare products in small, separate bags. All too often, the change in air pressure causes something to leak or explode.
Snacks ~ Staying hydrated goes beyond drinking lots of water. I plan to bring some simple snacks like clementines that are easy to carry and also have high water content to keep my body and skin hydrated.
Lip Balm and Lip Crayon ~ My lips get so dry on an airplane. I almost always have a lip balm with me, even when I'm not traveling. I also don't wear much lip stick or lip gloss, but I have a neutral-toned lip crayon that's been perfect and really easy to have on hand.
Eyedrops ~ I'm excited to read a good book while flying across the country, but it also leaves my eyes a little dry. I plan to wear my glasses instead of my contacts, which is a big help for me. But the drops help. Planes are so dry!
On the way home, I'm more likely to cozy up with an audio book on the red eye. Two flights means two more books down on my 2017 Reading Challenge!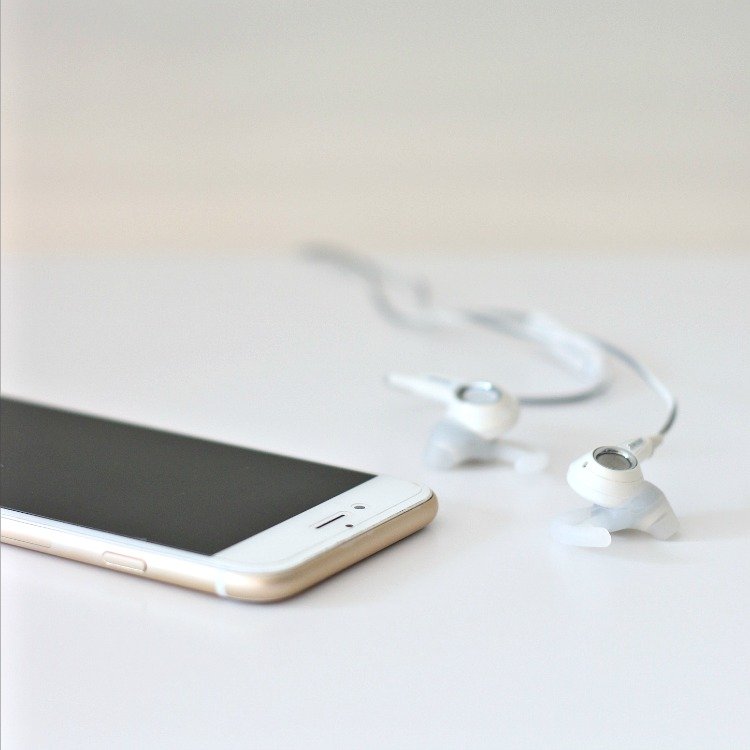 Leading up to the trip, I used the Neutrogena On-The-Spot Treatment to help clear up any blemishes. But while traveling, I want to take it easy on my skin (and limit any unnecessary treatments that might dry it out after being in the sun all day). Changes from travel can be hard on skin, so I tend to try to avoid anything too harsh when I'm out of my routine.
Hello Grandma
Every time I think about this upcoming trip, I simultaneously smile and chuckle to myself. It's going to be a great couple of days. I'm sure I will hang out with my two sisters who are closer in age to me, and we will crash in bed like old ladies long before the younger crowd puts their head to pillow. I don't often drink, so I expect the "kids" will put on a good show for boring old me. None-the-less, I'm really looking forward to celebrating my sister's upcoming big day and enjoying a couple of days not being a parent.
Bachelorette party or not, summer has arrived and our skin needs some extra love and kindness after all the time we will (hopefully) spend in the sun. Target has a large selection of Neutrogena products perfect for summer skincare.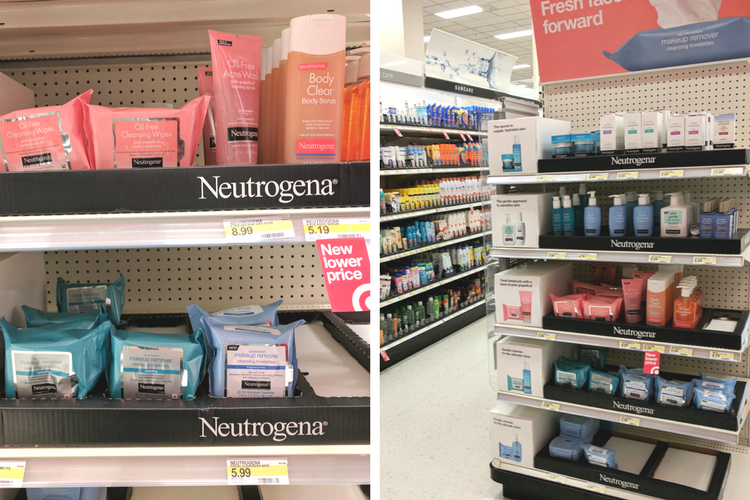 Between now and June 10 and again from June 25 through July 1, you can receive a $5 TargetGiftCard if you purchase 3 Neutrogena skincare products in-store or online. Be sure to give your skin the TLC it deserves!