6 Tips to Host an Overnight Hiking Trip with Mom Friends
Doesn't a hiking trip with mom friends sound glorious (or is that just me and a few of my crunchy friends)? If it's up your alley, check out a few tips below to host an overnight hiking trip with mom friends that's just enough fun for a good time without all the stress of an extended vacation.
I've arrived at the point in my life where I've decided to very intentionally create space for the things that bring me joy. Our boys have a gazillion sports commitments. Work could be endless. And the calendar could dominate my life if I let it.
Over the last couple of years, however, I've been more intentional about trying not to let that happen. I plan space and time for dollops of activities and events with the primary purpose of creating happiness.
I'm not perfect, and I have seasons of being bogged down by commitments. And there is undoubtedly an element of privilege in this perspective. I have the financial flexibility and resource support to choose to make time for these bits of fun.
But I think the idea of "making our own sunshine" is something a lot of people could do if they're willing to:
swim softly against the status quo
acknowledge the benefits of special moments (even if they're small)
ask for help
be bold enough to ask friends to do things they love (even if they aren't the typical "girls night out" or "self-care spa day" types of activities)
and get clear and creative about what makes them happy.
These things don't have to be expensive or time consuming but can be super meaningful toward building friendships and curating moments of unwind.
Hike 40 for 40
This year I turn 40, and many people asked me how I wanted to celebrate. They offered up a slew of common suggestions like throwing a party, taking a big trip, or buying something impressive for myself. None of these options really connected with me, so I initially decided to pass on celebrating this milestone birthday. Honestly, I'm not super jazzed about turning 40.
But after a bit more thought and reflection, I decided to do 40 hikes to celebrate turning 40. It felt authentic, checked so many boxes about things I enjoyed doing, and gave me 40 opportunities to hang out with important people in my life. But surely, to find time to do 40 hikes in a little over a year would take a concerted effort of managing these adventures. I was up for the challenge.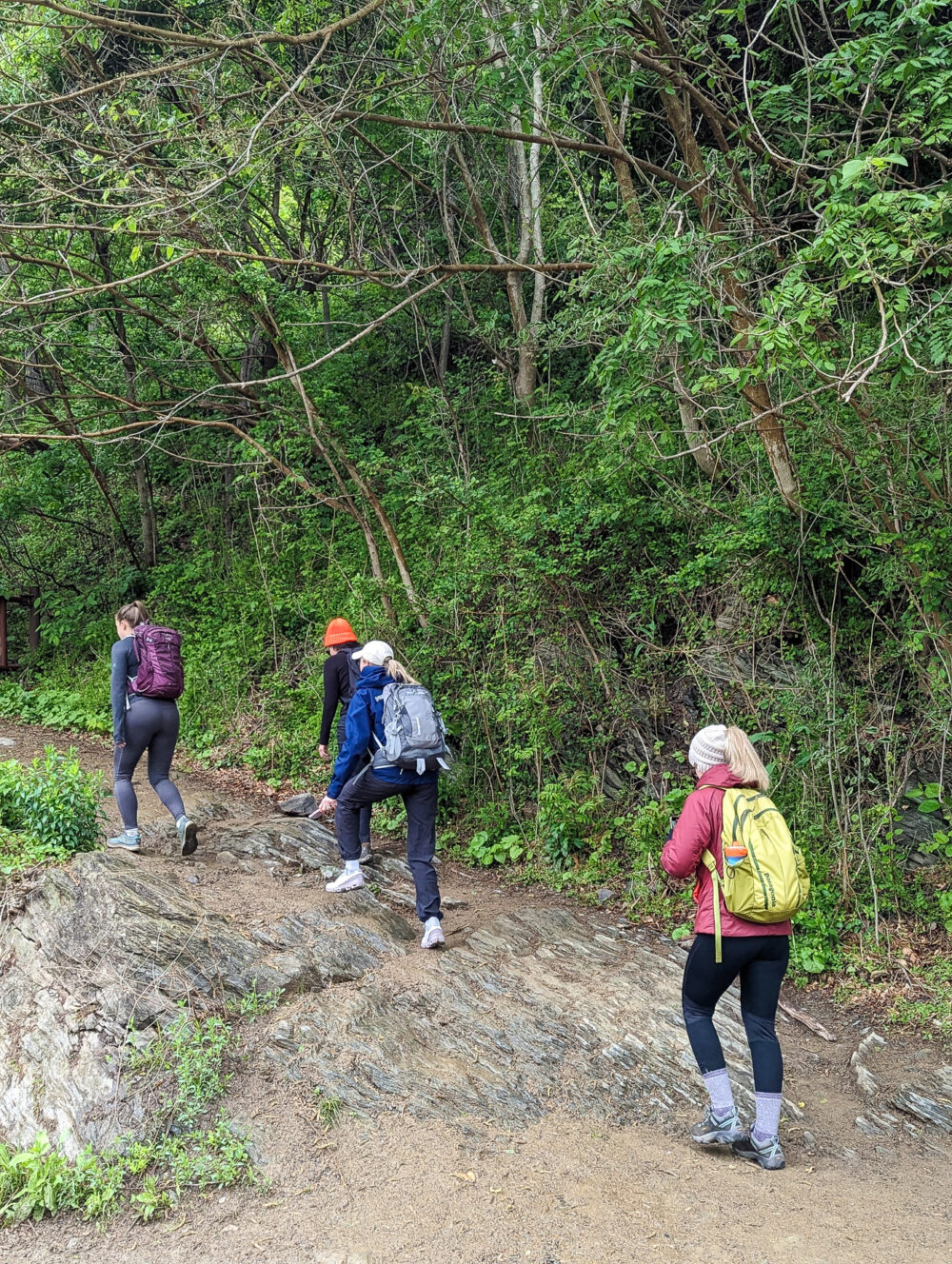 Additionally, I've never been one to have lots of female friends. I always had a handful of close friends that I talked to and connected with periodically, but I don't regularly attend events like girls' night out. I don't love spa days. I don't drink alcohol. And I'm not one to appreciate a juicy session of gossip. It's just not my vibe.
I do, however, love a good hike filled with stimulating conversations about life in the world at large. Over the course of the last several years, I've met many women similar to me who operate a bit to the tune of their own horn. They're independent, intelligent, and interesting. But between families, school, sports, and so many other commitments, finding time to get together requires intention and planning.
In service of my 40 Hike celebration and to spend some time with friends, I recently planned an overnight hiking trip in Harpers Ferry, West Virginia. I invited four other women, none of whom knew each other. I knew each of these women from a handful of months to many years from different walks of life. But I had a feeling they would all get along, and they all enjoyed a good outdoor adventure.
Several of the women mentioned being surprised by my invitation, sometimes because we hadn't known each other that long and also because most social engagements among suburban moms do not involve hiking in the woods of West Virginia. They were pleasantly surprised by my unusual request, and I was excited they all accepted my invitation.
6 Tips to Host an Overnight Hiking Trip with Mom Friends
We enjoyed our brief adventure, less than 24 hours but so much squeezed into a short period of time. If you enjoy hiking and would love to invite some friends for a similar adventure, here's what I learned about how to plan an overnight hiking trip with mom friends.
Choose a Day and Time – Get Creative
Get creative about the date and time of your hiking trip. A typical weekend date might not make the most sense. For us, we left on a Wednesday night and returned Thursday afternoon before our kids got off the school bus. Our group included all moms. So taking our mini excursion during school hours left the least amount of inconvenience for our partners and those helping care for our kids while we were gone.
Our group consisted of moms with a variety of daytime commitments. We had a mix of corporate professionals, independent small business owners, and stay-at-home moms. Depending on your schedules and other commitments, think broadly about what dates and times make the most sense for you, even if they aren't your typical adventure days.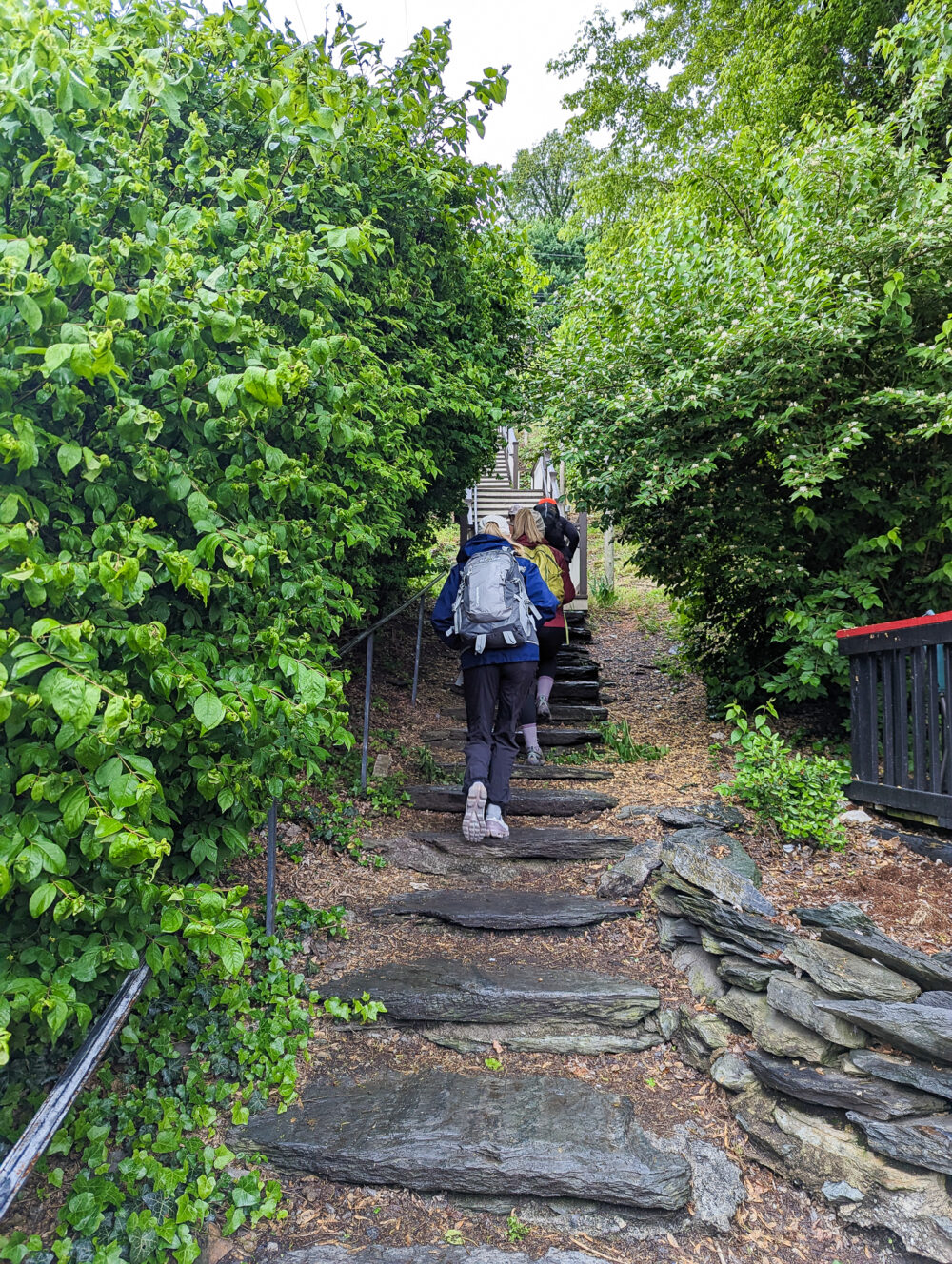 Build Anticipation and Share Introductions
Leading up to the trip, I created a group text chat not only to share logistical information but also to keep people excited about the upcoming trip. I borrowed this tip the author of The Art of Gathering, a book I read a few months back. Among other things, in the book, she discusses the benefits of a host creating energy around a gathering to help make it more exciting and inviting for the guests.
None of the women knew each other. I could have waited and allowed each of the guests to introduce themselves when they first met each other in person. However, the text introductions gave me an opportunity to provide periodic touch points to maintain excitement and anticipation around the trip as well as dote on each of the friends I invited for the trip.
In each introduction, I shared how I met them, how long I knew them, and a few funny or meaningful anecdotes about them that highlighted their personalities and also why I liked them. No one ever gets upset about being gushed on just a little bit.
This text chat also provided a place to drop information, share a link to the itinerary I created on Google Drive, and a central reference point when people needed to look back on information. Furthermore, everyone was able to share photos and drop notes after our trip and stay connected as they wished. While I can't say for sure, I also think this ongoing build up made it harder for busy moms to drop out last minute.
Find Basic Lodging
We stayed at an Airbnb; I've used VRBO in the past too. Because none of the women knew each other, I wanted each of them to get their own room, so that drove the places I picked and how many women I invited.
We also didn't have plans or time to do a bunch of activities, so I was less concerned about the home having lots of amenities or being within walking distance of restaurants or local things to do. It was a quick 24-hour trip, most of which was spent sleeping or on the trails, so the bedroom situation and proximity to the trails were my main factors for consideration. If you aren't spending a ton of time at the house, it might not make sense to splurge on something fancy with lots of amenities.
Plan a Focused Itinerary
The hardest parts about creating an itinerary for a quick overnight hiking trip with a bunch of moms are:
doing enough to make it feel worth the drive and overnight travel expense
making sure we squeeze in what we can while also being home in time for family commitments
limiting the amount of preparation because we all have a million other things to do already
With that in mind, I kept the itinerary super simple and focused on making the most of the time we had to hike. I estimated the time of the hike and built simple breakfast and lunch plans around it while prioritizing getting home in time to beat the bus from school.
We hiked on a Thursday morning. We drove the two-and-a-half-hour drive from our hometown to the hiking community on Wednesday evening. We left a little after 5:00, ate dinner at the house when we arrived, hung out for a couple of hours, and then went to bed.
In the morning, we had simple breakfasts before packing up the few things we brought along with us and heading to the trailhead. After meandering around the small, historical downtown Harper's Ferry, we thoroughly enjoyed every minute of the hike in this historical national park site.
At the end of the hike, we had plenty of food and snacks left so we each grabbed a few things for lunch. We ate a bit while hanging out around our cars; essentially we had a post-hike tailgate. We got to spend a little more time chatting and didn't have to rely on fast food on the way home (win-win).
Keep Food Simple and Share the Responsibility
Each of us brought food to share with a group. I knew one person in particular was good at making healthy salads, so I asked her to bring a salad with protein to share with the group for dinner on Wednesday night. Aside from that, I suggested everyone bring something like an easy side dish to share at dinner and something to share as a snack on the hike.
I brought sourdough bread, avocados, limes, and salt to make avocado toast for breakfast. I told everyone in advance what I was bringing, so others could bring their own breakfast if that wasn't their favorite option. Others ended up bringing oatmeal and protein bars.
We had plenty of food. No one had to be responsible for a ton of meals or extensive meal preparation. And everyone was sure to have a few things they liked.
Choose Fun & Challenging Hiking Trails
Pick a trail (or two, depending on how long they are) that is suitable for your group. Be sure to pick something that feels fun and unique while posing the right level of challenge to the group.
I invited women who I knew all had a relatively similar level of experience and interest in exploring the outdoors. Then I chose a moderately difficult hike to accommodate those interests. I wanted something that felt worth driving for two and half hours (so not the same trails in our backyard) but also something we could finish in a half day so we would be home in time for the afternoon bus drop off.
Generally, I use AllTrails to find good hiking trails no matter where I am. For this trip to Harper's Ferry, I used AllTrails to guide us through the woods and also to plan ahead for things like weather, distance, and level of difficulty. But I already knew about the hike from friends. I'd heard such good things about it, which is part of what drove the choice to plan the trip in the first place.
If you're looking for trails to hike, I have a whole post about how to find hiking trails wherever you are that can give you some ideas about where to start. This post about beginner trips for planning a vacation to a National Park might have some good tips too. I was totally overwhelmed about how to find places to hike even just a few years ago, but with a bit of practice, it's now a cinch to find local spots or pick some trails to hike for bigger vacations and trips.
In the end, we all had such a good time. Many of the women didn't really know what to expect (and some of their husbands thought a hiking trip with people they didn't know on a weekday was a bit unusual). But they're right! Moms (and parents, to be fair) are so tied up in providing for our kids that we need to get creative and be intentional about making time for ourselves and creating opportunities for fitness, fun, and friendship in the margins.
Let me know if you have any other questions about my Hike40 Birthday Challenge or our overnight Mom's Hiking Trip to Harper's Ferry. I'm happy to answer them all in the comments or you can pop over and DM me on Instagram @honestlymodern if that's easier. I hope you get to try something like this for yourself!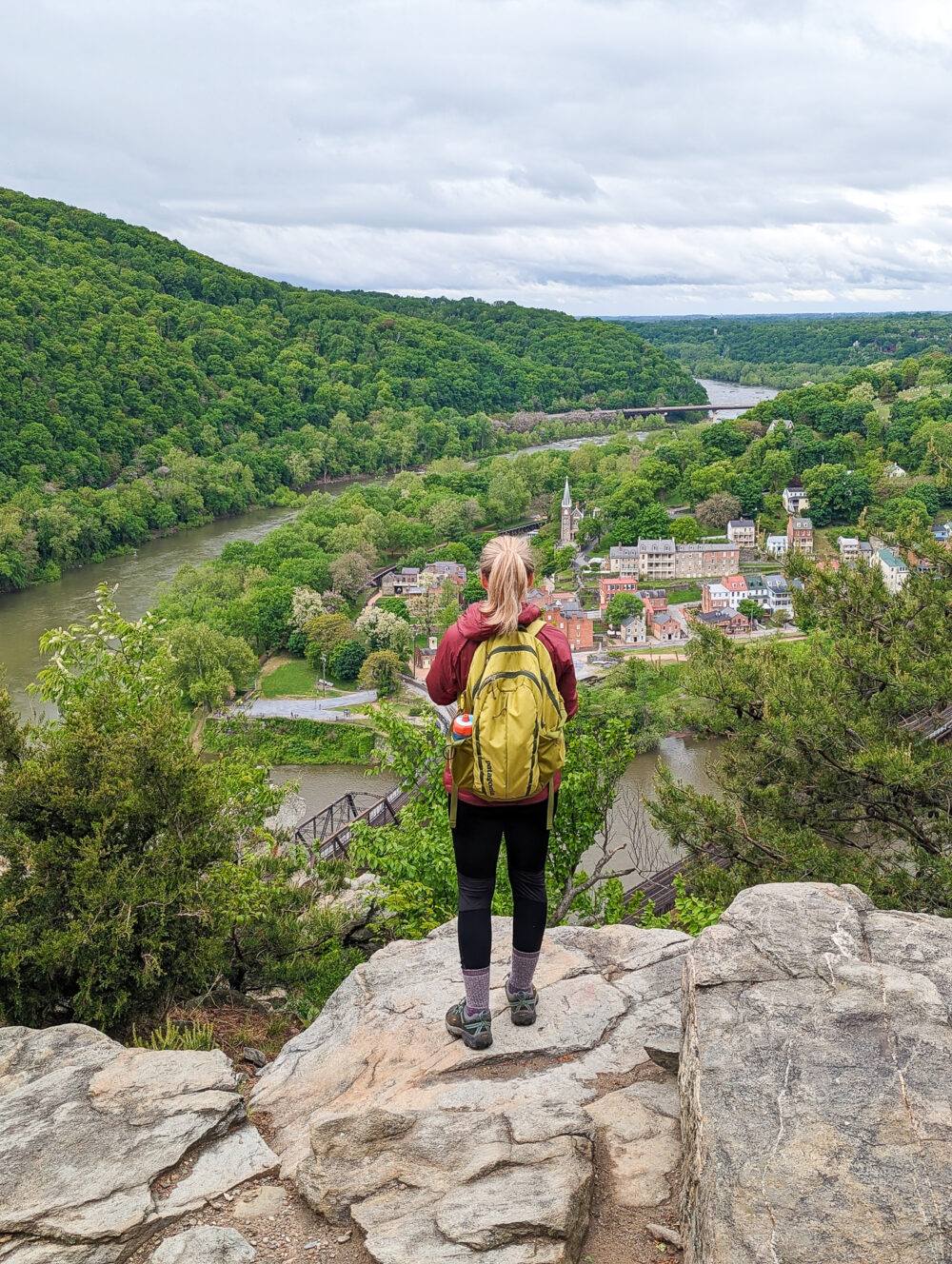 If you like hiking trips for moms, you might also like
Where to Find Secondhand Hiking & Outdoor Gear
7 Tips For Easy Litter Pickup Outings With Friends
About The Author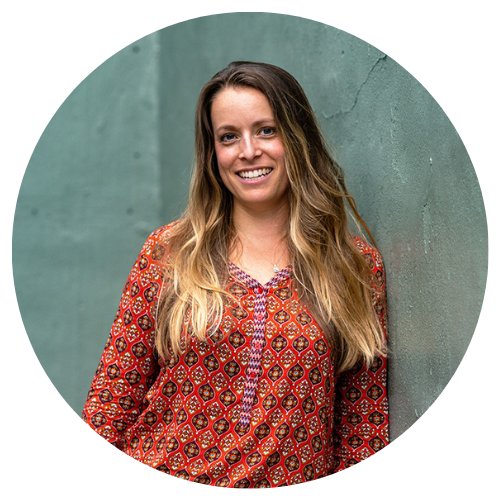 Jen Panaro
Jen Panaro, founder and editor-in-chief of Honestly Modern, is a self-proclaimed composting nerd and an advocate for sustainable living for modern families. In her spare time, she's a serial library book borrower, a messy gardener, and a mom of two boys who spends a lot of time in hockey rinks and on baseball fields.
You can find more of her work at Raising Global Kidizens, an online space to help parents and caregivers raise the next generation of responsible global citizens.