Eco-friendly Family Vacation Guide: Kiawah Island, South Carolina
Are you planning a trip to Kiawah Island, SC? Read on for insider tips on the best things to do in Kiawah Island, travel tips, Kiawah restaurants, and more.
This post contains affiliate links.
If you've discovered Kiawah Island, you are in for a luxurious, magical vacation. Kiawah (pronounced "KEY ah wuh" not "KI ah wuh") is one of Charleston's most beautiful sea islands, a serene haven that caters to both well-heeled, spa-loving tourists and adventurous naturalists. The unique ecosystem and opulent golf and beach resort present a vast array of activities. Today we're honing in on the best things to do on Kiawah Island, South Carolina with kids.
Planning Your Vacation in Kiawah Island, South Carolina
Things to Know Before Visiting Kiawah Island
Kiawah Island is a sea island or barrier island, that lies 25 miles southwest of Charleston, South Carolina (about a 45-minute drive). Named for the Kiawah tribe, this sea island has a rich history that includes possession by a former pirate, cattle farming before the Civil War, and development by the Vanderhorst family. According to the US Census Bureau, just over 1,600 people call this lush 13-mile stretch of land home today, and the island primarily consists of the Kiawah Island Golf Resort and private homes.
One of the most notable features of Kiawah Island, South Carolina, is its unique ecosystem. The ten miles of beach, preserved maritime forests, protected sand dunes, and fragile marshes provide habitat for a diverse array of plant and animal life.
Another unique feature of Kiawah Island is that, unlike other local coastlines and barrier islands constantly battling erosion, the beach at Kiawah is continually gaining sand due to the southwestern trajectory of the dominant longshore current. Kiawah's beaches are "some of the healthiest in South Carolina" and the region's most prolific nesting area for loggerhead turtles.
The Kiawah Island Golf Resort recognizes the importance of protecting and preserving this exceptional eco-system, and Audobon International certified The Sanctuary Hotel grounds and all five resort courses. The resort also forges local partnerships to supply as much of its fare as possible and proudly maintains long-standing relationships with Kiawah Conservancy, Certified SC Grown, the South Carolina Aquarium, Lowcountry Marine Mammal Network, Kiawah Island Terrapin Project, and the Kiawah Island Bobcat Guardian initiative.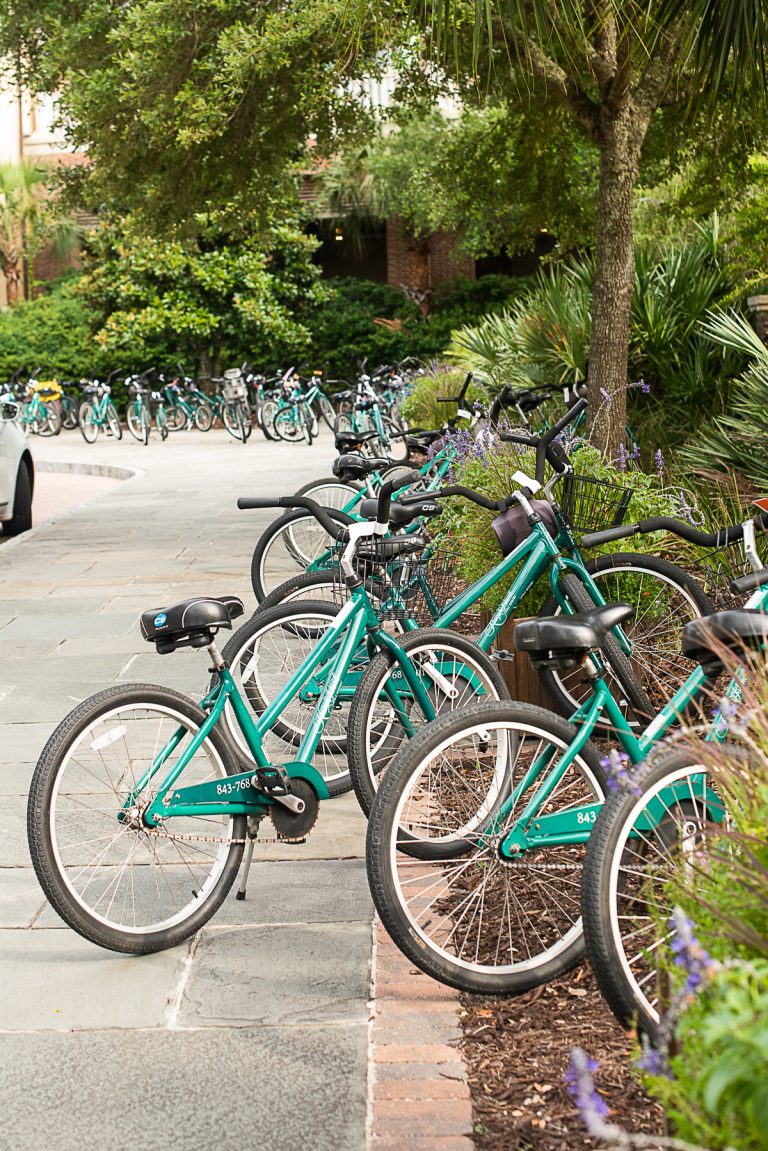 Getting There, Getting Around, and Resort Access
Unless you're driving from a nearby locale, you'll want to fly into the Charleston International Airport. From there, you'll either need to rent a car or catch an Uber or Lyft to Kiawah Island. Once on the island, the Kiawah Island Golf Resort Shuttle is happy to transport you from your accommodations to any restaurant, activity, or amenity across the island free of charge in one of their Mercedes vans.
Bikes are also, hands down, a beloved way to get around Kiawah Island. The island boasts an elaborate and meticulously maintained series of bike paths, so you can feel comfortable riding with kids of any age.
Finally, Kiawah Island is a private, gated community, and you'll want to make sure your rental provides gate passes. Guests staying at The Sanctuary won't have an issue getting a pass at the gate, but some of the homes are beyond the second gate on the island, which requires some planning.
Reservations
Start planning your trip early to take advantage of all the resort and community has to offer.
The Ocean Course, Kiawah's world-renowned oceanfront golf course, books up quickly. The Spa at the Sanctuary is another very popular amenity, and with a little prior planning, you can even send your kids off to Kamp Kiawah for "Pirates & Mermaids," "Silly Science Day," or "Kiawah Creatures" (ages 3-7) while you enjoy the golf course or a spa day. Kids aged 8-15 years may enjoy Adventure Camp activities that encourage athletic experiences in a natural environment, such as paddle boarding or surfing.
Best Things to Do in Kiawah Island with Kids
Spend the day at the beach.
Kiawah Island's 10-mile stretch of beach is one of the "healthiest beaches in South Carolina" due to the sand-depositing currents, restricted access, and conservation efforts. Spend the day playing in the surf and sand with your little ones without all the crowds and chaos at, say, Myrtle Beach.
Beach services are complimentary for guests of The Sanctuary and reasonably priced for other visitors. Rent towels, beach chairs, and, most notably, beach toys, games, and boogie boards. As any resident of a beach community can attest, tourists' barely used beach gear purchases litter our streets on trash pick-up day, so it's best to rent these items whenever possible to prevent senseless garbage.
Go kayaking or stand-up paddleboarding.
Kayaking and stand-up paddleboarding are the most delightful ways to explore Kiawah Island's unique ecosystem and encounter wildlife in its natural habitat. Rent kayaks and boards at the resort if your rental doesn't include them, or sign up for a guided tour with one of the area's many adventure companies.
Take a dolphin tour.
Dolphin tours are one of the most popular things to do on Kiawah Island. The healthy beaches, restricted beach access, and local fish populations make this a perfect environment for seeing dolphins, and there are a number of local guides who can ensure a memorable, responsible encounter with these beautiful and curious marine mammals. You can also book your tour directly through the resort.
Did you know that Kiawah Island, South Carolina is one of the most accessible places on earth to watch dolphins strand feeding? Strand feeding is a unique, learned behavior (meaning it's passed down from mother to calf) where dolphins herd and catch fish along the shoreline. Read all about dolphin strand feeding and dolphin safety and conservation on Kiawah Island, South Carolina.
Go crabbing.
Learn about local aquaculture and spend a day getting to know South Carolina's gorgeous marshes by taking the family crabbing. Your guides will give you a tour of the area during low tide as you locate ideal crabbing conditions and try your luck with hand-lines and dip nets. You may even capture the elusive Atlantic Blue Crab if you're lucky.
Visit the Deveaux Bank Seabird Sanctuary.
Hop aboard a boat to the Deveaux Bank Seabird Sanctuary for a truly inspiring encounter with local wildlife. The Southeast's largest shorebird nesting site, Deveaux Bank is a vital 215-acre habitat to thousands of nests of dozens of different species of migratory and ground-nesting shore birds. Learn more about this incredible sanctuary here.
Spend the day at Freshfields Village.
The shopping center at Freshfields Village lies just behind the roundabout that takes you to either Kiawah Island or Seabrook. The multitude of stores and restaurants are a great way to spend the day (especially if it's a rainy one).
Our favorite is SeaCoast Sports and Outfitters. Did you forget a bathing suit, flip-flops, or sunglasses? They've got you covered. They also have a collection of Yeti reusable to-go cups, Free Fly bamboo apparel, organic sunscreen, Sand Cloud products, Nomadix towels made from post-consumer recycled plastic, Toadfish products (a Charleston brand that has replanted more than 280,000 square feet of oyster beds), and other items for the conscious consumer.
Bike the island.
Bikes are a part of the fabric of life on Kiawah Island. The community bike paths are meticulously maintained, making pedaling your way from the pool to local restaurants a carefree and eco-friendly way to explore the island. Reserve your bike through the resort or a local business (some include free delivery and pick-up services).
The Turtles' Nest Art Studio.
Indulge your creative side with a family night at The Turtles' Nest Art Studio. The current arts and crafts offerings include canvas painting, pottery painting, tie dye, glass fusing, and more.
Attend an event.
Grab or rent a lawn chair for the resort's Movies in the Park series or Sounds of Summer concerts. You can also attend a Comedy Improv night or head to Freshfields Village for Music on the Green, the farmers' market, or Cars & Coffee meetups.
Try beach yoga.
Namaste calm and relaxed on this family vacation? Kick your day off with beach yoga or one of the resort's guided meditations.
Book a family portrait session.
Ok, this is a shameless self-plug here, as someone who spends nearly all summer photographing family portrait sessions on Kiawah Island. But there's a reason this location is hands down one of the most popular spots for family photos and Christmas card sessions: It's simply stunning. As you make memories during your family vacation, take time to capture the moment!
Sign up for a naturalist program.
Is your kid bonkers for birding? Are they engrossed by alligators? Are snakes simply stimulating? There's a Junior Naturalist Program in your future, friend. Check out the resort's many programs, including informative discovery walks.
Kid-friendly Attractions within 20 Minutes of Kiawah Island, SC
Goat Yoga or Farm Tour
Make a point to visit the Goatery at Kiawah River! The adorable, mischievous goats and their kids' antics will be a highlight during your family vacation. Book an appointment for goat yoga with the fam or a farm tour togther.
Angel Oak Tree
The Angel Oak Tree is Charleston's most iconic natural wonder. Hailed as the oldest live oak tree East of the Mississippi, the Angel Oak is likely 300-400 years old. The giant canopy shades a 17,000-square-foot area, and the enormous limbs sprawl across the park, even resting on the ground. The Angel Oak Park welcomes the public 7 days a week free of charge, but donations to maintain operations and the tree's health are greatly appreciated.
Ride horses on the beach at Seabrook Island
The Seabrook Equestrian Center offers one of the few beach rides on the East Coast, and it's a magical experience. Seabrook is a private island, ensuring your beach ride is a peaceful and serene experience. They also offer guided trail rides through the forest and marsh and pony rides for children aged 7 and younger.
Recommended Restaurants in Kiawah Island
Vincent's Drug Store and Soda Fountain
Step back in time to Vincent's Drug Store and Soda Fountain, a vintage diner tucked inside a modern pharmacy. Your kids will love the menu of loaded chili dogs, brownie sundaes, and root beer floats just as much as you'll be enamored of the teal checkered floor, vintage swivel stools, hanging ice cream cones, and vintage Coca-Cola decor.
La Tele Pizzeria
La Tele Pizzeria believes in keeping it simple and letting the food do the talking. The wood-fired pizza is where it's at, but the pastas and salads are equally delicious. Family members under the age of 12 may love the kids' menu, which comes with an illustration featuring 8 hidden pizzas (a great distraction while you wait to order).
Cantina 76
Who doesn't love tacos? Cantina 76 offers quality Mexican fare in a relaxed atmosphere at Freshfields Village.
Dining at Kiawah Island Resort
While many of the Kiawah Island Golf Resort restaurants require advanced reservations (and have a suggested dress code), there are family-friendly options, as well. Beaches & Cream is a go-to for ice cream, coffee, and breakfast sandwiches. The Loggerhead Grill specializes in "relaxed fare and tropical drinks," and the low-key Night Heron Grill & Bar provides quick snacks, tasty lunches, light dinners, fresh smoothies, and grown-up beverages.
Best Places to Stay in Kiawah Island
If access to hotel amenities (like that gorgeous pool with the fountain in it) is a priority, book a room at The Sanctuary through the resort itself. All guests who book through the resort get preferred tee times, dinner reservations, and tennis privileges. In addition to The Sanctuary, the resort's crown jewel hotel, you can book a premier or private home, resort villa, or cottage at the Ocean Course through the resort… and they'll even stock the kitchen for you.
Know Before You Go: What to Pack for Kiawah Island, SC
Of course you'll need the basics for a beach resort vacation like swim suits, sandals, apparel for tennis and golf (if you plan to play), and some short and shirts. Aside from that, you can rent so many things while you're visiting (like bikes and beach gear). Make the most of these rental options instead of buying new to reduce waste and save yourself some money.
Last but not least, please do your part to protect this amazing slice of paradise during your stay. Coastal communities and marine wildlife are particularly vulnerable to plastic pollution, so be sure to stash reusable water bottles for the whole family in your suitcase and toss some reusable straws in your bag as well.
Natural bug repellent is usually sufficient to ensure a comfortable experience outdoors on Kiawah Island, and reef-safe sunscreen is another small way you can lessen your impact as you enjoy this incredible ecosystem.
Finally, there is a gorgeous and thriving deer population all over Kiawah Island, so please obey the posted speed limits and stay alert. As a bonus, you may even catch sight of the rare white piebald deer!
All photos via Reese Moore Photography
If you enjoyed Eco-friendly Family Vacation Guide: Kiawah Island, South Carolina, you may like:
Family Vacation Guide: Lake Lure, North Carolina
5 Days in San Diego With Kids Hosted by Plum Guide
9 Ways to Teach Climate Education To Kids While Traveling
About the Author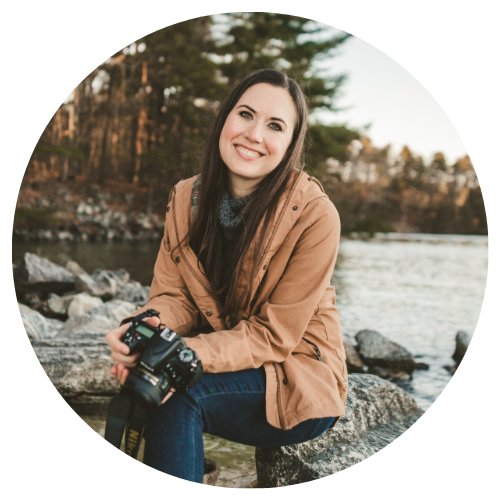 Reese Moore
Reese Moore is a photographer, content creator, and pickle connoisseur who divides time between Charleston and Lake Lure. When she's not behind the lens shooting stunning images for Reese Moore Photography, Reese loves to spend her time wandering the woods with her dog Gatsby or adventuring with her husband Logan in their Airstream Basecamp.