Sustainable Gifts for Men (the regular dudes in your life)
Looking for practical yet sustainable gifts for men? Many sustainable gift guides for men include a lot of fancy items that don't really work for our needs. Check out this list of eco-friendly gifts for men designed for the dads and dudes standing on the sidelines at sports games, helping with homework after school, going to work every day, and doing the humdrum things of everyday life, hopefully without ruthlessly destroying the planet.
Oh the recurring conundrum, what to get my husband or my dad or my brothers-in-law for the holidays. My husband and I aren't big on gifts for each other for birthdays or holidays for the most part. But once in a while, we'll do something that we really think the other person would enjoy.
Gifts can be hard, especially when we have commitments to low-waste living and fair labor and carbon footprints and all. the. sustainable things floating in our heads. Few gifts are perfectly sustainable, but there have to be a handful of gifts that are great, right?
I set out to find sustainable gifts for men to see what might pop up that would also make my husband happy. I struggled to find something he would like.
So many sustainable gift guides for men are filled with expensive gifts for a seemingly certain type of man who likes fancy things, fancy food, and fancy hobbies. Most guys I know… aren't really like that.
They're into sports, hanging out with friends (in sweat pants preferably), and eating wings with beers during a professional football or hockey game. They like going for a trail run, doing burpee pull-ups, or having a catch with their kid.
There are lots of different types of people (which is awesome), and this sustainable gift guide for men is designed for the dads and dudes standing on the sidelines at sports games, helping with homework after school, and doing the humdrum things of everyday life, hopefully without ruthlessly destroying the planet.
Below, I've put together a list of sustainable gifts for men that I think my husband might actually like. They aren't all from fancy brands with perfectly curated Instagram accounts (some are and some are not, both are great). If you're in the market for a gift for a regular dude in your life, check out this list of sustainable gift ideas they might enjoy.
And if you're curious, I shared at the bottom of the post the main gift I actually got my husband for his birthday this year. He loved it, and I got brownie points for making the day all about him.
This post contains affiliate links.
If the guy you're thinking about has a corporate job, is an avid note-taker, or just likes to jot down lots of things, the reMarkable tablet is pretty amazing. It's not your typical tablet.
By design, it has very limited functionality and does one thing well. It is really great for taking notes! It can sync with your email and a web-based dashboard. It can transform handwritten notes into text so you can email them. You can review and markup PDFs on it. It looks and feels JUST like writing on paper (it even has the perfect pen-to-paper sound).
My husband and I both have one. My brother-in-law bought one for my sister when she started her own business. If you want something really simple that doesn't have a lot of distractions and truly feels like writing in a notebook, this tablet is amazing.
The brand offers some accessories, but I'd recommend using other accessories if you're looking for them. I love this case and these pen tips are great (though I like the ones from the brand as well). I also downloaded some unique templates from Etsy for a calendar and meal planning. That may not be what that special guy in your life needs, but they have a bunch of templates to choose from.
Price // Starts at $299
Tentree makes lots of different comfy and cozy apparel like hoodies, loungewear, and more. Show your special guy with a soft hoodie made of sustainable materials. They have tons of different styles for whatever your person prefers. Styles are made from TENCEL, 100% organic cotton, and recycled polyester, so choose the option that works best for you.
Tentree is a Certified B Corporation that is also certified Climate Neutral. Further, their name comes from their missions. They plant ten trees for each item purchased. Further, each piece of clothing comes with a unique tag that has a tree code on it. Once you register your tree code, you can track how many trees have been planted based on your own purchases.
Price // Starts at $58
My husband would probably use this cool phone charger every day. He has a really neat desk, and I imagine this would be a welcome addition to his excellent organization method on his very uncluttered desk.
The Rock Dock phone charger stand is handmade in New Hampshire (United States) using reclaimed granite and stones the artists collect from New England beaches. They replace each rock they collect from the water with a quarry rock that will eventually become another worn beauty.
Price // $40
I know socks and boxers sound so boring, but it's kind of nice not having to buy these things on your own. My mom gifts socks to each of us every year for Christmas in our stockings. My sisters and I have come to rely on these gifts and almost never spend our hard-earned money on something so simple. It's actually pretty awesome.
My husband is an athlete and very active. A good pair of boxers and socks (or a lot of good pairs of clean boxers and athletic socks) make life so much easier and makes frequent laundry less taxing.
I'm a big fan of Allbirds shoes. I have purchased and worn the heck out of a couple of pairs over the last four or five years, so it's no surprise I'm a fan of their apparel as well. The Trino Sprinter socks and Trino Boxer Briefs are favorites. They are made of renewable fibers like merino wool and use recycled nylon to give the right amount of stretch. You can check out more about their product materials and manufacturing process on their site.
Allbirds socks and boxers are a little expensive, but good socks are so much better than the cheapies that slide down into your shoes every other minute (at least in my opinion). Grab a couple of pairs (or five pairs to get a 15% discount) and do your special man a solid. His sock drawer and his laundry schedule will thank you.
Price // Socks: $15 (get a 15% discount when you purchase at least 5 pairs); Boxers: $24 each
Check out Allbirds Socks and Allbirds Boxers
Speaking of boxers, these ones are really great! MeUndies prioritizes fair trade and responsible supply chains to make a great product that also feels amazing. Uncomfortable underwear, after all, is pretty unsatisfying.
Some of their products are made of recycled materials, though not all of them. Much like other high-performance apparel, many of them are made from synthetic fabrics to ensure the best product for customers.
MuUndies aren't cheap, though they have multi-packs and subscriptions that make the products quite a bit more affordable. In this case, you pretty much get what you pay for. It costs more to source from fair trade factories and use high-quality products that last.
Price // $84 for a 3-pack, $156 for a 6-pack of Breathe Boxers (other products are a bit less expensive).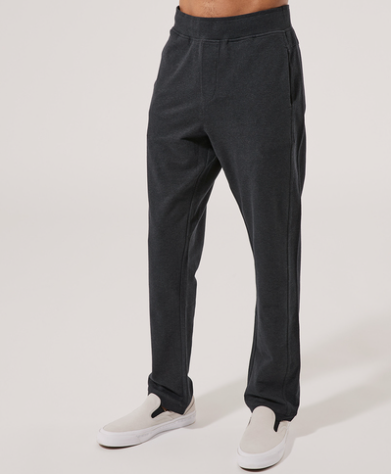 Cozy up in these organic cotton sweatpants from Pact. If my husband had a choice, he would live in sweatpants full-time (and he pretty much does now that he works from home). Pact sweatpants are made from 95% organic cotton with 5% elastane (to give them a bit of stretch). The cotton is GOTS-certified organic cotton and the pants are made in a Fair Trade Certified Factory.
Pact has long been a prominent player in the sustainable apparel space. They also prioritize affordable pricing, so many of their items are less expensive than comparable items from similar brands.
Price // Starts at $70
Light Me Up When You Fart Candle
Fart jokes never get old in our house, and there's plenty of need for an eco-friendly candle to freshen up the air from time to time. This candle is handmade with soy wax in a glass jar. You can purchase the candle in one of four scents, though I think I prefer sandalwood.
They have many other candles with various cute sayings, and each one comes with a personalized card. Although I'm not a big fan of giving generic candles as gifts, I think it's much more meaningful if your gift recipient can connect with the unique features of a particular candle like this.
P.S. I'm pretty sure my boys would LOVE this too.
Price // $27 on Etsy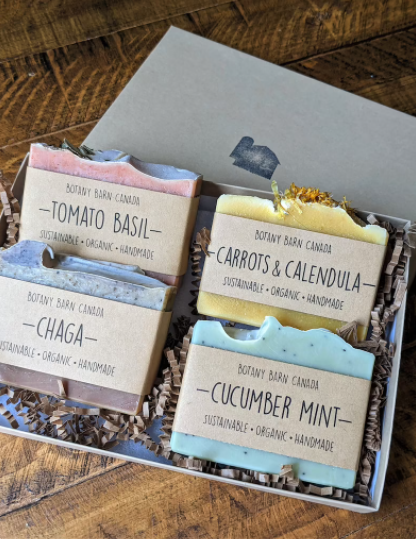 Awesome Bar Soap
Continuing on with my list of predictably boring but useful stuff, how about some really nice soap? We all need soap and having nice soap kind of feels like a luxury in the shower.
There are lots of great sustainable soap companies. I have a couple of favorites that use sustainable materials, prioritize zero-waste production practices, and are in my local area.
Vellum St. Soap Company is a local Philadelphia company that repurposes animal tallow to make sudsy soaps and reduce the waste product from local farms.
Also check out this handmade, eco-friendly soap artisan, Botany Barn Canada. You can choose from a variety of soaps to create a custom gift pack of four different scents. They even have a vegan option. The soap comes in recyclable or compostable packaging with no plastic, so it's a product and packaging low waste win.
Price // Botany Barn Canada starting at $36 for a set of 4 on Etsy; Vellum St. Soap Company starting at $5 per bar of soap
Check Out Vellum St. Soap Company and Botany Barn Canada
I've searched high and low for branded sports apparel from sustainable vendors. There are lots of sustainable activewear brands, but I've specifically been looking for eco-friendly sports gear for my husband's favorite sports teams.
A few years ago, I found one sweater in my college's bookstore that said it was made with fair trade labor. I guess there just isn't a huge market for sustainable sports apparel, because there doesn't seem to be a lot of it. However, my husband really likes sports apparel and basically lives in gear from his favorite teams when he's not in office clothes.
Part of sustainable living is also buying less and investing in things that last. In this case, I try to buy things he can wear again and again (and then take good care of them). If the man in your life has a favorite sports team, consider gifting him something from his favorite team that is well-made and can be worn many times. My husband really likes Mitchell & Ness.
If you're looking for something from a regular store, look at the fabric and consider if it will wash well. Check the seams to see if they are finished well (usually an indication that the piece is well-made and will last for many wears). And buy something in a style that is classic enough it will feel relevant for many seasons.
If you know of any brands that make sustainable sports gear, let me know. I'm definitely interested in learning more!
Beer of the Month Club
A little surprise is always fun and so is trying out a new beer (if your gift recipient is a beer drinker). Consider giving him a beer of the month club, and bonus points if you can find a beer of the month club from a local brewery. There are lots of monthly beer clubs that send a six-pack in the mail, and some of these are a bit expensive due to shipping costs and such.
Alternatively, if you live together or in the same area, gift him a beer of the month club that you purchase locally and deliver once a month in person. How fun, right? It will be far less expensive than ordering through a monthly club subscription, and you can support local breweries. When selecting beers, try some of the seasonal brews and limited edition varieties to make it extra special. And if you can't make it to the breweries to pick it up, a hand-selected six-pack once a month from your local grocery store or liquor store is just as special. It's the thought and time that count.
Don't forget to recycle the bottles! Glass is one of the most recyclable materials we use that can be recycled time and again, so be sure to keep it going in its circular loop of reuse.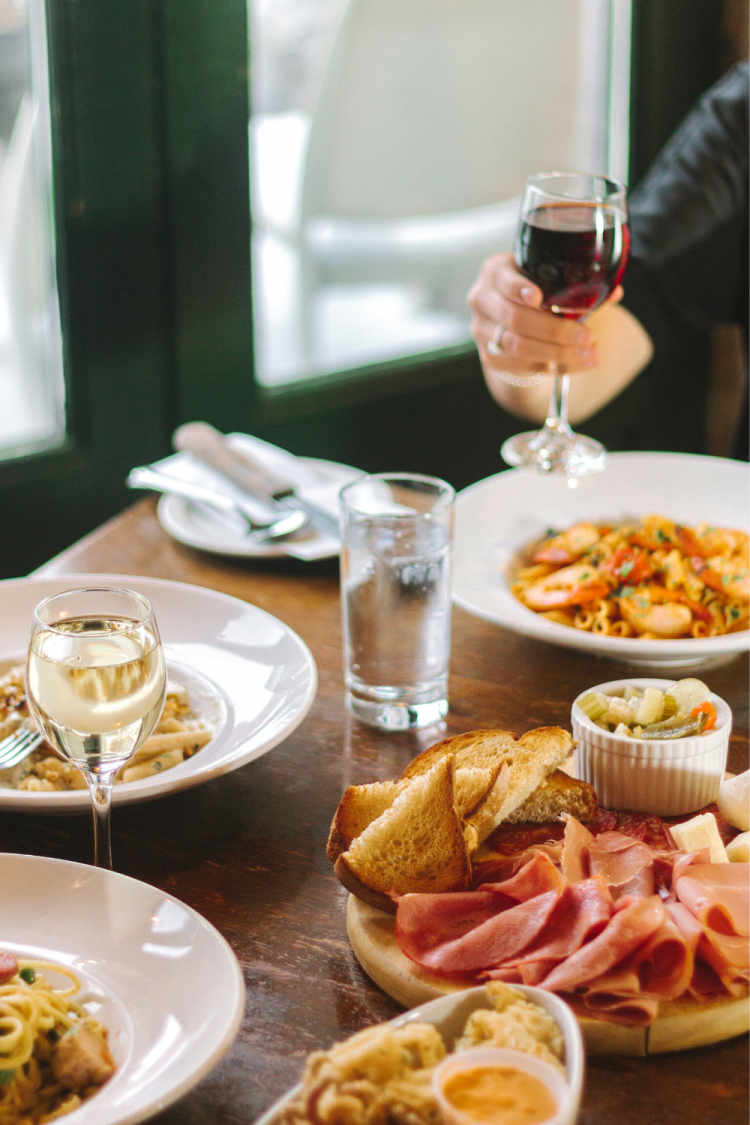 A Gift of Experience
Last but certainly not least, a sustainable gift doesn't have to be a tangible object to hand over in a pretty gift bag or package. Give him the gift of an experience – on his own or together, depending on what he prefers. Go to a sports game together. Plan a night out in the city visiting his favorite spots. Meet up with a few of his friends.
There are tons of experiential gifts to give. The most important consideration is to ensure it's something he loves.
Find A Great Gift With These Questions
Finding good gifts for each important person in your life can be challenging, especially when excessive consumption is a major source of our environmental woes. If you're stuck with what to gift a loved one, check out this list of 12 Questions To Find The Perfect Gift For Everyone On Your List. It's a gift guide without a single specific gift but hopefully, some good questions to help you arrive at just the right thing.
Do you have any other favorite sustainable gifts for men you love? Share them in the comments. I'd love to hear about them.

About The Author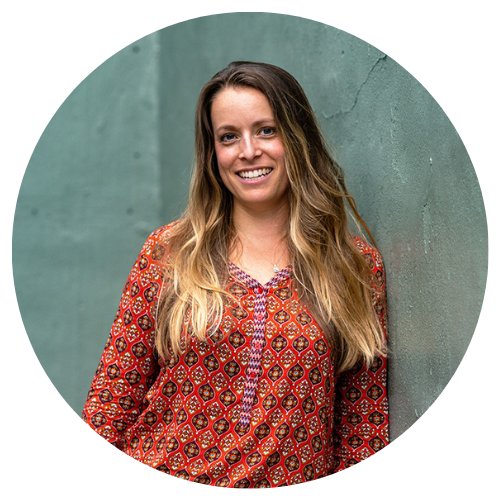 Jen Panaro
Jen Panaro, founder and editor-in-chief of Honestly Modern, is a self-proclaimed composting nerd and an advocate for sustainable living for modern families. In her spare time, she's a serial library book borrower, a messy gardener, and a mom of two boys who spends a lot of time in hockey rinks and on baseball fields.
You can find more of her work at Raising Global Kidizens, an online space to help parents and caregivers raise the next generation of responsible global citizens.