Simplicity | Our Family's Alternative to Fireworks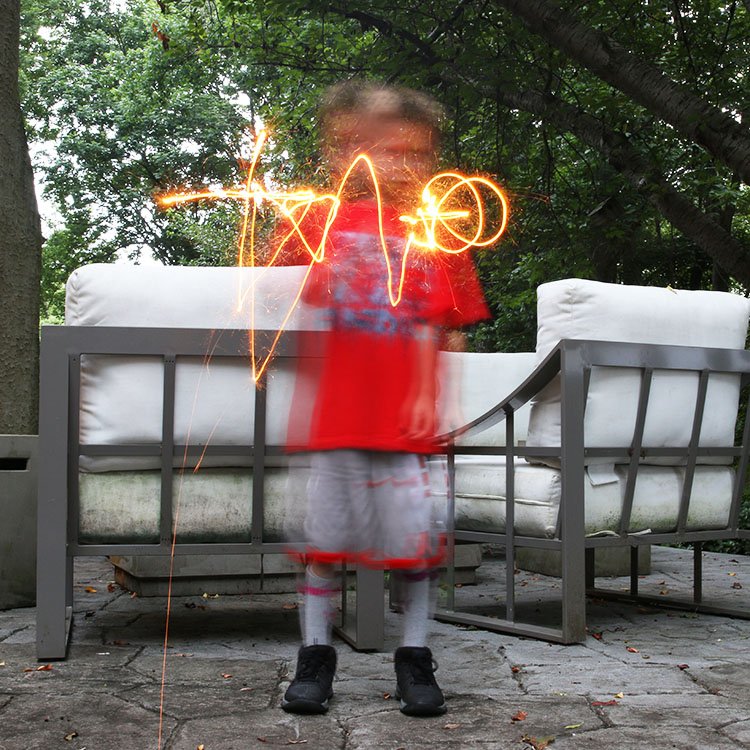 I've never been a giant fan of fireworks. Although I was too young to remember, my parents take the blame for this aversion, having taken me to crazy fireworks displays as a young child.
They had a friend who was a licensed pyrotechnic and put his skills to good use every Fourth of July holiday, hosting a spectacular fireworks display. As a tiny guest at these celebrations of colorful explosions, I quickly grew to dislike the loud noises.
Never really outgrowing my dislike for this, my parents took us to my dad's downtown office building each year for the Fourth of July. We watched fireworks from inside his tall office building with a clear view of the sparkling lights but without the booming sounds of the fireworks.
Consequently, I didn't understand the crowds, waiting, bugs, and traffic disasters associated with watching fireworks until I was an adult. The long wait for an always-late start to the show, followed by ten minutes of display and then an hour of waiting to leave the parking lot is a tough pill to swallow. As someone who is routinely feasted on by mosquitoes, sitting in fields of grass at dusk is not ideal. Needless-to-say, fireworks are not my forte.
Fireworks also interfere with bedtime. Call me lame, but they are late! This year, as we listened to the crashes of color exploding in the sky, the boys slept in their beds and we laid in ours, on our way to sleep. I imagined the alternative, fighting large crowds with tired kids, tired parents, and itchy legs. I had no regrets.
In the last few years, we've attended fireworks a time or two, but we usually avoid them. In downtown Chicago, the crowds were insane. In the suburbs of Philly, the crowds aren't much better but the mosquitos are far worse.
As for the boys, T couldn't care less about fireworks. J enjoys them but likes sparklers even more. The last couple of time we've considered fireworks, we offered J a handful of sparklers on our back patio as an alternative, and he was happy as a clam.
Fireworks are "the thing to do" on the Fourth of July. Some people love them, which I understand. Many people, however, seem to add fireworks to their holiday to-do list without a second thought, simply because it's "what you do."
Foregoing fireworks, if it's not a passion, is a perfect chance to question the status quo, to decline another 'commitment' on the calendar if it doesn't make sense for your family. I might endure an eye roll or two when I share that I laid in bed instead of watched beloved fireworks. But so what?
If you and your family love fireworks, by all means, make a night of it. Enjoy the experience! What you choose isn't the point. Reflecting on our choices, however, and being intentional about when we say "yes" is paramount to simpler and slower family life. Not every day needs to be filled with a whirlwind of plans.
As for the fireworks, we're getting into a "ditch the fireworks, bring out the sparklers" groove. It might become a family tradition.
When do you buck the status quo and stay home when the 'whole world' is out celebrating?
You Might Also Like
Best of City Living: Casual Summer Evening Stroll
How To REALLY Buy Less "Stuff" We Do Not Need